Having media kits are a huge deal for businesses who want to get their brand out there. Here are 9 crucial things that must be included in your digital media kit.
A digital media kit is a collection of all important information about your business.

It includes the statistics, benefits, and key facts that help others understand your brand, its mission, and what you have to offer.

Creating a proper digital media kit can increase your chances of media coverage, increase credibility, and also convey a strong brand image.

But you must do it properly…

In this article, you'll discover everything about a digital media kit and how to perfect it.
Why Are Online Media Kits Important for a Brand?
There are a couple of important benefits digital media kits can offer. In this section, we will cover the 4 most important ones.

They'll help you see why a media kit is important and give you the motivation to perfect it.
1. Promotes Launch of a Company
A digital media kit creates a perfect opportunity to promote a lunch of a company.

If you're new or just getting started, nobody knows about you. A digital media kit can help you fix this and help others understand your company better by sharing important details about it.

You can include your features, pricing, benefits, and the company's mission inside of it.

It's also a great way to promote the services you offer or new products you're launching.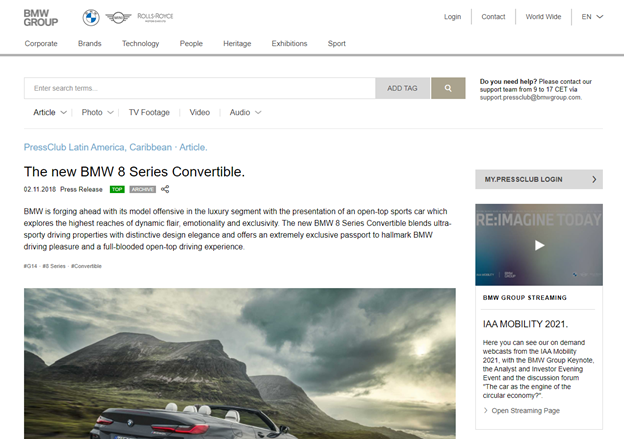 2. Gives You Control over What Is Published
A great thing about digital media kit is that it gives you control over what gets published.

Writers, journalists, and publishers no longer have to think about or try to guess information or stats about your company.

They just go to your site, open a digital media kit and they have everything in their hands.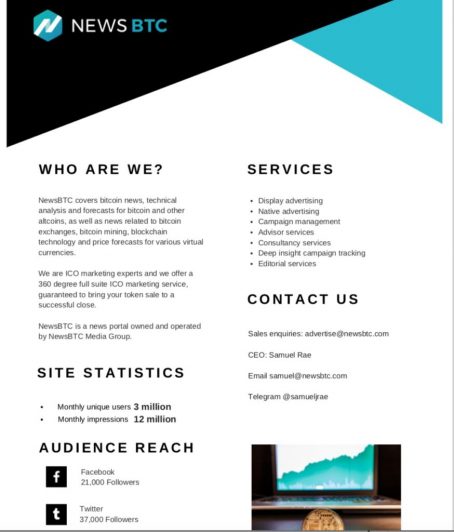 3. Inbound PR
Digital media kit makes it as easy as possible for journalists and writers to release a story about your brand.

The press release doesn't have to work in your company, nor have to directly contact you.

They just need to go to your site, look at your digital media kit and they have your whole brand's story and every important detail at their disposal.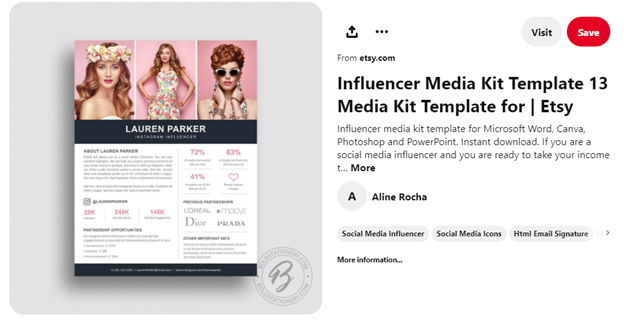 That allows you to get published more often and maximize your exposure.
4. SEO
A digital media kit isn't a ranking factor, but can still help you rank higher.

This is mostly because it allows you to share media coverage on your site which can help you increase credibility and build backlinks.

But for that to be successful, you must use the phrases people search for. Or you risk ranking high on Google for the keywords nobody cares about.

An easy way to find the right keywords that have a lot of traffic potential is BiQ Cloud.

Go to BiQ Cloud Keyword Intelligence and type in your main keyword or the topic of the press coverage.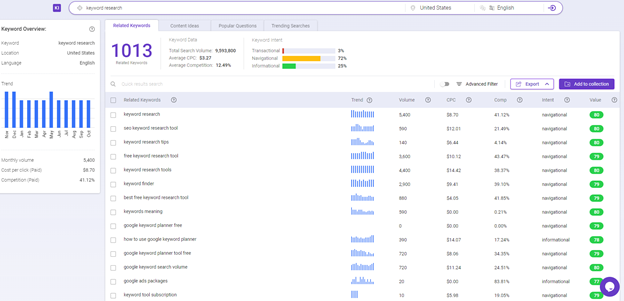 Hit enter and you get a list of all high-traffic keywords people search for on Google.

Be sure to include these keywords and other popular related phrases in the press to make your website rank higher and get more traffic
What Does an Effective Digital Media Kit Include?
In this section, you'll discover everything that a high-quality digital media kit includes.

It will allow you to create a compelling digital media kit for your brand which can maximize your chances of getting published in the media press.

We'll start with the most important part…
1. Include Brand Story
First, you must introduce yourself to the journalists, influencers, and everyone else.

You should answer questions like who you are, what you do, and how you can help others. It must be compelling yet straight to the point.

Fortunately, writing a brand story isn't difficult and you can easily do that in the 3 steps below.
i. Define Your Mission & Brand Personality
You must state your brand's mission as soon as possible.

Your audience should know why you are in this business from the early beginning. An easy way to do that is to include a mission statement at the top of your media kit.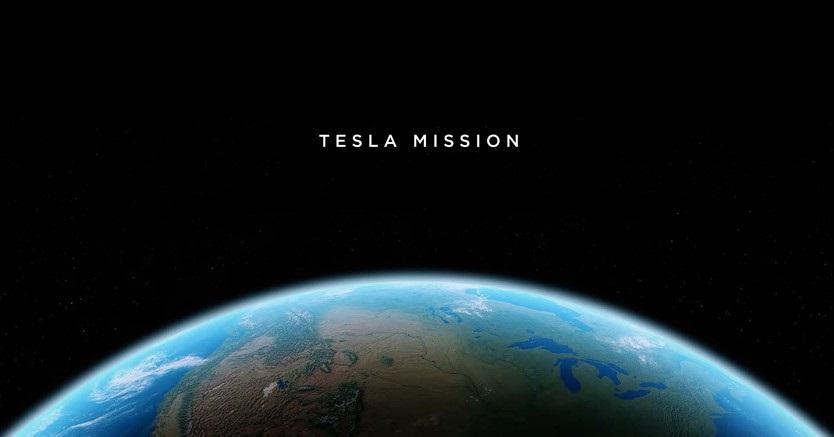 You can see three great examples of mission statements below.
JetBlue. "To inspire humanity — both in the air and on the ground."
Tesla. "To accelerate the world's transition to sustainable energy."
TED. "Spread ideas."
Include them on top of your digital media kit and let others know why you are here.
ii. Add Visuals
A picture is worth a thousand words.

If you're looking to convey your story and brand\s mission, you should include visuals to make your readers better visualize it.

It will also allow you to keep your brand in the reader's mind longer.
iii. Make It Appealing
The best way to make your brand's story appealing is to make it human.

You should start with the motivators and desires you can help your readers achieve and continue with emotions and passion.

It's a receipt for the perfect brand story.

2. Include Your Staffs Bios
Including your staff in the media, the kit is crucial, especially the management.

This is because members of the management team are the best candidates for interviews by journalists and influencers.

There are two things you should follow when including your staff in the digital media kit.
i. Write Short Bio
Don't just include the names of your staff.
Instead, write a few sentences and include something interesting about them. Talk about their personality, responsibilities, and role in the company.

If any of the staff has been quoted in the press or appeared in news, be sure to note it.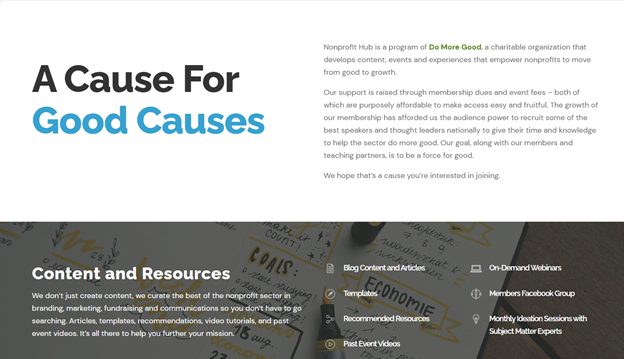 ii. Include Profile Pictures
Profile pictures and avatars can supercharge your chances of being quoted or mentioned.

In fact, a study by Basecamp saw a 102% increase in conversions just by adding a picture of a person on their landing page.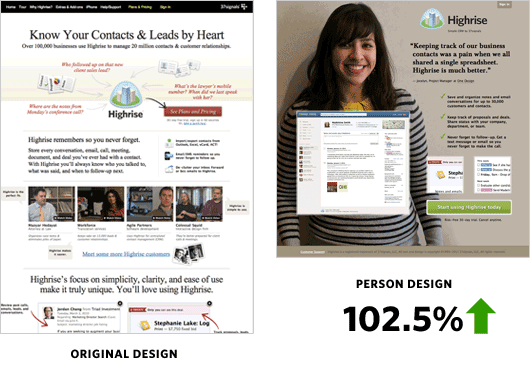 So be sure to add images of people to your website design.

It will allow others to better connect with your brand and will make your digital media kit more personal and engaging.
3. Product Features
Be sure to include the most important products and features of your brand.

You shouldn't go into much detail. Instead, keep it short and sweet and include only the most important things like features, pricing, and where to purchase.

You should also include your USP – unique selling proposition.

Also, you should include the FAQ section to make everything as clear as possible.
This is extremely important for companies in technical industries. It's especially useful for reporters and can allow them to write more accurate articles about you.
4. High-Resolution Images & Videos
Now is the best time to incorporate visuals in your digital media kit.

This should include images of your products, your company, and anything that can draw attention. But if you're really looking to break through, you should include videos.

Videos combine visual and action and are irresistible for humans.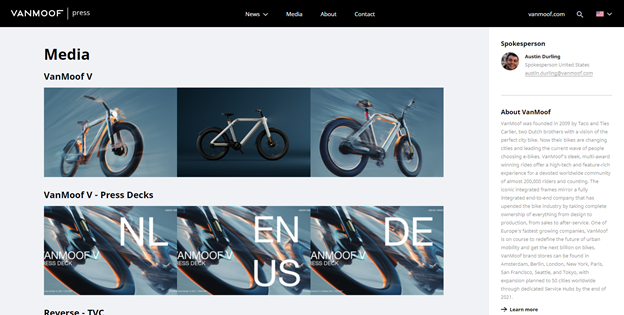 That's why they are consumers' favorite type of content. And you should definitely include them in your digital media kit too.

They'll make it more engaging, showcase your products and make you stand out.
5. Include Statistics to Support Your Claims
Numbers are like candies for the brain.

We are naturally drawn to them and they can be a nice addition to your digital media kit. First, they will make your media kit more appealing.

Which one of the two examples below do you find more appealing?
We have a large community of happy customers
We have a large community with over 50,000 happy customers
The second one, right?

It's more specific, adds credibility and you can immediately get an idea about how big a company or business is.

So, include numbers in your digital media kit.

Make it more engaging, be specific and support your claims with statistics.
6. Include links
Your digital media kit is a great place to include backlinks and help your rankings.

That's right, the more backlinks a site has, the higher it ranks. But be sure to make all backlinks "dofollow" or you get no benefits.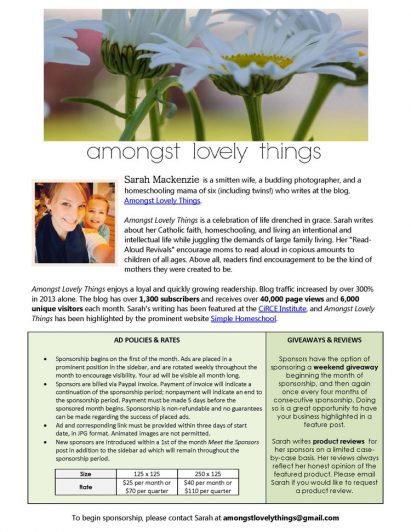 Aside from this, including links also improves user experience.

This is probably the biggest benefit of all. The visitors may find something interesting you include in your digital media kit that they would like to get more details about.

But if you don't include a link to it, they won't go and look for it on their own. Unfortunately, that can mean losing a customer.

Lastly, it will also support your claims and make your digital media kit more credible.

Whether you're claiming something or quoting a statistic, including a link to it supports it and your readers can learn more if they want.

Make sure to include links in your digital media kit, it will go a long way.
7. Social Proofs
You can have the best product but if nobody trusts you, you won't earn much.

Trust plays a crucial role in sales and the overall success of your strategy. That's why you should make sure to include some sort of social proof into your digital media kit.

One way to do it is to include reviews and testimonials.

Whether you believe it or not, customers trust reviews as much as recommendations from their friends.

But, to make them convincing, you should include as much information as possible.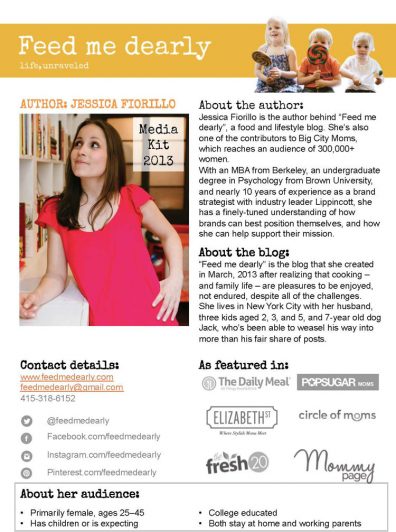 Be sure to add in the person's name, profile picture, date and include reviews with a detailed description of why your company is so good.
It'll make your digital media kit more convincing and increase your chances of a sale.
8. Contact Information
The last thing that shouldn't miss in any digital media kit is content information.

You should state clearly who can others contact you and who will they get in touch with. Ideally, it should be a person that is suitable for press inquiries.

The more ways to get in touch will you include, the better.

Also, make sure that the contact info is at someone who regularly checks his or her phone and email. This is important because the media is usually on a tight deadline and if you are quick, you can miss a great opportunity to be published.
Tools to Help Your Create Online Media Kits
Now that you know what to include in your digital media kit, it's time to create one.

There are many tools on the market you can use. We've picked the two of the best ones that you can use for completely free.
1. Canva
Canva is one of the most popular online graphic design tools

It allows you to create graphics from scratch or use thousands of free ready-to-use templates you can customize to make it fit perfectly.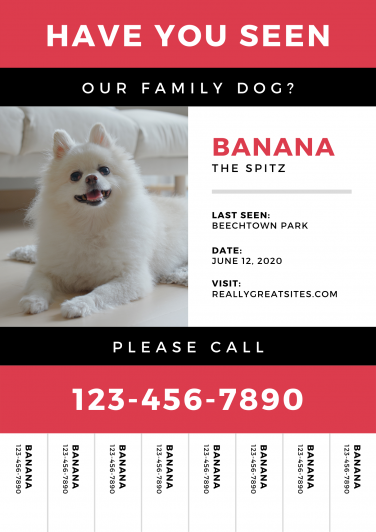 Everything is highly intuitive and you can be done with your media kit in a few minutes.

Unfortunately, if you are really looking to step up your game and make your digital media kit top-notch, you will need to buy a premium version of Canva.

The pricing starts at $12.99 a month, but you can also choose a free 30-day trial.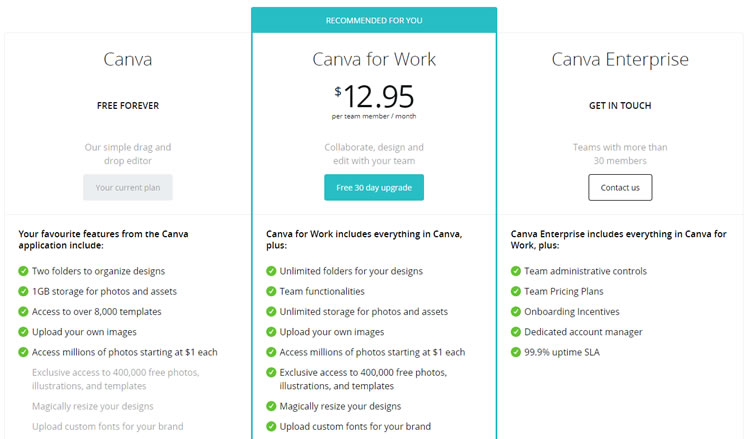 2. Visme
Visme is very similar to Canva.
It allows you to create a graphic design for free and include tons of templates to speed up your workflow and maximize your efficiency.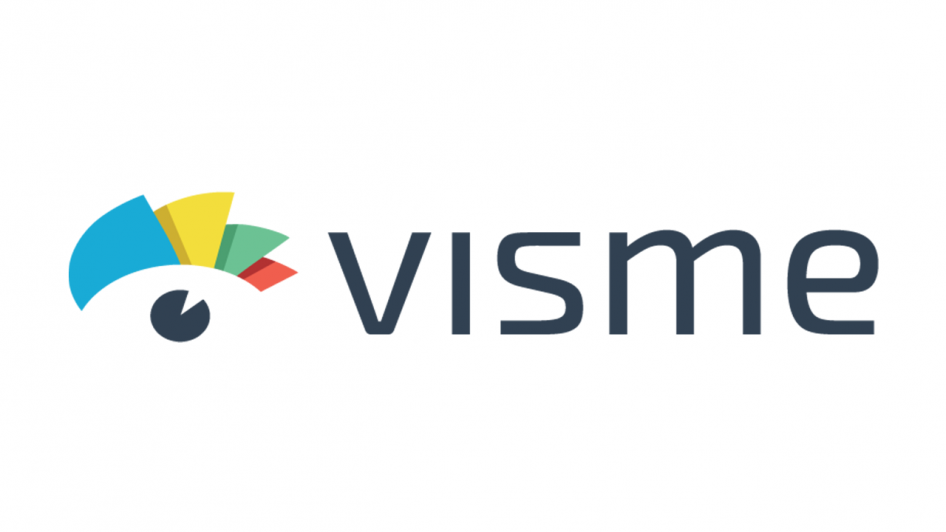 But unlike Canva, Visme also allows you to work and create designs offline.

This is great, especially if you are constantly on the go with a bad internet connection. It also features more templates, more charts and is more clean and intuitive.

It's free, but if you're looking to up your digital media kit game, you'll need to pay.

The basic pricing starts at $25, which is a lot higher than Canva.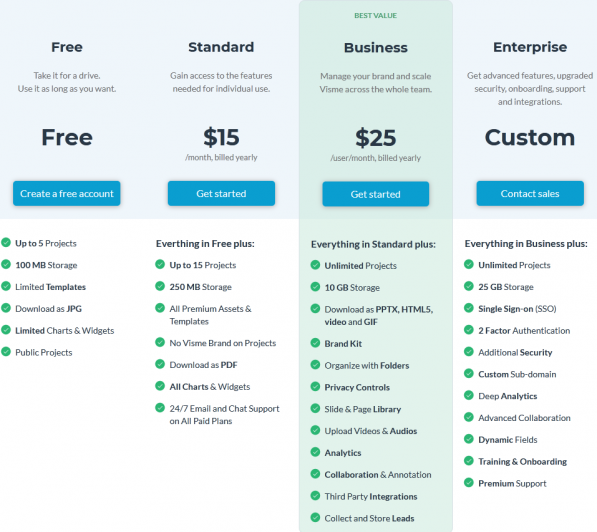 Start Creating The Best Digital Media Kit Today
A digital media kit is crucial for maximizing your chances of being published in the media.

In this article, you've discovered not only what to include in your digital media kit, but also tools that can help you master it.

But it doesn't end here.

Creating a digital media kit is important, but keeping it up-to-date is critical. Make sure to go over it regularly and make it as fresh as possible.

Now it's your turn. What tool will you use to create your digital media kit?
Let me know in the comments below right now.