Read this guide on social media image sizes
Whether it is a news update, a meme, or brand promotion, visual content plays a critical role in delivering messages via social media. That is why it is becoming more important to display your brand on social media via images.
In the quick scroll world of social media, we live in today, your brand's visual face is usually the first thing people see and possibly what they will remember.
That said, it is not just enough to copy and paste an image or reuse an image across different social media channels. Every platform has its own image size requirements, and if you want to maximize the impact of your message, you must follow the rules.
To help you figure out the best image sizes to use on which social media platforms, here is a cheat sheet you can bookmark or save to get answers;
Facebook image sizes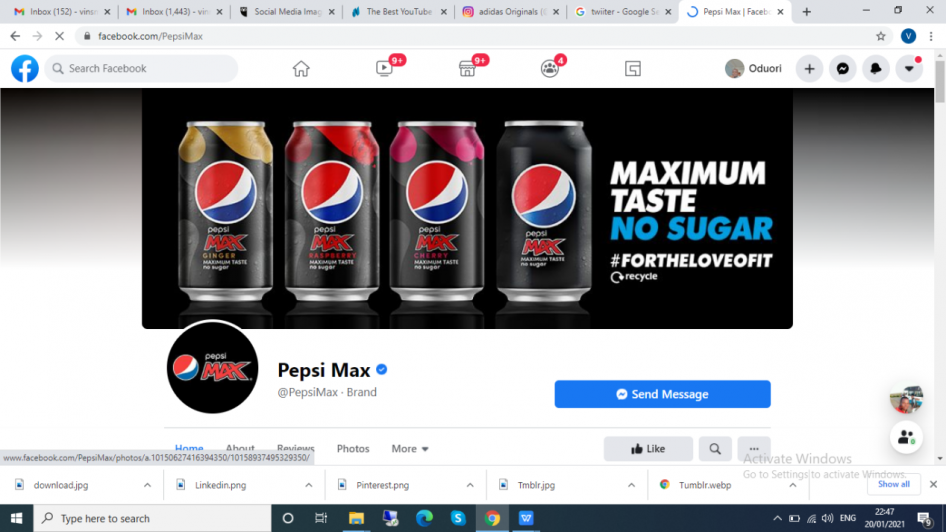 The world's most popular social channel, Facebook, is becoming more and more popular in business circles.
Nonetheless, because it is a social network, digital marketers and professional users are usually advised to avoid being too product-driven or commercial when it comes to images. Instead, focus on showcasing your business's social side and use the best resolution and size possible.
Recommended Facebook image sizes for 2020:
Facebook profile picture size: 180 x 180
Facebook group cover image size: 1640 x 922
Facebook cover photo size: 820 x 462
Facebook Story ad size: 1080 x 1920
Facebook image post size: 1200 x 630
Facebook event image size: 1920 x 1080
Facebook link image size: 1200 x 630
Facebook video size: 1280 x 720
Facebook ad size: 1200 x 628
Facebook video ad size: 1280 x 720
Facebook messenger image ad size: 1200 x 628
Pro tips
To avoid any distortion or compression, upload a PNG or JPG file.
Use the suggested pixel size for fast load times.
Cover photos and profile pictures with text work or logos do best when uploaded as a PNG file.
Do not drag an image once you have uploaded it.
Twitter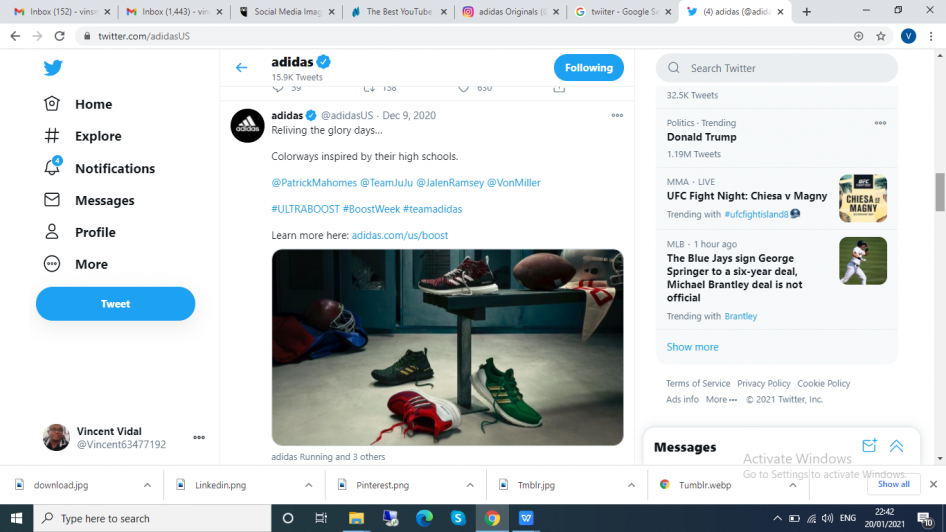 Any tweet that includes images will undoubtedly attract more likes, re-tweets, and through-traffic than image-less tweets.
Actually, research shows that Tweets with images are three times more likely to engage. Selecting the appropriate image and crafting unique visual content with the right sizes is critical for the platform.
Twitter profile photo size: 400 x 400 (recommended)
Minimum photo size: 200 by 200 pixels
Maximum file size: 2MB
Recommended photo size for header images: 1500 x 500 pixels (recommended)
Tips
Use the maximum size at all types if possible.
Crop header images to an aspect ratio of 3:1
In-stream images on Twitter: The recommended size is 1024 by 512 pixels
Minimum size: 440 x 220 pixel
Aspect ratio: 16:9
Formats: GIF, JPG, and PNG
Maximum file size: 15MB on desktops or laptops and 5MB for GIFs and photos
Twitter card social media image size
The platform notices when any tweet includes a URL, then crawls the link, pulling the content, including a Twitter image for the summary card.
Minimum size: 120 x 120 pixels
Supported formats: GIF, JPG, PNG
Maximum file size: 1MB
Pro tips
Use a card validator to test and see how a Twitter summary card will appear.
Fleet images on Twitter
Recommended size: 1080 by 1920 pixels
Also, note that fleets are mainly mobile.
Twitter image sizes for ads:
Single and multi-image tweets: Minimum 600 x 335 pixels
Website card image: 800 by 800 for 1:1 aspect ratio and 800 by 418 for 1.91:1 aspect ratio. The maximum file size is 20MB.
App card image: 800 by 800 for 1:1 aspect ratio and 800 by 418 for 1.91:1 aspect ratio. The maximum file size is 3 MB.
Carousels: 800 by 800 for 1:1 aspect ratio and 800 by 418 for 1.91:1 aspect ratio. The maximum file size is 20 MB for 2 to 6 image cards.
Direct message card; 800 by 418 pixels for 1.91:1 aspect ratio. Maximum file size 3MB.
Conversation card: 800 by 418 pixels for 1.91:1 aspect ratio. Maximum file size 3MB.
Instagram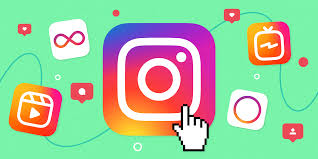 Instagram supports both vertically and horizontally oriented photos. Similarly, it supports square images (this is what made it so popular when It first hit the market).
Now, while this makes your options limitless, it also makes it a bit tricky to get the right social media image sizes right. Here are some basic rules to make sure the images look their best.
Profile image size:320 x 320 pixels
Square: 1080 x 1080 pixels
Portrait: 1080 x 1350 pixels
Photo size for feed images:
Landscape: 1080 by 566 pixels
Aspect ratio; 1.91:1 to 4:5
Recommended photo size: Height between 566 and 1350 pixels (depending on whether the photo is portrait or landscape), width 1080 pixels.
Tips:
For images to look great, your goal should be to upload a photo that is 1080 pixels wide. If you upload one that is more than 1080 pixels, the platform will downsize it to around 1080 pixels.
For any image that has a resolution of fewer than 320 pixels, the channel will upgrade it to 320 pixels.
While the dimensions mentioned above are in square, profile images are usually shown as a circle. So, ensure that many aspects that you want to concentrate on are at the center, so they aren't cropped out.
Instagram photo sizes for thumbnails:
Tips
Instagram often stores thumbnails that are a big as 1080 by 1080. So, for future proof on your feed, go for images that are as big as possible
Display size: 161 x 161 pixels
Recommended upload size: 1080 pixels wide
Instagram stories image: 1080 by 1020 pixels
Pro tips:
The aspect ratio is 9:16
If you upload any image that is smaller with the same aspect ratio, the story will likely buffer
If you do not use the aspect ratio, the story might appear with strange zooming, cropping, and leave sections of the screen empty.
LinkedIn
Many businesses assume that LinkedIn is a strictly professional network channel where profile images and other images do not need to wow others.
Though this is partly true when it comes to brand clarity and fidelity, a charming and attractive profile is a great asset and calling card for your business. Go for well-polished and maximum resolution images.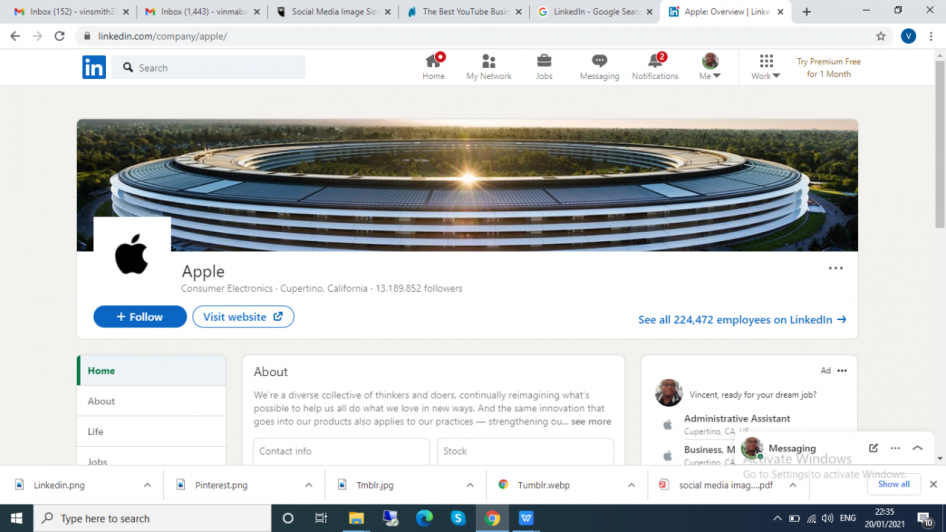 LinkedIn profile images: 400 by 400 pixels or bigger
Tips
The channel can support images of up to 7680 x 4320 pixels.
It can accommodate images of up to 8MB, so upload the largest possible image for future proof.
Photo size for profile cover
1584 by 396 pixels
Aspect ratio: 4:1
Tips
Ensure the file is less than 8MB
LinkedIn crops images differently on desktop and mobile, so make sure you check both ends before you finalize
LinkedIn image sizes for company pages:
Business logo size: 300 by 300 pixels
Cover image size: 1128 by 191 pixels
Life tab main photo size: 1128 by 376 pixels
Life tab custom modules photo size: 502 by 282 pixels
Life tab business image sizes: 900 by 600 pixels
Square logo: Not less than 60 x 60 pixels
Tips
Use JPG or PNG images when updating page images
The aspect ratio of 1.91:1
1200 x 628-pixel photos are highly recommended
Image sizes for blog post link images: 1200 by 627 pixels
Custom photo size for sharing links in updates: 1200 by 627 pixels
LinkedIn Stories photo sizes:
File types: JPEG or PNG
Aspect ratio: 9:16
Resolution: 1080 x 1920 pixels
Pro tips
It is possible to save posts that have been published within the last 24 hours for your LinkedIn story.
You can share your LinkedIn stories with first degrees connections through LinkedIn messaging.
Photo sizes for ads on LinkedIn:
Business logo size for adverts: 100 x 100 pixels
Spotlight adverts: 100 by 100 pixels
Spotlight adverts custom background photo: 300 by 250 pixels
Sponsored ad or content photos: 1200 by 627 pixels (1.91:1 aspect ratio)Sponsored content carousel images: 1080 x 1080 pixels (1:1 aspect ratio)
Pinterest
This platform is mainly about visuals. More than 250 million people worldwide use the channel every month to find inspiration and discover trends. That said, when it comes to photos, the platform also has some requirements: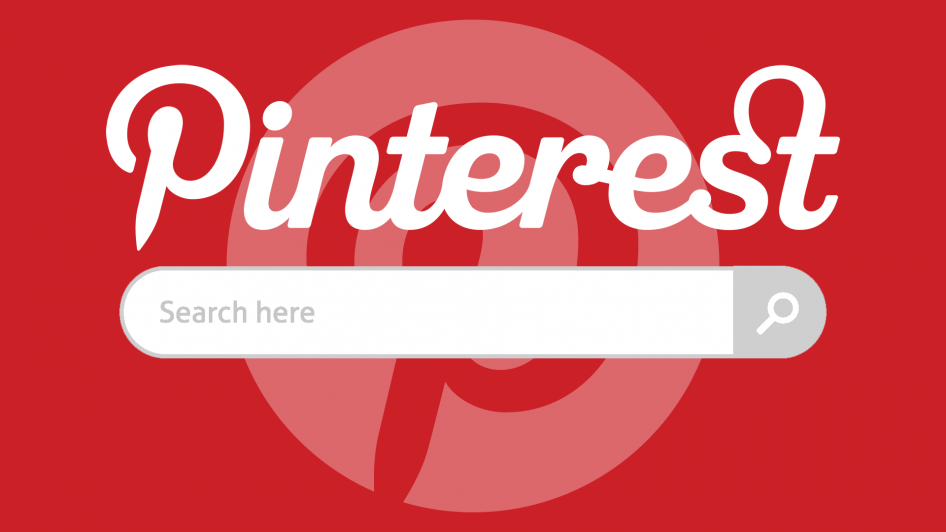 Recommended social media image size for profile photo: 165 x 165 pixels. Also, keep in mind that the profile photo will appear as a circle. Image size for profile cover image: 800 x 450 pixels
Tips
Avoid uploading a portrait image as a cover image. Instead, you can use a landscape image with an aspect ratio of 16:9.
Photo size for pins
Recommended aspect ratio: 2:3
Square pin size: 1000 by 1000 pixels
Recommended size: 1000 by 1500 pixels
Maximum file size: 20MB
Pro tips
The aspect ratio of 2:3 will ensure that your audience sees all the details in the image.
Pins are usually displayed with a width of 236 pixels on the feed.
Pinterest crops photos from the bottom. So, if you want to develop pins with different aspect ratios, keep that in mind.
Both JPEG and PNG images are supported.
Pinterest image sizes for collections Pins:
Aspect ratio: 2:3 or 1:1
Maximum file size: 10MB
Recommended size: 1000 by 1000 pixels or 1000 by 1500 pixels
Tips
The aspect ratio should be the same in all images.
Collections usually appear in feeds on mobile phones.
Both JPEG and PNG are supported.
Collections can be in advert format on Pinterest.
Photo size for Story Pins:
Aspect ratio: 9:16
Recommended size: 1080 by 1920 pixels
Max file size: 20MB
Image size for carousels and ads
App installs ads: 1000 by 1500 pixels and a 2:3 aspect ratio recommended.
You can include up to 5 photos in a carousel.
Shopping adverts: 1000 by 1500 pixels and a 2:3 aspect ratio recommended.
YouTube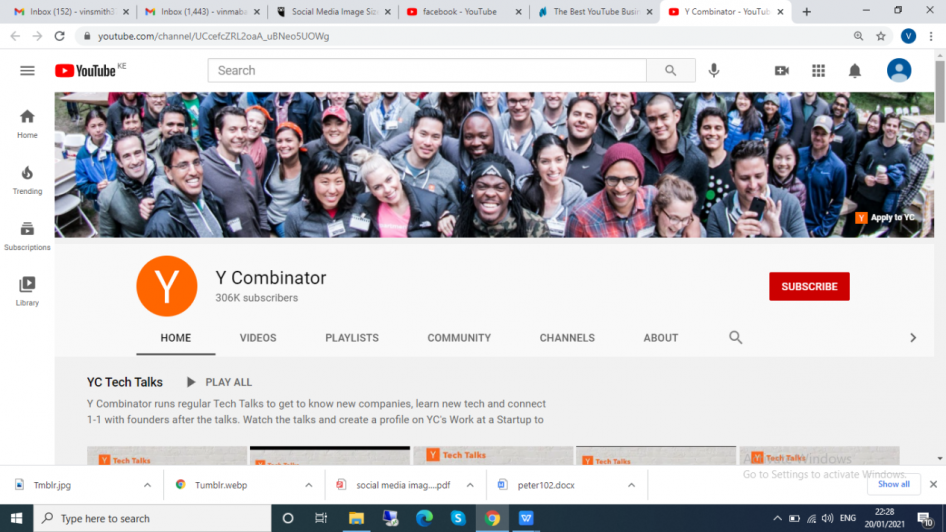 YouTube offers a very effective way for companies to share videos. However, for a video to perform well, you must meet certain requirements.
Though video length and resolution are very important, you must also pay attention to details such as channel cover picture and profile picture size to captivate your target audience the moment they land on your YouTube channel.
Channel cover picture:1546 BY 423 (smartphones) and 2560 x 1440 pixels (desktop).
Display ads: 300 x 250
Skippable video ads length: 6 – 20 seconds
Standard video: 1280 x 760 pixels
Overlay ads: 480 x 60
Non-skippable video ads: 30 seconds is recommended
Companion banner ads: 300 x 250 pixels
Bumper video ads length: 6 seconds
Tumblr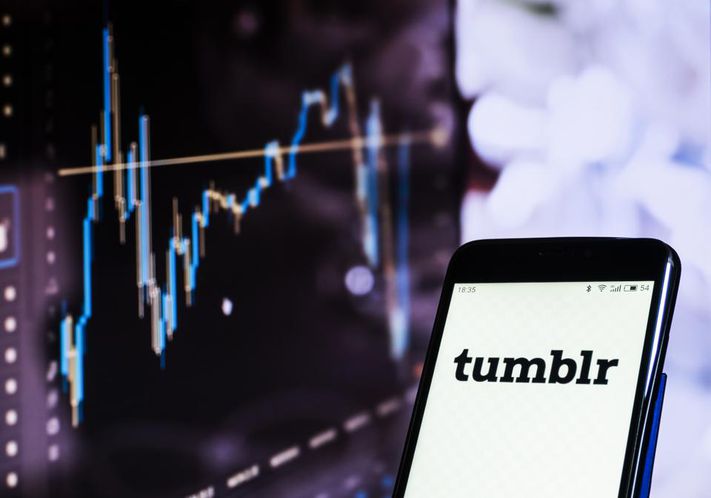 Tumblr is an adjustable social platform that helps users share any file they want. Now, while your profile picture will not appear regularly throughout the website, makes sure that you go for a social media image size that suits your pages' design.
Also, amplify your reach by fine-tuning images on the specific Tumblr banner.
Profile image size: 128 x 128 pixels
Image post: 500 x 750 pixels
BMP, PNG GIF, and JPG are highly recommended
Image size must be less than 10MB
All animated GIFS should be less than 1MB and maximum pixels at 500 pixels.
For more information, you can visit the Tumblr help center here.
Extra: How to improve your social media image size
Uploading attractive and appropriate images on social media is one of the most effective ways of building an audience. That is why there is a huge difference between what most people upload and the kind of images that get attention from users.
Fortunately, images that perform well tend to have some common features. Aspects that you can also use to enhance yours. Here are some tips:
Start with using better social media images – invest in a camera or stock images.
Add texts to your images to increase engagement – use a meaningful quote or powerful words.
Brand your social media images with consistency and style
Use contrasting colors to make your social media images pop.
Include target keywords in your captions – these platforms are search engines in their own rights. You can use BiQ Keyword Intelligence to do keyword research and get ideas.?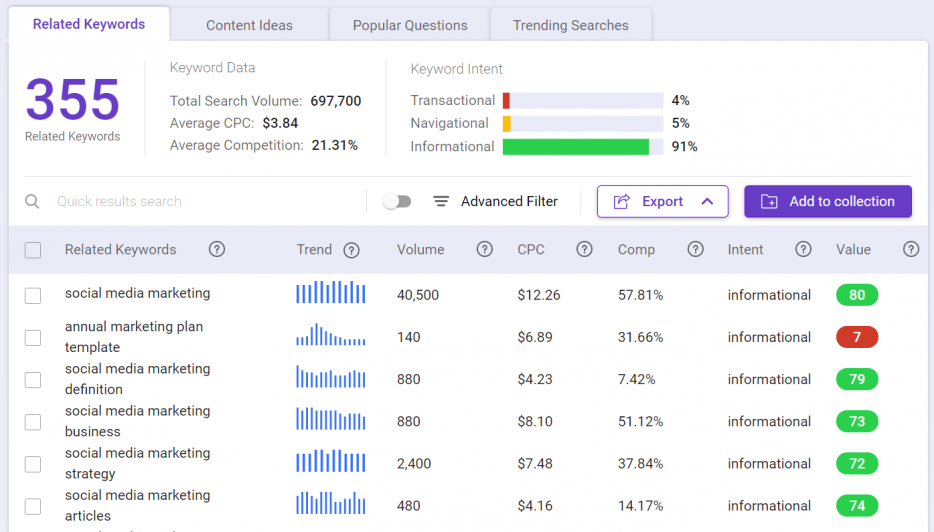 The tool allows users to collect data on trends, related keywords, keywords volume, etc.
If you are not sure which keyword to use, you can sort the keywords based on their value. The higher valued keyword means it can potentially bring more traffic to your website at a lower competition.
Conclusion
Regardless of what your objective is for uploading images on social media, you want them to appear great. Begin with these tips, and you will start enhancing your images as well as the response they get instantly.
Hopefully, you enjoyed these tips. It is truly surprising how a few tweaks here and there can have a big impact on appearance and outcome.