9 SEO copywriting tips to help you make better content, and rank higher. Don't miss out on these important SEO tips in your SEO content writing!
Looking for SEO copywriting tips that you can easily implement to boost your content ranking? Then look no further.

When it comes to SEO copywriting, it means we are writing to attract the search engines to your content while simultaneously appealing to the readers.

Naturally, this is easier said than done. That could also explain why you are here today. You are looking for tips, strategies, or ideas on how to improve your SEO copywriting. You have just come to the right place.

Let's get started!

9 Actionable SEO Copywriting Tips
1. Create user intent optimized content to gain "real" readers
It's no secret that Google loves updating its algorithm every year. In fact, it's changing fast. But something never changes – satisfy user intent.

Do you still remember what the last searches you made on Google were?

Were you looking for birthday wishes to send to a friend, or were you looking up news related to COVID-19? Perhaps you were searching for strategies to increase your website traffic.

Whatever your intent is, you probably assumed that Google would give you the answer to what you were looking for. Isn't it?

The search engine's goal is to provide you with the most relevant result for your searches. That most probably why they handsomely reward those contents that able for giving what searchers want.

When your content matches the user intent, they will spend more time on your website. This could lead to brand familiarity and often lead to conversions.

Now how do you create user intent optimized content?

The secret lies in identifying the "intent" behind the search.

For example, when a user searches "SEO content," it could mean anything. They could be looking for SEO content or looking for more tips and best practices.

But…

If you realized, we are just making guesses, and guessing has serious side effects.

Fortunately, you can use the intent analyzer in Keyword Intelligence to identify the intent behind every keyword.

Example:

You can immediately know users are looking for information when searching "hiking shoes."

But if we change the query to "best hiking shoes," you can see they are now interested in buying something, but they want to look for more information.

This important information will help you greatly in deciding the direction of your content creation!
When you know what they are looking for, then only you can write useful content for them.
2. Speak the same language as your audience
We are naturally attracted to people who are similar to us.

The same goes for your target audience. They will prefer someone that speaks in the same language as they do.

Example: When you're writing a 'Beginner's Guide to SEO Copywriting Techniques,' you may not want to use too many abbreviations such as alt text, H1, and more.

Because this would be confusing at first, especially to those who do not have any background in search engine optimization.

Stay in tune with your target audience by finding and using the language they would use.

There are a few ways to understand their languages. You can go to where they would usually hang out.

The most common place would be:
Facebook groups
Quora
Reddit
Blog comments
Forum
Search result page (People Also Ask and Searches Related To)
Or you easily get them by using the Keyword Intelligence to find popular questions and trending searches made by searchers in search engines.

It is always preferable to use simple language to make your content clearer and easier to understand. It helps readers to find easily, understand, and benefit from the content itself.

Once you are done publishing your content, paste the URL on the Content Intelligence, and it will show how easy is your content to be consumed by readers.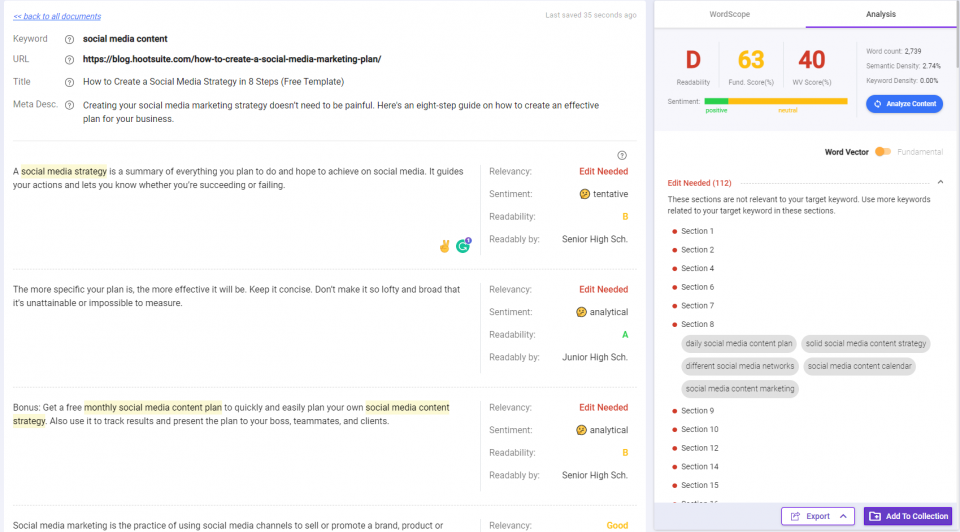 We will go back to this content tool in a while. But first, let's check out the third copywriting tip. Read on…
3. Use the "Inverted Pyramid" technique to attract readers
When using the inverted pyramid technique, you place the most fundamental information at the top, followed by the least important.

With the inverted pyramid, you can quickly capture your readers' attention by giving them the information they want to hear. 
The "Inverted Pyramid" Technique

You Now Have a Shorter Attention Span Than a Goldfish. – Time.com

Example:

Let's look at the example by WordStream below.
Searchers who are looking for what is anchor text can immediately get their answers from the first paragraph.

It is then followed by paragraphs containing important details to the examples and types of anchor text.

Other than attracting readers to scroll and read further, it also yields some SEO benefits. Using the inverted pyramid structure means you will be placing your keyword in the first paragraph. This will increase your keyword prominence and easier to be found by search engines.
4. Use these "Power" keywords to boost your visibility
No one likes keyword stuffing. It hurts not just your ranking but also your user experience.

Rather than using the same keyword over and over again, try using related keywords.

Related keywords help to explain the content further so search engines and humans can better understand your content.

Example:

This article by Mr. Rooter ranked number one on the SERP for the "plumbing services" keyword.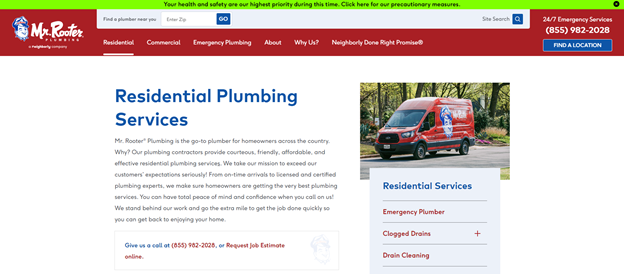 As you can see, they don't just use "plumbing services" in their content. They also use keywords that are related to the target keyword as per the underline above.

It is easy to find related keywords. Go to Keyword Intelligence, and type in your target keywords. It will return hundreds of related keywords that are ready to be used.

If you find it is difficult to decide which related keywords to be used, use the 'Keyword Value' as your guidance. It tells you which keywords have a higher value by comparing the search volume and competition level.
5. Get high-quality traffic using LT keywords
It is much easier to rank for long-tail keywords than short-tail keywords because of their less competitive nature.

Long-tail keyword brings lesser traffic, yet it gives you better traffic.

Most people will be more descriptive when they know what they are looking for. Thus, when used correctly, it will increase the chances of conversion.

Example:

When someone is looking for services to fix plumbing leaks, they don't just type "plumbing" on the search box.

They will probably search "plumbing services near me" or "plumbing services 24 hours".

You can easily find your long-tail keywords by applying the 'Advanced Filters' in Keyword Intelligence.
You will get to see a list of long-tail keywords together with their important data, including the keyword value.
6. Improve your CTR with these 3 title hacks
The title is the first impression that readers get from your blog post. If you fail to make them clickable, all your effort will be a waste of your time.

Here are the four 'hacks' to creating your best title.
When you use a number in your title, it immediately hooks the reader's interest.

"10 Ways to Use BiQ SEO Suite to Increase Your Website Ranking" is much better than "Ways to Use BiQ SEO Suite to Increase Your Website Ranking."

Here are some examples of how Buzzfeed incorporate numbers into their title.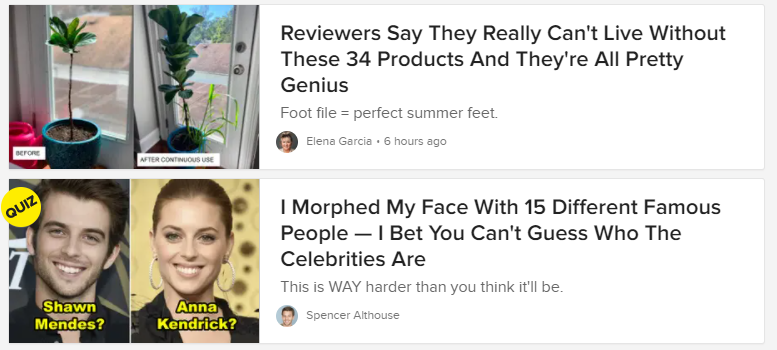 Make sure to deliver the number that you promised. If you promised 10 tips, write 10 tips.

Because trust me, readers will check.
Imagine if you are searching for the best social media management tools on the search engine, and these results come out: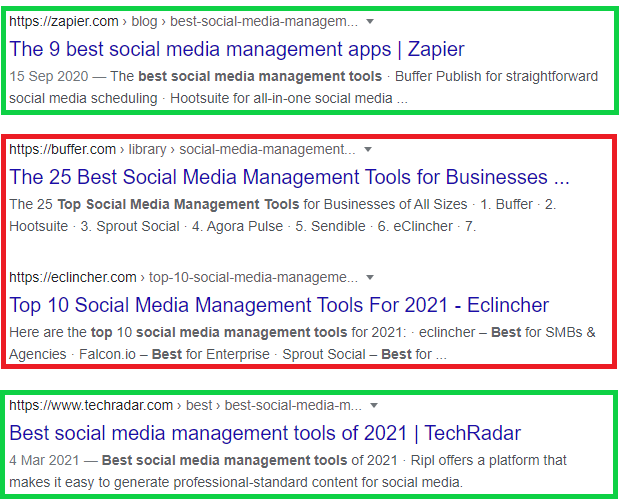 Which of these results will you click?

I bet most of you will click the option in green.

Why?

Because we want the newest and latest information.

Dig up your old content, optimize them with the latest information, and add the year in the title.
If your content is not about the number of tips, strategies, or steps, you can try using 'question' instead.

Using questions is a great way to pique readers' interest. When they get curious about the content, the higher the chances they will click and read your content.
7. Identify and close your content gaps to beat your competitors
Analyze and discover what are the "gaps" between your content and the top-ranking contents.

How do you do this?

The easiest way to do this is by conducting the 'Word Vector Analysis' on Content Intelligence.

For example, if you want to know how your content is performing against the top 10 on the search results page, enter your URL and target keyword.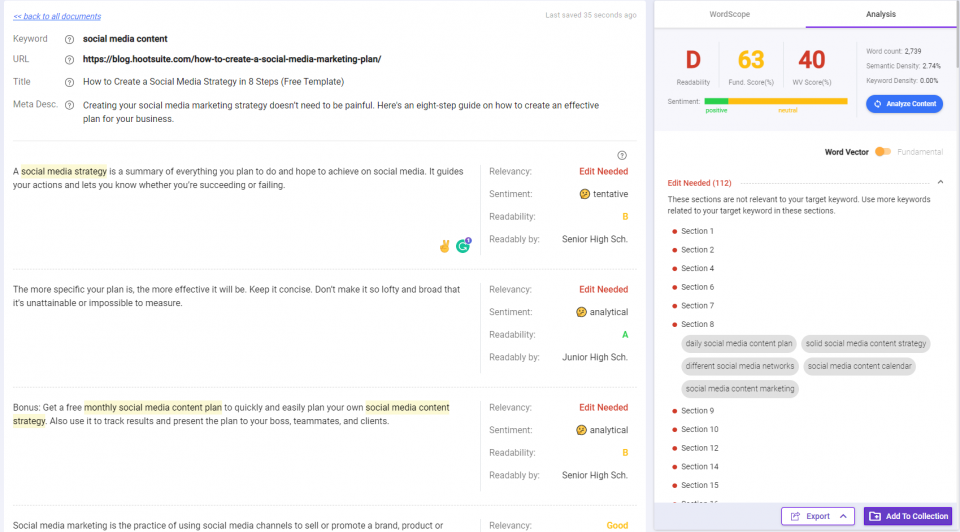 You will get to see how relevant your content is when compared to the top-performing content.

What's cool about this feature is it points out the exact paragraph that can be further improved to close the "gaps." To do this, click the 'Section' on the box.
Whenever you optimize your content, recheck the Word Vector score. Make sure you get a high score.

When you do, you'll gain extra organic search traffic to your website.
8. Include images to make it easier to scan your content
A picture is worth a thousand words.

Images play an important role in content marketing strategy. In fact, content with images gets 94% more total views.

Human brains can process images faster compared to written content. That's why it is essential to include images whenever possible in your content.

Of course, you don't want to drown your readers in a sea of texts. When you add relevant images to the message you want to convey, it helps break down the massive chunks of writing, making it easier for readers to scan.

Plus, they do a better job of capturing our short attention spans!

Images also could help you in increasing the content's SEO value. It helps search engines understand what your content is about.

So how do you check if you have "enough" images in your content?

I recommend you include an image every 100 words. In other words, a 1000-word content will need about 10 images.

But do not worry too much about the number. Include them as naturally as possible in your content.

9. Get people to take action and convert!
Ask, and it will be given to you…

If you don't ask, you're not going to get it. But when you ask, it will be given to you.

There's nothing magical or tricky to getting someone to do something. You just have to ask, right? But it is not often the case.

Your content should help you get the result you want. Whether clicking that 'Buy' button or subscribe to your mailing list, you just need to tell readers what to do.

We have recently conducted A/B testing on our homepage to see where would best place to put the call to action button.
The original page has its CTA button in the middle of the page, while the variant has them on the first fold.
Other than the position of the CTA button, the text matter too. I guess I don't need to stress out how important it is to split test your button's text because there's already a 60 million dollar spent to prove the importance.

In the experiment, Obama successfully raised an extra $60 million in donation just by changing the CTA button text from "Sign Up" to "Learn More."

Oftentimes, we see the button text as a small detail to split test. But it is usually those little things that can trigger the visitor's emotional response.

Every visitor that comes to your website is an opportunity for them to do exactly what they do, so don't miss out on them out.

Start adding your CTAs!
Conclusion
Google is now processing over 40,000 search queries per second (like it or not, the number can and will increase over time!). That translates into 3.5 billion searches per day and 1.2 trillion searches per year worldwide.

Every search earnestly searches for relevant and reliable answers to all sorts of burning questions.

If you are doing SEO, you know how critical it is to produce great content to answer those questions and thereby rank well.

Try out the SEO copywriting tips, and your next content might turn out to be the best yet!

Let me know if you have any additional tips in the comments below.