Facebook content is one of the social media platforms that people seek out when they want to learn more about a business or update what's new about your product.
Are you wondering what to post on your Facebook business page that resonates with your audience? If you seek to revamp your Facebook strategy and create shareable Facebook posts, you must post content that your audience will enjoy.
So how to make a post shareable on Facebook? Below is a compilation of interactive Facebook post ideas you should try.
1. Tell Your Brand's Story
A brand story is a tried and true Facebook content idea. It is among the best ways to get personal with your audience. Telling your brand's story helps you connect with your followers on a different level.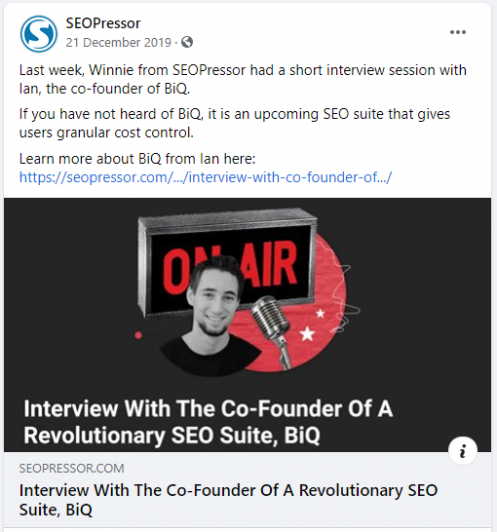 Storytelling works well for any business. Tell your stories of how your brand came to be. You can share the challenges and obstacles you faced as a business owner and how they made your brand what it is currently.
You can even let your employees have fun and disclose aspects of their job (to a point, of course). Another great idea is to conduct an interview with the CEO or other notable member of your brand's leadership team.
Interviews such as these can work well if you have reached other publishing houses too! Perhaps you can reach out to your local newspaper or magazine; they might be interested in interviewing someone from your company. That can then be another newsworthy idea to post on your Facebook page.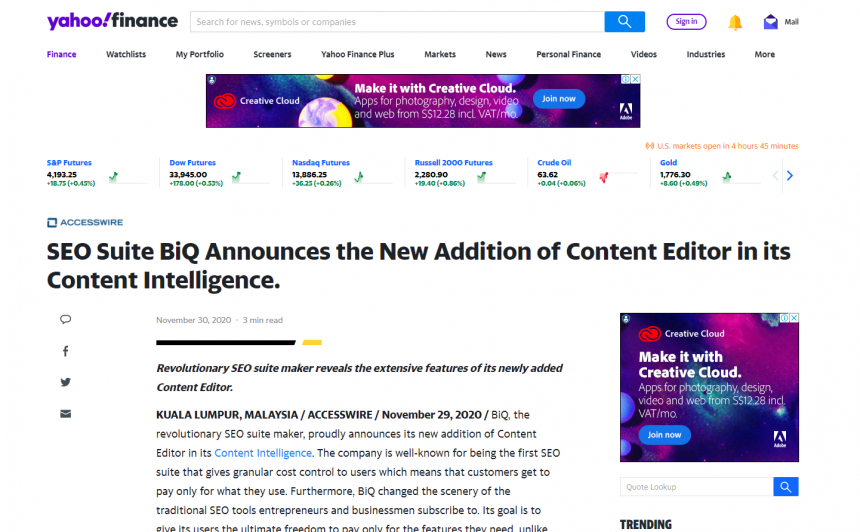 Here at BiQ, we have actually been featured on Yahoo! News for sharing stories about our brand and our effort during the COVID-19 period. Stories about your brand can not only work for a Facebook post; it's a good topic for news features as well!
2. Post What is Trending
Another way on how to improve Facebook page is by posting about trending topics. Posting about what people are talking about improves your chances of appearing in the news feeds (the algorithms reward trending topics).
Also, your followers will be more likely to comment on your posts and share them as well. A great practice is to use hashtags for trending topics. It's worth noting that you should choose trending topics that are related to or connected to your brand.
So if you're a restaurant, you can keep an eye out for Thanksgiving Dinner ideas or memes. Those would be perfect for you to chime in and make a fun post out of it!
3. Time Your Facebook Content Posting
Timing your post is not exactly a Facebook content idea, but it's a great posting tip in general. You should post at the most optimal times when your audience is more likely to be online and engaged. Failure to do this may result in your great content missing out on a lot of interaction.
You can use a tool like Facebook Audience Insights to help you track user interaction. Audience Insights will help you determine the optimal times to post (time of day and day of the week) as well as the most popular content.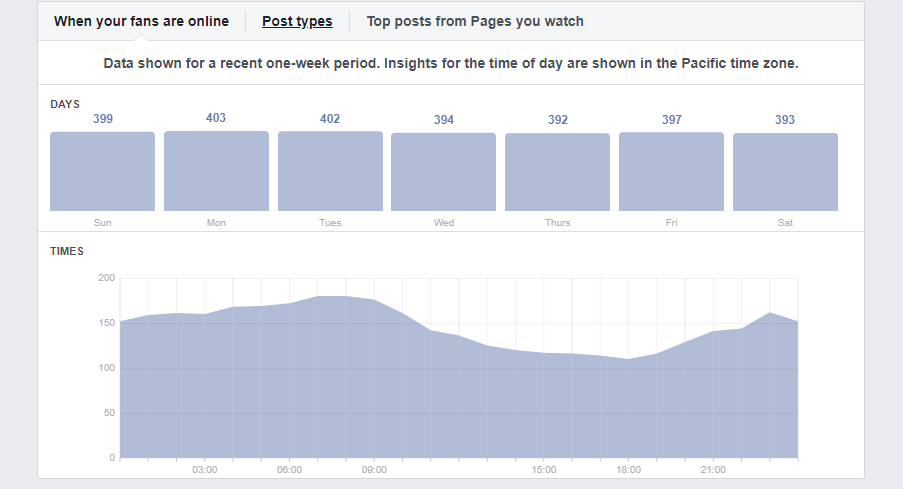 Here at BiQ, we are always testing and playing around with our posting timing. In fact, we might very well be getting something out of all these experiments. Curious? Stay tuned, and we might just publish a post about what we learned!
4. Experiment with Posting Frequency
How often you post your content on Facebook is a major factor in determining engagement. With Facebook content marketing, there's no one-size-fits-all methodology that works for all businesses. There are some overarching best practices, but it's advisable to analyze your business to determine what works best.
As such, you should try posting at different frequencies, and based on your engagement, Key Performance Indicators (KPIs), you can determine what works best for your audience. Having said that, for many businesses, posting frequently (several times a day) works best. Test your posting frequency and then decide on an effective medium.
5. Try Posting at Non-Peak Hours
Depending on the type of audience, posting at non-peak hours can be very beneficial. Non-peak hours are those hours early in the morning or very late at night. Most businesses probably aren't posting during these hours as there are fewer Facebook users online.
However, this presents an opportunity in the form of less competition. You can take advantage of this aspect and capture the attention of the users who log in at these hours.
6. Take Your Audience Behind the Scenes
Sharing behind-the-scenes videos or photos of your business is a great way to humanize your brand. There are a lot of ways you can do this. Give your audience an "exclusive" look or sneak peek at your business's operations.
You can introduce your employees or even showcase how you make your products. You can include videos of your campaigns or even bloopers. Be creative and look for a way that your brain can get on a personal level through unique content that breaks that customer-business disconnect.
Our team here at BiQ is a bit camera shy, so we're still working on getting that behind-the-scenes post out. Have you tried posting anything like this? Let us know how it works!
7. Offer Promotions
What is the best way to advertise your products or services while still driving high engagement? Offer promotions, of course. Share major sales promotions and discounts you're running.
Make it fun by creating Facebook-only discounts and promo codes and encourage your followers to share with their friends. This is a great way to reward users for linking your Facebook business page.
Here at BiQ, we actually gained good traction by publicizing and inviting close beta invitations to our followers on Facebook. And guess what? We got LOADDSS of responses from them! This is why we believe posting about promotions on Facebook is not only a good idea, it's also a very useful thing to do for your business.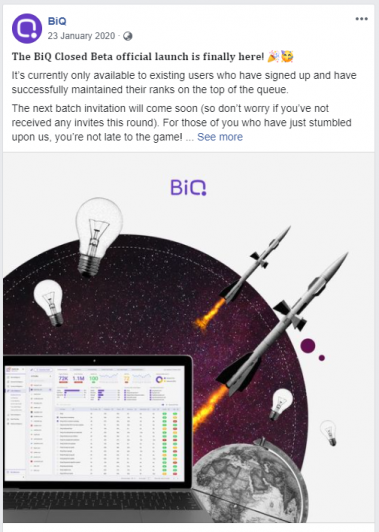 8. Talk about Your Charities and Causes
Giving back to the community and community outreach is an important part of any business today. You can garner great engagement on Facebook by sharing the community service efforts of your business. Tell your audience why you chose your causes or charities and what they mean to your brand and your employees and partners.
There are a lot of brands that build a positive image based on their ties with charities, and some are even set up as a social enterprise from the start like OneHope Wine! No matter how you want to incorporate charity into your business, it is always a good idea to spread the word, and why not on Facebook?
9. Product in Use Photos
It's very important to use photos frequently in your Facebook posts. According to BrainRules, people remember 65% more of a piece of information they see if an image is attached to it. In this light, it's a great Facebook post idea to showcase your products in use through photos.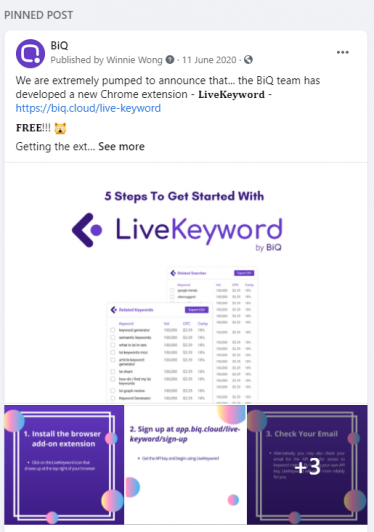 Your customers want to see themselves using your products in real life. It's more about the experience surrounding your product than the actual product. As such, posting photos of your products in use is a great way to entice them to purchase.
Our team is always excited to share new ways to power up the SEO game using our very own BiQ suit! So you can see us posing regularly about such use cases, complete with screenshots of our product in use.
10. Be Consistent in Your Posting
We've already talked about the importance of posting frequency. One aspect of Facebook posts that many content marketers overlook is posting consistency.
Once you have captured the attention of your audience, you must keep them engaged. This is where posting consistency comes. Ensure you post consistently, regardless of how frequently you post.
11. Post Videos Often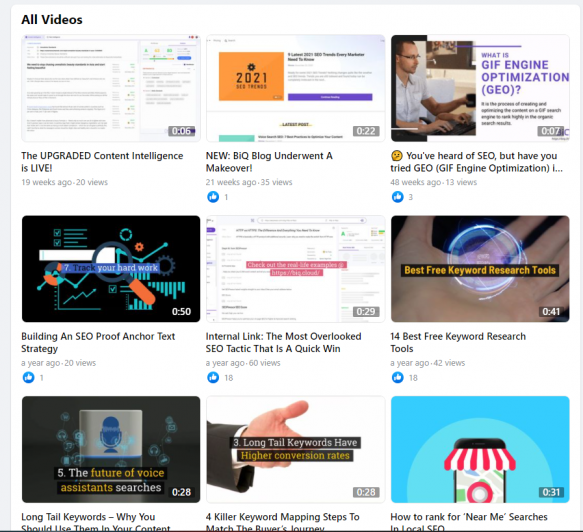 Video is a crucial part of shareable Facebook posts for the online consumers today. HubSpot states that 33% of all Facebook engagement involved watching videos. Video is also a major component of Facebook today, with a dedicated "Watch" section. Ensure that you include videos often in your content. You have plenty of options here.
They can be informational videos, tutorials, stop motion videos, behind-the-scenes videos, or even live videos. Facebook revealed that live video gets 6 times more impressions on Facebook on average than regular videos, so you should note this.
12. Include a strong Call-to-Action
Nailing your call to action (CTA) on your Facebook content is very important. Your CTA directs your audience on how they can interact with your posts.
Depending on your goals, your CTA may be "learn more," "comment and share, "sign up now," or "get it while stocks last." Ensure you keep it brief and concise. Your CTA helps create some sense of urgency that necessitates a response from your audience.
13. Run a Themed Series of Facebook Content
A themed series of posts is a great way to drive an even higher Facebook engagement. Create content around a theme and space it out over a specific period, such as a number of days or a week. The theme should document a certain product, offer, or topic.
You can go for anything from a series of videos or photos. Ensure that your audience can easily find your themed posts by using hashtags. Each of your posts should be related and keep a consistent theme throughout.
14. Post About Something You're Working On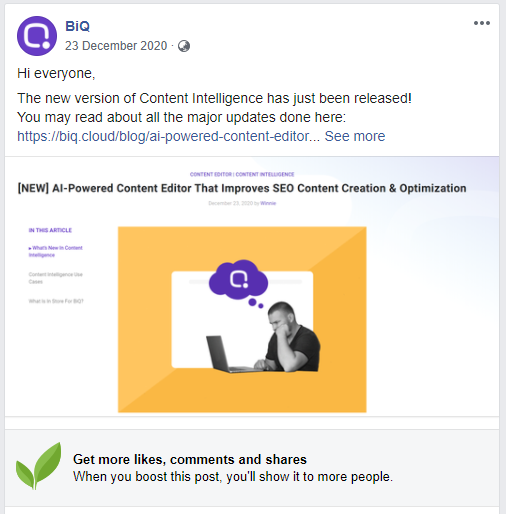 Highlighting a work in progress through your Facebook posts can help your brand resonate more with your audience. Treat your audience to a special project you are working on. It could be a product you're developing or a service you're working on.
Showcasing an upcoming product/service is a great opportunity to include videos in your content. You can also include photos by sharing the before and after photos of the projects you're working on.
15. Share Customer Testimonials
Customer testimonials act as social proof and increase the confidence of your customers in your products or services. Many people look up customer reviews when deciding whether to purchase your products or subscribe to your services.
You can create shareable Facebook posts where you share quotes from the reviews of customers who were satisfied with your offerings. Positive reviews increase the chances of audience members buying your products or recommending them to their friends.
Here at BiQ, we love it when clients give us feedback and we will always share it on our Facebook page!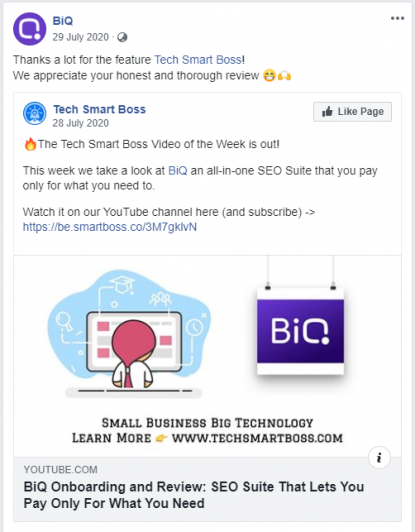 16. Comment to Receive Posts
"Comment to Receive" Facebook posts work great if you have a free giveaway or seek to promote something via the social media platform. It's no wonder that so many businesses use it. You can ask your audience to comment on a certain phrase or word as Facebook contests to stand a chance of receiving the giveaway.
17. "On This Day in History" Posts
Facebook content about major events that happened on particular days throughout history is a popular marketing option for many mediums. You can drive engagement by helping your audience learn about interesting events by date.
It can be anything, including arts, music, famous birthdays, anniversaries, entertainment, science, or important deaths. You can create these posts on dates relevant to your brands, such as the day you founded your company, the day one of your main products went on sale, or another important milestone.
18. Share Branded Graphics/Statistics
Branded statistics or graphics are a great idea that works well on virtually every platform. Include the logo, colors, and fonts of your brand in the graphics. One reason why they are effective is their versatility.
You can go for any type of statistic or infographics. Note that you are not just limited to statistics. You can share relevant tips, quotes, memes, or motivational sayings that resonate with your brand.
Another great idea is sharing a customer case study with a branded image showcasing your results. This helps you display your products' value to your audience.
19. Explore Seasonal Posts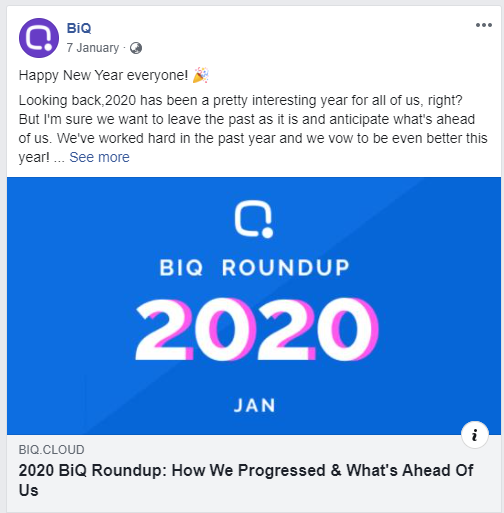 Another Facebook business post ideas are to try out seasonal posts if you have products or services that you have designed specifically for various reasons. These seasons may include public holidays (Christmas, New Years, and Thanksgiving) or climatic seasons (summer or winter).
Conclusion:
There are many more shareable Facebook post ideas; you can try out to engage your audience. Your creativity is your limit here. You can always find interesting topics that your fans will talk about and share. Ensure that you test different ideas, track their performance, and hone in on a winning formula that derives Facebook engagement.