The power of an email newsletter is huge because if done right, can bring immense success to your brand. You will also learn how to write an SEO-friendly newsletter.
The power of an email newsletter, when combined with SEO, will bring immense success to your brand.
One of the first things that come into most business owners' minds when they think about interacting with clients right now is social media, right? Well, they are right and wrong!
Right because social media marketing is at its peak currently and wrong because email marketing is gradually retaking the online marketing front. 2021 sees email newsletters grow rapidly as an effective means of communication for both businesses and other organizations.
Email newsletters have made their way from just being a communication channel between academicians to a global phenomenon. According to a report by Statista in 2020, email users globally were around 3.9 billion users.
The figure is set to increase by over 1 billion, around 4.3 billion users in 2023 (this is about 50% of the world's population). This indicates that email newsletters are a marketing method you should not ignore, particularly in 2021.
Knowing this clearly shows that you should not be ignoring your email marketing efforts.
What is an Email Newsletter?
Essentially, an email newsletter is a channel of online communication that enables both individuals and businesses to share tips, updates, or news about their industry, businesses, or product. So how do other people get these newsletters?
The only way to get the email is after joining or subscribing to your mailing list. They are your contacts, leads, and subscribers. The email newsletter can include case studies, the latest offers, a round-up of blog posts, upcoming webinars/events, or even behind-the-scenes videos of your products or services.
The newsletter should give you a platform to share what you have with people interested in what you have to say. It's one of the most vital ways to build long-term relationships with customers and eventually monetize them.
Email newsletters are a form of permission marketing, and the best bloggers and websites in the world have found success with them. They educate or inform site visitors about your business, products, or even industry in general.
Is it a must to integrate an email subscription form on your site?
Did you know that less than 25% of the people visiting your website today will ever come across it again? Yes, that's true, the internet is so extensive, and there are millions of sites out there.
Similarly, Google adjusts its algorithm and ranking factors regularly, just like how you change your socks daily.
As such, you must develop email subscription forms on your site that helps you convert visitors into subscribers. After that, you can keep in touch with them and redirect them back to your site.
Benefits of Email Newsletters for Your Business
1. A huge source of traffic

While driving more people to your site will eventually bring results (in the long term or short term) depending on the type of SEO technique you implement; You must work hard to bring in more people through newsletters and other methods.
Invite, incentivize, and encourage them to visit your site to buy something through well-crafted newsletters. Just make sure you send the emails to the right people and include an impressive and enchanting call to action button.
2. Cost-effective
Another advantage of using email newsletters marketing techniques is that they are timely and inexpensive. Crafting a convincing email newsletter is not time-consuming, complicated, or expensive. All you have to do is get the email addresses and then send the emails for free!
3. Brings trust
Most businesses crave connection with brands and other similar brands. That is why newsletters must have high-quality content to help users stay engaged and connected. So, use the newsletter as a way of offering value because value makes people loyal.
4. Showcasing expertise
As a business owner, odds are you are considered a regional or local expert when it comes to the service or products you provide in your area.
As such, one good way of cementing that reputation in your consumers' minds is by continually reminding them through well-crafted and tailored content.
Email newsletters must not just be about offers, promotions, or coupons. Besides sending out emails designed to draw in more traffic to your site, you can use email newsletters to deliver exclusive content that your readers will enjoy watching or reading.
5. Reach the right target audience
It is not a walk in the park standing out in a crowded and fast-evolving market as a small or medium-sized enterprise.
Email newsletters allow you to build the right audience that is only interested in your products or services without necessarily paying for other marketing or advertising platforms.
6. Drive sales
Because email marketing is rapidly becoming important when it comes to selling, email newsletters can also improve your sales. Through the emails, you have an opportunity to showcase your products or services and their benefits to the right target audience.
Also, consumers are generally impulsive, so by giving them enticing incentives such as coupons and promotions, you can easily encourage your subscribers to take action, which may eventually lead to a sale.
7. Grow social media community
Email newsletters that have social sharing buttons have a higher click-through rate than those that do not.
Besides that, you'll have nothing to lose by sharing social buttons in your emails. If they don't click through well and good, if they do, that's great for your social media marketing campaigns.
While social channels such as Twitter, LinkedIn, and Facebook are critical to your marketing efforts' general growth, growing your presence in those platforms requires more time and resources.
An email newsletter can help develop and grow your online following, so engage them through their emails and guide them to your social media platforms. Social media channels are 'the real deal' right now, and most businesses are using them to generate more activity.
How To Write An SEO-Friendly Email Newsletter
1. Use keyword-rich content
Do you send out newsletters frequently? If yes, then there are many content ideas out there that you can use to boost your SEO marketing campaigns. Please do not ignore the old newsletters you sent last month because you have the chance to turn them into SEO-friendly email newsletters.
You can re-purpose them to make them high quality and timely with rich keywords and then use them as posts on your site. For short email newsletters, combine email with related topics, and then convert them into a bigger blog post.
For longer ones, use the same emails and publish them as blog posts. To make them more appealing to readers, break up the text, add images/subheadings, and the right keywords to form an SEO-friendly email newsletter.
If that does not cut it for you, compile long emails with similar themes and then convert them into downloadable content like white papers or e-Books.
And if you're not sure where or how to get the right keywords, many online tools can help. One such tool is BiQ's Keyword Intelligence tool to help you get relevant keywords for your topic.
All you have to do is key in your topic, and it will show you all the keywords, including long-tail keywords that are currently trending for that topic.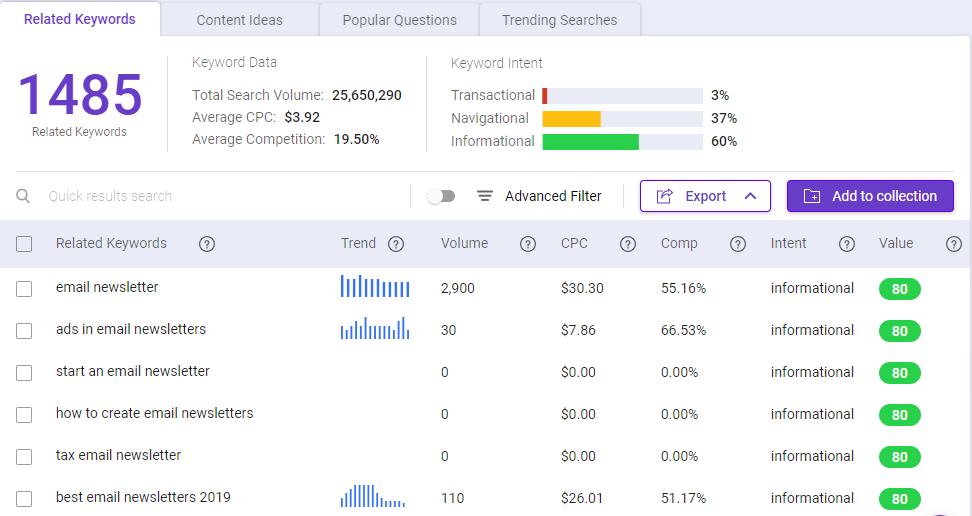 You will see all keywords come with vital insights such as how many people are searching for the keywords, the searcher's intent, and so on.
If you are unsure which keyword to use, you can sort the keywords based on their value. The higher valued keyword means it can potentially bring more traffic to your website at a lower competition.
2. Include links to the relevant pages on your site
Almost all savvy marketers and content creators include links in their content to encourage conversions or action. However, did you know that you can also use links in email newsletters to direct traffic to your website for better SEO?
Just the way you do it in blog content or reviews includes important links to your site's content in your email newsletters. That way, you will have an opportunity to show your readers more about your service or products seamlessly while achieving an SEO-friendly email newsletter.
Similarly, you can also encourage other brands or influencers to link to your pages in their newsletters to their followers. Inbound links are a critical rank factor; And the higher quality of the inbound links you have redirecting to your site, the higher your DA( Domain Authority).
If your email subscribers have sites that can link to your pages, encourage them to share your email newsletter. For instance, use the newsletters to market high-value and unique content that your followers might find it important to share with their followers.
Research shows that ultimate guides and white papers can attract tons of important links with this method.
3. Encourage social sharing
Did you know that your social media presence can make or break your site's SEO ranking? Research done by CognitiveSEO analyzed over 20 million social media shares indicated that the most shared brands on social channels like LinkedIn, Pinterest, and Facebook tend to rank at the top of Google SERP.
So, use social media's power and influence on search engines to boost your SEO rank.
Encourage the people on your mailing list to share your newsletters' content by including social media sharing options in the emails. Ensure that the buttons are appealing and use contrasts to make them stand out.
Also, craft the buttons to be 44 pixels or the size of your thumb. This will make it smooth and easy for subscribers to tap and share the newsletters flawlessly.
By coming up with an SEO-friend email newsletter, you are helping your followers share your message, spread awareness of your product or service as well as boost your social media presence, which will, in turn, do wonders for your SEO efforts!
4. Target your first batch of emails to your brand ambassadors
Your mailing list contains all types of people. You'll see those who open the emails but do not respond, those who click on your CTA and links, or even those who don't open the newsletters at all.
And if you're lucky, you may get loyal followers of your brand who don't just click on your links but also share your emails on their online profiles, make purchases from you, and post feedback frequently. These are also known as your 'brand ambassadors.'
In other words, they are the people who support your products and brand religiously. By recognizing such customers, you motivate them to promote your brand and do the SEO work for you.
Send them important messages, promos, discounts as well as offers that will encourage them to promote your product or service. This is an email newsletter marketing effort that you wouldn't want to miss.
5. Make sure they are mobile-friendly
According to research, 53 % of all emails worldwide are accessed via mobile devices. That means mobile use at an all-time high currently, and optimizing your email newsletters for mobile use is a must if you want to succeed.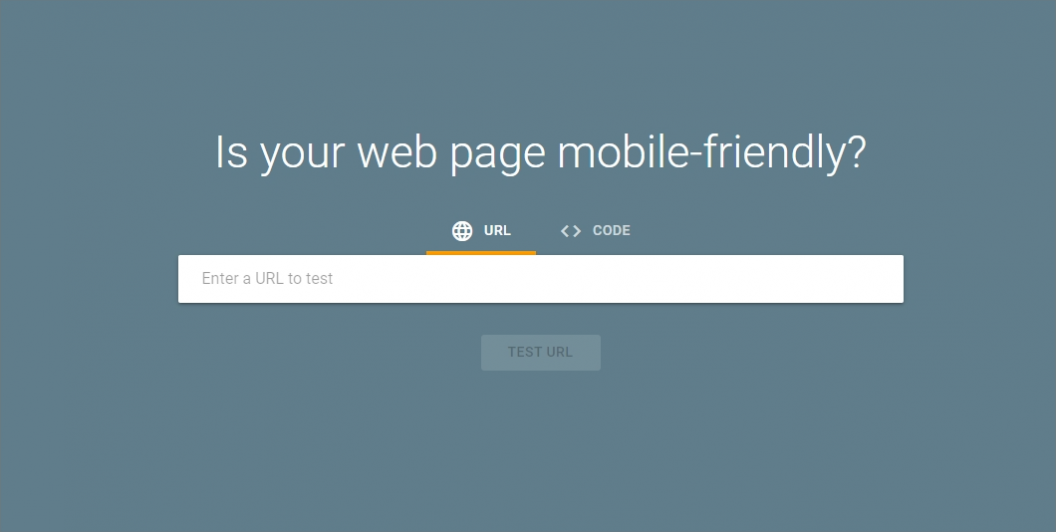 Most email marketing channels today come with mobile optimization techniques meaning it is easy to design mobile-friendly newsletters. You do not have to be an expert. Here are some tips to help you optimize your emails:
6. Design light images there are easy to load
Utilize single column layouts
The width of the newsletters should be 600 pixels or less.
Large font types
Your CTA buttons must be big enough to be seen on mobile devices.
To make the process flawless and simplify everything, you can use mobile-friendly templates. You do not have to code the newsletters with such templates. You can also use the templates to draft a wide variety of emails, not just email newsletters.
7. Link newsletters back to the website
Link your newsletters to your site. It will make more of your site pages indexable for Google to crawl. Links are also good for creating a network of internal links and drawing more traffic to your site.
8. Split test to try different SEO keywords
You'd be surprised at how minor keyword changes can impact click-through rates on email. Most companies have improved their click-through rates by over 200% just by making one simple change to their keywords.
Your CTA's text, positioning, color, and font can all be split tested to help you create content that resonates well with the target keyword and the audience. Once again, you can also use BiQ's Keyword intelligence tool to look for the right keywords for your target topic.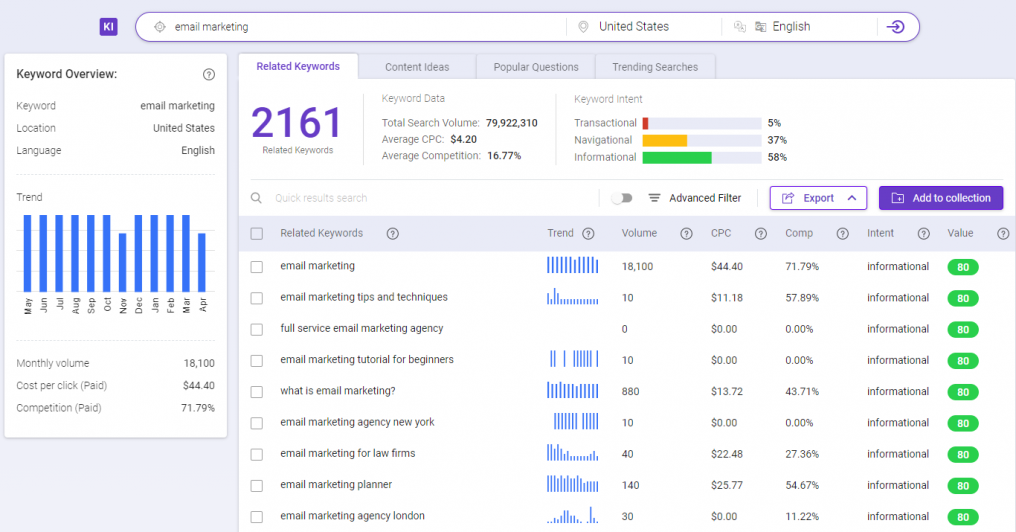 What makes BiQ's Keyword Intelligence stand out from the rest of the keyword research tools on the market is the keyword analyzer feature. It helps you see why someone might be searching for the keyword in the search engine. With this data, you will be able to plan your content in such a way that meets your users' needs.

If you are unsure which keyword to use, you can sort the keywords based on their value. The higher valued keyword means it can potentially bring more traffic to your website at a lower competition.
Conclusion
Because most small businesses do not have the luxury or budget to run many marketing campaigns at once, ROI is significant. Every dollar spent must yield results. That's where email newsletters marketing comes in handy.
They ensure that all types of businesses can communicate to customers, grow their reputation, and build their reputation inexpensively. So. start working on building an email newsletter marketing strategy today.