Negative SEO is a type of black hat SEO strategy that is used to attack a user's website and affect their rankings negatively. There are a few negative SEO tactics such as content scraping and more.
The phrase black hat is borrowed from western movies and is used to depict the bad guys.
They commonly wore black hats, whereas the good guys wore white hats.
Hence, black hat SEO refers to a means used to increase a website's ranking by violating terms of service set by search engines.
Black hat SEO is never recommended.
Those who practice this type of SEO often manage to increase their website's SERP and rankings at their competitors' expense.
Since these practices are banned by search engines, using them could result in penalties.
The most straightforward litmus test that'll help you know whether you are using the right strategies and tactics is to ask yourself one simple question.
"Is what I'm doing helping the user, or is it just for the search engines?"
In this article, I will emphasize on negative SEO, the tactics used, and how you can identify and prevent negative SEO attacks.
What Is Negative SEO?
Negative SEO refers to any harmful practices meant to attack your website and negatively affect your rankings.
In the past, it involved hijacking your site with questionable banner ads.
However, the tactics used have become more sophisticated and complex.
Today's negative SEO tactics involve using fake backlinks, fake link removal requests, hacking websites, fake reviews, and scraping content from your site and using it as their own.
However, there are several ways you could identify negative SEO and prevent these attacks.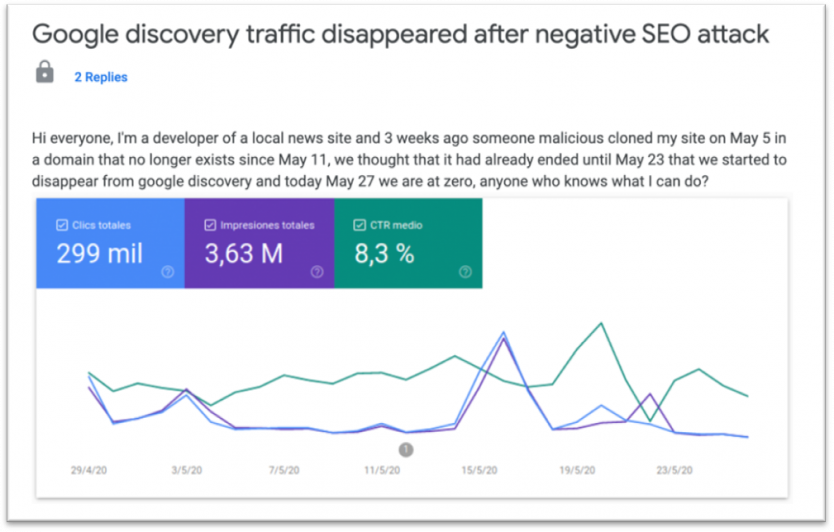 Negative SEO Tactics
If you want to stop a negative SEO attack, you have to be aware of these negative SEO tactics.
Doing this will help you come up with the best strategy you could use to combat them.
Scraped Content
Content scraping is also known as data scraping or web scraping.
It's a negative SEO tactic where an attacker lifts off unique or original content from your website and posts it on their website.
The technique is illegal and is often done without your consent as the original author.
Content scraping can take a heavy toll on your website.
Especially if you've invested lots of money, time, effort, and resources to create original content.
Content scraping affects your authority in the niche since the content scrappers can easily outrank you on Google's SERPs.
The specific content targeted by content scrappers includes but is not limited to the following:
Comprehensive reviews on products
Technical research content
Fresh news articles
Research publications and financial information
Product catalogs plus pricing information
Thoughtful leadership articles
Your attacker can do it manually by copying and pasting your content.
Or they can use bots that can crawl many websites and copy several thousand pages in a few seconds.
The attacker can use the scraped content to generate a lot of traffic on their website.
Search engines are yet to develop a comprehensive method of distinguishing scraped content from original content.
Especially if the content has been scraped recently.
However, you can still protect your website by using a tough, real-time bot deterrence solution.
Fake Backlinks
Attackers may act as your agency and persuade the webmasters to remove links pointing to your site.
Targeting your backlinks may harm your website and affect your SERP rankings.
Here is an example of how the attacker may go about it.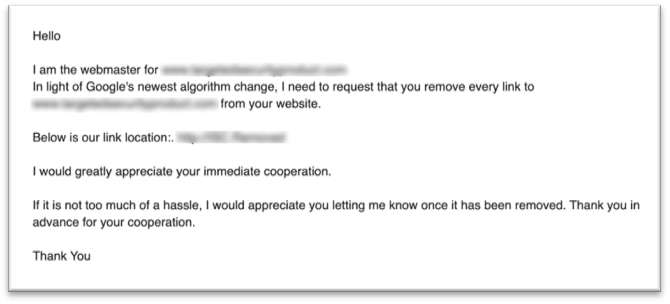 The sad truth is that most people think that all new backlinks are good.
Which is why it's so difficult to stop backlinks from damaging their websites.
Some backlinks are bad, and they can affect your backlink profile that you've been working on for so long.
Bad backlinks can even lead to Google penalties!
Spammy backlinks are often placed linking your page to irrelevant, trashy websites with ill-fitting anchor texts.
This will be bad for your image.
Here is an example of some bad links that may affect your traffic.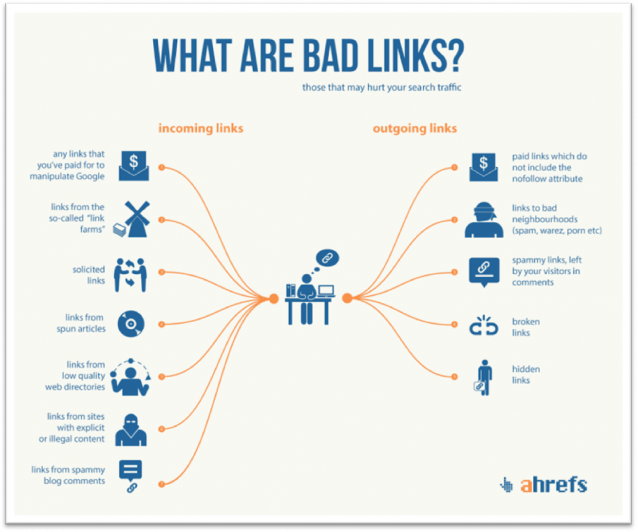 A good indicator for bad links is finding several Russian (.ru) or Chinese (.cn) domains linking to your site.
These suffixes are good, probable indicators of poor backlinks.
If you have too many bad backlinks, Google may think that you are trying to manipulate your rankings.
And that will result in penalties.
Fake Reviews
82% of consumers read fake reviews every year.
But is this negative SEO attack bad for your website?
To understand how fake reviews affect your website, you first have to know how Google reviews work.
If you have acceptable practices on your website, then it goes without saying that you'll have positive reviews.
The more positive the reviews your site has, the higher your website will rank on Google's SERP.
But if you have bad reviews, it implies that your visitors are not happy with your content.
And this can negatively affect your SERP rankings.
If attackers using negative SEO tactics want to lower your SERP rankings, they may post fake reviews.
The easiest way to determine fake reviews is to look at the frequency of the posted reviews.
If the negative reviews come at short frequencies of one minute each with no text explaining how the user was affected by the service, chances are those reviews are not real.
99% of the time, these reviews are posted by users who did not make an actual purchase.
They'll only express the reviewer's anger and frustration at the business, which can negatively impact your rankings on Google's SERPs.
If you encounter such reviews, you could counter them by determining if the reviews are legitimate.
It would help if you responded professionally and even seek help from Google's Small Business Support team.
Fake Link Removal Requests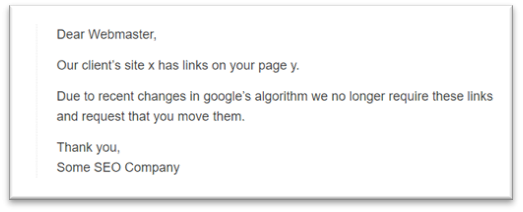 Another common negative SEO tactic is to request link removals from webmasters.
If you start getting such emails concerning your website, you are under attack.
You should investigate them further and come up with a defensive strategy to prevent these attacks.
However, you've got to be aware that it's impossible to stop fake link removal requests that go out.
You could check to see if there was a legitimate reason why the website's owner may have dropped your link.
You could reach out to the website's owner and ask why they may have removed it.
It would work better if you kept your email short and friendly. Here is a sample mail of how you'd go about it.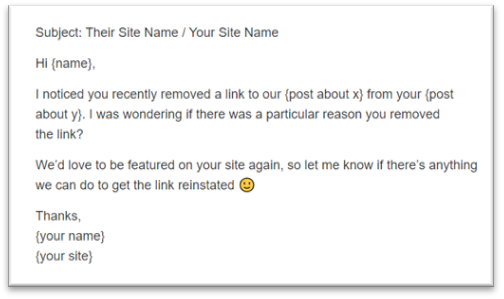 Hacking A Website
Hacking websites is a very costly yet effective black hat attack.
By hacking your website, your attackers can undermine you in whichever way they wish.
The attack can lead to a loss of visibility in search engine results pages and even affect your customer experience.
As shown below, hackers can gain access to your website and redirect your visitors to toxic sites.
Doing this will hurt your brand's reputation, consequently reducing your traffic and ratings.
How do you solve this situation?

The best strategy for stopping hackers from messing up your website is to take security measures such as using strong passwords and backing up your files.
You could also do regular checks on your website to determine and deter attacks.
Identifying Negative SEO Attacks
Watching out for these factors could give you a better idea of when and if your website has experienced negative SEO attacks.
If you notice these attacks earlier, you'll be readier to prevent and even rectify the damages that have been inflicted on your website.
But when should you be concerned?
Search Traffic Volume Plummeted

Your search traffic refers to the number of visitors your website gets each time users search for a keyword and click through to your website.
One of the aims of negative SEO attacks is to cripple your website and reduce the number of people accessing your website.
If you notice that your search volume traffic has plummeted, then chances are if you have not done anything wrong yourself.
Start considering that your website has been attacked.
You'll need to find ways with which you can remedy this situation.
Your Keyword Rankings Dropped
67% of all clicks on google are made on the first five websites.
Ranking high on Google's SERPs is your main priority as a website owner.
This is why it is ultimately important that you track your website's ranking with a trusted tool such as BiQ Rank Tracking.
How do you go about doing this?
With our tool, all you'll need to do is create a rank tracking profile for your website.
Using this profile, you could keep constant track of your keyword ranking and comprehensive historical data that dates back to the first instance you added them.
BiQ Rank Tracking's feature will be your first critical sensor when something suspicious, such as when a competitor has stolen your ranking keywords.
Knowing earlier will help you develop a quick strategy that can prevent any further damage that may affect your rankings.
Preventing Negative SEO Attacks
1. Set up alerts on Google Webmaster Tools
Google Webmasters is a free tool by Google that helps website owners check their indexing, optimize visibility, among other functions.
Google Webmasters is also known as Google Search Console, if you didn't know that.
It offers you insights on how you may improve your website and what you need to fix.
Allow Google to notify you when:
Your website is penalized by Google. If your website gets a manual penalty, Google'll notify you through its webmaster tools. You may manage to solve the problem depending on the type of penalty incurred.
Your pages have not been indexed. You could ask Google to crawl or re-crawl your website to help you get more visibility in Google's search engine results pages.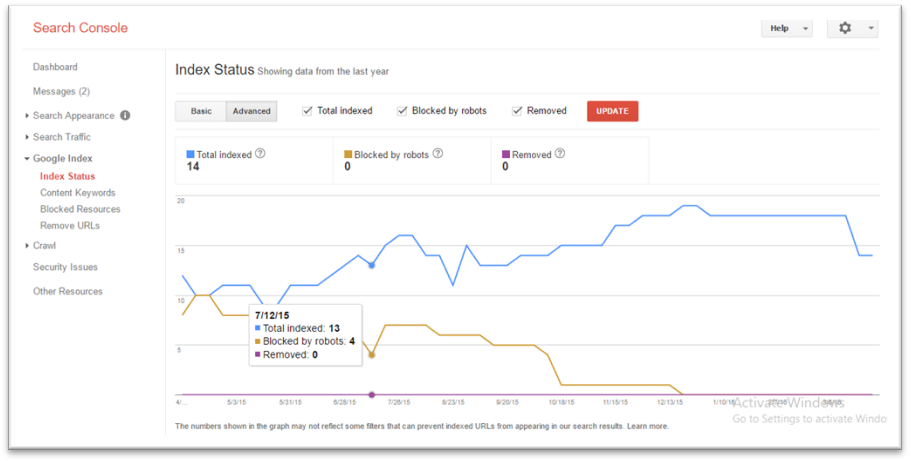 Your pages are being attacked. If Google detects any malware on your website, a red warning will be displayed by Google's Webmaster tools next to the URL that has been affected. If you click on this warning, you'll get a list of all the affected URLs.
2. Monitor your backlinks profile
It would help if you used backlink checker tools like BacklinkGap to keep an eye on your backlink profile and avoid any negative SEO backlinks.
Then you can be ready whenever something suspicious happens.
You could analyze the links linking to your website to determine if they are genuine, strong and if they're helping you build your website's SEO.
Since backlinks can build or destroy your website, you could monitor them and take action if there is some malicious activity.
With BacklinkGap, you can add unwanted backlinks in a disavow list.
You can even add domains that appear to be spam websites to the list.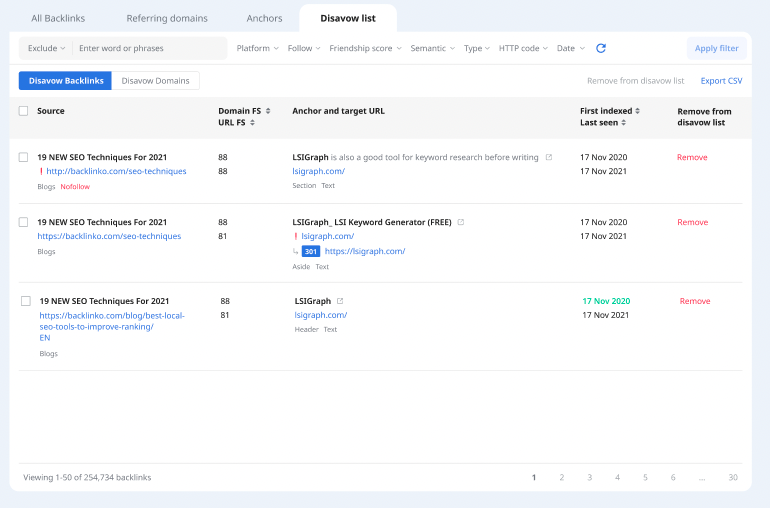 Export the list out in a CSV format.
Then drop it in Google's Disavow tool.
Doing this could help you avoid Google's penalties.
You could create a disavow file that consists of accounts that you want Google to disregard.
3. Check for duplicate content
Duplicate content on the internet could greatly affect your SEO.
You could be competing with your competitors using the same content, which effectively lowers your ranking on Google's SERP.
However, you could check if your content has been duplicated using Copyscape.
You could then send an informal request asking the significantly remove the duplicate content.
Although the duplicators may or may not remove the content.
You could also file a claim with Google through DMCA, Digital Millennium Copyright Act, asking them to de-index the pages.
The request may take some time to process.
However, it's better than doing nothing.
4. Report fake reviews about your website
Negative, fake reviews can be damaging to your reputation as a brand.
The best way to deal with these fake reviews is to remove the reviews as quickly as you can.
You could flag the reviews as inappropriate and get taken to a page where you'll be asked to specify a violation type.

If this does not work, you could also go to Google My Business and submit the complaint.
Add any information that you may find useful to solve your issue. You'll hear back from Google within two working days.
5. Monitor your social media mentions
If you are not careful, spammers can create accounts on social media and tarnish your brand's image.
It would be best if you reported these accounts to prevent them from doing this.
One way you could go about it is by using mention.net.
Mention.net allows you to set up a profile, input your name, and activate all the social media platforms you want it to watch.
Anytime your brand's name is mentioned, Mention.net will alert you.
And you'll get to choose what to do with the mentions.
Conclusion
Now that you've read about the different tactics used during negative SEO attacks, share some of your experiences with me.
How was your website attacked?
And how did you go about protecting yourself?
I'd love to hear about your experiences!