If you are wondering whether FAQ pages will benefit your website, think no more. Here are 8 steps to build the perfect FAQ pages that will give you immediate results.
We'll learn about FAQ Pages and their best practices.
Probably, you are among the majority of people who relate the word with customer guidelines on a site. That's not very far from the truth but FAQ pages cover more than customer support in an organization.
FAQ means Frequently Asked Questions that guide a shopper through the buying process. While the practice simplifies shopping for a consumer, it also converts the website guests into prospective clients. As an entrepreneur, your main desire is to answer your customer queries.
While frequent questions coming through your emails may clog your lines, they also slow down your response speed. With customers expecting quick responses, this can negatively affect your business.
Nonetheless, a FAQ section comes as a resolution as it lessens the baggage of answering every question asked while perking up your response speed. Also, FAQ pages enhance your SEO rating as long as you create enticing content on your site.
In this article, we will clarify eight simple steps to help you create ideal FAQ pages that will bring forth positive outcomes.
Criteria To Create The Best FAQ Pages
Step 1: Bring out your USP once more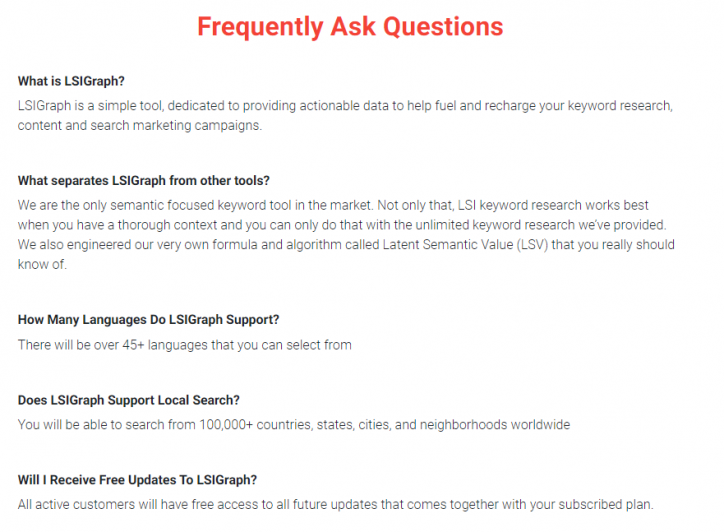 One of the main advantages of FAQ pages is to bring out the unique position of your company to the market. To stand out among your rivals, you need to come up with FAQ questions that surpass your competitors.
In most cases, prospective clients experience difficulties deciding on the product or service to buy. Through your FAQs, you should give them a reason to choose your product over others. Come up with FAQs that describe the distinctive aspect of your brand.
Ensure that you have informative content to satisfy their curiosity. If handling FAQ pages for the first time ensure that you keep your answers brief and straight to the point.
Through your well-versed FAQ questions, maintain a healthy competition with your rivals without using foul language. Create an all-inclusive FAQ page that positively puts you in the marketing without pulling others down.
Step 2: Write Clear and Concise Pages
If you want to come with a first-rate FAQ segment, clarity and briefness are vital. With so much competition around, customers will swiftly move to the next provider if you do not give credible answers.
Helpful FAQ pages should sound like a normal answer and question conversation. You need to have your target market in your mind before writing down your content. Use a language that they can comfortably understand.
Get the readability of your content checked and graded by BiQ Content Intelligence. It's always been Google's goal to deliver the highest quality content to searchers, so creating high-quality content with grade A readability will help boost your visibility.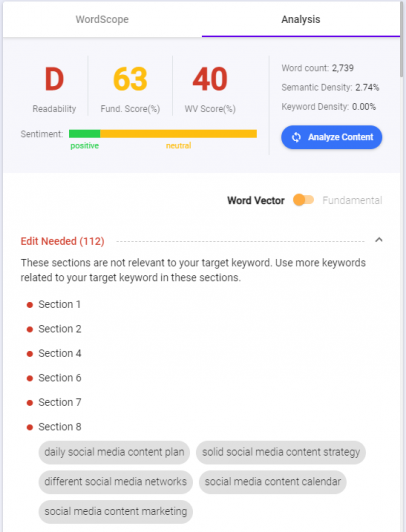 Little do you know that readability and other metrics you see in the picture actually matters when it comes to SEO.
When it comes to readability, it tells you how easy it is to read the section. This is an indirect ranking factor because if your content is easy to read, your readers are sure to spend more time on your website.
Put yourself in your client's shoes as you come with your FAQ content. Are the questions and answers written in clear-cut language for you to understand? Get creative and instead of using the typical 'Welcome' note on your page, you can invent something like "How can we help you?"
Go straight to the questions with a short answer of not more than four paragraphs. Keep in mind that some questions may only require one to two-sentence answers. So, ensure you give your customer exactly that without bombarding them with unnecessary information.
Step 3: Make it SEO-friendly
In a digital world that seeks SEO success, a well-done FAQ section would help to improve your rankings. By creating enticing FAQ content with the right keywords, your prospective clients will get directed to your site.
As a way of showing concern to your customers, give instant solutions to their needs through your SEO-optimized FAQs. Incorporate your FAQ page design with voice search which is another convenient way of giving prompt answers.
You can research your potential target keyword using BiQ's Keyword Intelligence. It allows you to gather data on keyword volume, trends, keyword competition, related keywords, and more.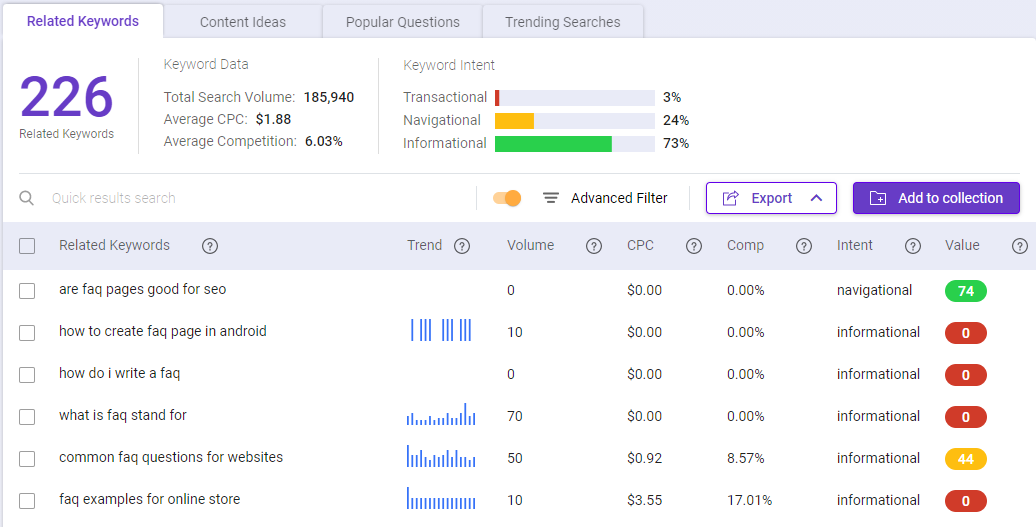 What makes BiQ's Keyword Intelligence stand out from the rest of the keyword research tools on the market is the keyword analyzer feature.
It helps you see why someone might be searching for the keyword in the search engine. With this data, you will be able to write your FAQ pages in such a way that meets your users' needs.
If you are unsure which keyword to use, you can sort the keywords based on their value. The higher valued keyword means it can potentially bring more traffic to your website at a lower competition.
According to Google reports, voice-related searches have drastically risen to 20%. Therefore, you should take advantage of the craze before the market saturates the idea. Ensure that your voice prompts are short and straight to the point.
Let me share some benefits of coming up with SEO-friendly FAQs.
It helps you to catch the attention of potential through the keywords.
It enhances your website SEO ratings as Google recognizes it as an educative site to customers.
It perks ups the chances of getting more customers through the higher traffic to your website.
Step 4: Keep all Your FAQ Questions Clear and Organized
When the question list is ready, you should concentrate on answering all of them. Most customers want instant answers and do not have time to peruse through complicated pages. Apart from saving time, a well-organized FAQ section makes future reference much easier.
If you are at a loss of what questions to include in your FAQ pages so that it ranks in the SERP, check out the Popular Questions feature in BiQ's Keyword Intelligence. When you insert the targeted keyword, you will see a list of questions with answers.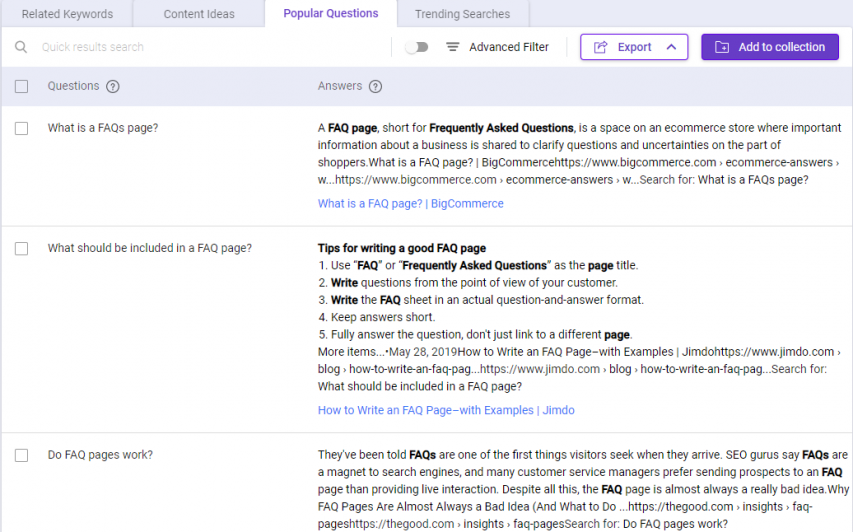 This feature shows questions that are frequently asked by searchers in the search engine.
What you need to do next is to compile a list of questions that are related to your niche and include the answer in your FAQ pages.
Seeing that there's so much that you can do with Keyword Intelligence, sign up for a BiQ free tier account now!
Trim down your list to a workable number that you can comfortably handle. If you have a longer list, you can regroup the questions and categorize them into different sections. For example, you can organize the list in terms of topics such as billing process and product characteristics.
Even if you get the best FAQ questions, they may not make an impact if you do not supplement them with accurate answers. Remember that one of the main functions of FAQs is to make the decision process of a customer easier.
Thus, how you choose to answer your questions has a huge determinant factor. Abstain from putting lengthy information under one question as it might distract the client.
Step 5: Add Links to Relevant Pages

FAQ page placement is another vital process. Make it easier for your customers by placing your FAQs on a prominent page within your site. You can include it in your sidebar, footer section, or the site menu.
Sometimes, giving a link to the placement page from the contact page is far more convenient for your customers. Also, you can include a reminder on your contact page for the visitors to check on their queries on the FAQ questions before consulting the support team.
By using this approach clients will only contact customer support when they fail to get assistance from the FAQs. As a result, the support team will handle more urgent matters rather than wasting time responding to recurring questions.
Step 6: Update Regularly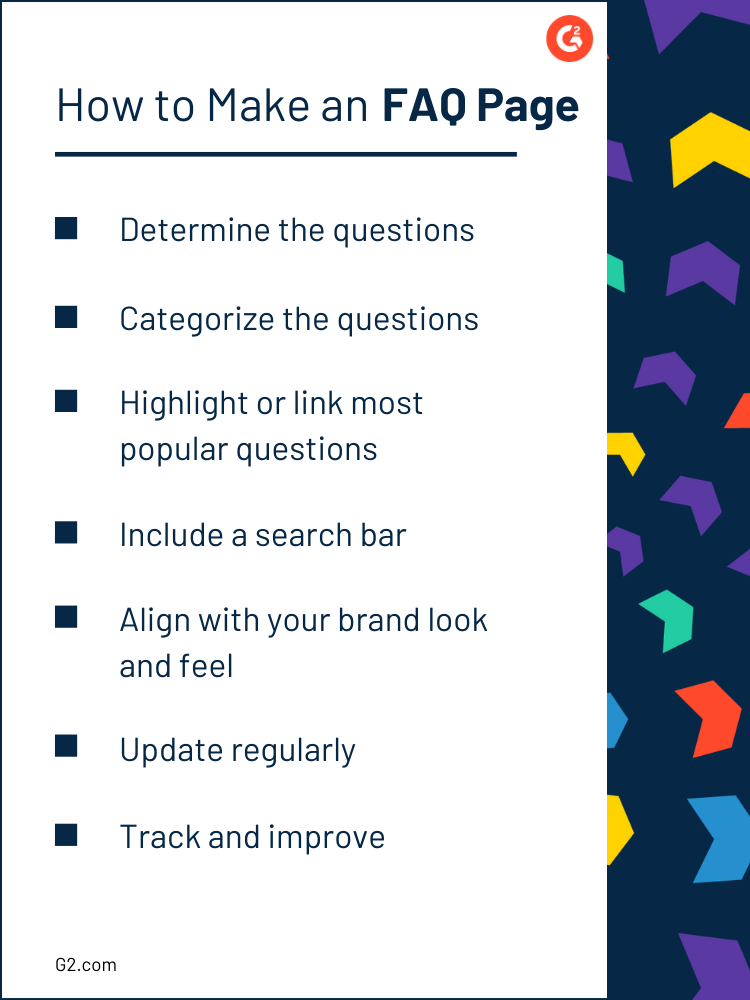 If you keep giving your clients outdated information, they will seek the current one elsewhere. Strive to update your FAQs as frequently as possible. For example, if you branch out or introduce a new product, make sure that you include it on your page.
Sometimes, some items may get outdated and customers stop enquiring about them. Thus, you should remove all the redundant questions, answers, and visuals. You should also observe the analytical aspect of your website to ensure that your page has enough traffic and a higher SEO ranking.
How long do visitors stay on your page? Do they place any orders after visiting your FAQ questions? When you get meaningful answers to these questions, you can improve your page for better results.
Step 7: FAQ Page Design is Clean and Neat
When you manage to come up with a clean and neat FAQ design, you will make it easier for your clients to scan through the questions. The main purpose of a FAQ page is to converse traffic to sales, but if you take your clients through an intricate process, the idea may flop.
Come up with a solid structure that defines all parts of the FAQ section in a straightforward way. Pictures and videos have a better chance of explaining concepts and creating much-needed attention. Sometimes, readers may not have the time to peruse through your content for a solution.
However, if you explain a process through visual images or a short video, the process has more impact. For instance, if your product requires specific instructions, you can illustrate the process through graphics, charts, or screenshots.
You can also incorporate text and visuals for your customers to understand better and make the reading easier. Ensure that you use well-created visuals and video, for a more appealing page. With most successful companies using videos in their FAQ page design; you need to emulate the noble idea as well.
Remember to maintain the simple rule of FAQs. If you include lengthy videos or complicated designs, your customers may not go through all of them.
Step 8: Easy Navigation for Customers
When you have your answers and questions ready, you can now get ready to put your FAQ section into action. Bear in mind that simplicity runs from the first step to the last. So, ensure that your FAQ page or section is not too complicated for your clients.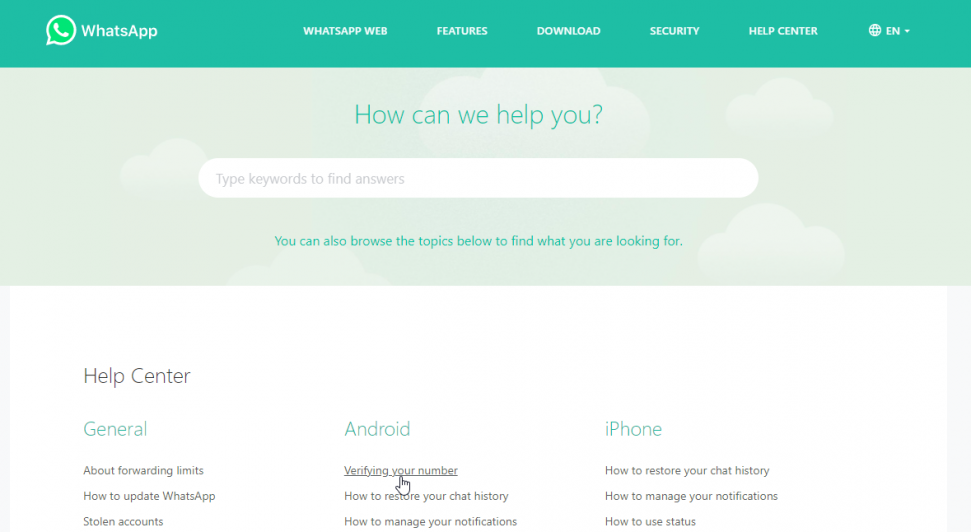 Create a structure that will enhance your customer satisfaction and lead to loyalty. For the lengthy FAQs, you can subdivide them into various topics or subtopics to hasten the search process. Another useful solution is to differentiate categories by using collapsible windows for easier access.
Ensure that your FAQs are noticeable from the search option of your site. This strategy cuts down the search results of your website and gives your clients the right information.
Wrapping up on FAQ Pages
When clients visit your FAQ pages, they expect instant solutions for their queries. FAQ pages play a vital role in customer satisfaction which can convert to fast sales. However, the process is only successful if you manage to persuade customers through your content creation, keywords, visuals, and updated FAQs.
In most companies, FAQ pages come as a late addition section. However, if strategically used, the site has more benefits compared to other promotional ideas. So don't forget to add your FAQ pages following the practices above!