Thinking of setting up a GMB account but don't know exactly how? This article will teach you step-y step on how to create and verify your Google My Business Account.
Your free Google My business account can do so much more than you think.
Savvy SEOs know this, a properly optimized Business profile can showcase some of your business's best features and make it easier for consumers to discover your brand and products/services online.
But it can do so much more. A Google My Business account can help consumers and prospects learn about your business and contact you directly.
However, for you to optimize your Business Profile, you must first access it. And to access it, you must verify with Google that you're indeed the rightful owner of the business.
Here's where we come in.
Today, we will discuss with you how to set up Google My Business account the right way.
Unfortunately, not many people know how to register Google My Business and often get it wrong.
While it might seem like a simple process, it's not. Well, at least it won't be if you don't follow the guide.
What is Google My Business?
Google My Business (GMB) is a free Google tool that allows you to manage how your business appears on the Google Search and Google Maps platforms.
GMB will add your business name, location, and other critical data to its index and display this information to searchers who look for your brand online. You can also add photos and monitor and reply to customer reviews in real-time.
With this tool, you'll learn where and how your customers and prospects search for you online and more.
In simpler terms, this is the tool you want to have in your list of SEO tools when starting an online business.
If your business focuses more on local consumers, then it's best to focus your efforts on creating and verifying a Google my Business account today.
People searching for products/services near them usually means that they're closer to the purchasing funnel. One study shows that one in two customers who conduct a local search are more likely to visit your store. That's a 50% probability. It's an opportunity you cannot afford to miss.
Therefore, if you want to create your Google My Business account today, verify it, and make a strong listing, then read on.
How to create a Google My Business account
Like with all things Google, creating a Google My Business account isn't a difficult process. However, it's not a simple one either, especially if you don't know the specifics of what it will ask for.
For such an affordable marketing tool, it only makes sense that you get these steps right the first time.
Follow these steps below to create your GMB profile today:
1. Make Sure You Have a Standard Google Account
We advise that you create a standard account that's not your personal-use Google Account. After all, you wouldn't want to mix your business emails with your personal ones.
Here's a simple guide on how to create a new Google Account for your business:
On the next page, click "Create account"
You will see a drop-down with two options. Ensure you choose "To manage my business"
The Google sign-in page will look like this:

On the next page, ensure you supply the necessary information and details about your business. Remember to be as accurate as possible with your responses to avoid any issues with Google.
2. Register Google My Business Profile
This is perhaps the most important segment of your Business account creation process.
Your Business profile is what Google will use to identify you to your customers and prospects. Therefore, you must be very careful with the data you key in here. It's the official term for your business listing.
One important factor to note here is that your Google Business profile is separate from your Google My Business account. Your business profile can exist by itself, without a GMB account.
But here's where the confusion arises. Without a properly set Google My Business account, you won't have control over your Business Profile information. You must first claim it to obtain full ownership and rights of your Business Profile.
The bottom line, you'll need to ensure you have a GMB account before you can claim your Google Business Profile. You must convince Google that you are the business profile's legitimate owner before it relinquishes control over to you.
3. Enter Your Business Name
After you've logged in, Google will prompt you to enter your business's name. If you've never set up a listing before, then go ahead and type your business name in.
However, there are a few instances where you may share a similar name with another business in your region. In such situations, Google will provide you with an autocomplete function suggestion for all those businesses.
This process will also help you check if you already have a business listing (to avoid accidental duplication). If it does, then you'll simply click on the existing GMB profile to the existing business. You can do this after opening your business at a new location.
However, if your business doesn't appear in the suggestions, go ahead and click the tab instructing: "Create a business with this name."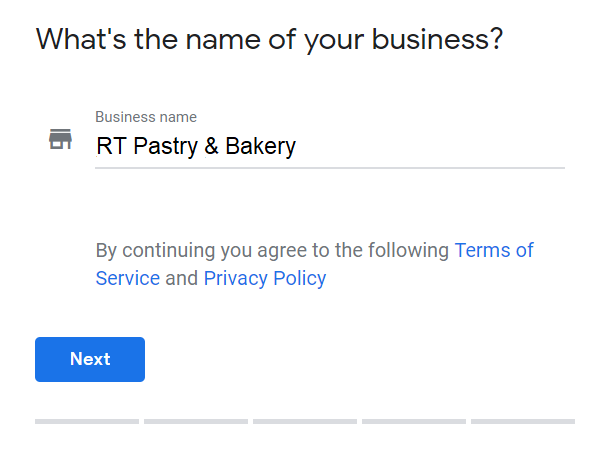 The next page will look like the image above. Fill it with your business name, then click "Next."
4. Put In the Address and Location
How you set up your Google My Business location will also vary, depending on how your business operates.
Some businesses operate with a storefront, while others operate in a service area.
As such, if you have a physical location that customers can visit, then it's best to add a location for your business. You'll also want to add your address.
Google may also ask you to position its marker on your business's exact location on a map. This will help your local customers find your store easily.
However, if your business doesn't have a physical location that customers can visit, you can list your service area. This allows customers to order for product and service delivery from your store.
If you are a service area business that delivers products/services to your customers, you will have to click on the box at the bottom of your form.
There's also another checkbox that allows you to choose whether to show or hide your address from customers. While Google itself doesn't recommend this, it's still an option. You may consider using it if you work from home or have another address you would rather keep private.
In such instances, we recommend that you tick the "I deliver goods and services to my customers" checkbox.
5. Fill in the Contact Information
In this section, you'll be required to enter your business phone number, website address, and other contact information customers can use to reach you.
Again, Google hasn't made this option compulsory. However, it's strongly recommended that you add all contact information details to take full advantage of Google My Business's functionalities like call tracking.
GMB also allows businesses to update their contact information at any time. But you must ensure you update all your business listings to avoid conflicting contact details.
If you use Facebook or other social platforms for your business, you can add them too.
GMB will also give you an option to create a "Google Website" if you don't already have one. It will use the information you've already provided. It's crucial that all local businesses have their own unique websites to enjoy GMB's functionalities.
6. Choose Your Business Category
Here's another important field that will influence the search terms you appear for in Google. It will also appear in your GMB profile, making it imperative that you get it right.
While you can adjust this section of your GMB account later, we recommend that you research which categories your competitors used for their GMB profiles. It's also best practice to look through the full list to determine your brand's most accurate business category.
NOTE: some GMB features are category-specific. Therefore, it's worth staying updated on any new additions to the Google My Business categories. Who knows, the next category that's added to the list may be more suited to your business.
7. Finish and Verify Your Google My Business Account
Google obviously needs to verify that it's you (the business owner) who's creating the GMB account for your business.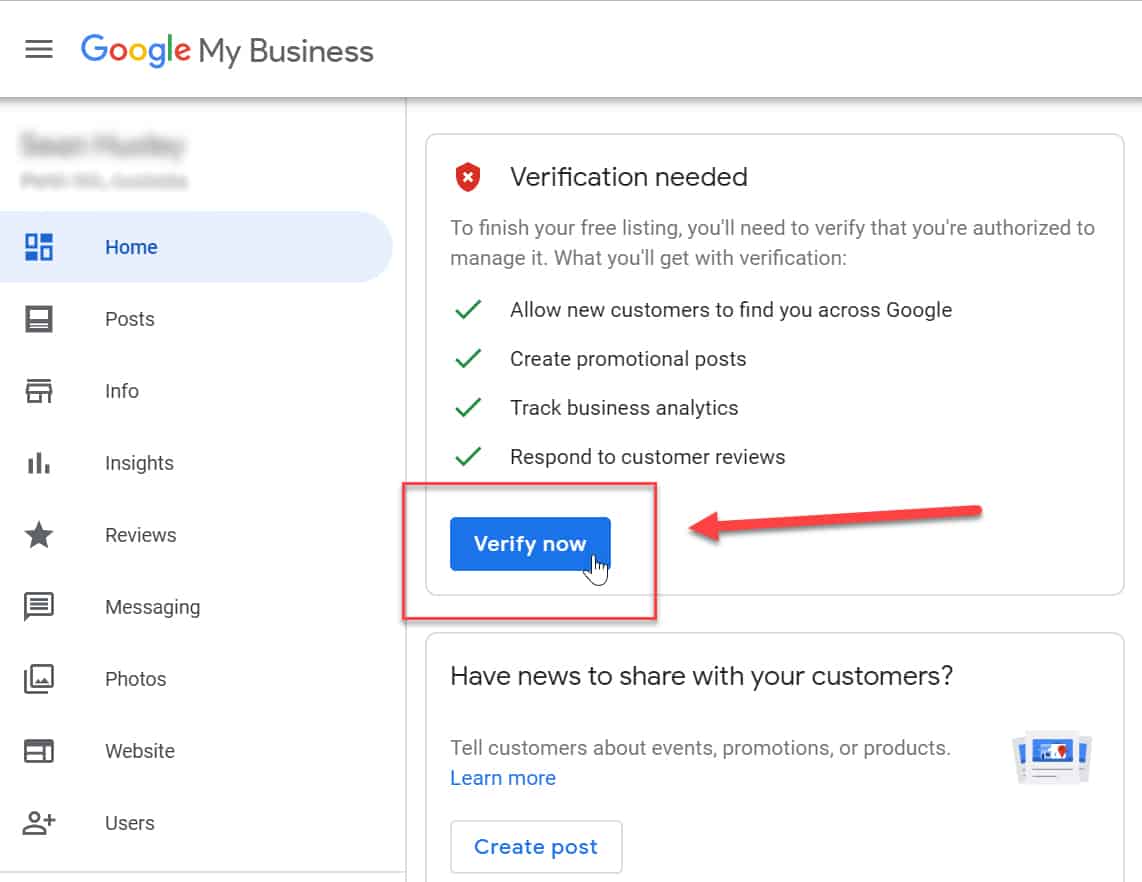 By this stage, you will have finished the setup process. The only step left now will be to prove that you are the owner of the business.
Fortunately, there are several ways to verify your Google My Business listing.
Here are some options to consider using:
Most businesses prefer the use of postcards in the verification process for various reasons. First, it's available to all businesses. The Google team will process and send a verification postcard to the physical address you used in the sign-up process.
On average, you should receive your verification postcard within five days. Upon receiving it, enter the verification code into your Google My Business account. This will verify the postal address of your business.
You can also choose to verify your GMB listing over the phone. However, this option isn't available for all businesses.
You will know if you are eligible for phone verification when you see a "Verify by phone" option on the verification page. When using this process, you will receive an automated text message with the verification code. Enter this code to verify your GMB listing.
Like with phone verification, not all businesses have this option as a verification option. You will also know that you qualify for email verification when you see the "Verify by email" option on the verification page.
Email verification is also quite simple and straightforward. You'll receive an email with the verification on your official business email associated with your GMB listing. Enter the verification code to verify your GMB listing.
NOTE: ensure you have access to the email address where the email will be sent before proceeding with this option. Or else you might not be able to verify your GMB listing.
If you have already verified your website with Google Search Console, Google will allow you to verify it instantly.
To verify your GMB listing instantly, ensure you are signed in to your Google My Business account with the same email you used to verify your website with Google Search Console. Google may also not offer instant verification for some business categories.
This verification option is ideal for businesses that manage more than 10 locations. Such businesses might be eligible for bulk verification.
After you've verified your business, Google may ask you to review this information and make final changes if necessary. Once you are sure that the information is accurate, click the "Done editing" button.
Tip: you cannot update your business name until you have completed the verification process.
8. Lastly, Explore Your Local Listing with Local SEO Tools
Setting up a Google My Business profile is just the beginning of your local marketing journey. As you may already know, competition is rife.
Consumers are always scouring the internet for new information and content. And businesses are competing for the top spots in the SERPs in a bid to appear first in the search engines.
Therefore, you must have an efficient local SEO tool on hand that will provide you with critical data about your local search presence.
You will want a toolset that provides you with a detailed overview of how your local business is performing.
BiQ Keyword Intelligence is the best SEO tool to help you find relevant keywords in your niche. With Keyword Intelligence, you will have critical data on keyword competition, keyword volume, trends, and related keywords.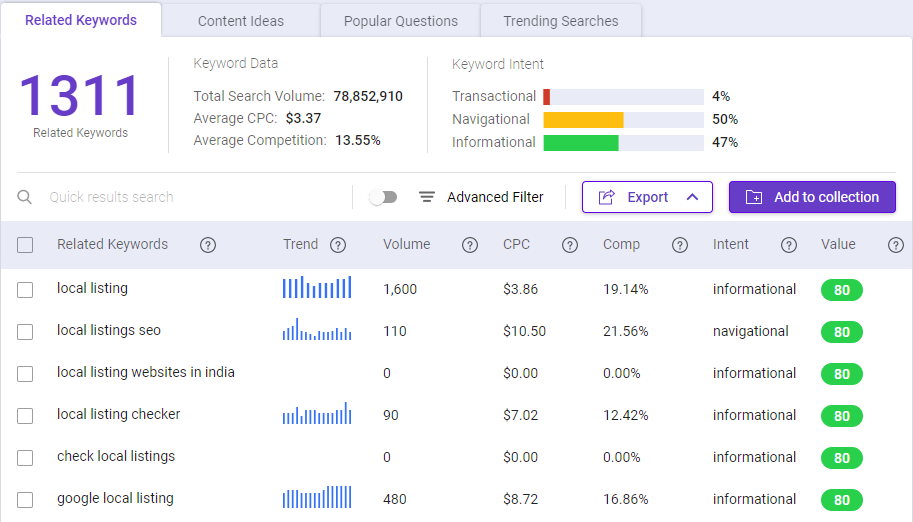 The Keyword Analyzer feature from the BiQ Keyword Intelligence tool will also show you why local searchers might use certain keywords when searching for your brand or product/service. This data will allow you to plan your content in a way that meets all your local searchers' needs.
Another local SEO tool you can use is Grid My Business.
It is a grid-based local rank tracking tool that can track and compare your Google My Business ranking performance in the local SERP for a specific search query.
It is a great local rank tracking tool that can help you get your business onto Google's local 3-Pack. You can identify local search queries you're ranking for and the local search ranking for them and make a decision on how you want to increase their ranking.
If your local search ranking is already high, you will need to ensure that they remain so. This is where you can use Grid My Business's monitoring feature that monitors your local search rankings for you and provides regular updates.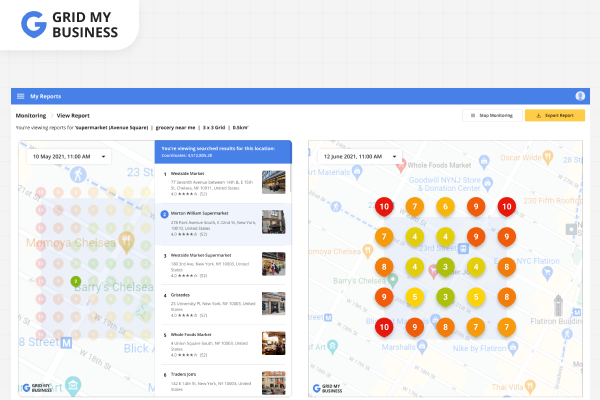 Conclusion
Google is constantly changing how consumers find and engage with businesses. Therefore, to continue reaching your target audience and attract customers to your local business, you must create and manage a Google My Business account.
The steps mentioned above should be simple and straightforward enough to get you started.
The process has different parts, and when the Google My Business guidelines are followed properly, you can register Google My Business account right now. Let your customers find you more easily starting today.