All businesses want to get as many leads as possible and turn them into paying customers. Here are tips on how you can convert free trial users into paid customers.
The best tips to convert free trial users into paid customers lies in this article.
There was a time when the idea of having people try the software and other online services before they actually bought it was a pipe dream.
It was revolutionary.
But thanks to the shareware movement and ease with which customers can download software from the internet, free trials have become the norm for off-the-shelf software.
Gone is the day of questionable independence that reading the packaging in a supermarket has.
You can now try the software and other online products/services for yourself before making any commitment.
And saying that this has been an overwhelmingly good thing is an understatement. Businesses that use this strategy can convert free trial users into paying customers.
But even then, you'll still need customers to get to your website.
Thus, the need for BiQ Keyword Intelligence to find relevant keywords with the right intent to reach your target audience. BiQ's Keyword Intelligence will provide you with the necessary data for estimated keyword intent percentages based on all related keywords.

Use this informational tool to determine your searchers' intentions and understand them better.
Let's get to it:
How Does Free Trial Work?
Typically, converting trial users to paid customers can be structured in two ways:
Limited time
Limited capability
Both options are equally effective and produce the desired results from the users testing your software.
In the limited-time trial, businesses offer customers their full products/services for a short period. Usually, this falls between 2 weeks to a month.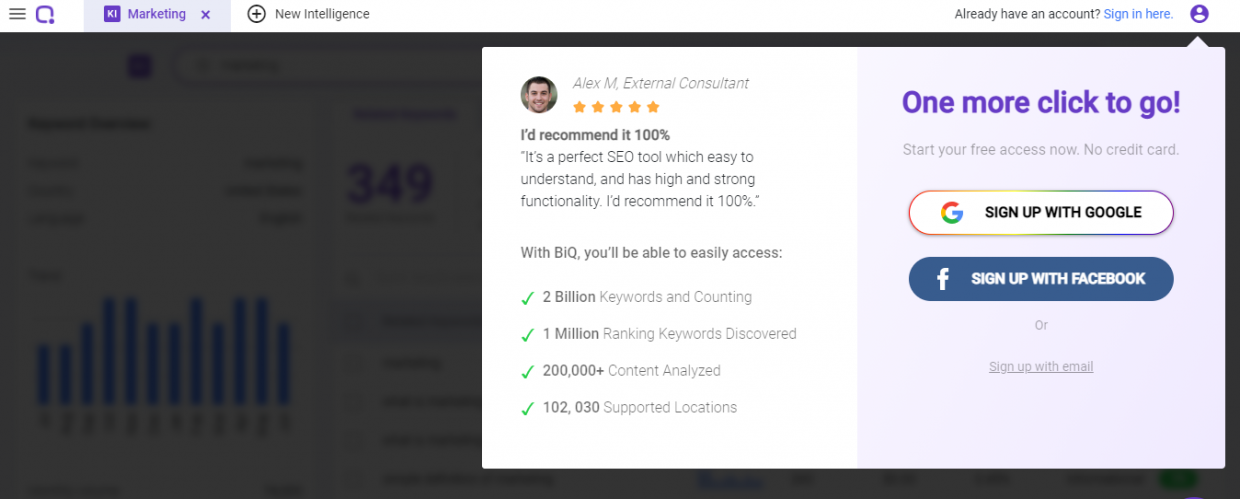 On the other hand, the limited-capability trial is where you typically restrict some features and functionalities of your product/service to your customer. You do this, hoping that your product/service will get your readers hooked enough to want to purchase your product/service.
Now, as for the question of whether free trial works or not, customers no longer have to be restricted to purchasing a product to test or use it.
Only to realize later that it's not what you expected or doesn't meet your needs. Prospective customers no longer need to rely on product reviews for items they've never used before.
Some critical factors to consider when deciding which free trial option to use:
How long it will take the customer to check out all the benefits of your product/service
How long you can financially support the free trial
Whether the basic features of your product/service are enough to make customers make an informed decision
What effect the trial length will have on your sales cycle
Remember, free trials aren't necessarily for businesses. You will have to invest a lot of time, energy, and effort to convert free trial users.
Then again, a great product is its own best marketing tool. Therefore, if your product/service is fantastic, its consumers will notice that during the trial period. They won't want to give it up when the trial period ends. And just like that, you'll have gotten yourself a paying customer.
Tips for Converting Free Trial Users to Paid Customers
Here are some great ideas to help you convert free trial users to paid customers and drive sales through the roof:
1. Provide Personalized Demonstration
Free product demos allow businesses to define their users' pain points during their products' free trial periods. Basically, your primary goal is to show your product/service trailer how your tool guarantees the best possible results for their situation.
Additionally, it helps users put a face to the product they're using.
People like using free things. Therefore, you can count that they will try your product/service as long as it's free, even if they've never heard of your brand before.
You should consider this a win for your brand. In many cases getting users to try your product/service, especially if you're a startup business, often seals the deal. You just have to make sure that you deliver on your end.
During a free demo, you'll also be able to share your product's full potential with your potential paying customers. Therefore, it's crucial that you capture your prospect's interest by providing them with personalized demos.
For this, you must understand your consumers' needs and challenges. A personalized free product demo also covers this well. So, by the time your prospect has settled on purchasing from you, they will know exactly what they should expect from using your product/service.
In simpler terms, personalized demonstrations of your products/services enable you to help your prospects make the most of what you have to offer.
Capitalize on SAAS free trial best practices.
2. Create a Vast Knowledge Base
As a business, the last thing you ever want is to have your trial users wonder where some of your product/service's features are or how to use them.
The moment they leave your website to research, you might lose them forever.
Don't give them an excuse to leave!
They may just come across some of your competitors who get the sales pitch just right and steal them from you.
Therefore, it's imperative that you keep your website as clear and clean as possible. It's one of the most important strategies for boosting conversions. You also want to use simple, everyday terms that are easy to understand.
Collect your users' questions and answer them as diligently as possible on your website.

Basically, you'll want to keep an ever-growing on-site knowledge base. Create a searchable knowledge base that has answers for every potential question your users may have.
They cannot leave. They must never leave your site to seek further clarification elsewhere.
You can even compile your users' questions and convert them into content. Explain them as elaborately as possible.
BiQ Content Intelligence is an amazing tool for editing, drafting, and optimizing content for the search engine and users. You'll want to have this tool around to help you draft content-driven strategies that are SEO-friendly for your website.
With BiQ's Content Intelligence feature, you'll be able to determine the best placement positions for your keywords and content. You can use this data to edit your content in real-time to optimize it for your users. Such a strategy will not only make your product/service easier to use for your prospects but also improve your rank in the SERPs.
3. Shorten the Trial Period
What trial period would you consider to be the best for your trial users?
Is a one-week trial period enough? Perhaps your customers would enjoy the full benefits of your product/service when you offer them one full month to test it.
We must all agree that the trial period of different products and services varies, depending on several factors
To determine the best trial period that will suit your trial users, you simply need to ask them. Sure, most users will choose the maximum time allocated in the list of options. But a good portion will give you an honest answer.
Most free trial periods often range between two weeks to one month. Most SaaS companies are accustomed to offering users a 30-day trial period.
While some brands might consider this to be too much, it's the perfect strategy for SaaS companies.
That's to say that trial periods differ between brands, industries, and niches.
In fact, most trial users often decide whether a product or service is worth purchasing within the first three days into the trial period.
Therefore, offering a long trial period might not work in your favor as some users can just as easily change their minds within the trial period. Similarly, making it too short will also hasten your users, which might yield a similar negative result.
At the very least, this is something you'll want to test continuously.
4. Provide Valuable and Irresistible Offers
It shouldn't come as a surprise to you when some users find it difficult paying for a service they've enjoyed using for free for some time.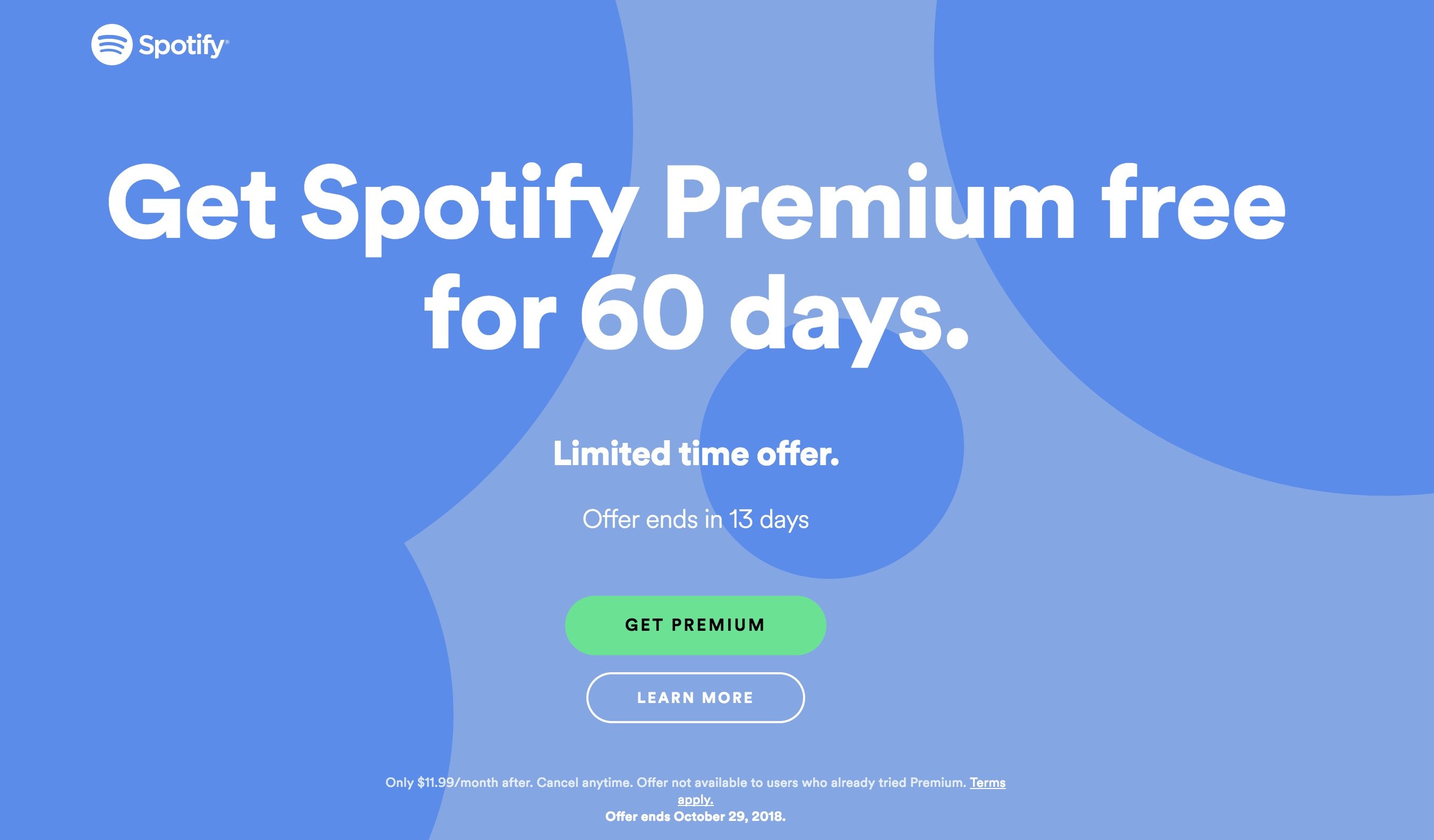 Therefore, it's upon you to remove as much additional friction to this situation as possible with this in mind. Remember, the primary objective of using the free trial period is to convert free trial users to paid customers.
The best strategy to improve the chances of converting trial users to paid customers is by motivating and hooking them to your product. You want your product to become an integral part of their lives that even when the trial period is over, they'll still need you.
Do this right, and you'll convert more free trial users than you initially projected.
5. Simplify the Transition to Paid Plans
Truthfully, no one likes having to fork out their hard-earned cash, even if the product/service they're buying is worth every penny.
Therefore, while this may sound straightforward, you'd be surprised by how many businesses still get it wrong. Your customers are already willing to purchase your product/service. They've tried and tested it and concluded that it's worth an investment.
So, why would you make it difficult for them to upgrade to your paid plans?
It's crucial that you align your product/service values with their upgrade path to make the upgrade decision easy for them.
Put yourself in your buyer's shoes and ask yourself what inconveniences would hinder you from upgrading to a paying customer. Then iron out any issues with your plans to allow free trial users to upgrade easily to paying customers.
6. Create a Sense of Urgency
Again, people love free things.
You will notice this the moment you rush to purchase a product/service when you realize that it's discount/special offer is on a timeline.
Everyone always wants to get a piece of the action and capitalize on the best deals.
No one wants to miss out on a special offer.
It's one of the best strategies used by eCommerce websites and other brands to stimulate purchases. You can also use this same tactic on your free trial users.
The best part is that it's a fairly simple process.
You simply put a short time limit on your special offers and discounts. The rest is up to your customers.
After the first few days into the free trial period, you can try to grab their attention by offering them sweet deals and special offers.
Use words like:
For a limited time only
Act fast
Expires today
Besides grabbing your users' attention with the promise of a free experience, these conditions also pique their interest in the exclusivity and urgency of your tone.
7. Send Free Trials Ending Notices
It's common for businesses to send emails to their customers, notifying them of their free trials' expiration.
However, what's not so common is brands sending free trial users such emails before their trial periods expire.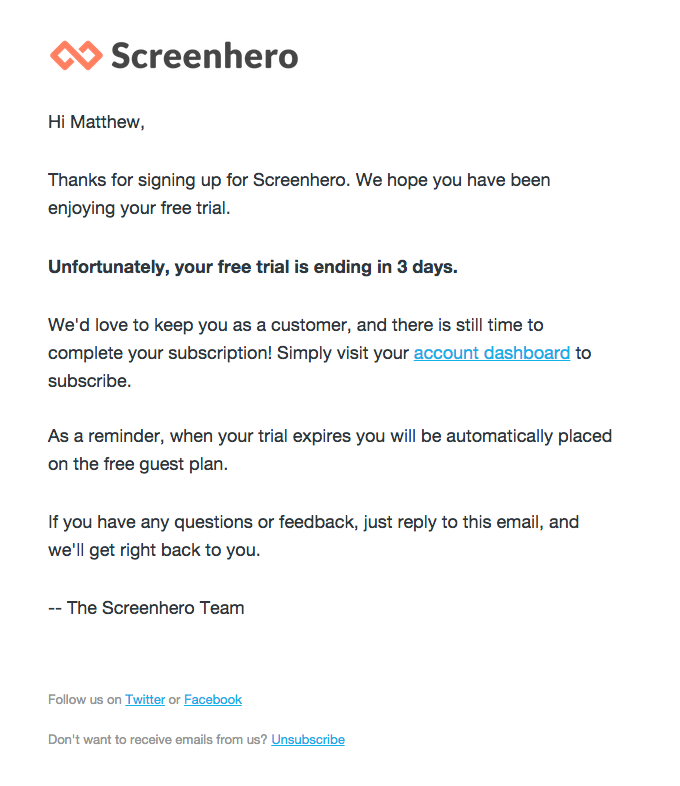 The image above notifies the free trial user that his/her offer is about to expire. Therefore, they will feel the urgency to purchase the product/service if they enjoyed the free trial experience.
You can always use automated emails to send at least one email before the free trial period expires. It also encourages your customers who haven't used your product/service yet to use it before the free trial period expires. Maybe they hadn't noticed how soon it would end and just needed a reminder.
Remind them!
8. Give Early Discounts for Those Who Buy Before the Expiration Date
Another effective strategy most SaaS businesses use is luring their customers to make purchases by taking advantage of timed discounts within the free trial period.

For example, if a user signs up for a 14-day free trial. Then one week into the free trial, you send them an email informing them that you'll be dropping your membership price to only 50% if they pay using credit card.
It's one of the best strategies to earn more active signup and paying customers within the usage phase. You don't have to wait until the end of the trial period.
9. Contact Those Who Abandon the Cart
Often, you find customers who initiate a product/service's purchase process and then abandon their carts. This might be due to several reasons. This might be because they might have been distracted by something else and forget to continue the purchasing process.
Your job is to remind them of their unfinished payments or free trial downloads politely and respectfully. It's a very effective strategy that will enable you to boost your conversion rates and revenue.
Conclusion
Any business that's looking to convert free trial users into paying customers must learn to implement the processes mentioned above.
Remember, your initial goal is to retain your customers as product/service users right into the paying phase. Your job is to turn on your marketing charm and wow them with your product/service. They are going to be on board when you get these tips right.
Try them out and see what happens!