When it comes to creating content, quality may no longer be enough. The recipe for content marketing success today is not complete without a content promotion strategy. Here are 14 content promotion tactics every blog should adopt no matter big or small.
It's amazing how many blog posts are published every single day. The amount of data created on the internet is truly mind-boggling.
With WordPress alone, we see about 70 million new posts and 77 million new comments every month in 2020, according to TechJury. And trust me, this number is only going up ever since.
However, this makes content marketing harder than ever. Simply because it takes more creating high-quality content to cut through the competition and noise today. And here's the thing.
For the most part, you can no longer rely on just content production. As a content marketer, you would also have to show your work.
If you are wondering how, here's a content promotion strategy with 9 proven tactics that will get eyeballs on that blog post you have spent so much work on.
Is your content ready to be shared?
But before we take a deep dive into blog promotion, let me ask you a quick question – are your blog and content ready for social media sharing?
1. Encourage sharing with social media buttons
People will share content they love, and you certainly don't want to miss the chance to get social sharings when you are doing a content promotion. That's why you should make sure that your blog and content layout is designed to be social media-friendly.
You want to encourage people to share your content, so have your social media sharing buttons obvious and working. As to where you want to place them, Sharethis has some helpful tips on locations that will encourage social sharing:
Don't make readers scroll too far – people often skim before they decide if they are going to read your post. If your content is long, use a sticky sidebar design for your buttons or place them on top so they would always be in view.
Avoid obvious cold areas – use heatmaps services like HotJar to analyze how your users behave on your page. Place the buttons at areas of your site where people will most likely interact with and not areas they ignore.
Make your button stand out – avoid having your important call-to-action buttons blend into the background. Use a unique design to set them apart from other content on the page so that they will be noticeable.
Sharing encourages sharing – ensure that your social media sharing buttons shows and/or integrate your social media count. People trust social proof and often the sight of other people liking your content will make them like it too!
2. Optimize your content social share preview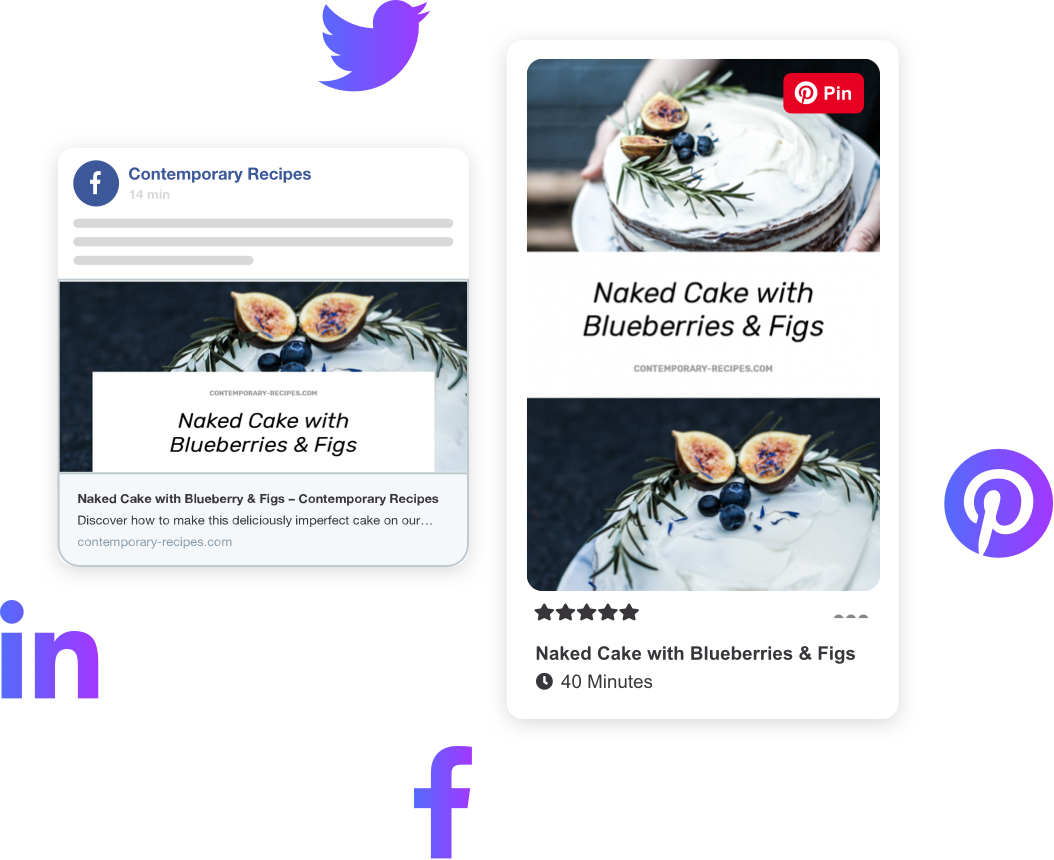 Facebook or Twitter metadata can make social shares of your webpage and content look great if you chose to edit them! And you definitely need to, if you are looking to win your audience's attention on social media.
If your posts aren't attractive, they are not going to stand out and get people's engagement, especially not when you are competing in someone's busy Facebook timeline with posts from important family and friends.
Post with text-only links and vague descriptions just won't stand a chance. So invest some time to create an engaging image, write a few lines of meta description and brainstorm on a catchy headline for your content to be shareworthy.
Don't worry if this is the first time you are working with metadata, there are many tools or plugins out there that allow you to easily edit these data. If you are using a CMS system like WordPress, one plugin that you can check out is SEOPressor Connect.
SEO Tip: Include target keywords into your metadata
When creating your meta title and description, you want to incorporate your target keywords naturally. This information is all read by Google and will help the search engine and your users better understand what your content is about.
Then again, this would only be effective if you are targeting the right keywords. You can use a keyword research tool like BiQ Keyword Intelligence to access exact search queries people use and their related keywords, on top of keyword data like search volume and value that will help you optimize your metadata.
3. Post, tweet, or share your own content
Once you are done with editing your content's social media metadata, now it's time to broadcast your content on your brand's social media platforms.
Tweet it or post it on Facebook to verify if everything looks good. With this, you will have also performed the first out of 9 tactics for the content promotion strategy we set up to get your website and content noticed.
How do you promote your content?
1. Promote your content to your community
If you have a fabulous new blog post, you want to first share it with your community. These are people who've liked your Facebook page or follow you on Instagram and will most likely give your content a click.
So always tweet, share, and post all your content on your social media platforms and let your subscribers know you have something new! Additionally, you would also want to send an email or newsletter broadcast to your email list.
Email drives great conversion, and this is nowhere to be put lightly. According to Campaign Monitor, the click-through-rate of an email campaign is on average around 3% whereas the average click-through-rate for tweets is only around 0.5%.
This means you are 6X more likely to get someone to click on the link to your content in an email rather than via a tweet.
In fact, if you are subscribers to SEO marketers Brian Dean and Neil Patel, you will often see them sharing their fresh-out-of-the-oven content in a simple email without amiss.
This gives their post an initial traffic surge which gives a positive signal to Google!
On the other hand, you can also promote your content among like-minded communities on Quora or Reddit. However, do make sure you follow the etiquette of content promotion in the two platforms, or else the effort might backfire on you.
All in all, sharing your posts with your community presents a great chance to get some feedback to better understand what your audiences are actually looking for, and that allows you to create even greater content down the road.
2. Create engaging visuals that are optimized for sharing
A huge make-or-break factor of your content promotion on social media platforms relies on your images and visuals. So while you may be tempted to use stock images to save time and effort, we really advise you to avoid them.
Based on a study by SocialMediaToday, posts that use stock photographs only drive 12% user engagement, while content using original imagery sees an increase of up to 40% in terms of its user engagement.

At the same time, it's important to create specific types of images for each social network. Avoid using the same image across multiple platforms because this could result in a loss of engagement or even sales.
We know this might sound like a lot of work, but we recommend keeping to these tips and making the process more seamless by having a social media content calendar,
Because trust us, we're really glad we did.
3. Repurpose your written content as a video
For content promotion, the share-worthy effect of videos is extensive. From the same study done by SocialMediaToday, videos are found to drive 23% of user engagement, which is also relatively high.
Besides, it is a very pervasive format. With videos, you can upload them on YouTube, share them on Facebook or Instagram, and even include them back in your content to boost engagement and increase your user's time-on-page.
Either way, repurposing your content and creating a short clip of your content, like highlighting the main points in your long-form content, can give your users an easily digestible snippet that many will appreciate.
Most importantly, it will extend your content to reach audiences cross platforms and appeal to those who prefer watching videos.
So if you are looking to give videos a try, we recommend starting with just a one-minute video.
This meets the video length requirement on Instagram and is a good enough amount to drop in a hook that will let people know what value they will get and draw them in to learn more. Here's an example from spiderworking's Instagram.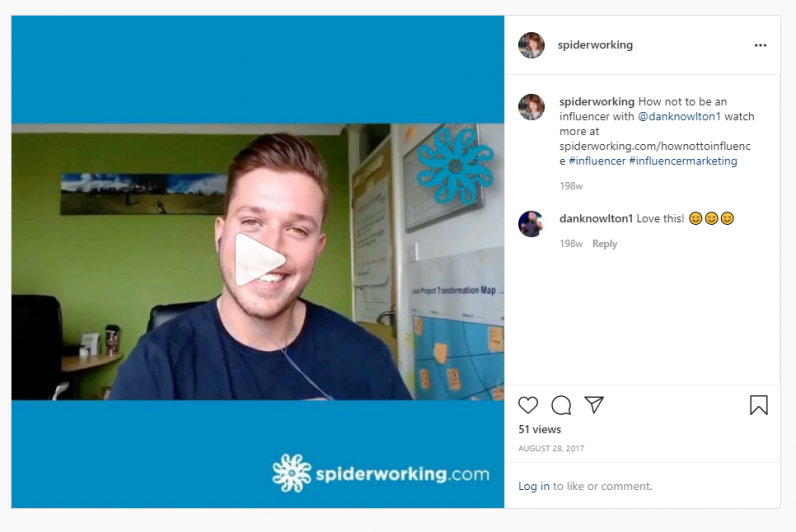 4. Identify potential content publishers you can guest post
Networking and link building is still an essential part of SEO and content promotion. After all, backlinks are still what Google primarily uses to recognize popular content.
To leverage this, one way is to collaborate with other websites through guest posting. A quick way to identify the right targets you should approach is to look at where your competitors are earning backlinks.
You can use SEMRush brand monitoring tool to see which publishers are mentioning your competitors and better understand how effective this coverage is and see if you want to add it into your own backlink profile.
When you find an opportunity to guest post, you can then create a supplementary post to your content and link them. This will give your content a good link juice boost as well as attract audiences who also might be interested in your stuff.
As an added bonus, these backlinks will also prove to be valuable as they can also bring a major impact on your overall domain and page authority. When increase, it will bring up the overall rankings of all your content.
5. Feature or quoting influencers in your content
When it comes to content promotion, nothing beats the good ol' word-of-mouth especially when it comes from an expert or influencer. These people with their followings can have a powerful impact that will help you increase reach to more targeted distribution.
You can use tools like BuzzSumo and Followerwonk to help you determine the influential people in your space which you would want to connect or feature.
Like say you work in the fitness space and you have identified a heavyweight influencer, who is a famous bodybuilder who has gained a following by sharing actionable bodybuilding tips and advice online. You can ask for his thoughts on a blog post you are working on.
Chances are, he will be grateful for the mention and also make a shoutout about your content through his personal network when it is published.
6. Use the comment section to spark a conversation
Nothing promotes content other than debates and discussion, so when promoting your content, you can always leave a meaningful question to get your users going.
7. Set a budget for paid promotion
If you are looking for quick results, then one strategy is to leverage paid promotion such as pay-per-click or social media advertising when it comes to content promotion.
Personally, we recommend using Facebook native ads. This refers to those ads appearing in a user's newsfeed as though they're content posted by friends which can take content sharing even further.
Investing in pay-per-click ads on Google, on the other hand, is more suitable if you are targeting a specific brand keyword and is used to promote content which end-goal lies in generating leads or sales.
Either way, when it comes to paid promotion. A rule of thumb is to not invest blindly. You need to know your buyers because you certainly don't want to pay to get in front of people who will never convert.
8. Build hype with a pre-publish buzz
Okay, this only works for destructive and innovative content. It should be something big that is going to provide immense value for your audiences.
So let's say it's a new cornerstone content that can 10x your user's website traffic, you can start your preliminary advertising through trailer tweets or sending an email newsletter about it in the production and explaining how it will absolutely change your user's life.
That's sure to generate some spotlight and anticipation so that when the content is live, you are sure it will drive users to click into it and see what it is all about.
However, when it comes to using this tactic, you must be careful not to overhype your content only to not deliver in the end, this will leave a bad taste in their mouth and may lead to mistrust.
9. Track your content promotion strategy and optimize
No matter if it is time or money, your resources are limited, and that's why you want to use it on the content promotion tactics that drive the most results with the least input.
If you see that you get the most active engagement when you share your blog post on Pinterest, then focus your energy on creating beautiful imagery and infographics.
The tricky part here, however, is that while some avenues are better for conversion and sales, others might be important for discovery.
If your goal is conversions, your content promotion strategy should rely heavily on email. Your email subscribers are the most engaged followers and as such much more likely to convert.
To that, you must be clear of your business goals and collect granular data for insight. Track social engagement and measure the performance of your content promotion tactics to find out what works.
Great content promote themselves
Of course, creating great content is still a big part of the equation. People only share content that provides great value or has been created with high quality.
So before you embark on these 9 tactics from this content promotion strategy, you must make sure your content offers immense value, quality, and a high sharability factor.
Take a look at your headline and ask yourself, how does your headline fare in the eyes of readers? Does it represent your content well and is it intriguing enough for people to click and learn more? Does it stand out among the other listings in the SERP?
Next, optimize your content by running it through BiQ's Content Intelligence. Provide your content URL with your target keyword, and the tool will start analyzing.
It will give you a complete analysis and scoring of your content, depending on your tone of voice, content sentiment, readability, semantic relevance, and also your WordVector analysis against the Top 10 ranking keywords to find out if you have any content gap.
Then, you will just need to optimize your content according to the suggestions provided, which are there to make sure your title and copy are rich in keywords related to your context.
Most importantly, this ensures organic content promotion in terms of boosting your visibility for the right keywords when Google identifies what your content is all about. You will gain audiences from ranking on search engines and boost your content traffic.
Conclusion
So the key takeaway here is that if you want your content to serve its purpose and drive your marketing goals, you need to be proactive with your content promotion. This process is especially important and should come right after publishing.
Better yet, you can do some social and media outreach to hype up your audiences before it goes live. Ultimately, make sure you perform all 9 tactics in this content promotion strategy to get your website and content noticed!