The most popular marketing targets are B2B or B2C that businesses are targeting. This article enables you to learn about the 8 differences between B2B vs B2C marketing.
Before we explore the main difference between B2B vs B2C marketing, it is important that you first understand what both terms mean. How do these two marketing strategies differ from each other?
Business-to-business (B2B) & business-to-consumer (B2C) marketing strategies aim to capture the attention of different audiences. And although both marketing strategies have some similarities, how they engage target audiences are actually quite different on each channel.
So, what do you need to know about the difference between B2B and B2C? Let's clarify what these marketing strategies are.
What is B2B Vs B2C?
Of course, since both B2B and B2C cut so close to each other's functionalities, sometimes, it's always difficult to tell the difference between the two. Knowing where to draw a line in the sand can be quite murky.
That's because the differences between B2B and B2C marketing are less clear for most marketers. Knowing this, it is best to consider their respective marketing strategies. By the end of this post, you will realize just how different these two marketing strategies are.
B2B Stands for: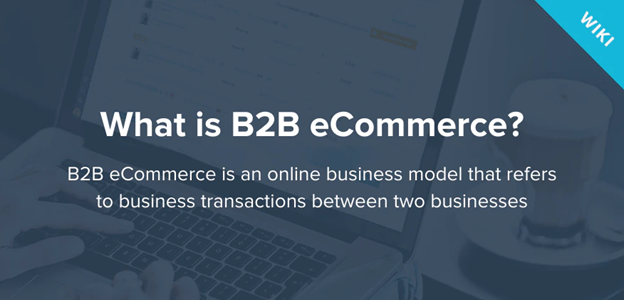 B2B is essentially the acronym for business-to-business and refers to businesses that sell products and services to other businesses. As such, you will realize that all the B2B Company's needs are directly linked and dedicated to the customers of the other business's interests, needs, and challenges.
By this, we mean the customers who purchase the products/services of the businesses you transact with.
For example, you might own a B2B that sells hiring tools to HR departments and other businesses that require similar services. Maybe you are an interior design agency that designs office spaces for other businesses.
Your market will be directly tied to the customers and people who will be using your products from the businesses you will be selling to.
B2C Stands for:
Business-to-business (B2C) essentially describes businesses that sell their products/services to individual consumers, not professional buyers. As a result, all of the business's marketing depends on the buyers' interests, needs, and challenges in their everyday lives.
A good example is a music platform that sells premium streaming subscriptions to individuals. Else, an oral care business that sells toothpaste, toothbrush, and mouthwash to individuals.
The Difference Between B2B and B2C Marketing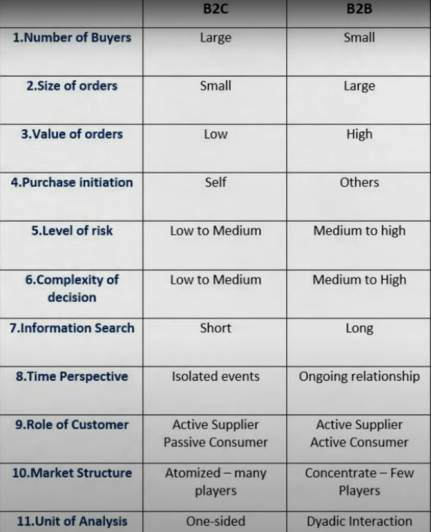 B2B vs B2C marketing campaigns shares similar technical best practices, such as using negative keywords to boost ad placement or retargeting to minimize cart abandonment.
While most of these practices remain the same, several critical differences separate these two marketing strategies. And understanding these differences is the key to improving your future marketing and sales campaigns.
So, let's take a look at some of the key differences between B2B vs B2C:
1. Target Audience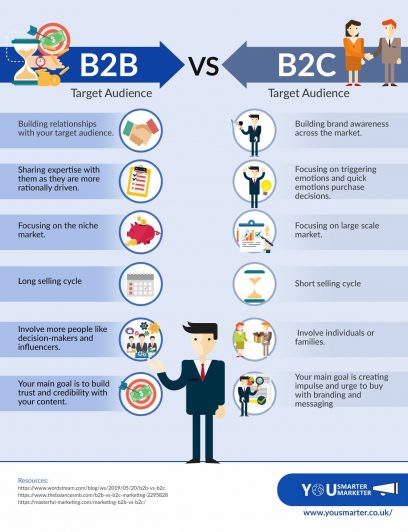 Knowing and understanding your target audience is perhaps one of the first steps you learn in any marketing class. Understanding your target audience is important to ensuring a successful marketing campaign.
It is also one of the key differences you will notice between B2B and B2C marketing.
Here's how:
In B2B marketing, you need to know your target audiences' (stakeholders') needs and determine the best strategy to market to them. Your product/service will also be subject to multiple tests to ensure it is a good fit for your target audience.
Similarly, it must pass the buyer's security requirements to ensure it doesn't cause any harm to the buyer's target audience.
On the other hand, in B2C, your main focus will be actual people who are genuinely interested in your product/service. The most powerful business ads can affect how customers view and engage with your products.
Whether they purchase your products/services immediately or after a few days, using personalized ads that appeal to your customer's emotions can make them pull the trigger. Like with all other things, customers always respond to ads that can improve their lives.
2. Decision-Making Process

Both B2B and B2C marketing must be hyper-personalized and targeted to get results. However, this is always a big challenge, especially for B2B brands.
B2C campaigns will help you reach potential customers interested in your products/services, even if those customers might not be theoretical buyers. For example, a woman might see a piece of jewelry on your website then send the item link to her husband, who gets it for her. This will result in a sale even though its ad appeal was for someone other than the primary buyer.
A B2C campaign can benefit your business more by reaching the household's decision-maker, particularly for big-ticket items such as new cars or vacations. Another great feature about using B2C is that you can show ads to anyone you believe might be interested in purchasing your product.
In contrast, B2B marketing requires that you appeal to a specific target audience or a group of individuals (decision-makers) within a specific business.
Your primary objective should be to get your ad in front of these decision-makers to spark your desired engagement, sale, and possible conversion.
3. Conversion Time
There's a simple difference between B2B and B2C marketing in terms of conversion time.
You find that B2C customers are more likely to buy your products/services more readily and quickly after seeing your ad.
On the other hand, B2B customers are always more inclined to proceed with caution before making any purchases. They also take much longer to convert. This is tied directly to the product's research process, toughness, and reliability.
Unlike other businesses, people will likely make impulsive decisions, especially on personal purchases compared to business ones, where their budgets are finite. There's also constant pressure to get everything right the first time.
This is because changing business purchases is always more complicated and can sometimes require a team to determine the best software or program for specific tasks. Most B2B purchases are also always larger in number and more expensive, making it even harder to exchange once purchased.
4. The Motivation Behind
Everyone, business and customer alike, must always have the motivation to make a product/service purchase. Consequently, you should expect the motivation factors for both business and personal purchases to be different.
The main reason why B2B vs B2C customers purchase a product/service is that they see it benefiting them and serving their needs. Sometimes these benefits overlap, like providing comfort or saving time.
However, in most instances, you will find that the bottom line for purchasing a particular product or service is different.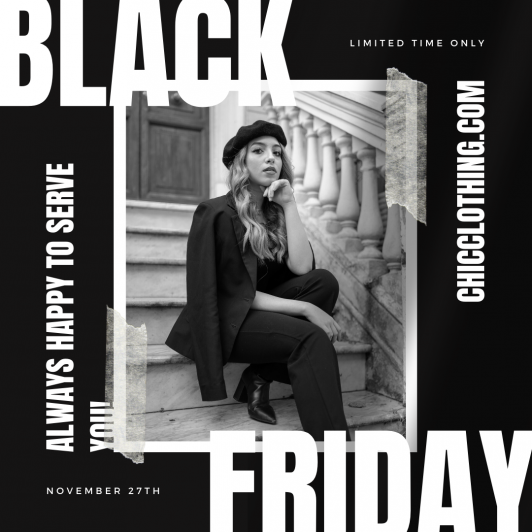 Often, B2C customers purchase products with the desire to better their lives. In contrast, B2B customers purchase products with the sole objective of improving their businesses and, most importantly, their bottom line.
In that regard, emotional appeal plays a key role in both B2B and B2C marketing. After all, you'll be selling to real people in both marketing options. And people have fears, wants, and needs you can appeal to, provided you can tie that emotional appeal to their business and personal needs.
5. Purchase Period
Another significant difference you will notice about both marketing options is the time it takes for consumers to purchase your products.
Often, you'll find B2B buying cycles are significantly longer than B2C buying cycles. As such, it is crucial that you know your business's average buying cycle and devises your marketing strategy accordingly.
If you are a B2B business, you must be prepared for the long haul. When selling to other businesses, you know that it takes time as there are many more people you need to cater to. In most instances, you find that the people who understand your product best might not always be the ones who pay for it.
In such instances, you find that B2B marketing requires you to have a more personalized and multi-step marketing strategy specific to each stakeholder. This helps you strategize and create more relevant and personalized content that is unique to each of your customer's buying cycles.
On the other hand, B2C businesses make purchases quickly and easily. Often, you find that most customers already know what they need before they buy a product or service. Therefore, you don't always have too much time to grab and hold their attention.
As such, you must have a fantastic SEO strategy that gets your content in front of the right target audience. You want your content to be at the top of the SERPs to increase its visibility and reach. Therefore, ensure your ad copy is short, clear, and concise, so it doesn't interrupt your clients with lengthy distractions.
6. Relationships Established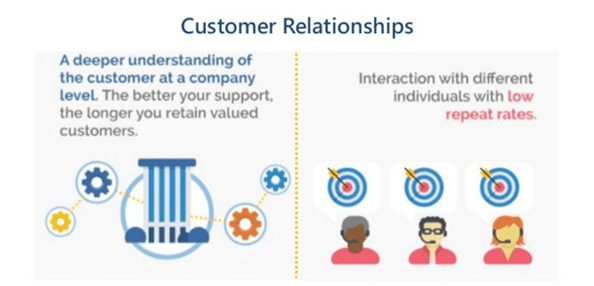 With B2B marketing, you must build more personal relationships with your customers to establish brand loyalty and trust. B2B marketing focuses more on building personal relationships with clients that drive long-term businesses. This makes B2B relationship building all the more important, especially during the buying cycle.
Every B2B's top priority is always to generate more leads. Why? Because B2B relies extensively on repeat and referral business. That's why developing personal relationships with your customers is crucial and can either make or break your business.
In contrast, B2C businesses focus more on transactional relationships and on pushing consumers to products/services that drive sales. However, for this to be possible, customers need a near-perfect customer experience interacting with your website.
B2C businesses operate on the "time is money" phrase as most businesses value efficiency. Therefore, you will need to minimize the time clients spend engaging and interacting with your website.
7. Ad Message
Most B2B businesses will be more open to purchasing products/services from experts who understand their processes, terminology, and decisions they make during the buying process.
To reach your target audience, you must speak their language and portray your business as an industry leader.
Unlike B2B marketing, B2C businesses use a more relatable voice that customers find enticing to click on. Using more straightforward marketing strategies allows you to speak in your customer's voice instead of using industry jargon that may cause customers to turn away.
B2C marketing appeals to your customer's emotions and focuses on evoking those emotions. Focus on placing massive importance on this process and be strategic because something as simple as an ad copy can make or break your marketing campaign.
BiQ Content Intelligence provides businesses with critical data to draft, edit, and optimize ad messages relevant to their target audiences.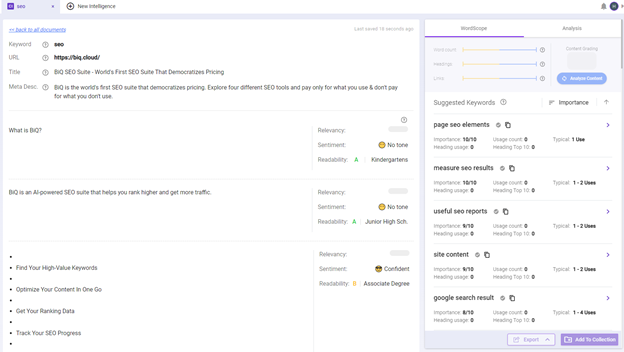 You can use the Content Intelligence tool to draft SEO-friendly content-driven strategies for your B2C marketing campaign. You will also be able to use BiQ's real-time text editor to determine your content grade and keyword density. The Content Intelligence tool will help you draft A-grade content with the necessary edits to increase your rank on Google.
8. Communication Method
How you communicate with your customers is also crucial and differs significantly between B2B vs B2C marketing. Using casual language would be jarring to your customers while using too formal content might make consumers feel unfamiliar and disconnected with your ads.
Therefore, you'll want to be conscious of who you're talking to and the message you are passing across.
B2B marketing emphasizes business ROI. Remember, your target audience will be looking to purchase from businesses that are proficient in their field. As a result, you must appeal to your customers' rational mindset and make your buyer confident that you are the best investment they will ever make.
Sometimes, B2B marketers even compare their products/services to their competitors to underscore their competitors' features. No matter the method, you must clearly state why your product/service is the better option on the market.
In contrast, B2C keeps things simple and sweet as consumer messaging should be more relatable and casual. However, you also won't want to use overly trendy buzzwords that might confuse the readers. They might pick up the notion that you are trying too hard, which most customers find off-putting.
Therefore, you want to ensure your customers can purchase directly from your ad and check out in minutes to save both your time and that of your customers.
Conclusion
As a marketer, you must differentiate between B2B vs B2C to be better positioned to strategize your content and ensure you are successful at marketing your brand.
Naturally, there will be differences between B2B vs B2C marketing. And the contents of this blog post should help put things to light as you know even more about these two marketing strategies.