Like SEO for websites, app store optimization is equally as important for increasing visibility and conversion rates. This article shows you all about app store SEO.
The ultimate App Store Optimization guide for Google Play and App Store.
With over 6 million mobile apps doing rounds in some of the major app stores worldwide, getting your application discovered can be one of the most challenging tasks in your app development career.
Don't get me wrong. App development is a hot career right now. And if you get it right, you could make thousands, even millions of dollars, from it.
Now, here's where the issue arises. You've spent countless hours, months even, and resources developing your app. Finally, you're done with the developing aspect of it. The next step is getting users to discover it, download it, and actually use it.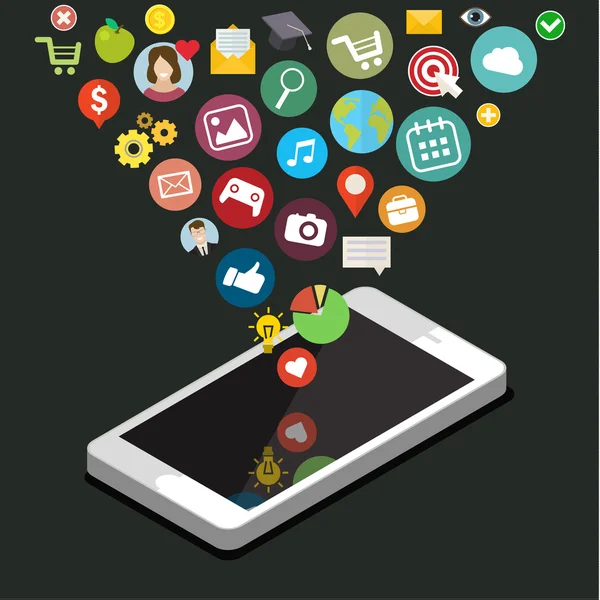 Here's where understanding app store optimization plays a critical role.
Knowing the ins and outs of app store SEO and how to make the most of it is critical for helping your app rank well.
There are no shortcuts here.
App Store Optimization, or ASO app store, is the process of ensuring that your app meets all the app store ranking criteria. Doing this gives your app a higher chance of rising to the top of the app store's search results page.
But to get to the top, you must know everything there is to know about app store optimization. And that's what led you to this blog.
So, let's get right to it.
What is App Store Optimization? (ASO)
App store optimization refers to the optimization of your mobile applications to rank higher in the app store search results.
As simple as this may sound, it's actually quite in-depth and requires that you at least have some idea of what to do to get your apps to rank.
Ideally, as with all other things SEO, the higher your application ranks in the app store search results, the more visible it will be for potential customers to find and download. Therefore, you should know better to invest your time into this app store SEO post.
This increased visibility will ultimately translate into even more traffic to your application's page in the app store. As an app developer, your end game is to drive more traffic to your app's page so that searchers can take the necessary actions like downloading your app.
Like with normal SEO, app store optimization also requires that you understand the target customer base. This includes knowing the right keywords that will get your app in front of the right potential customers who will likely download and engage with your app.
App visibility eventually leads to more downloads, which translates to even more visibility. It's an endless cycle that you should capitalize on to boost your ROI and overall traffic. This part of app store SEO is also referred to as Conversion Rate Optimization.
Knowing the right keywords your target customers might use to search for your app in the app store is critical for getting your app seen by the right audience. It's perhaps the most critical aspect of this post and your ASO app store strategy.
What are the Benefits of App Store Optimization?
Now that you know most users find apps by searching for them in the app stores, it's important you know what benefits you'll derive from it.
Besides app store optimization centered on getting your apps in front of the right audience, you'll also enjoy numerous other benefits like the ones mentioned below:
1. Higher Visibility
App store SEO helps to improve your app's visibility to your target audience.
Remember, people can't download your application if they can't find it. You may have developed one of the best apps in the world. An app that will probably get millions of users lining up to download it. However, if it's not easily discoverable to your customers, you won't realize your application's true potential.
So, start optimizing now!
2. Get Relevant and Targeted Users
While optimizing your app so users can find it is great, it's not enough. First, it must be found by the right audience – people who will actually look for, download, and use an app like yours.
ASO app store ensures your app gets to the right users by matching your application to the relevant keywords used by your target audience to find you.
3. Increase Organic Downloads
App store optimization will undoubtedly increase your organic installations and guarantee long-term results. When people search for keywords or search terms related to your application, they'll find you.
With regular monitoring and updating, you can make your application optimization and marketing efforts even more successful. You just need to know the right app store SEO strategies to implement.
4. Increase Revenue and Conversion Rates
Every app developer is always looking to make some money off of their applications.
Fortunately, there are several strategies to monetize your app. These include in-app ads, subscription models, and in-app purchases. You can also run ads that bring in more users, which, in turn, increases your ROI.
App store SEO also involves Conversion Rate Optimization, which gets people to click through ads and download them. It's another excellent strategy to monetize your app.
Apple Vs. Android: Difference in App Store Optimization
If you've ever used both the Apple and Android app stores, you'll have a rough idea of what we're about to discuss in this section of our post.
One of the main differences between these two app stores is their publishing aspect.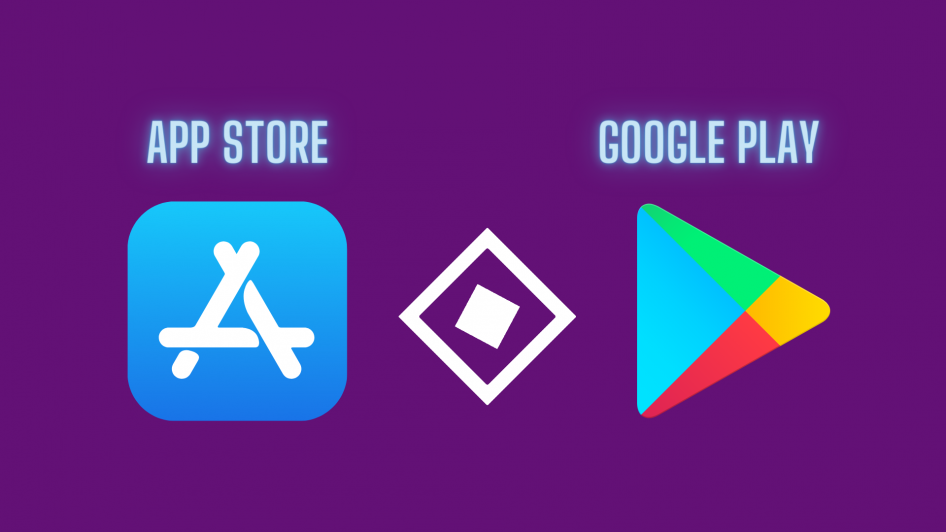 Both app stores implement an app review process that ensures they index and display only high-quality applications in their stores.
However, you'll notice that Apple's app review process usually takes longer than Google's (app developers understand this best).
And although keywords are vital for app store SEO, both the Apple and Android app stores evaluate them differently.
Google Play's indexing process works like that of Google Search. As such, Google considers all the textual elements when indexing your app's keywords. It's also good practice to repeat your app's keywords at least 3-5 times across the different fields of your app to rank for them.
On the other hand, the Apple App Store has a specific field for your application's keywords. And unlike on Google Play, you shouldn't repeat your target keywords across any fields for your app.
How is App Store SEO Achieved?
App store optimization offers app developers a way of ensuring apps meet the required app store ranking criteria. This will allow your application to rank to the top of the app store's search results page.
That's why whenever you search for certain apps in the app store, some apps dominate the top positions.
In this section of the post, we will provide you with critical optimization strategies to ensure your application gets the top spot in the app store:
1. Understand Your Customers and Their Needs
That means understanding the user's intent!
Like with any other SEO marketing forms, you must know and understand your target audience well enough to target their needs within your application. Put yourself in your audience's shoes.
What would you want that app to achieve for you? What value will the app add to your life? Does it solve any of your pain points?
A well-formed app store SEO strategy hinges on how well you know and understand your customers and how they'll use your app.
It will also provide you with a more comprehensive view of your competitive landscape and how to become your target audience's top pick.
2. Pick the Right Name
Choosing the right name for your app is another critical process that will either make or break your app store optimization strategy. It's not just a matter of branding or coming up with a name that's easy to memorize.
For the best results, it's also important that you include relevant keywords within your app title. Remember, your application's name heavily factors into your app store search results.
A study from TUNE found that apps in the top 25 ranking positions all had relevant keywords in their titles. These apps ranked 10.3% higher than applications whose titles didn't have keywords.
To ensure that your customers can clearly identify your app, you must keep its name short and sweet. It must also be memorable and clear. An app name that's easy to read, relevant, and unique will grab your customers' attention almost instantly.
3. Do Accurate Keyword Research for Your App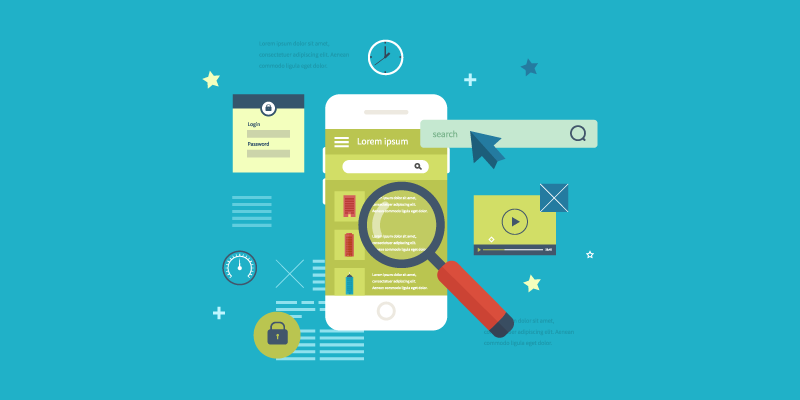 Apple allocates 100 characters to allow app developers to enter their app keywords, which are separated by commas.
This allows users to easily discover your app whenever they search for content related to your app. You might be required to perform in-depth keyword analysis when using Apple Search Ads.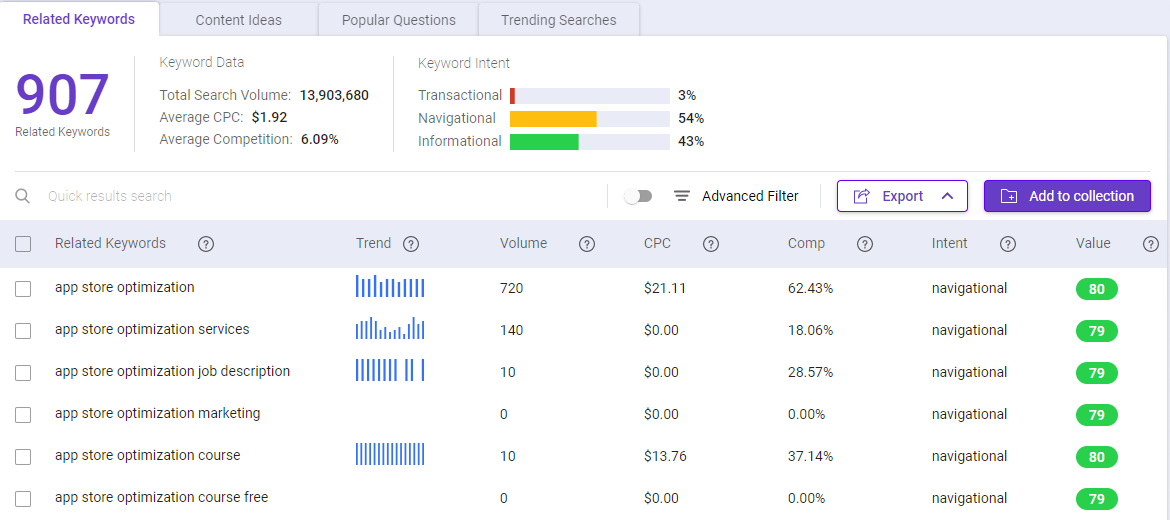 BiQ's Keyword Intelligence is one of the best SEO tools to help developers find groups of keywords with the right search intent. Basically, you'll have critical insights into your customers' search intent and have relevant keyword options to use to optimize your app to appear on their search results page.
BiQ Keyword Intelligence allows you to understand your audience better since it eliminates any assumptions and guesswork you may have when identifying your audiences' search intent.
4. Optimize Your App Title and Description
A clearly structured app title with high readability will definitely grab your target audiences' attention. Your application's description and the title should target your customer base instead of the search engine index.
An effective app description should act as a call-to-action for your potential customers. Use it to sell your app by describing what the app does using concise and straightforward language.
Convincing the app store that your application is relevant for a specific keyword list is only half the work. Now, you must strive to convince your target audience that it has the features and specifications to meet their needs. And the best place to do that is your app description and title.
You can also use BiQ Content Intelligence to draft, edit, and optimize your description and title using content-driven strategies that are SEO-friendly. The Content Intelligence feature will also check your content's reliability paragraph-by-paragraph in real-time.
If your content isn't A-grade yet, BiQ's Content Intelligence will provide you with the necessary edits needed to improve its readability and rank on the top spots in the app store search results page.
5. Eye-Catching Creatives
Like app icons, images and screenshots may not directly impact your app's search rankings. However, they can drive your downloads through the roof if you get them right.
Images are particularly crucial for conveying more information about your app than you would while using descriptive text. Ideally, images and screenshots bring your descriptive text to life.
While the Apple play store allows you to upload up to five images and the Google Play store allows up to eight images, it is the first two or three screenshots that are most crucial for your ad. They will automatically show in your app's page load. Therefore, you must ensure that these screenshots address your customers' needs.
They must be strong enough to convince your customers to browse your app page for additional screenshots and possibly download your app.
Here's a screenshot example from the Candy Crush Saga app:
It speaks volumes in terms of delivering the right message of what customers will find when they download and use the app.
6. Get a Unique Icon
Your visual icon is usually the first impression customers see and have about your app. Therefore, it counts a great deal.
You'll want your app to stand out from a nearly endless list of apps already competing for the same customers you are targeting. As such, regardless of which OS your app will show in, you must ensure that your app icon can break through the clutter and stand out from the rest.
It must be clear enough that it instantly shows what your application does. As such, you shouldn't overcomplicate it with unnecessary words or logos.
7. Focus on Local ASO App Store
BiQ Keyword Intelligence also helps developers to seek and use keywords with language and location sets. You will have access to untapped local keyword opportunities to make your applications better optimized for local searches.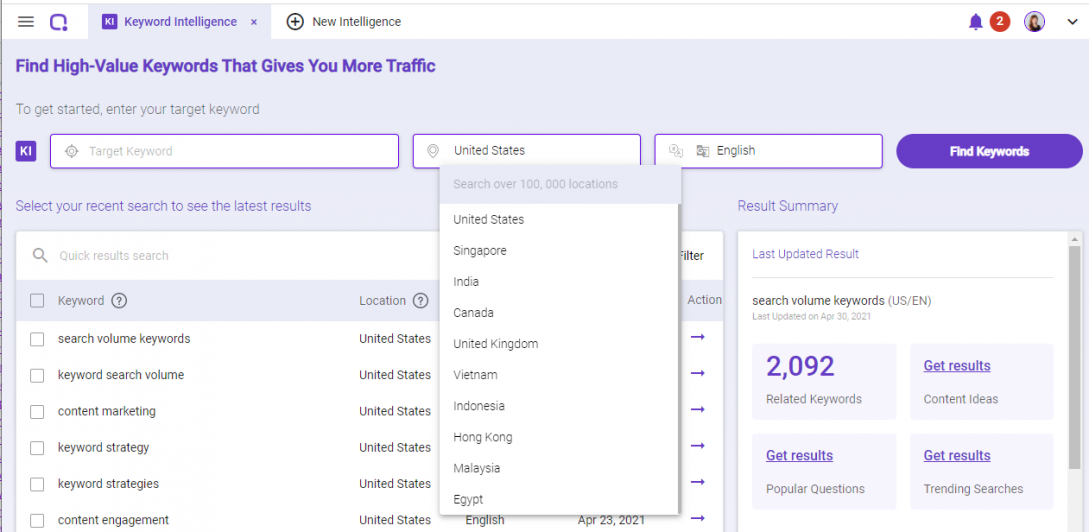 The Keyword Intelligence tool will provide you with a comprehensive list of keywords your local customers might be using. You'll need to choose keywords with high search volume but lower competition.
This can be quite challenging, especially when deciding which keyword to use. But BiQ's Keyword Intelligence will sort your keyword values in terms of search value and competitiveness.
This way, you'll have access to the right keywords for local searches that bring more traffic to your app page at a lower competition.
8. Manage Your App Rating and Comments
You will realize that all successful applications on the Apple and Google app stores have a consistent flow of reviews and ratings. These features act as the highest possible validation processes for any application. They are also some of the highest determinants of application ranks.
Across the board, you'll realize that applications with large volumes of positive ratings and reviews dominate the top positions in the app search result pages.
And the best strategy to achieve positive reviews and ratings for your app is by responding to comments and improving your app as per your customers' preferences.
9. Update Regularly
Applications are constantly improving. Developers are always on the move looking for new features and settings to add to their apps to make them more appealing and engaging for their customers.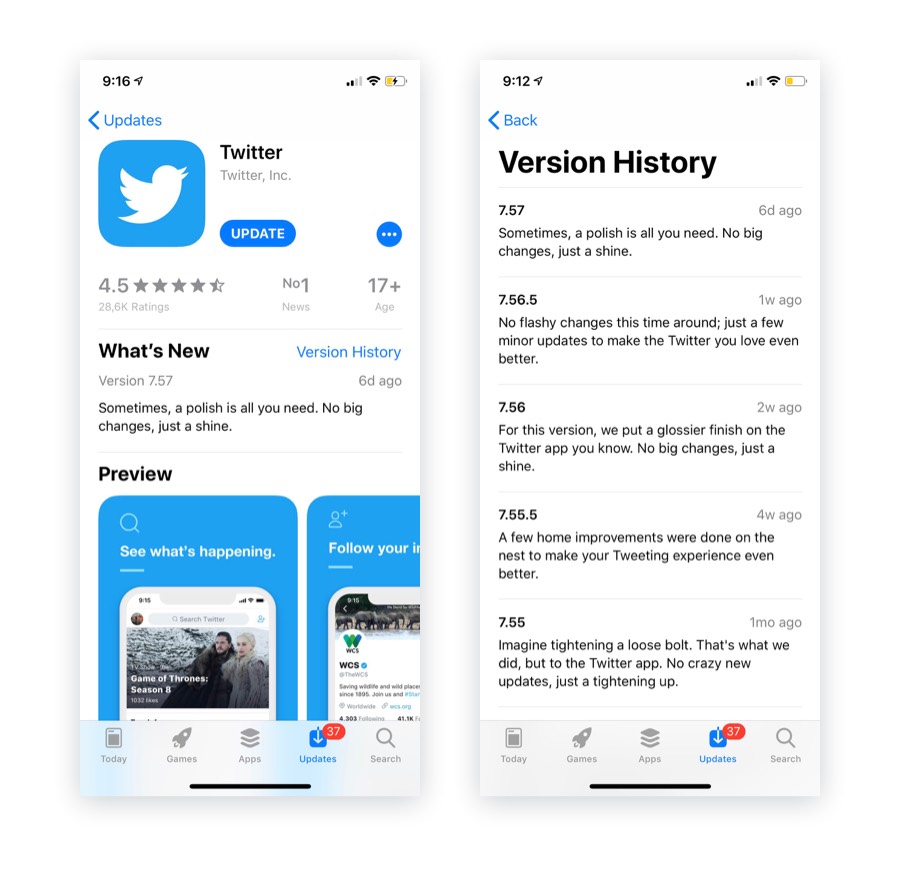 Most of these updates usually stem from customer feedback.
Consequently, regular app updates seem to correspond to better reviews and ratings. Each new and improved app version should also naturally receive higher ratings, helping your app climb up the ranks.
Conclusion
Reaping the rewards of app store optimization will ensure you reach higher visibility and have high returns for your application. For that reason, you must invest time and effort into ensuring your app is optimized and ready for the app store and target customers.
Do this right, and you'll have a consistent channel of traffic to your app for the long run, something every app developer craves.
That said, we wish you the best of luck even as you develop and market your new app for the app stores.