Small business owners may face obstacles when coming up with marketing ideas if they have a small marketing budget. However, not all marketing ideas are expensive. Here are 7 simple marketing ideas.
Marketing strategies for small and big businesses follow a similar basic marketing cycle.
However, the similarities stop there.
Budget staffing, communications techniques, and creative differences vary spectacularly between established international brands.
Don't give up yet.
Even the big companies had to start from somewhere.
Google, Amazon, and several other companies started from the garage or some similar setting.
All I'm saying is that your brand will be skyrocketing in no time when you use effective marketing ideas.
But how do you go about it?
There are various marketing strategies that small businesses could use to improve their conversions.
Small business owners often get a difficult time coming up with marketing strategies.
Especially with little to no marketing budget.
In marketing, the end goal is to connect your business' products or services with potential customers.
With many business ideas being thrown out there, it may be difficult for small business owners to invest in the most optimal marketing strategy.
However, you have to know that there is no magic bullet.
There are several critical factors you'll have to consider before choosing the right marketing strategy.
Taking your time to analyze and evaluate these factors will help you choose the best strategy to provide you with possible maximum returns.
These factors include:
The demographics that make up your customer base
Where your customers live
Which sites or apps they are likely to use online
What are their possible decision-making criteria relative to your product?
Answering these issues and a few others will help you determine the best marketing strategy you'll need to use for your brand or business.
The questions help you understand your customer base better.
Through that information, you become more aware of how you can approach them for the best results.
That said, here are some effective marketing ideas for small businesses you can use to your advantage!
Marketing Ideas for Small Business
1. Start a blog
If you want to market your small business, the first thing you'll have to do is start a blog.
The reason for this is quite simple.
A blog is your brand's backbone.
It is a reference point through which potential customers learn about your product and get more information about what makes you different.
Making a creative blog with relevant, engaging, optimized content could help you target and gain relevant traffic and improve your conversions.
After coming across your product on social media platforms or through PPC ads, pay-per-click ads, a potential customer may click on the ad and get redirected to your blog.
If they find flimsy content, their assumption may be that your product isn't as good as advertised.
According to activeblogs.com, companies that blog moderately are 67% more likely to make conversions than companies that don't.
How do you create a fantastic blog?
There are numerous SEO tools out there.
However, choosing any tool and creating content for your website doesn't cut it anymore.
You'll need to use the most effective tool that provides you with relevant analytical data that you can use to create excellent content for your audience.
BiQ's SEO Suite is one of the best SEO analytical tools out there.
It provides all the relevant data you need to create great content.
Plus, you could use it to analyze your web's content and figure out if it's good enough for your audience.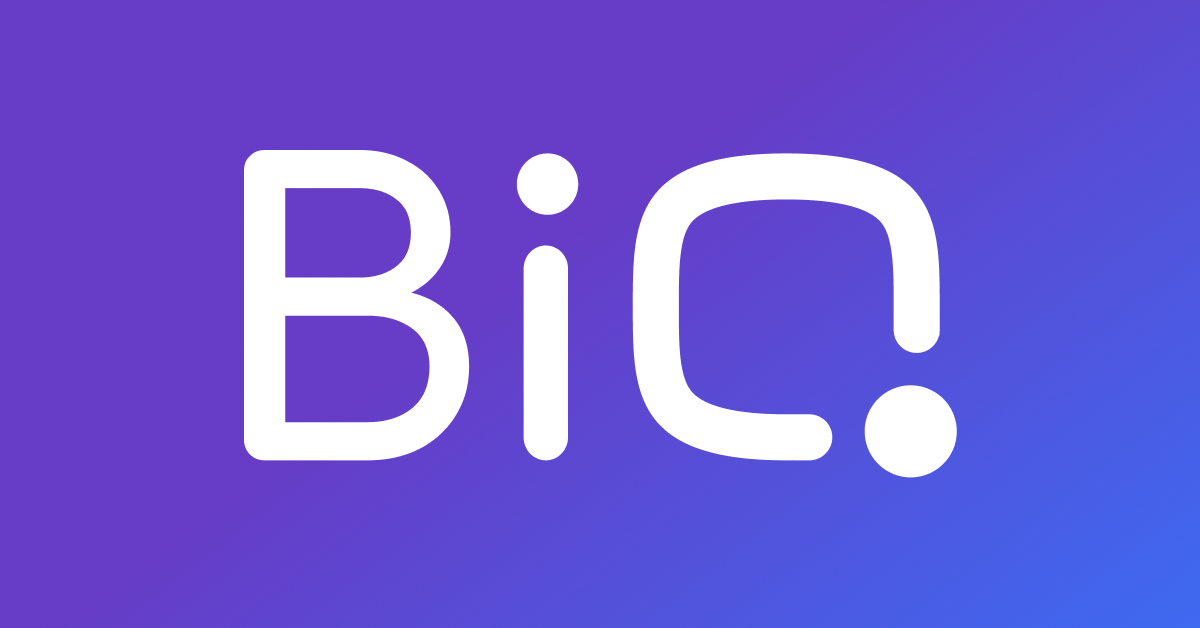 You could use BiQ's Keyword Intelligence to find untapped local keyword opportunities to add to your content to target potential local customers.
A feature not found in most other keyword research tools.
First, you'll need to enter your target keyword, choose your preferred location and language, and then click search.
Our keyword tool will provide you with a list of relevant, local keywords that people around your business' location use.
Let's use the keyword "best pizza" and New York as the location.

From the results, you can find keywords with high value and write on the topic.
By using local keywords with high value, you'll increase your search visibility to the locals.
Content Intelligence is meant to provide you with content-driven strategies that are SEO-friendly.
Using block editor, you could get interactive writing tips to help you create relevant, engaging, and optimized content targeted to your audience.
BiQ's Content Intelligence feature has a real-time text editor that checks your keyword count to see if it has enough keyword density and grades your content evaluating it for relevancy.
If your content hasn't gotten an A grade yet, you could make the necessary changes to get it there and rank higher.
To learn about blogging for small business, you can click here.
2. Identify your audience
Effective marketing ideas should include knowing your audience.
There various ways you could use to target the right audience.
You may begin by studying your current customers.
This will give you a fair assessment regarding your target market's demographics and preferences.
You could use various avenues to achieve these results.
Social media
You could use social media to study your customers or, at the very least, people who have shown lots of interest in your product or service.
Interact with your social media fans and analyze their responses to help you determine the best marketing strategy to use.
We'll talk more about social media in a bit.
Website analytics
You could analyze your website and figure out how your visitors interact with your content.
Measure various metrics such as click-through rate, referrals, bounce rates, etc.
Tracking these numbers could help give you some idea of where you'll need to improve your marketing strategy.
You could use web tools such as Google Analytics, Hubspot, Facebook analytics, etc., for analysis.
3. Social media
Creating social media accounts is a free and easy way to interact with your current customers and even reach out for more.
It's really one of the simple marketing ideas for small businesses!
Plus, there are many other relatively opportunities such as paid advertising and influencers that you could use later on to boost your business' brand awareness.
Through social media, you could engage with your customers on a platform that they understand and are quite comfortable in.
Take advantage of this opportunity to figure out what your customers like and areas you could improve on in your business.
These insights could help boost your brand reputation and product quality even more.
You could also share your blog content on social media platforms.
Post engaging content that makes your potential customers more likely to click through to your site.
You could use discount offers and gift baskets to lure them to your website, where they are likely to make a purchase.
4. Create a Google My Business account
Making your local business available on Google maps and search results is one of the easiest marketing tricks you could use to build on brand authority and awareness.
It is free publicity that could help you net in more local customers who big corporations would have otherwise captured.
Google Map results for search queries are inclined towards proximity to the searcher's intention.
For instance, let's say that you want to buy some books, and after making the search query, you click on maps.
Google will provide you with the nearest business in your location that sells books.
If you set up your business on Google Maps with the correct NAP citations, you'll improve your local SEO and increase your chances of making more conversions.
These citations will help people discover your local business and even help you rank higher locally.
Grid My Business is a great local rank tracking tool that you can use for your Google My Business listing.
We all know how important it is to know how your business is doing in the local search, hence Grid My Business aims to track your local ranking and helps to compare your Google My Business ranking performance against the top 20s in the local SERP through a specific search query.

Just input any business or location and the search query in the search bar. Select your scan parameters and just scan. You'll be provided with a report on the local rankings in every point of the grid.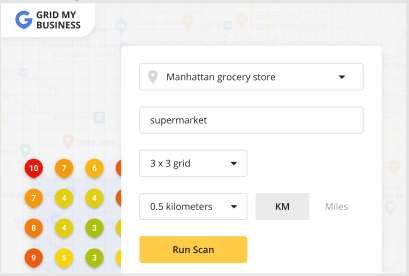 By utilizing this tool, you can understand which local search queries you're ranking for or not and which local competitors you're competing against. Once you have this useful data, you can start reoptimizing your listing and climb the local search ranks.

5. Consider PPC advertising (Pay-per-Click)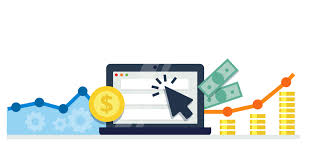 If you have a marketing budget, then you could opt for PPC adverts through Google ads because it is one of the most straightforward and best marketing ideas for small businesses.
PPC places your ads ahead of search results.
And it is a quicker way to get more conversions than using organic rankings and SEO.
However, the primary issue with using PPC advertising is finding the right keyword to bid on.
You could invest your hard-earned cash on a keyword only to be disappointed.
This is where BiQ's Keyword Intelligence comes in.
You could use BiQ's Keyword Intelligence to research your potential keyword.
Keyword Intelligence will provide you with keyword volume, trends, competition, and any related keywords.
Why should you use this tool?
BiQ's data could help you analyze and choose the most appropriate keyword you could use for Google's PPC advertising.
If you aren't sure which keyword to use, you could sort them out based on search intent and value.
Use the most valuable keyword to bring you more traffic with less competition.
6. Reach out to social media influencers

Social media's growth has brought with it many effective marketing ideas, one of them being influencers.
There are so many influencers on social media platforms that you could hire to market your products or services at cost-friendly prices.
If you are afraid of the enormous fees that top influencers ask for as payment, you need not worry.
The trick is hiring mid to upper mid level influencers who won't charge you an arm and a leg but can advertise your brand to a big audience.
According to contevo.com.au, 82% of consumers voted that they were highly likely to buy products recommended by micro-influencers.
However, you can't just choose any influencer.
You have to get yourself the right influencer that produces relevant and resourceful content.
Doing this ensures that you can reach the right target audience with your product.
To figure out which products of yours are best-selling, you'll need to what products are often searched for in your site.
That is where BiQ's Rank Intelligence comes in.
You'll need to go to BiQ's Rank Intelligence feature and create a profile using your domain URL.
You'll then get some results with which you could set the parameters you want on keyword ranking.
You could then go ahead and create a view.
You could then export the data to your preferred tool and sort through it to find the best keywords to use.
Once you've identified the keywords that are commonly searched on your site, you can reach out to the influencers and strike a collaboration with them.
7. Use word-of-mouth
Simple marketing ideas are the best.
And word of mouth or self-marketing is one of the best marketing ideas for small business you could use to market and advertise your brand, products, and services.
The idea is quite simple and easy to follow.
All you have to do is provide excellent service and high-quality products.
If the customers are satisfied with these three things, the chances are that they'll recommend more people to you, and even come back for more.
The best thing about this method is that the advent of social media has made it extremely easy for anything to become viral.
Create a great product, provide outstanding services, and your business is sure to boom sooner or later.
Conclusion
Be aware that there are other marketing ideas for small business besides those listed here.
You don't have to apply all the ideas listed here without first analyzing your business model and figuring out which idea is likely to work out the best for you.
You'll need to understand your product, your strengths, as a small business, your weaknesses, and finally, your audience.
Know how they think, where they like getting their online information, and their chain of purchase.
This data could make a whole lot of difference between succeeding and failing.
Please share with us what marketing strategy you used for your small business!