The Marketing Mix is a fundamental model in every businesses out there. But question is, is it still a highly relevant model that modern marketers should follow?
If you have ever taken a marketing course, you are most likely to have heard of the 4 Ps in business, otherwise known as the marketing mix.
However, its reception is mixed. Some marketing professionals revere the 4 Ps of marketing, while others scoff at the concept. So, our question is are the 4Ps in business still relevant? Read on to get a more profound overview of the marketing mix to establish whether this model is still relevant in 2020.
What are the 4 Ps of Marketing?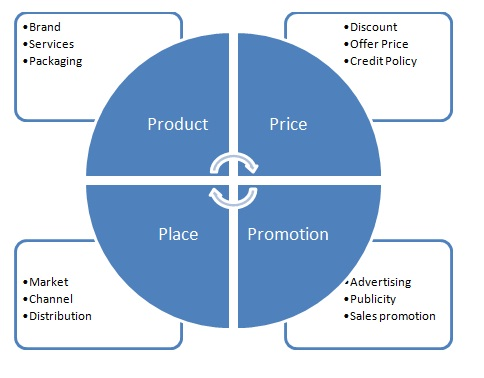 Neil Borden popularized the concept of the marketing mix in the 1980s. He aimed to provide marketers with a platform for objective reasoning and a clear understanding of their marketing activities. Ideally, the marketing mix comprises elements that can be controlled to improve the profitability of any business.
It is said to be the keystone to any successful marketing campaign. Typically, having a robust marketing mix framework is vital in evaluating and re-evaluating your brand activities.
The 4Ps are now synonymous with the original concept of the marketing mix. This model is based on four marketing mix elements, including product, place, price, and promotion.
For many years, the 4Ps have been considered a practical and memorable framework necessary in the decision-making process. The efficiency of the 4Ps of the marketing mix is that the individual elements complement one another. For instance, it is impossible to develop any product successfully without worrying about its price, where it will be marketed, and promotional strategies.
Product
The product mix describes the number of service lines or products your business sells to its customers. Usually, this element varies depending on the range of services or products you are offering. The success of the product mix depends entirely on the efficiency of your branding strategy. Starting with a small number of products is an important way of determining whether your product offers the target audience's interests.
Place
The place mix represents where the services and products you offer will be sold. Depending on your business line, the place element of the marketing mix can either be physical or virtual. Your target customers should inform the choice of where to be selling your products or services. The most appropriate place to use as a selling point of your brand offers should be one that allows ease of access to your products or services by the target customers.
Price
Another integral marketing mix element is the price mix. It describes the cost that your customers want to spend on your brand. Often, the right price should be satisfactory to both the business and the customers. However, it is vital to establish the appropriate balance that pleases the customer and your business. When creating any marketing campaign, it is indispensable to consider various aspects of the price mix, such as price sensitivity among the customers and high-perception price value.
Promotion
The promotional mix refers to the various methods that business owners and marketers adopt when marketing their services or products. Your promotion mix should be in line with your business's methodology to be well balanced and effective for your target market. This marketing mix element is important for your marketing strategy because it increases your brand's interest and awareness among your target audience. Besides using the promotion mix to offer your customers information, you can create more demand, interest, and demand for your brand by showcasing its features.
Traditionally, the 4Ps have dominated the marketing mix. However, with digitalization, new elements of the marketing mix have come up. These include the process, people, platform, and performance. While this redefinition of the 4Ps does not rule out the significance of the previous elements, it shows the need for businesses to evolve with market changes.
Especially given the rising need for brands to change with the dynamics in the market and industry, revisiting your marketing mix often is critical to determine if you are targeting the right market. So, how can you make use of the 8 Ps of marketing to grow your business in 2020?
The Advanced Ps of Marketing Mix
The efficiency of modern marketing depends on more than the original 4Ps. There is a need to focus on other elements' input, including process, people, platform, and performance. Here are a few tips on how to implement the 8Ps of marketing.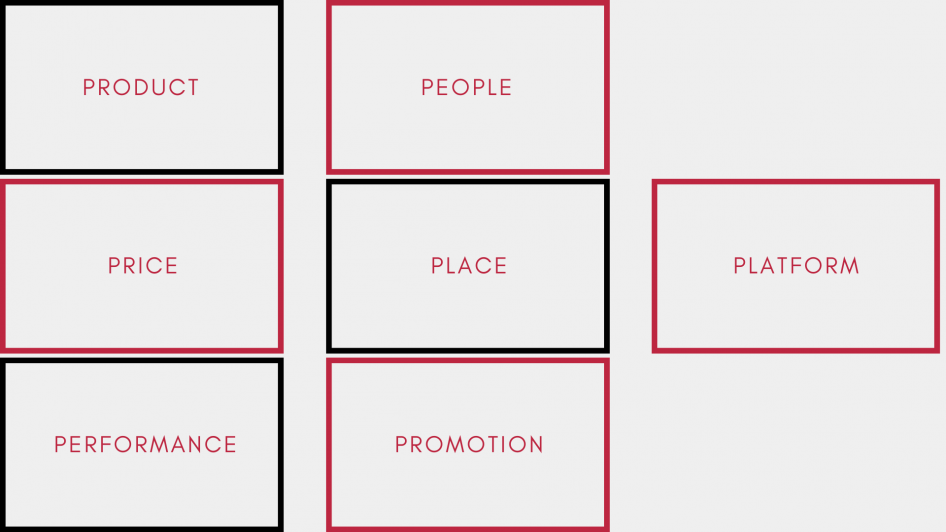 Product
The product is what your business is selling – it could be a service or product. Ideally, your marketing campaign's success depends more on how you present your product to the ideal consumers. In your strategy, the product mix's effective definition allows you to stand out and offer your consumers exactly what they need.
You can make sure your product mix is compelling by answering the following questions:
Who is your product designed for?
Do you understand your users' problems?
How can you address the identified problems?
What are some of the benefits and features associated with your target audience's daily needs?
So, how do you create a fantastic product that your customers will love?
Start with in-depth research on the significant problems your target users face and try to establish ways of solving them. Use various approaches, such as surveys, to find out what aspects of your products need improvement.
Some product mix examples you should consider when developing your product include consistency, depth, length, and width of your service or product. Such variations are essential in ensuring that your customers have choices.
People
One of the crucial elements in marketing is having explicit knowledge of who your target buyer is and why they buy your product or service.
Your focus should be on aspects such as:
Establishing your buyer persona
Determining your brand's value to the customers
Establishing your prospects' perceptions, behaviors, and responses around similar products
Understanding your potential consumer and buyer cycle will help you offer a product or service that aligns with your users' needs and demands in the market.
Price
The price is an important and highly sensitive topic that requires delicate treatment. The price you put on your service and product can significantly influence your business's profits and revenue. It becomes significant to ensure that your product's perceived value aligns with your marketing efforts. Thus, you need to invest a lot in developing a careful strategy, test, analyze, and implement various strategies.
A few of the strategies and elements you need to consider for a successful price mix include:
Determine all the costs involved in the creation of your products or service
Analyze the cost and pricing strategy of your competitors
Create comparative pricing tactics and strategies
Determine the possibility of discounts for your customers
Your pricing mix's efficiency depends on its ability to support any other strategy or element of your entire marketing mix. Some typical price mix examples you can consider include:
Offering discounts on old stock
Giving discounts based on the sales volume
Increasing or decreasing prices selectively.
Pricing products or prices based on location
Adopting price alignment competition
Place
Where your business is located is important in the success of your marketing efforts. There are diverse elements and strategies you should focus on when developing your business's place mix. Some of these aspects include the segment and market coverage, sales reps, online and physical stores, direct business sales.
Careful identification of the point of sale of your services or products helps you make a compelling analysis of the competitors, their activities, and their behaviors. However, this decision should be based on the demand for your products and any existing competitors' influence. Such a focus is important in ensuring that your product succeeds in the market.
Platform
With the adoption of technology in business, many organizations focus on different platforms to reach their customers. For example, you can leverage the significance of platforms such as the web and diverse social media platforms such as Google and Facebook. The number should inform your choice of the marketing platform of your prospective customers who use it.
Depending on where your users hang out most of the time, you will be able to establish the best distribution channels for your business and whether you need a website for your marketing.
Performance
While focusing on different mixed elements is important in your marketing, it is important to try out different strategies to settle on the one that has higher chances of success. Analyzing, tracking, and finding out what works are important success elements of the performance mix. In your analysis, it is important to establish your return on investment and the cost per acquisition. With results from such analysis, you will be able to create an effective buyer funnel and high lifetime value.
Promotion
Promoting your product and services helps you create awareness and make sales and establishes your brand as an authority in a particular niche. If you have implemented all the other marketing mix elements, but you aren't yet driving sales, you should invest more in promoting your brand.
So, how do you promote well?
Your first focus should be identifying where your buyers are, developing a practical messaging approach that targets your users' pain points, and determining the best time to promote your product. Besides, when carrying out your promotion, it is vital to put a lot of effort into marketing your product or service instead of just selling it. The idea is to create value for your audience and establish yourself as an authority in your area such that you develop the necessary trust among your prospects and customers.
The marketing mix remains to be an important aspect of any successful marketing. It should remind your team of the necessary elements of building a successful business. Therefore, whether you are starting or you are running an established business, putting more effort into the various marketing mix elements will increase your chances of achieving the set marketing goals.