Doing SEO may be costly in the long run. This list consists of 10 keyword SEO tools you can use in your keyword research journey, all of which costs you nothing upfront.
Keyword research has become one of the most critical steps in search engine optimization (SEO).
Through such research, you're able to discover the words your target audience uses on search engines, allowing you to create content that's easy to find and valuable to the reader.
Additionally, keyword research opens the door to informed SEO improvements. Newly identified keywords can replace old, non-performing phrases in your content to boost visibility on search engines.
Four other critical advantages of keyword research are;
Increased engagement: Internet users are more engaged if they're reading content relevant to their needs. Keyword research allows you to identify topics and areas that resonate with those needs.
Increased conversions: The keywords you use determine whether or not you close the deal. If your choice of keywords helps address your readers' pain points, you're guaranteed more clicks and conversions.
It saves time: Keyword search itself can take a bit of time. But, once you get into the rhythm, you end up spending much less time on your SEO efforts. Moreover, the return on investment of every minute spent on SEO significantly increases.
Get one over your competition: Above all, keyword search allows you to discover the keywords your competitors use and how they use them. With this information at hand, you can take steps to attain superior optimization to outperform and outrank the competitor eventually.
All of these can be achieved when you use the right keyword research tool.
10 Tools to Get You Started on Keyword Research
With the above benefits in mind, you need to find the right keyword research tools to take your optimization campaign to the next level. We've rounded up ten excellent FREE tools to get you started;
Choosing the right keywords for SEO isn't a guessing game. You don't just wake up and decide to use a particular group of keywords. You're sure to fail. Instead, you need to find out what works in your industry and use only phrases proven for high returns.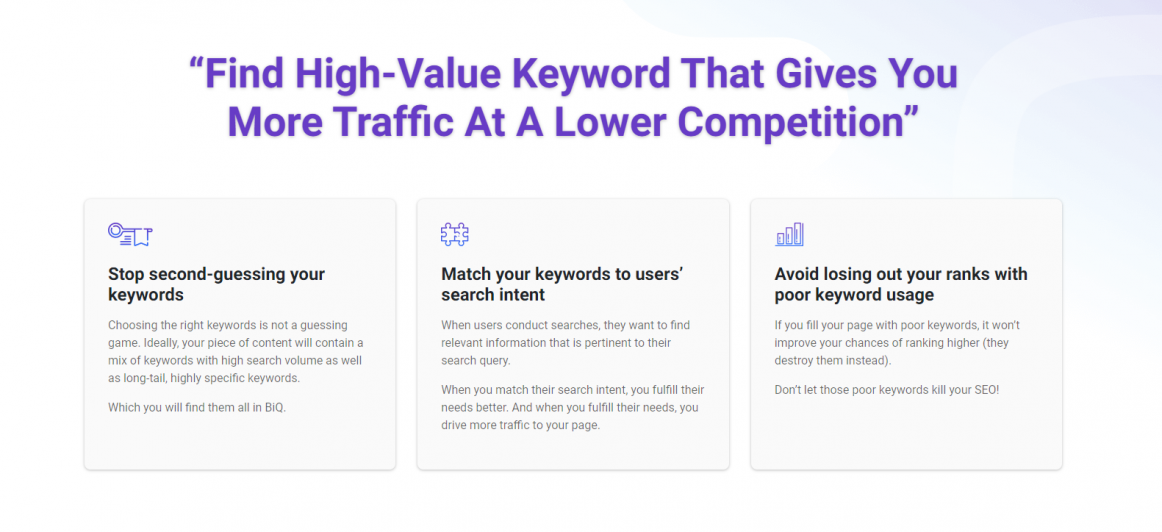 That's where Keyword Intelligence comes in handy. It accurately decides which keyword you should be using. You can then use the results returned in your content to gain an edge over your competition.

All you need to do is just key in your targeted keyword, pick your location and language of your choice and that's it!

I've previously written a thorough blog on how you can make use of BiQ when doing keyword research and you can give it a read: https://biq.cloud/blog/best-of-biq-seo-suite-keyword-research

Here are some use cases for you to bring home: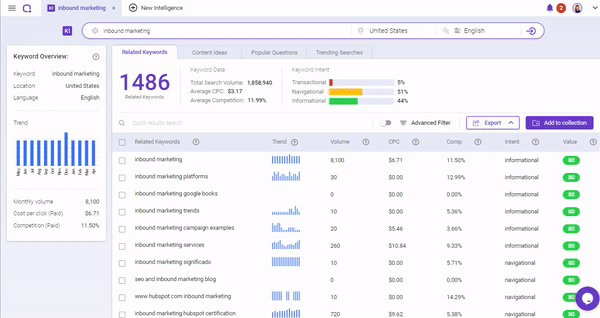 Are you building pages in hopes to reach out to your users and solving their problems? The related keywords tab is your savior! It even comes with an intent analyzer so you can understand the searcher's intent when they are searching for keywords.
Are you looking for interesting ideas for your next blog post? Head to content ideas for a range of keywords you can target!
Are you eager to know what are some of the questions revolving around the content you're about to create? The popular questions tab is able to help you out!
Would you like to know what are the current trends that people are looking for on the SERP? Trending searches will give you an immediate and accurate answer!
Just know that the availability of BiQ's Keyword Intelligence will allow you to use it for content creation, search engine optimization, pay-per-click advertising, or other marketing activities.

Start using BiQ Keyword Intelligence right away: https://app.biq.cloud/sign-up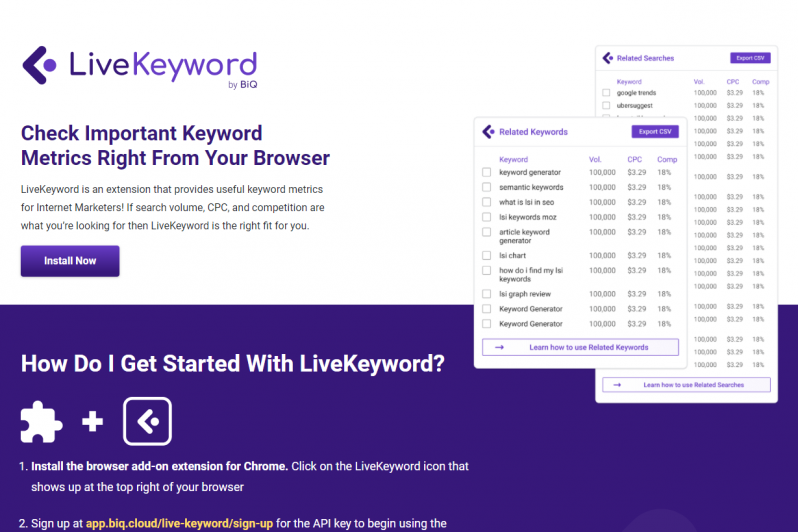 LiveKeyword is a free browser extension developed by the BIQ as a free alternative to the Keyword Everywhere tool that became premium in October 2019. It allows you to see keyword metrics right inside Google's search engine.
So, yes, you can get an overview of keywords related to your main keywords and analyze their key metrics, including volume, CPC, and competition – in real-time.
The best part is, you can review and assess the metrics live inside Google's search engine! (as seen in the screenshot above)
It's easy to install the extension. Go to the Chrome Web Store and search for LiveKeyword. Then, click the "Add to Chrome" button. You will be redirected to the "Thank You" page where you're required to click the "Get Free LiveKeyword API Key." The extension is ready to use after you add the API key.
Latent Semantic Indexing (LSI) keywords are conceptually related terms that search engines use to understand the web page's content deeply. Many people ignore it, but it can be a difference-maker on search engines if used well.
LSIGraph is another free keyword tool that provides extensive LSI keyword research. It is also the simplest LSI keyword generator. You don't need any SEO skills to start using the tool.
Once you're on the user interface, all you need to do is enter your target keyword. The tool will generate associated LSI keywords. You can start by conducting searches on other keyword tools to identify valuable keywords for your campaign.
Then, enter the identified keywords into the LSIGraph search function and watch as it enumerates dozens of LSI keywords.
Make sure to use these LSI keywords in your blogs, image alt tags, headings, and so forth. It could be the final push that takes you above your competitors.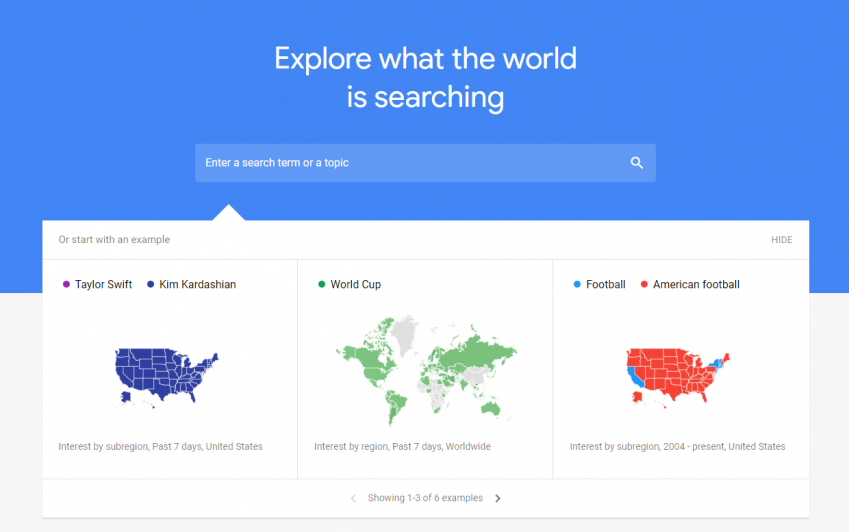 Yes, you can use Google Trends for keyword research. The guys at Orbelo have written a detailed article on at least ten ways to use the trends feature for SEO in general. We'll only focus on how to use it for keyword research.
As the name suggests, Google Trends are concerned with the popularity of top search queries on the Google search engine across various regions and languages. You can use this to find out trending keywords based on your geographic location and language.
The Orbelo article suggests heading to the "Related Queries" section on the right side of "Related Topics" once you're on the Trends website. This section will tell you the keywords related to your keywords that users are typing and searching in Google.
Consider using these related keywords on your website and in your product descriptions. However, don't forget about the volume. You want to pick only related keywords with volume.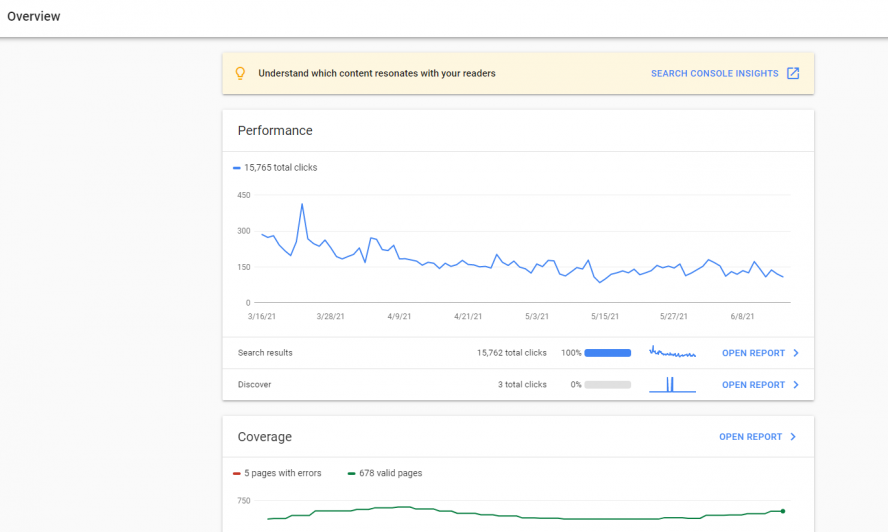 Google defines the Console platform as "a web service which allows webmasters to check indexing status and optimize visibility for their websites." That alone tells you everything you need to know about keyword research with Search Console. You can get a lot of value from the tool.
Before you even think about keyword research on the Search Console platform, you need to register with the service and verify your account with the parent company Google. Once you're signed up, it's time to start looking around.
Two ways to use the platform for keyword research are as follows. First, use the platform to get access to "not provided" keyword data in Google Analytics. Head over to your site properties, select "Search Analytics," and view metrics like clicks, CTR, position, and, above all, the queries (keyword) driving traffic to your site.
Secondly, use the tool to discover the keywords driving traffic to your blog pages, keywords that aren't driving much traffic, and where you can add keywords. To get started, head to "Pages" and select "Queries." A page appears showing keywords driving traffic to each page.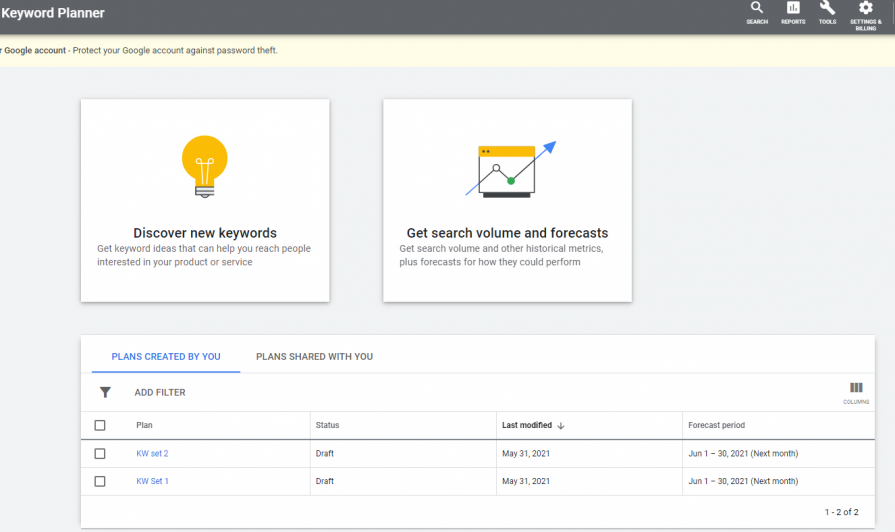 The majority of people getting started with keyword research uses the Google Keyword Planner, and for a good reason. It's the simplest keyword research tool ever built. Formerly known as the Google Keyword Tool, it's also available and completely free for everyone with a Google Ads account.
The two main ways to use the Keyword Planner are discovering new keywords and getting search volume and forecasts for identified keywords.
To discover new keywords using Keyword Planner, enter the products or services closely related to your business. You can start by entering some of the keywords that describe your business, e.g., "weight loss" or "coffee." Or begin by entering your website's name.
Once you have a long list of keywords, use the volume and forecast function to refine your keyword research. Copy and paste the keywords into the search field and hit the "Get Started" button. You'll be shown metrics such as clicks, impressions, cost, CTR, and average CPC for each keyword.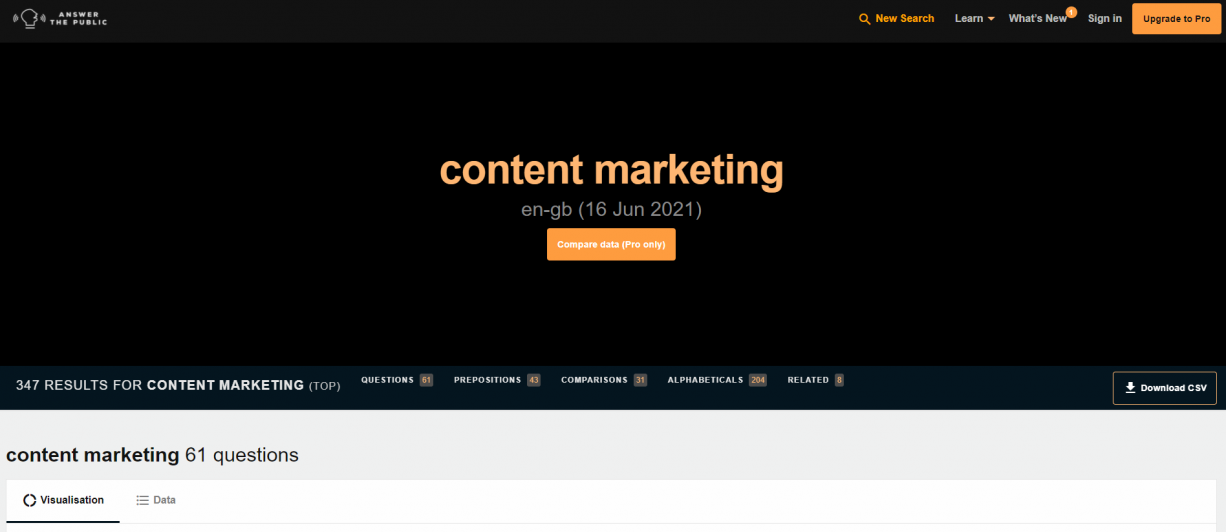 Answer the Public is like an extension of the "suggested searches" feature on Google. When you perform a search on the Google platform, the auto-suggest feature lists several potential searches to auto-complete your search. It serves two purposes – to save time and help you explore other areas within the same topic.
However, as you may have noticed, the Google auto-suggest feature doesn't list very many phrases. At most, you'll see ten suggestions. This is where Answer the Public comes in handy.
Answer the Public is a long-tail keyword tool that maps out all the available search information (not just 10). Better still, it organizes the suggestions into useful categories such as "Questions," "Propositions," "Comparisons," and "Alphabetically."
You can pick keywords from the lists and analyze each separately to determine which one best suits your needs. For instance, you can investigate how many bloggers use the keyword, determine how many people search for them, and check out the cost per click (CPC) for each term.
Keyword Surfer is a Google Chrome extension offered by Surfer SEO. It's a free-for-life tool that lets you evaluate keywords by the search volume. It also has a search analyzer tool that analyzes your web pages' content against 500+ on-page signals.
The keyword finder section scans the content on the first page of Google search results for LSI keywords and helps you weave those words into your writing. Also, it analyzes the content structure of the first page, including the number of words and images and average paragraph count and length.
You can then use the content editor (also found within the tool) to determine which words you need to replace and the potential replacements.
Essentially, it tells you what the top five competitors in your niche are doing (keyword-wise) and helps you catch up by giving you a chance to up your SEO game. The tools will tell you the exact LSI keyword to add and how many times to mention it.
There are endless ways you can use the WordTracker SEO tool for keyword research. For one, you can go straight to the search area, type a keyword, and the tool will return dozens of words related to your search query.
A second option is to use the main results area that returns keywords alongside crucial metrics to decide which keywords are useful and which ones aren't. Some of the metrics you'll see include search volume on Google and competitor analysis.
You can also select keywords and filter the results to refine a broad set of terms as you seek the absolute best keywords. All you need to do is click on a keyword, select a filter type (including volume, competition, CPC, etc.), and click on the "x" at the end of the filter scale to remove some keywords.
However, the best part of the tool is that you can analyze your selected keywords to determine their suitability. Among other things, you may want to determine how well that keyword performs in Google searches, who uses it, and how many web pages have the keyword.

Finally, there are three ways you can use the Google search engine for keyword research. First, you can use it to find related keywords people search for. The easiest way to do this is to head to the "searches related to" section at the bottom of the search result page. Click some of these related searches and again go to the "searches related to" section to find more related keywords.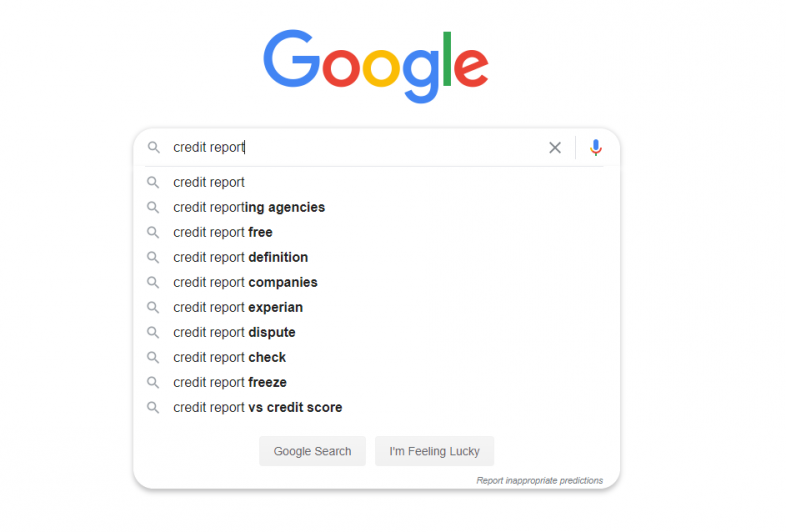 Then you can also consider Google Suggest. Google Suggest is the engine within Google that auto-completes search queries. For instance, if you type the phrase "credit report," the auto-suggest function suggests terms such as "credit reports," "credit reporting agency," "and "creditreport.com," among others. You can pick up some valuable keywords from the list.
Finally, you can also analyze page titles of ranked search results to grab a few useful keywords. Granted, not every competitor is going to have a savvy SEO strategy. However, the efforts are usually evident in the choice of keywords and blog titles for those that do.
Ready to Get Started?
All the ten tools listed above don't cost a cent to use. They are completely FREE upfront. This would make a lot of sense, especially if you're just getting started with search engine optimization.
I'd recommend picking one or two today, sign up, and watch your SEO performance improve. All the best in your keyword research attempts!