Throughout this article, you will be presented with some good email marketing examples and 10 different types of email that will exhibit the power of email marketing.
Brilliant email marketing examples that you can emulate easily.
Whether you're just starting out with email marketing or already send marketing emails to your customers, this post is for you.
SEOs and content marketers know how important email marketing can be. If anything, it's one of the best channels you can use to sell your brand and products/services. However, sometimes simply sending out emails to your target audience isn't enough.
Smart marketers know this.
To succeed in this highly competitive marketing channel, you always want your content to be unique, attractive, and more appealing. By that, we mean you'll always be looking for new emailing strategies to build new relationships and grow revenue.
Therefore, if you prefer to nurture your email list with weekly newsletters or prefer to use dedicated sends, it's crucial that you optimize your email messages to suit your sales and marketing funnel.
In this post, we will review the different email marketing examples you can use and their importance. This information should help you make better and more educated decisions when choosing the most appropriate email type for your subscribers.
The Power of Email Marketing
If you plan to start an email campaign but don't yet know which email marketing type to use, this post should provide you with a clear path of which option to consider using.

Different types of email marketing offer varying benefits to both the email sender and receiver. Here's why there's even more value in determining good email marketing examples for your next campaign:
Compared to other online marketing strategies, email marketing campaigns are very cost-effective. It's also very simple and straightforward when done right.
Most email service providers offer mailing services for free, while others may charge you around $10 a month for a certain number of subscribers. Email marketing services such as MailChimp, SendinBlue, and MailerLite all fall under the paid category.
However, you can also search for low-cost, high-value providers offering mailing services to help you leverage profits by clicking just a few buttons.
Personal and Customizable
Email marketing has become more personalized and customizable now more than ever. Today, it's possible to strategically deliver the right, impactful message to the right audience, through the right channel, and at the right time.
Email marketing provides you more control since you don't necessarily have to rely on random social media algorithms. Email acts as the direct communication tool that allows you to personalize and customize your messages. It also increases the chances of your marketing messages reaching the target audience.
Speaking of email targeting, email has several targeting opportunities you can use to deliver more optimized messages for your clients.
Based on purchase behavior and clicks, the more you learn what each user likes/dislikes reading, you'll be in a better position to provide more personalized messages.
Did you know that email subscribers are always more likely to click the CTA in your email than other marketing platforms?
Therefore, if you're looking to send ads in your email marketing campaigns, you will definitely enjoy using email as a marketing tool. Readers will be more open to clicking ad-supported content from emails.
Moreover, each time someone clicks on your email or clicks on your links, your brand earns income from the ad impressions. So basically, the profits just keep trickling in.
Being as you can personalize and customize your email messages to best fit your subscribers, email promotes strong relationships between your brand and your target audience. It's an excellent channel to always keep your customers connected to your brand and engage continuously with them.
Remember, the more high-quality and engaging content you send, the more loyal your customers will become.
Good Email Marketing Examples
To hold a successful email marketing campaign, you must be ready and willing to mix things up. Ideally, you want to give your subscribers something new and unique every day. And the best way to wow them is to try these email marketing examples in your next campaign.
To get you started, we will review a few types of email marketing options you should absolutely consider trying:
1. Welcome Emails
Welcome emails offer the initial contact between your brand and your prospects. Typically, these emails find your new subscribers unready to do business. Therefore, you cannot just go all out by providing your full list of products or services.
In fact, several studies show that only about 25% of new leads are immediately sales-worthy. However, you'll find that 50% of your leads are qualified to make purchases but not ready to buy.
Sending a welcome email is the best strategy for nurturing and pushing your leads even closer to the buying stage.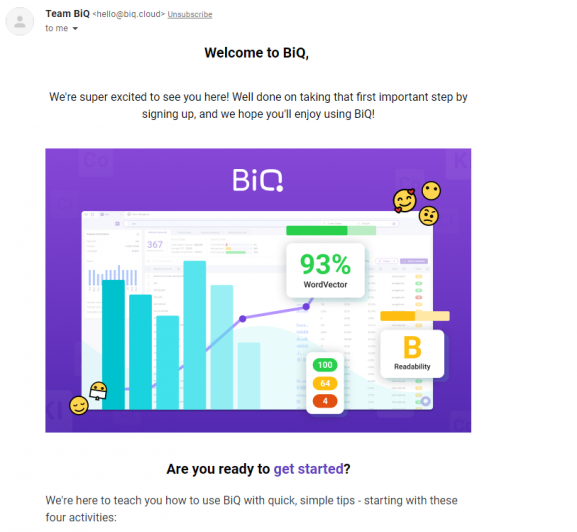 Typically, if you want your welcome email to be successful, you must send it within the first 24 hours after your prospects opt into your list.
Perhaps the best part of crafting welcome emails is their simplicity. Basically, you'll just be telling your new subscribers how glad you are that they subscribed. Later, you can lay out some of the basic details about your brand or products/services that they should expect in their inbox.
Often, welcome emails show better click-through and open rates, especially when they offer a personal touch. You'll basically be introducing yourself and your brand without slathering your sales pitch. You shouldn't introduce new products/services before you've built a relationship.
2. Content Emails
Content emails can come in several different forms. They could come in the form of blogs, guides, and other content marketing strategies.
While weekly newsletters, welcome emails, holiday discounts, etc., are all effective, these email marketing types tend to become overly routine. While pressing the "send" button is a bit too easy, creating content is something else.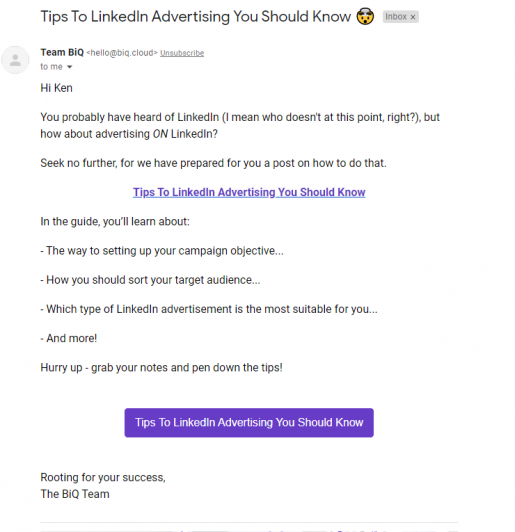 If this sounds like you, then now is the best time to spruce things up a bit. You can start by using different email content types to refresh your email strategy.
The best thing about content emails is that there are just so many content email types you could use in your campaigns. We won't be able to list all of them here. Some good email marketing examples you should consider trying to include blog posts and content guides.
After crafting your amazing content, you'll want to highlight it in your email in such a way that your audience finds it informative, engaging, and very attractive to read.
You can also just provide a simple tip in your next emails. Something your customers will find useful and appreciate from you. Such content forms work wonders and will boost your click-through rates many times over.
BiQ Content Intelligence is an excellent SEO tool you can use to draft, edit, and optimize your emails for your prospects. With BiQ's Content Intelligence, you'll have critical data that provides you with the best SEO-friendly content-driven strategies.
The Content Intelligence tool generally allows you to edit your emails in real-time, thereby improving your message's overall readability. With this, your messages will feel more personalized and customized for each individual.
3. Invitation Emails
Invitation emails also play an integral part in your email marketing campaign. Even though you've probably got social media platforms that create events and send personalized invites to prospects, sending a personalized invitation email just seems right.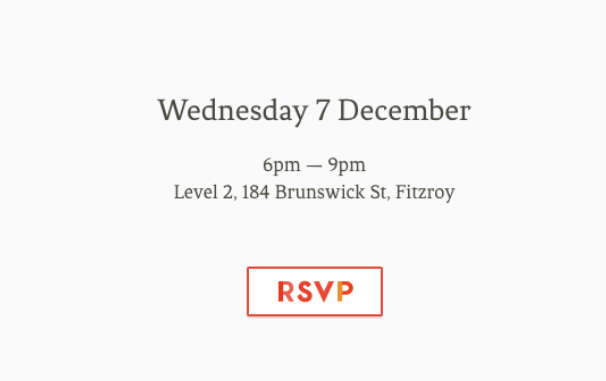 Sending an invitation to all invited guests and attendees and requesting their RSVPs is still one of the most effective strategies to increase the event's attendance. Your prospects will feel more valued and important when you send them an invitation email than an invitation from a social media post.
Then again, the impact of the invitation email may depend on who your audience is. For instance, it would be best to send personal invitation emails to big names you'd want to sponsor your brand or products/services. Social media platforms won't do you much good here.
4. Retention and Loyalty
Unlike other email marketing examples, retention emails tend to take up a larger portion of marketing emails sent today.
If you're not sure what a retention email is. Well, it's basically an email sent to an existing customer with the sole purpose of keeping (retaining) them as your clients.
For this reason, retention and loyalty emails can fall into almost all email marketing categories.
Whether you're using deal offers or discounts to entice your prospective clients to come back to using your brand or offer discounts, all these messaging forms are retention messages. Your primary objective here is always to intrigue your target audience to stay and continue interacting with your brand.
Here's an excellent retention email from Starbucks.
Not only did the company present a new product to the customers, but they also invited them to come and taste the new Frappuccino Blended Beverage for half the price.
Excellent strategy.
5. Newsletter Emails
If you've been using email for some time now, then you've probably already come across several newsletter emails.
Most brands send email newsletters so they can stay on top of their subscribers' minds. Most industrial businesses actually use newsletter emails as the backbone of their email marketing campaigns. They are excellent tools for educating their prospects and customers about their businesses and showing employee profiles.
Newsletters also showcase your company's passion projects and provide relevant graphics that make your messages even more appealing to read.
Such ongoing communication provides an excellent opportunity to retain happy clients and also collect valuable insight about them. However, you must stay mindful of your marketing goals to ensure that you're still working to achieve the same end result.
6. Milestone Emails
Here's another very common email type that brands have become accustomed to sending their subscribers.
Milestone emails are behavioral-based emails that brands may send to their existing customers. A milestone email is basically designed to do the following:
Remind your client of the value they are getting from you
Generate that "community" vibe that will likely lead to even more referrals
Increase the likelihood that your subscribers will continue using your products/services
Milestone emails are particularly prominent with subscription-based brands. Brands can send you a milestone email on your birthday congratulating you for beating another "milestone." Or maybe it's your anniversary. Some brands may send you a milestone email for this, congratulating you and appreciating you for remaining loyal to the brand.
Most milestone emails come accompanied by discount offers and other great deals.
Here's an excellent example from Kona Grill: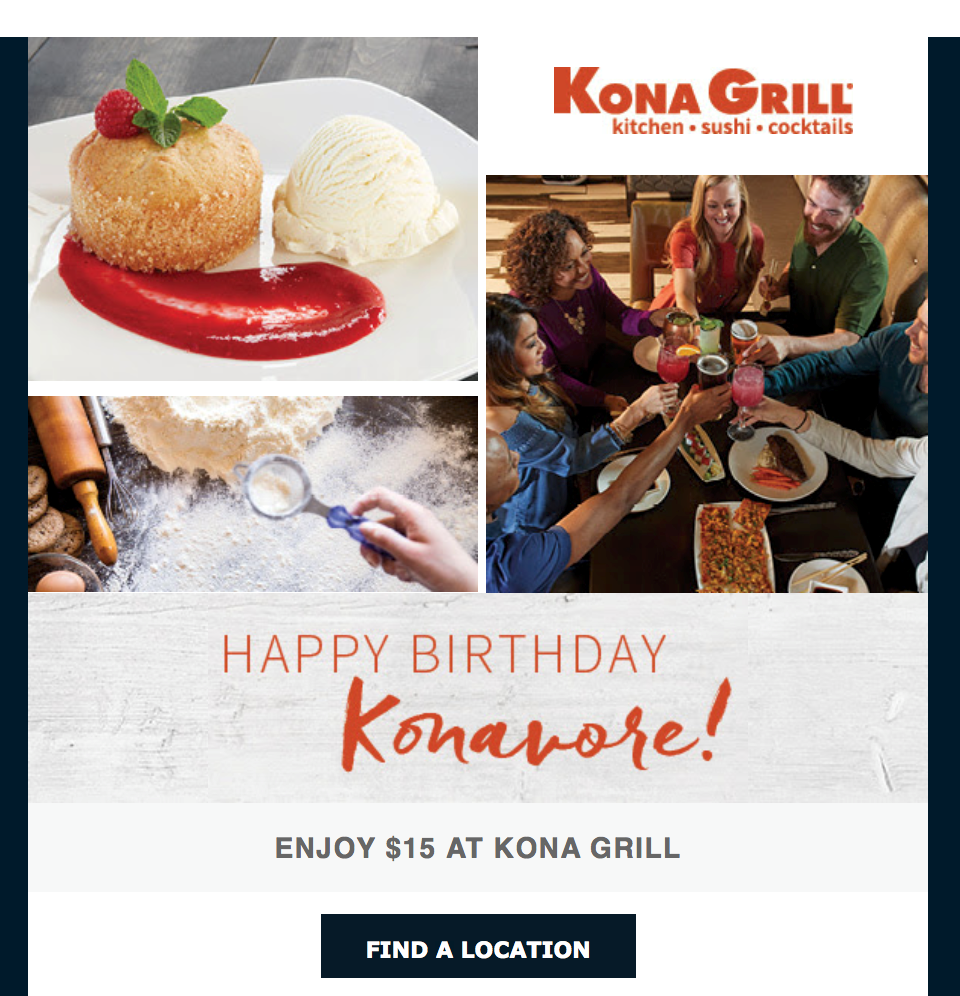 That's what this email does.
7. Offer Emails
Offer emails do exactly what their names suggest. These email types can come in the form of coupons, discounts, or some other special deal you receive from a brand you're associated with.
Most offer emails are always in the form of a "thank you" note from brands for being a part of their clientele.
It's always a good idea to recognize and appreciate your customers and prospects by sending them some sort of special offer occasionally. Offer emails have been known to boost click-through rates and sales through the roof for brands that use them.
Here's an offer email example from Old Navy.
When used correctly, offer emails will drive subscribers to your mailing list like clockwork. After all, who doesn't like offers?
8. Survey Emails
Here's another email marketing example we've seen one too many times. However, it's still one of the most effective email examples that receive immense engagement.
Survey emails basically ask your subscribers for their input or opinion about a product or service you provide.
A survey email is a simple email that asks subscribers to respond to certain questions around specific topics relevant to your product/service. You can then use the data you collect to tailor your marketing efforts better.
Here's an example from Dropbox requesting to take just 10 minutes of your time for some honest feedback.
In some cases, you may need to offer some subscribers incentive to fill out your survey. But that's a small price to pay if you look at the bigger picture.
9. Product Launch/Update Emails
These email types are perfect for brands that launch new products or new inventory. You'll want your subscribers to be the first to know about it.
Product launch emails are meant more to build anticipation before the actual product launch. They trigger your customers' desires, enticing them to purchase your products.
For the best results, you can send your product launch two weeks before the actual launch.
10. Feedback Emails
Feedback request emails contain messages that gather qualitative opinions from your subscribers after buying your products, using a service, or attending an event. These email types build customer loyalty and help email marketers to gather valuable insights about their products and how best to improve them.
Check out this feedback request email from Asana asking customers to review its services.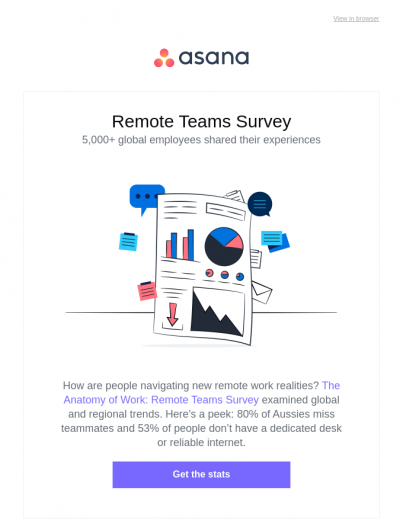 Conclusion
It's evident that you can utilize several email marketing examples in your email marketing campaign to boost your product/service sales. You may also be looking to increase your open and click-through rates using these email examples.
Generally, these good email marketing examples should help you get the best possible results from your future email marketing programs.
If you're an email marketer who wants to increase your product/service sales but doesn't know how to do so, this blog post will hopefully provide you with critical insights into the process.
Here's to utilizing the power of email in 2021 and beyond!