The ability to transform is important as the business grows. Here is all about digital transformation & how, when done right, can actually grow your business quickly.
Digital transformation has changed how businesses approach customer service significantly.
Gone are the days when companies waited for customers to search for them and find them. That's no longer an option.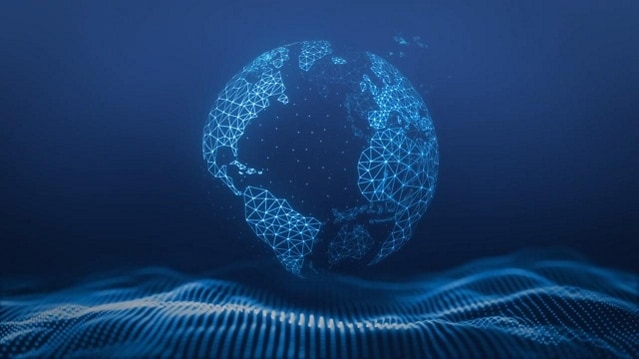 The rise of social media has transformed the online space and service optimization processes such as marketing, advertising, and even sales. But above all else, customer service has seen the biggest transformation.
Progressive companies now have no option but to embrace social media and any other digital transformation strategy to extend their service offerings to their customers digitally.
If you're not already advertising and marketing your business online, you're definitely skipping a crucial aspect of what online marketing is about.
Interestingly, social media wasn't invented to operate as a call center for businesses and customers. But it's perhaps the most effective tool companies have today, with Facebook at the epicenter of everything social media.
If there's ever a good example of digital transformation, social media is it.
What is Digital Transformation?
Expert SEOs know too well what digital transformation is and its impact on their content optimization and marketing strategies. Unfortunately, not everyone understands what it is or how to implement it.
Well, digital transformation is basically the utilization of digital technologies to create even better business processes, cultures, and customer experiences. When applied properly, digital transformation can help prepare your company for the ever-changing business and market requirements.
What more could you ask for?
Digital marketing is the reimaging of your business for the digital age we live in today.
You should already know the gravity and importance of the topic we're about to discuss today.
Digital transformation transcends traditional roles like marketing, customer service, and sales. Instead, it starts and ends with how your brand thinks about and engages with customers.
Ultimately, every business is in it to win more customers and prospects who will engage with their brand or products/services.
For most businesses, this is the only "thing." Produce the best products/services, market them extensively, then make massive sales.
Therefore, applying data science and marketing technology in your digital transformation strategy plays a critical role in helping you solve most of your business's fundamental problems.
Why Digital Transformation is the New Imperative in 2021
A majority of companies are already shifting their marketing and advertising efforts towards digitalization due to its benefits.
The proliferation of mobile and computer technologies now makes it possible for businesses to go digital and access newer markets. You'll find several companies converting their goods and services into digital forms in an attempt to capture the online market ahead of the competition.
Overall, the benefits of digital transformation far-outweigh its challenges.
Trust me. It has its fair share of challenges that will put you off if you're not too careful.
The secret lies in overcoming these challenges and optimizing your business for the technological age we live in today:
In that regard, here are some top reasons why incorporating digital transformation is imperative for your business in 2021:
1. The Ever-Ready Digital Culture
Today's customers are ever-hungry for content. Businesses must strive to deliver on just that or risk losing prospects to their competitors.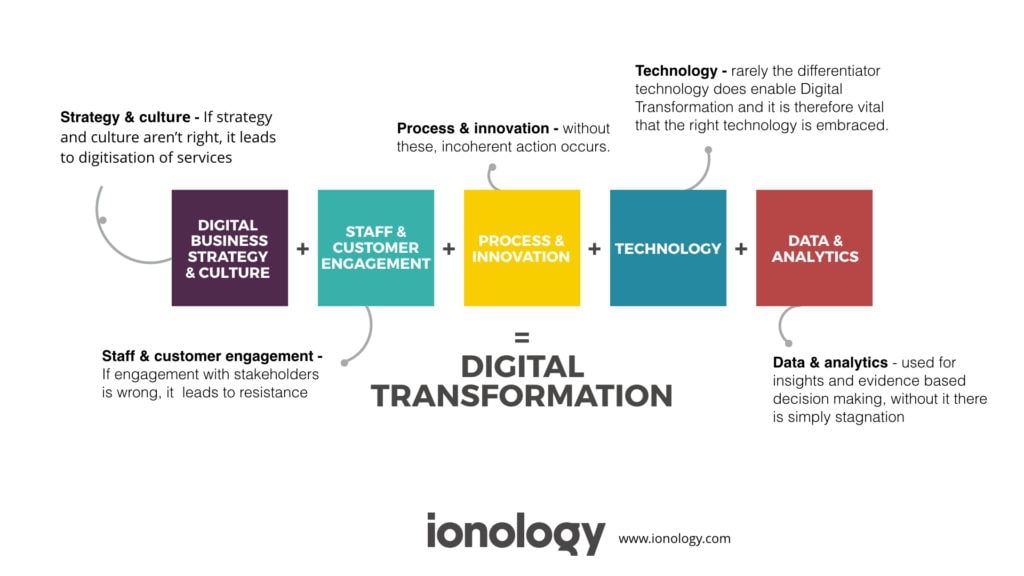 Creating a digitalized environment for your business also increases your productivity levels and allows your staff to adapt to any technological changes within your industry easily.
Besides keeping your staff motivated, digital transformation also promotes continuous learning among employees. This, in turn, helps to make your employees agile and enthusiastic about work at all times. It also allows you to engage your customers more and optimize your operations to meet all their needs.
This advancement in technology also contributes to the ever-changing behavior of consumers.
Today's customers now look to get services done a lot quicker and engage with companies they trust will fulfill their speedy processes. You should strive to be that company.
Through digital transformation, businesses can now convert tangible products into digital goods to meet their customers' needs.
2. Giving Day-to-Day Tools a Digital Upgrade
Executing any operational process can be extremely time-consuming for any business. This comes at a time where time is luxury businesses and customers alike cannot afford to spend on redundant processes.
By using digitization and cutting-edge new technology, business operations like communications, analytics, and data storage can be more collaborative and adaptable, in turn, maximizing results.
There's no better strategy to simplify your work.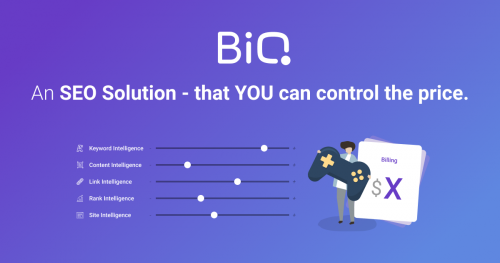 BiQ Cloud is one of the best tools every online business should invest in. BiQ Cloud has all the features and services you'll ever need to optimize your SEO strategies and online presence. These include:
All of these features from BiQ Cloud work toward boosting your SEO efforts and rank in the SERPs. It's the perfect digital transformation strategy and example for this post.
3. Adds Value to Customer Interaction
Task automation is another digital transformation strategy that has worked well towards improving staff and customer experiences. Businesses that have adopted digitalization have seen much faster turnaround times, especially when receiving inquiries from customers.
One of the key benefits of digital transformation is its ability to provide customers access to your products/services and support through different communication channels. Customers now have the luxury of choosing their preferred interaction methods.
Today, almost all online businesses have chatbots and other live communication tools integrated into their systems to assist customers 24/7/365 whenever they visit their websites.
By leveraging digital tools, businesses can enable omnichannel support, thereby allowing prospective clients to reach out through phone calls, live chats, mobile apps, support forums, etc. By keeping everything digital, you can provide multiple touchpoints for your customers, track interactions, and initiate follow-ups. Feedback gathering is another critical feature that has benefited from digitalization.
These are processes that you can build and refine as you deem fit and enables smooth customer interaction and engagement. Everything rides on improving your overall customer experience.
4. Understand Your Customers and Craft a Marketing Message to Engage Them
Today, people are just so consumed and obsessed with the latest technology that social media and applications revolve around their desires for an easier life. Online users are always looking for valuable solutions to their pain points and answers to their questions.
Therefore, understanding your customers and crafting the perfect marketing message and product/service to engage them is the best way to go.
People want valuable information, and they want it fast.
If you can deliver on both front, then you'll have secured a stream of high organic traffic to your website by the thousands.
Customer experience is the heart of digital transformation. As such, your primary focus should be digitizing your business and preparing it for your prospects. The key digital transformation strategy here is to use cutting-edge technology that improves your customer's experiences.
Personalization is the front runner of everything customer-oriented. Get this part right, and you'll earn much more authority, respect, and trust from your customers.
BiQ Content Intelligence also plays a critical role in helping you draft, edit, and optimize content for the search engines and users.
The Content Intelligence tool will provide you with critical data and acts as an analytics tool to provide you with SEO-friendly content-driven strategies. You will also enjoy real-time text editing while creating highly engaging content for your customer base.
With BiQ Content Intelligence, you can rest assured that you will produce only A-grade content for your target audience.
This SEO-friendly content solution is crucial for helping search engines boost your ranks in the SERPs and prospects to easily find and engage with your content.
5. Increases Overall Efficiency
Because digital transformation processes streamline all processes, you never need to worry about bottlenecks or hurdles in your business operations and processes.
Digital processes provide businesses with the quick flow of inter-departmental information, thereby eliminating redundant tasks and improving your overall business efficiency.
Ultimately, that's every business's goal.
In turn, digitalization reduces operational costs associated with complex and time-consuming processes and workflows. In simpler terms, you never have to worry about bottlenecks of data and information. Therefore, you can always adjust workflows quickly and easily in response to business priorities and goals, which can change at any moment.
6. Data is King
Over a long time, the lack of high-quality and actionable data marketing experts can use to make more informed decisions has always been the single, biggest blind spot. However, this has become a thing of the past with digital transformation.
A few years back, once a business put up a poster or advertised a product on the television, there was no way to determine your marketing campaigns' effectiveness accurately. You wouldn't know how many people saw the subway poster or watched that commercial on television.
But perhaps the most important metric is how many people actually bought your product/service because of these advertisements.
Analytics was a game-changer for the marketing world. Digital transformation has made it possible to market your products on platforms like Facebook, Instagram, or YouTube.
Besides functioning as active marketing channels, these online platforms will also tell your marketing teams exactly how many people watch your ad, where they watched it on, when they watched it, where they watched it from, etc.
You get a plethora of critical data and information you can work with to determine your ad's effectiveness.
Digital transformation gives marketing experts and analysts more precise data and metrics to tweak and optimize their marketing plans.
BiQ Rank Tracking is one such online tool. You can use BiQ's Rank Tracking tool to monitor and track your websites' overall performance based on any strategic changes you made for the site. You'll also have critical data to monitor your keyword performances and the keyword rankings of your competitors.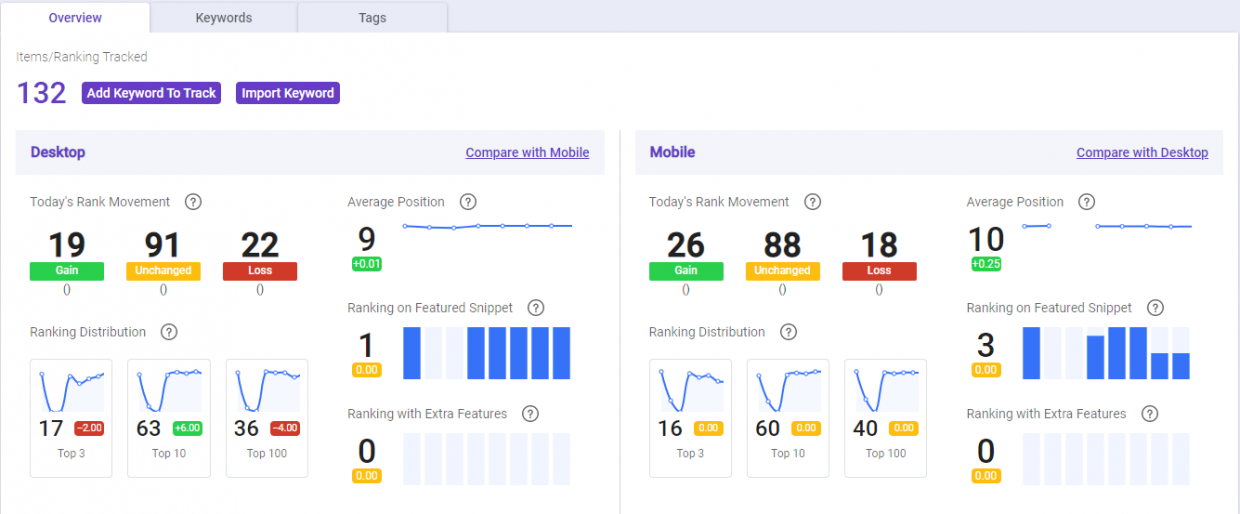 The Rank Tracking feature also allows marketers to monitor their SERP features for different search queries. You can then use this data to optimize your content and keywords to boost your CTR and ROI.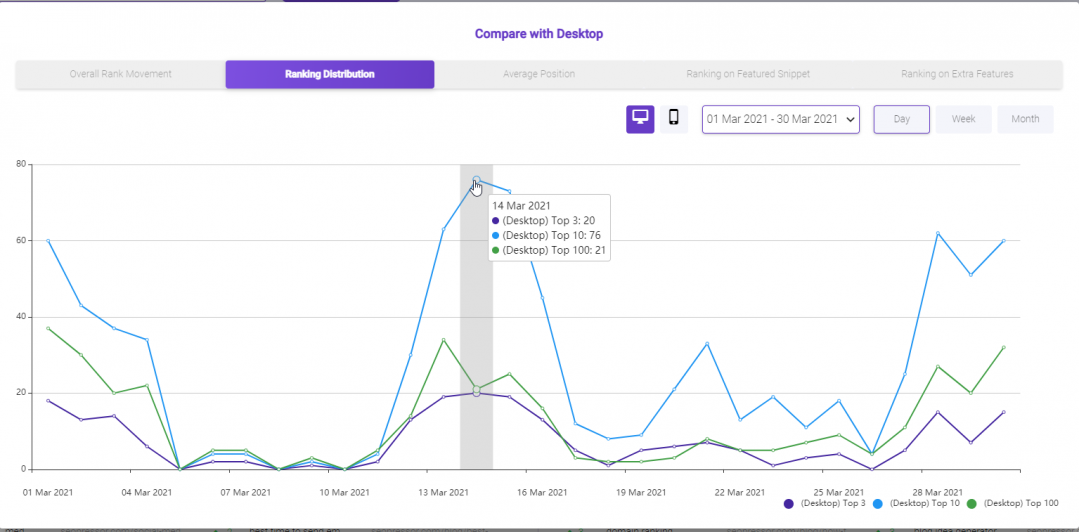 Develop a Digital Transformation Strategy to Grow Your Business
Over the past years, advancements in software, hardware, and networking have enabled businesses to implement digital solutions more easily.
Therefore, whether you're interested in improving your customer experience, analyzing data, or achieving innovation, besides driving employee performance, you will mostly rely on one or more of these digital transformation strategies.
1. Access Your Current State
You cannot map out where you want to go if you don't even know where to start from. Digital transformation provides you with a current state analysis that you can use to assess your organization's culture, evaluate your workforce's skill set, determine your current processes and operations, plus identify opportunities that need to be addressed.
This way, you can visualize and assess your current state and use it to map out where you want to be from there.
2. Identify Business Priorities and Objectives
With a detailed analysis of your current state, you can now look to the future. And to do this, you must determine your goals, what you hope to achieve, what experiences you're trying to create for your employees and customers, and how to achieve these projects.
Therefore, you must identify your business priorities and objectives and use them as your target points.
Remember to focus on the long game as you do this. Digital transformation is about pushing for fundamental, long-term goals. You must also be bold and ambitious in your vision. Work toward a goal and strive to achieve it.
3. Conduct a Gap Analysis
Here, you'll need to identify all the gaps and opportunities available to you between your current state and your objectives.
Therefore, you must consider what needs to be bridged. This can be your customers, employees, skills, culture, stakeholders, etc.
Next, what redundancies have you got in place? Do any inefficiencies exist?
You'll also need to consider what resources, processes, and information you'll need to achieve your digital transformation strategy.
All these are critical aspects of your gap analysis.
4. Create A Roadmap
With everything else in place, you can now create a roadmap of how you intend to achieve your objectives. A strategic roadmap will help you achieve your digital transformation vision quickly and more efficiently.
Whether your objective is to reframe infrastructure, reskill employees, or update and transition your business to better development progress, creating a roadmap helps you get there.
5. Adjust Infrastructure
First, you must surround yourself and your business with a dedicated team of digitally competent experts.
You'll need to establish professional leadership such as Chief Digital Officer (CDO), Chief Information Officer (CIO), and other qualified specialists to ensure a successful transformation.
You'll also need to help your staff develop the skillset required for any future changes. Launch training and qualification upgrades to your current staff. You can also hire outside agencies to assist with the transformation.
Conclusion
Implementing digital transformation in your business strategies is a sure-fire way of developing the business in terms of finding new opportunities and increasing revenue.
Above all else, it's important to note that data is useless if you're not actually using it. You want to tap into your digital resources and take full advantage of this new resource.
Developing a digital strategy isn't easy. But the steps mentioned above should help you kickstart the process. Set your company for a bright future starting today with these digital transformation strategies.