Building a business isn't exactly hard. You'll need the right strategies intact before launching a new website. This is a guide on what do you need to start a website.
Here are 8 things to know before creating a website for your business.
In today's digital age, just about everyone is trying to break into the online world.
Everyone wants their own website either for business or personal reasons.
Then again, to be successful online, there are very limited options if you don't have a website up and running.
And that can be daunting if you think about it, especially with the added pressure of getting it right. You've got very little room for mistakes. Some errors could even force you to start a new website altogether.
Then you imagine having to design and launch a new website to grow your business.
In other words, you'll need much more than a hunch and luck when launching a new website. Don't get me wrong. Anyone can launch a website.
However, not everyone can launch a website that gets results.
So, what do you need to start a website?
This post will provide you with the information you need to launch your website the right way.
What Do You Need to Start a Website?
You've probably already gathered that launching a new website isn't easy. There are quite a few critical things to know before creating a website.
The good news: you probably have all the tools to start your website in your arsenal. You just don't know it yet.
That said, here are some of the critical things you need to start a website:
1. Global Reach
Did you know that over 97% of consumers go online to research local businesses? Even more interesting is that 93% of online experiences start from search engines.
That's all the reason you need to start your online business journey today. If you're yet to start a website, you're already missing out on a lot.
Websites help expand your global reach even further and expose your brand to even more customers and potential customers.
That's an achievable feat, considering that Google makes over 3.5 billion searches daily.
The chances that someone around your area is searching for the exact product/service you're offering are significantly high. Therefore, if your business isn't online yet, then someone else is getting their business.
2. Online Portfolio of Your Work
To start a website, you must have a strong online portfolio of your work, your business, what you do, where you're located, etc. You'll describe all of this data on your website and allow your customers to contact your business or visit your physical store.
An effective online portfolio must be closely tied to your location and products/services.
3. Your Products/Services/ Content Could Add Value to the World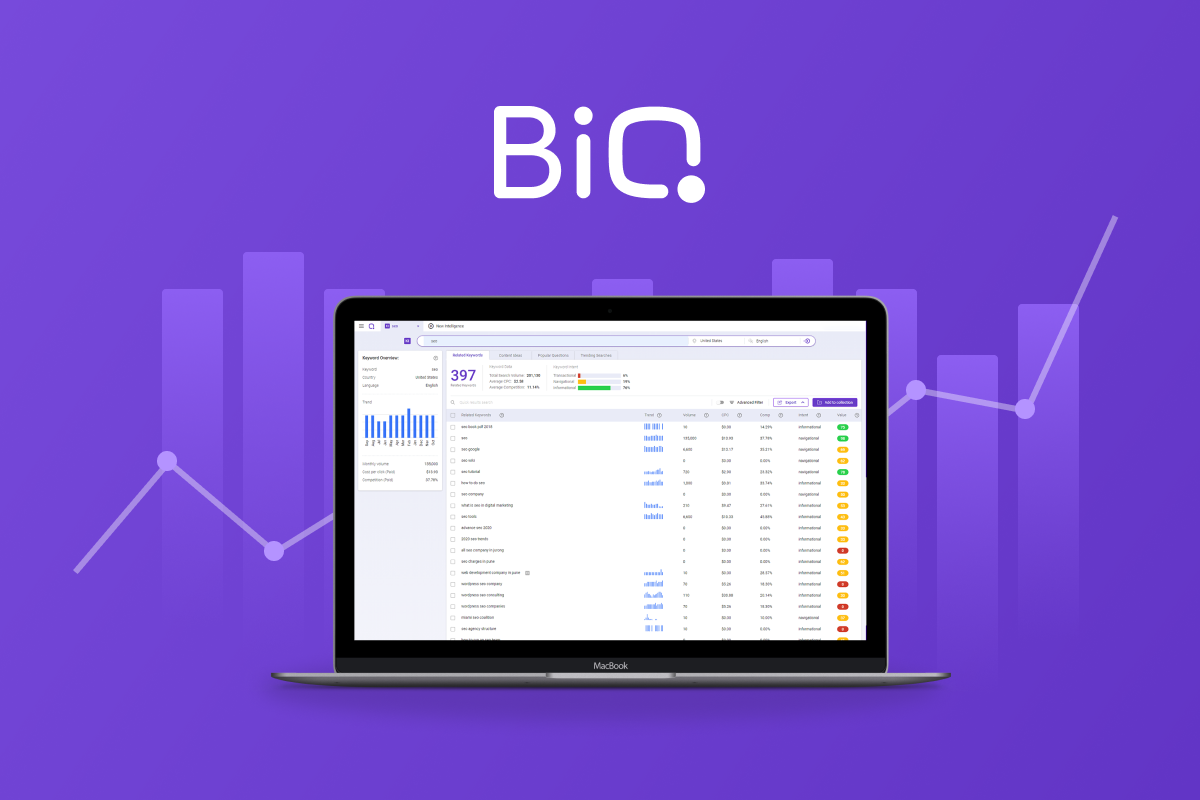 You will use this data to show your customers what value they will get when they purchase and use your products/services.
You will need this information to market your brand and products or services as well. Therefore, ensure you get this part right.
4. Passion
Of course, you must have a passion for starting an online business if you want to run a successful online marketing campaign. Otherwise, what's the point of starting a website if you don't have the passion for it? For one, you'll hardly even spare time to monitor or maintain it if your heart's not in it.
8 Things to Know Before Creating a Website
What do you need to start a website? Well, if you're considering building your own website but don't even know where to start, this blog post is for you.
One fact you must note is that you'll probably get stuck somewhere along the way. You'll probably even get a few things wrong that will set you back a few steps.
But you know what? That's alright.
It's part of the learning process. Even the SEO experts people look up to today for SEO advice started from there.
The only difference is that you've got this guide to help you get to where they are faster, without making 'most' of the mistakes they did.
Here's everything you need to know before launching a new website:
1. The Purpose

Like with everything else in life, you must have a purpose for launching a new website. What is it for? Why are you starting a website? What do you aim to achieve?
If you're already thinking about such questions, then you're already on your way to figuring out your purpose for starting the website.
Nonetheless, before you proceed further, it's important that you have a clear picture of what accomplishments you wish to achieve with the website.
If you're a product-based business, you should aim to get your customers to add your items to their shopping carts and check out. On the other hand, if you're starting a service-based business, you'll want a website that accurately communicates the services you offer and how to use them.
If you're starting a blog, you should aim to find a few like minds that will enjoy reading your posts and drive your rankings and site visibility.
Whatever your goal is for launching a new website, all the other steps laid out in this post will play a critical role in helping you achieve it. Therefore, this is perhaps the most critical step you'll need to make.
Ensure you figure this step out before you go any further.
2. A Domain Name & Host
Choosing a domain name is a deceptively simple step. However, it can easily turn out to be one of the most difficult decisions you'll ever make.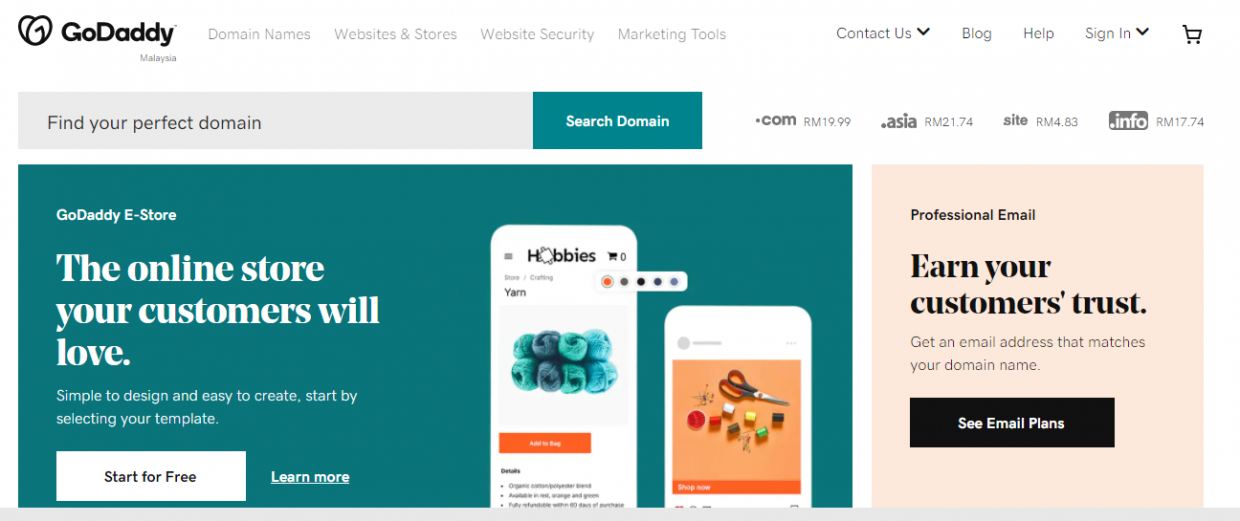 Choosing a domain for your website isn't tedious work. But it will require you to make some hard creative decisions. You can easily end up stuck at this stage and have difficulty moving forward if you're not careful.
When buying a domain name, don't just think about what sounds good.
First, you'll have to look up all the available domain names for your website as you go.
Remember, your website domain name doesn't necessarily have to be the exact same as that of your website. However, it will make the process much easier, especially for repeat customers to find your website again if your names match.
When evaluating different web hosts, you must consider some major factors to make your use of the service smooth. These include:
Uptime – you'll want a website that's always up and running. People can access it at any time with ease
Site speed – a slow website will easily send your prospects scrambling for the back button. People don't want to stay on sites that take long periods to load. So, don't give them an excuse to leave.
Customer service – websites have issues. Even the best-optimized sites have issues. How you help your customers resolve these issues plays a key role in retaining them. The same goes for the domain customer service. You'll want to reach out to an expert support team whenever you have issues with your domain.
Fortunately, most reputable web hosting providers have these areas covered. But still, you should check with the hosting service and customer reviews just to be sure.
3. Basic & Neat Web Design & Copy
Next, you'll want to make your website as basic and neat as possible. Designing a basic website copy can be an elusive process, especially if you don't have the experience or expertise for it.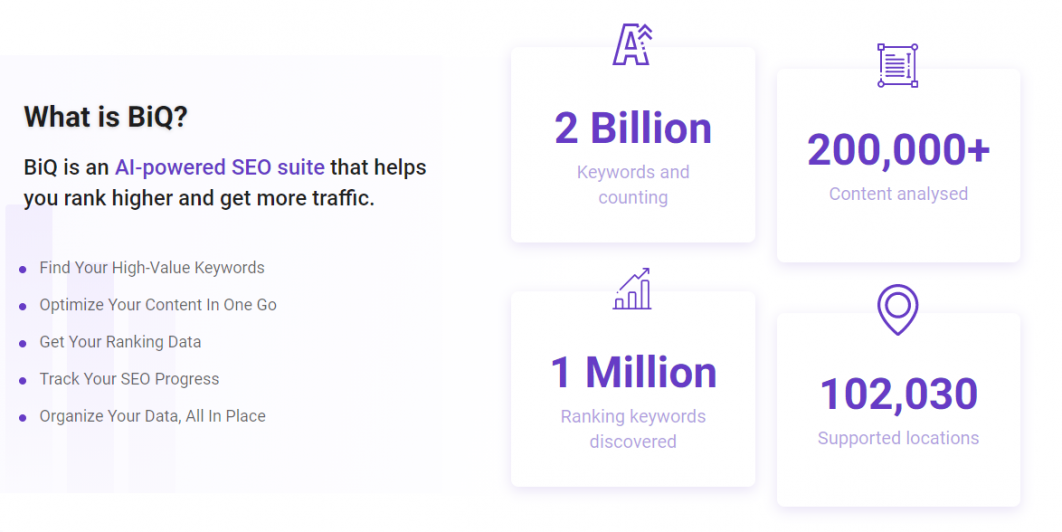 Again, creating a simple web design and copy isn't a tedious process. You just have to be creative with the design.
This will entail working on your website logo, writing a simplistic website copy, and ensuring your website is mobile responsive. Sure, all this sounds like a lot of work. But it doesn't have to be.
If anything, it will benefit your business a lot more than you imagined.
4. Choose a Content Management System
Every online business website stores its files on a web hosting server. This allows you to add, edit, or delete files whenever you want on your website.
As with the domain host, you must choose a content management system that meets all your web preferences.
Obviously, this sounds like a lot of work to do.
However, you'll need a CMS to customize your website layout, content, settings, and create new pages and posts for your website. Luckily, these website templates are easier to find now as content management services become more advanced and sophisticated.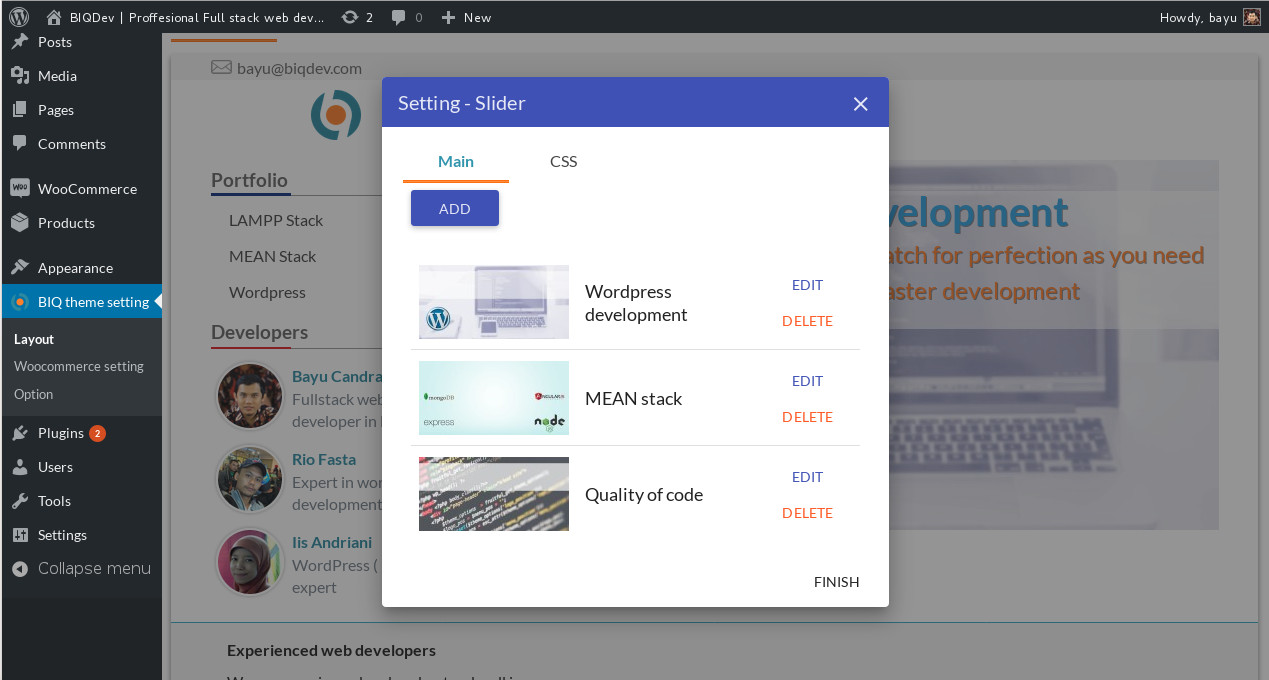 In other words, a good CMS service will make creating and updating your website a lot easier. It will save you a lot of time, energy, and resources in the long run.
NOTE: There's no perfect CMS out there. As of writing this, there are hundreds of content management services, some better than others. Generally, though, even the best CMS has different strengths and weaknesses.
Therefore, it's up to you to determine which CMS will meet most, if not all, of your website needs.
Assuming that you're looking for a CMS for a relatively basic website.
In that case, you'll want to stick to one of the popular content management services. It will make your website launching experience that much easier.
These include:
The list is endless, which is why you must be careful which CMS you choose to host your website.
5. Develop Content in Your Website
Unfortunately, not many people who're launching a new website put much thought into how much time, effort, and resources they'll have to invest into the content they'll need to craft the words for their web pages.
The fact is that you'll need a lot of words. And not just words. But words that actually offer readers value.
You must craft highly relevant and authoritative content that both the search engines and users will find valuable and engaging.
If you choose to write content for yourself, we advise that you use online copywriting best practices to improve your web rankings and site visibility. Some websites like Copyblogger also provide tips and tricks that will help you learn the ropes quickly.
As you create content for your website, don't neglect the meta description, title tags, and keywords.
For free relevant keywords for your content, we advise that you use BiQ Keyword Intelligence. This amazing tool will provide you with critical data to help you target the right keywords.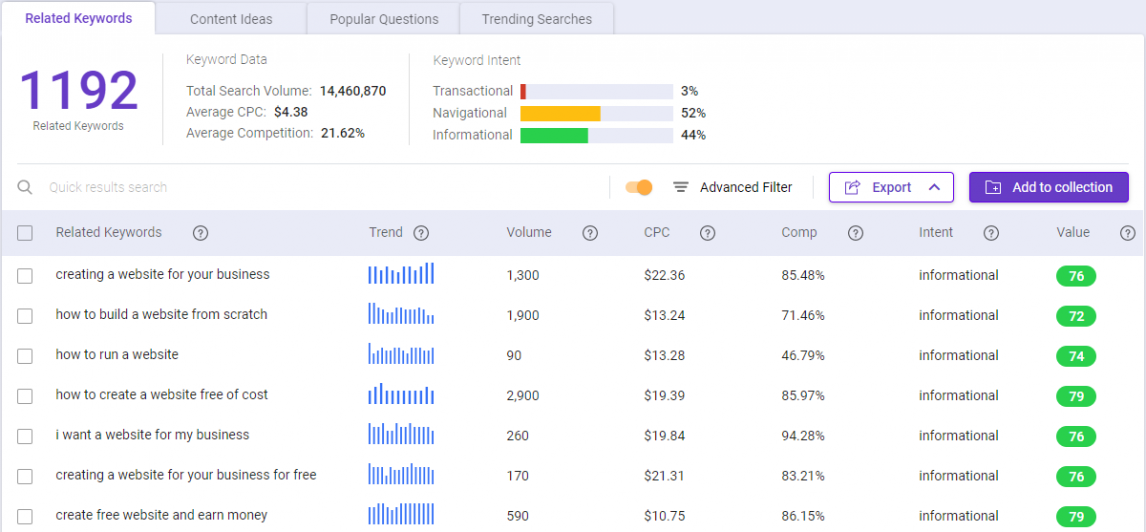 With BiQ's Keyword Intelligence, you can gather insights on keyword competition, keyword relatedness, keyword trends, volumes, and more. This Keyword Analyzer tool will sort all the keywords for you based on value.
You can also collect critical data from BiQ's Content Intelligence to draft, edit, and optimize your content. You will have access to the best SEO-friendly content-driven strategies to ensure your craft and publish the best content.
BiQ's Content Intelligence also allows you to edit your content in real-time to ensure you publish A-grade content for your visitors.
6. Install Google Analytics
Google Analytics easily ranks as one of the most valuable tools in the SEO industry. And the best part about it is that it's entirely free.
Setting up a Google Analytics account is also simple and straightforward. It's one of the first things to do after launching a new website.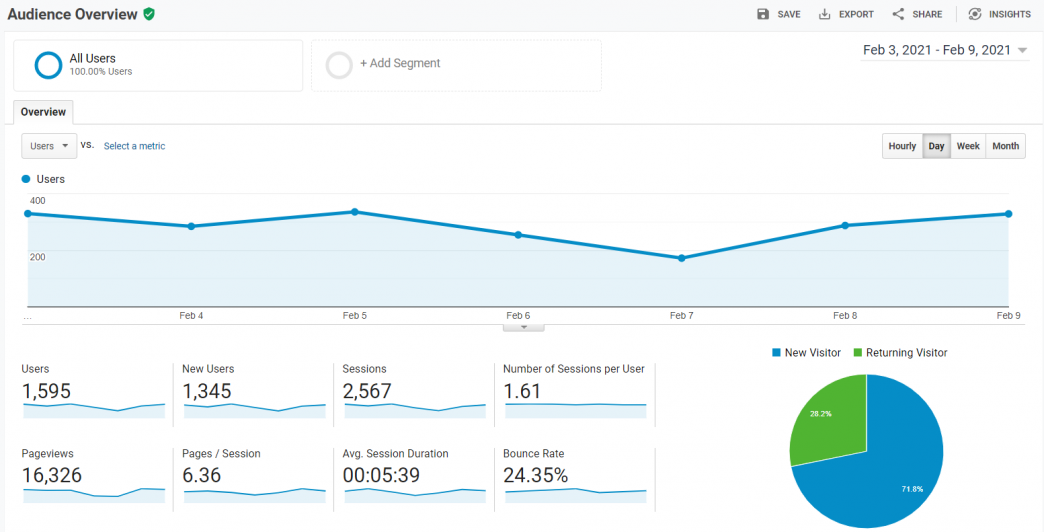 This tool will provide you with rich insights and data into how many visitors click on your site, who they are, how they found you, and whether they'll return. This data is critical for determining your website's overall performance.
Alternatively, you can use BiQ Rank Tracking to monitor and understand the results of your SEO actions. BiQ's Rank Tracking tool will also provide you with data regarding the ranking positions for your SEO efforts and processes.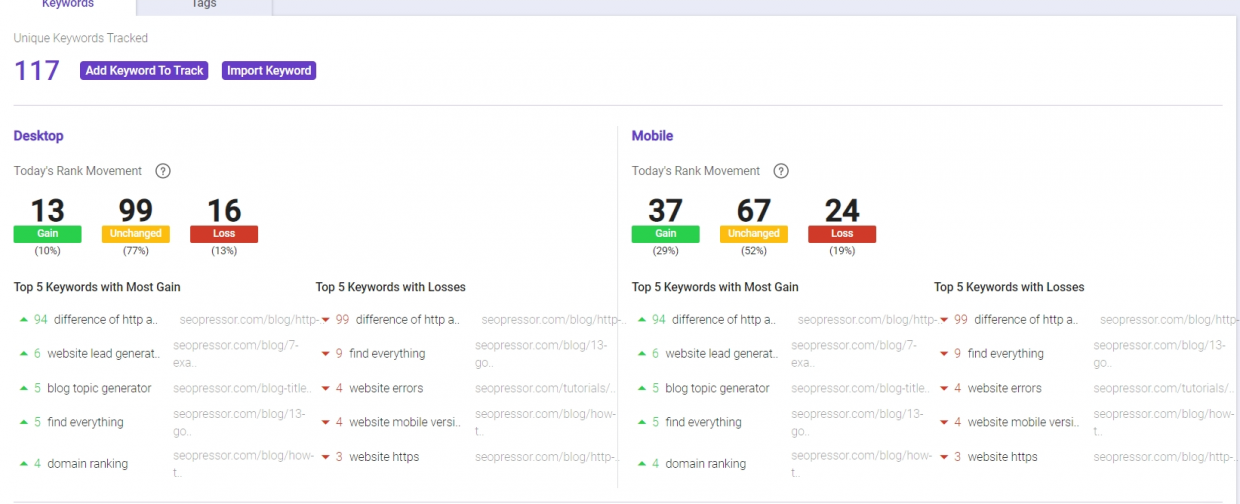 SEO is about constant experimentation and optimization. With this Rank Tracking tool, you'll no longer need Google Sheets tracking or notes to stay updated with your SEO performance.
7. Establish Social Media Pages
If you thought launching a new website was difficult, wait till you get to the advertising and marketing part.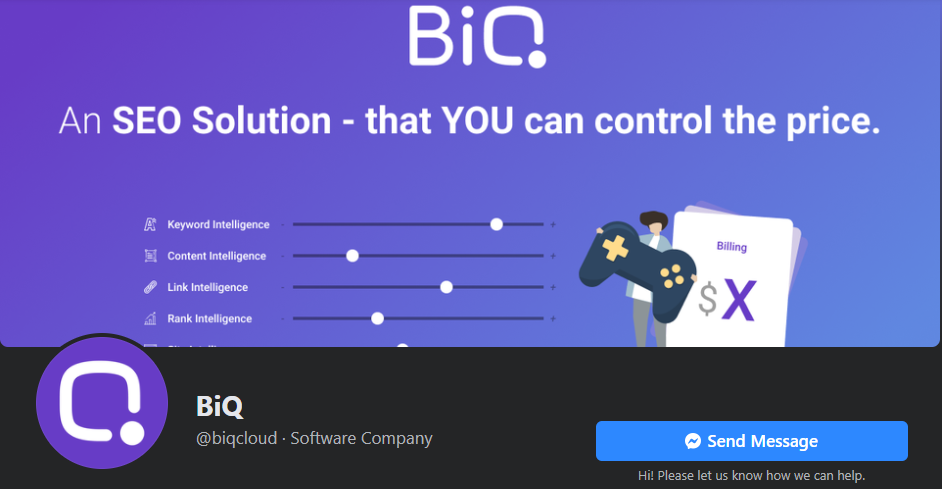 You'll quickly realize how difficult getting people to check out your new website can be. Online marketing isn't easy. But it's not impossible either.
Establishing a strong social media and online presence should be relatively simple with proper planning and the right marketing tools and strategies in place. Therefore, you must consider the best online marketing tactics that'll work best for your business and make the most sense for your website.
To achieve your website goals, you'll need to commit to ongoing marketing efforts for your website.
Ultimately, every website's goal is to bring more people to it and boost SERP rankings and visibility. A strong online marketing strategy gets you just that.
8. Never Stop Improving Your Website
Once you've completed all the steps mentioned above, you'll now have to test your new website for usability.
There are a few critical aspects you must consider when testing your website. These include:
Website reliability
Mobile-friendliness
Website navigation
Functionality on multiple devices
If you can answer "okay" on these questions, then you'll know that you're on the right track.
Still, it's good practice to polish your website continuously. Keep tracking and polishing it even after you've tested and launched it.
If the answer is "no," it means you didn't get something right and must go back to the drawing board.
Conclusion
What do you need to start a website?
As mentioned earlier, you probably have everything you need with you on how to create a website; a laptop and an internet connection.
But what you need the most is patience.
Remember, even the most successful websites weren't built overnight. Patience is key in building and launching a new website. Follow the steps in this article, and you should be good to go.