Semantic keywords have long been prioritized by Google. It is the idea that it doesn't only look for similar keywords but seek a deeper meaning behind each query.
Getting semantic SEO right will make a difference in your rank.
Semantics is the study of how different words relate and how people draw meaning from these words. You've probably heard someone say "that's just semantics" before.
People tend to use that phrase to refer to the act of using one word to draw different conclusions, but they all mean the same thing. If anything, semantics involves deconstructing sentence structure, signals, as well as words, and plays a major role in daily communication, language learning, and understanding.
For example, in everyday use, a mom might direct a child, "do your chores." But applying semantics the child decides his mom meant, "do your chores whenever you like it." Although the mother probably meant, "do your chores right now."
With that said, semantic keywords are basically phrases and words with a conceptual relationship. Take a keyword like 'search volume' for example. It's semantically related keywords include 'keyword research,' 'paid search,' and 'online marketing.'
Why Did Google Shift to Semantic Keywords?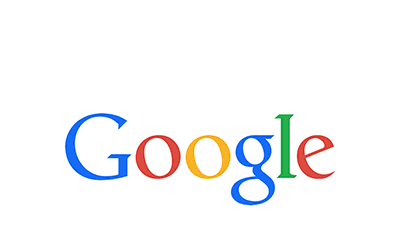 Take note that semantic keywords emanate from semantic search. Now, for you to understand semantic search well, it's best to first start at the beginning. When SEO began, Googlebot wasn't as powerful or as smart as it is today.
Back then, when you keyed in a keyword, Googlebot first parsed its pages' content, indexing them for that specific keyword. The result? Webmaster increased keyword density on every page, leading to search results full of low-quality content.
As such, using keywords then resulted in information with no real value. Additionally, Googlebot created so many 'useless' pages for a single keyword variation. And so to tackle this issue, Google developed algorithm updates such as Panda (in 2011) and Hummingbird (in 2013), both of which problems regarding unethical ranking tactics as well as keyword stuffing.

Hummingbird in particular was instrumental because it totally changed Google search by introducing semantics SEO. Semantic search's main goal was to deliver the right contextualized content in the shortest time possible. If anything, Google shift to semantics search was extremely unique due to these three core elements:
Googlebot (via Hummingbird) now takes your entire query into account and not just the keywords.
Googlebot also considers user info, history, search patterns, and other 'personal' data variables when providing search results
Googlebot also takes into account your device type, location, as well as, time of day.
Panda, on the other hand, got developed to reward unique and compelling content, as well as get rid of the low-quality, thin content (in search results). Take note that Google Panda's algorithm assigns every page a quality classification, which gets used internally and takes after human quality ratings. Google now incorporates this quality classification as a ranking factor.
And speaking of ranking here's…
How Has Semantic Search Affected SEO?
It's important to note that Google developed the Knowledge Graph in 2013 to support its semantic search system. The Knowledge Graph is basically an elementary resource for natural language processing and understanding as well as human-like prudent argumentation. If anything, Google's Knowledge Graph describes real global entities, their attributes, and their interrelations (semantic connections).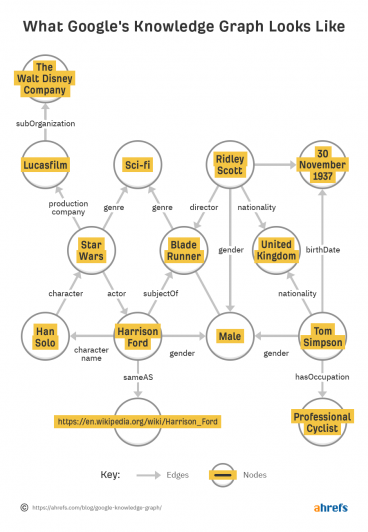 And one of its most crucial functions is answering questions. So now when you search for something on Google, Googlebot fully understands it and aims to offer more contextualized info about your question. Not just a list of websites that can answer that specific question for you.
In other words, Google is now answering your queries itself and no longer depending on other websites to offer its users information. Meaning that anyone competing for clicks, exposure, and ranking on Google, is not only competing with other people and companies but also Google itself.
This is what has given rise to semantic SEO. In simple terms, semantic SEO is the process of giving more meaning to the words used in your content. Semantic SEO calls for optimizing your content to match your audience's true intent.
As in, you ought to organize your content so that it answers a user's first, second, third, fourth, and even fifth question (arising from a single keyword). Take the keyword 'yoga' as an example. A user could be having the following questions when querying for 'yoga':
What is yoga?
The different kinds of yoga?
How to undertake different yoga positions?
What are the best types of yoga pants?
In fact, the possibilities are endless. This is why in the semantic search world, you have to frame your content to answer the various questions a user has when querying for a given keyword. With semantic SEO, your content will have more depth, thus providing more value.
Other benefits of incorporating semantic SEO includes:
Better chances of ranking for a variety of keywords
Better chances of ranking high for longer.
More visibility
Increased authoritativeness
Now, for you to optimize your content for semantic SEO and take advantage of Google's semantic indexing behaviors, you must first get worthwhile semantic keywords to include in your content.
So…
How do you get the Best Semantic Keywords for your Content?
As you would imagine, you'll have to conduct semantic keyword research as well as semantic keyword optimization to ensure your content matches whatever people are querying on Google.
So you can use a semantic keyword research tool or conduct traditional keyword research. Either way, you'll first need to pick a topic relevant to your website or business and build from there. Assume you're running a residential plumbing service business for example.
A big part of this business involves servicing and installing pipes in old and new homes. So you can choose to write a post focusing on this aspect of piping. With that in mind, one highly valuable keyword term you can use is "plumbing pipes." And it's expanded keyword term is "residential plumbing pipes."
1. Traditional Semantic Keyword Research
In other words, the semantic keyword research process involves:
Creating a list of Core keywords- In the above example, 'plumbing pipes' is the level 1 core keyword.
Expanding the list to include Thematically-related or Supporting Keywords- That is, "plumbing pipes" to "residential plumbing pipes."
Creating Stemming Keywords- This is the outermost circle of semantic keyword research. Stemming keywords are typically keyword phrases not directly related to the original search. For instance "residential plumbing certification."
With these 3 buckets of keywords, you can now proceed to create two or more rough outlines for your content. Here's are examples of two content outlines for the single keyword "plumbing pipes":
How to fix residential plumbing pipes by hiring a licensed plumber
Definition of plumbing pipes
Definition of licensed residential plumbers
Thing to inspect during residential plumbing pipe services
When residential plumbing pipes get damaged
Your legal rights
Who to approach as well as how
How to fix residential plumbing pipes DIY
Definition of plumbing pipes
Definition of DIY plumbing servicing
The things to inspect during DIY plumbing pipe servicing
When plumbing pipes get damages
The legal aspect of DIY plumbing
From the example above, you can see how semantic keyword research can help you create different content answers for a single user query. Creating content for the different semantic keywords you come up with will ultimately help Google get a better understanding of your website.
2. Semantic Keyword Research Tool
Mind you, you can bypass the long process of semantic keyword research by employing a tool like BiQ Keyword intelligence tool. You can research your potential target keyword using the tool as it allows you to gather data on keyword volume, trends, keyword competition, related keywords, and more.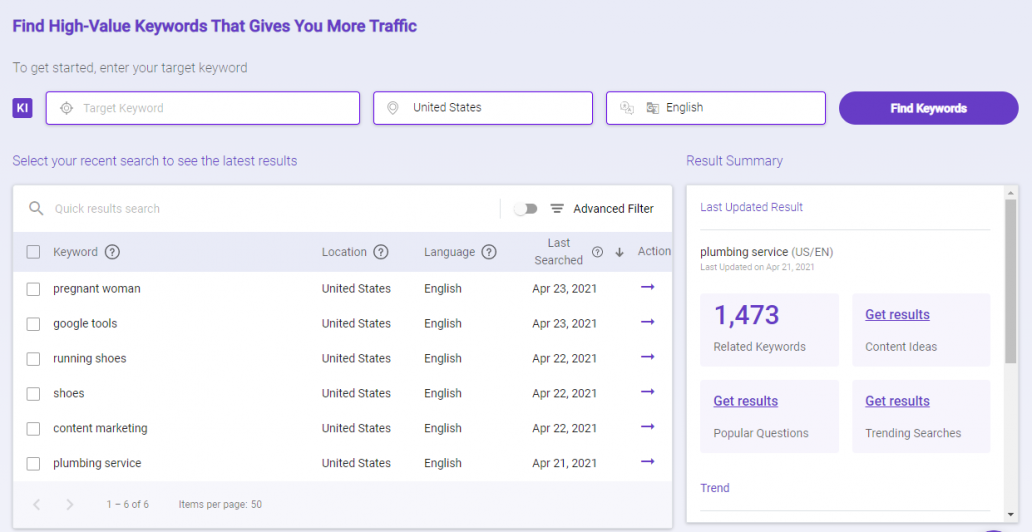 What makes BiQ's Keyword Intelligence stand out from the rest of the keyword research tools on the market is the keyword analyzer feature. It helps you see why someone might be searching for the keyword in the search engine. With this data, you will be able to plan your content in such a way that meets your users' needs.
If you are unsure which keyword to use, you can sort the keywords based on their value. The higher valued keyword means it can potentially bring more traffic to your website at a lower competition.
BiQ's related keyword search tool has 3 input tabs: keyword, location, and language.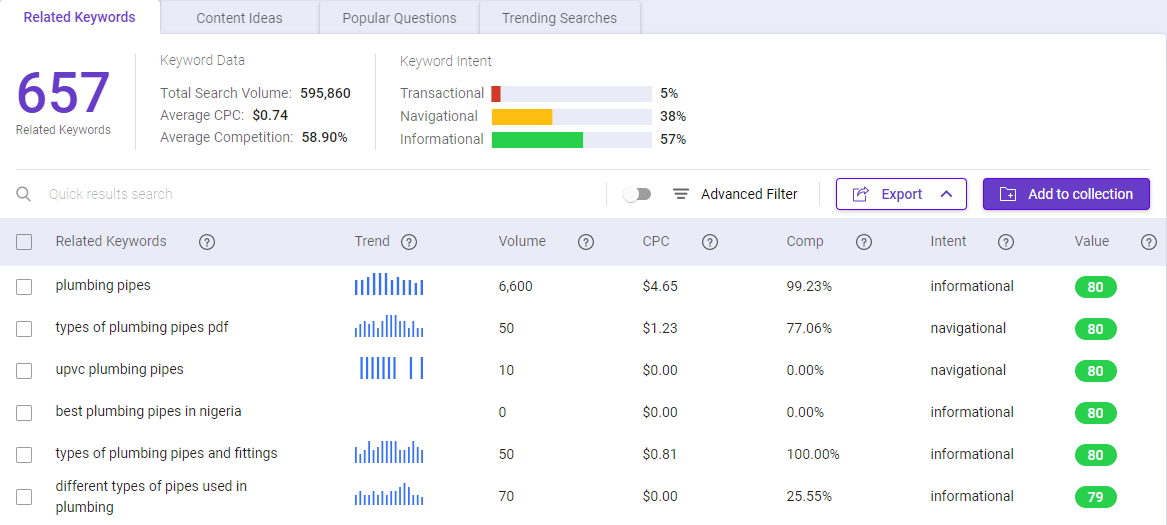 When you query a term like 'plumbing pipes' and press the analyze now button, you immediately get results showing over 657 related keywords complete with total search volume (595,860), Average Cost Per Click ($4.65), and Competition of (99.23%). How cool is that?
Some examples of relatable keywords for 'plumbing pipes' include 'types of plumbing pipes materials,' 'PVC pipe,' PVC pipe sizes,' 'black iron pipe fitting dimensions,' 'old plumbing pipes,' etc.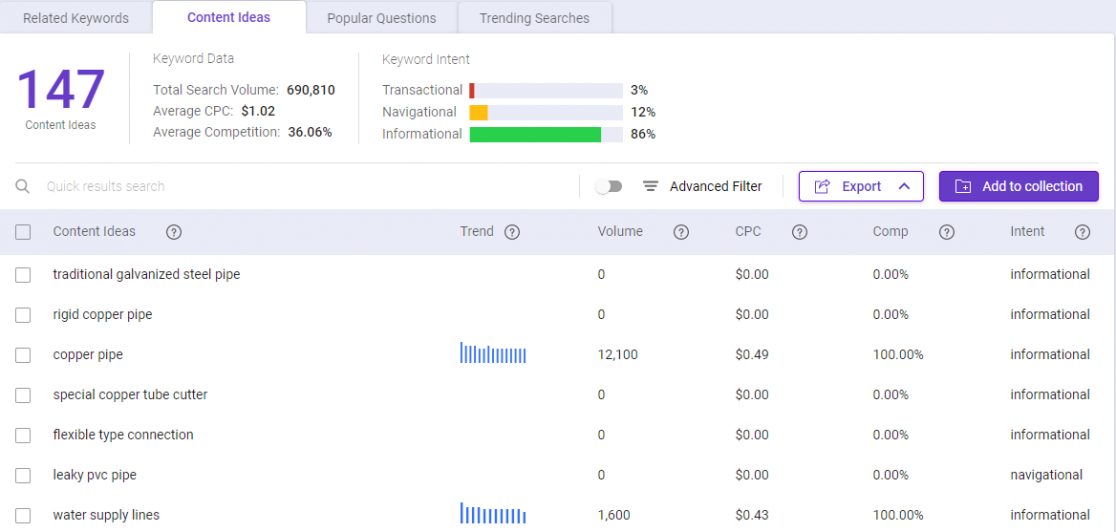 Thanks to BiQ Keyword Intelligence capabilities, you can now quickly and easily uncover content ideas. Talk about avoiding writers' block! With the term 'plumbing pipes,' BiQ provides about 147 content ideas complete with their search volume, CPC, trend, search intent, and competition data.
The best part?
All keywords come with a set of vital metrics that you can use when deciding which topics you want to focus on.
For example, you can use the search volume to determine a 'demand' for the topic. At the same time, the trends tell you if the topic is emerging. Keep an eye on what's trending to capitalize on it to get engagement.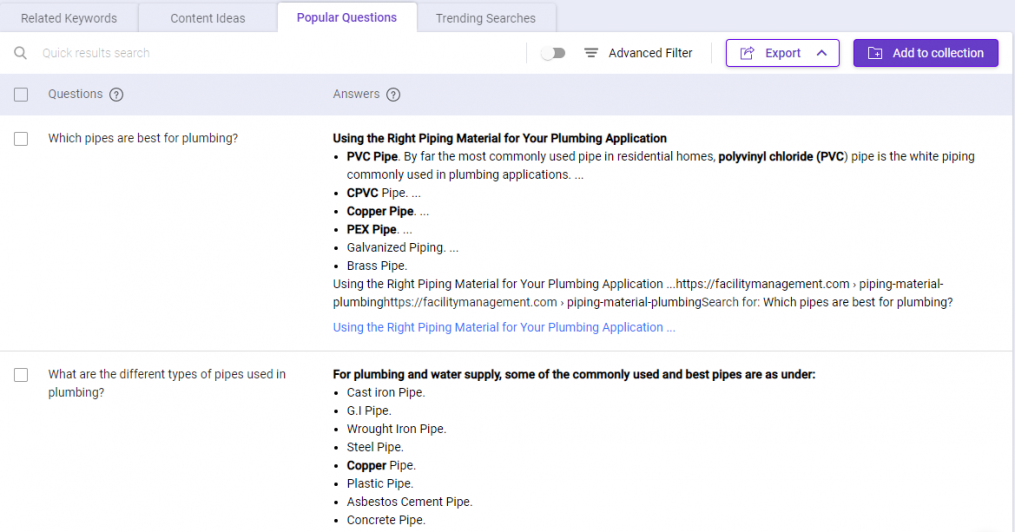 BiQ Keyword Intelligence can also help you figure out the kind of questions your potential audience may be asking, and offer the answers they want. The feature shows questions that are frequently asked by searchers in the search engine.
All you need to get started is a core keyword. For 'plumbing pipes,' BiQ suggests popular questions such as 'Which pipes are best for plumbing?' and 'What are the different types of pipes?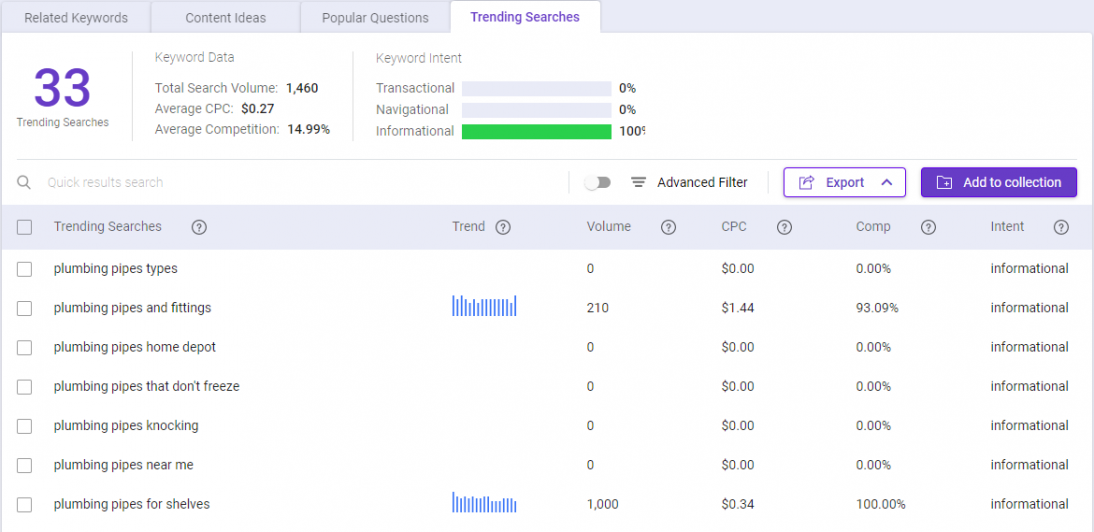 Would you like to know which queries (with regards to your keyword) are people searching for on search engines? BiQ can help with that too. For instance, 'plumbing pipes' has 33 trending searches derived from the tool.
They include 'plumbing pipes types,' 'plumbing pipes home depot,' plumbing pipes and fittings,' 'plumbing pipes for sale,' 'plumbing pipes rattling,' etc. Remember, each and every result here comes complete with search volume, intent, CPC, and competition data.
Conclusion
Without a doubt, semantic keyword research is made easy with tools like BiQ Keyword Intelligence. But whether you choose to use a tool or go the traditional way, ensure that you have the first right for humans before writing for search engines.
As in, use the keyword list you develop from semantic keyword research to create content that is as appealing to your audience as it is to Google.
If Google's recent crackdowns (on web spam) are anything to go by, the best long-term strategy is using semantic keywords to enhance your copy's value, without letting their optimization eclipse your content's quality.