Have you ever read tons of SEO how-to's, but still have no clear idea on how to go about it? Here are 5 search engine optimization examples that drive traffic.
Read on for five search engine optimization examples to help your site rake in traffic and ranks.
Suppose you have been reading a ton about SEO lately but are still having trouble figuring out exactly how it applies to your website or how to start. We are glad you are here.

There's so much SEO beginner advice out there explaining how the search algorithm works and teach you all kinds of optimization tips, but not all are complete with results and examples.

So rather than creating another compilation article or guide, in this post, we will be covering basic hands-on techniques with search engine optimization examples that you can directly use to improve your rankings and boost organic traffic.

By the time you reach the end of this guide, you will have a strong understanding of search engine optimization and how you can continuously get great results in an ever-changing SEO environment.

Let's dive into five real search engine optimization examples to see how SEO works.
What is SEO and How Does it Work?
SEO stands for search engine optimization. It involves the strategy of following search engine best practices to optimize your website and content to appear on the 1st page of Google search results.

People are searching for all kinds of things, and many of them can be related to your business. This can represent opportunities to connect with your potential buyers. By simply answering their questions and solving their problems, you can become a trusted resource and brand.

Search in influencing sales and purchase is becoming so significant that the Global Web Index has shown that 81% of people are searching online for a product or service. Among these statistics, 74% have made a purchase online.

Staying on top and appearing on relevant queries thus has now become a necessary part of marketing. After all, the higher you appear in search results, the higher your visibility, which means more traffic and more conversions and revenue.

So the main question here is what works? How does Google choose which page to show in response to what people are searching for? How do you get all of this valuable traffic to your site? Here we have 5 SEO examples tips that will answer all the questions above.
SEO Example 1: Doing an SEO Audit
Before you kickstart any SEO campaign or strategy, you need to conduct an SEO audit.

This means a systematic examination of your overall site performance and ensuring that your website adheres to search engines' best practices and does not have any issues hindering your rankings and visibility.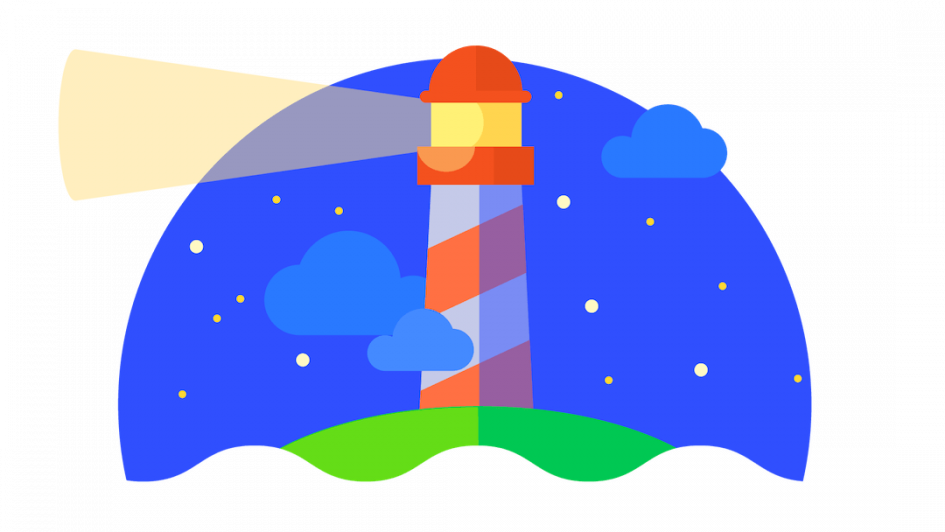 Usually, this would involve examining your overall site performance and checking your site pages for any errors. You can then implement tactics accordingly to fix those errors or improve certain site metrics.

Though this may not sound like an advanced SEO strategy, you'd be surprised how many websites miss the mark on these basic on-page SEO fundamentals, which are causing their website's rankings to remain stagnant.
As a guideline, here's a quick checklist you should run with your site:

Do all your web pages have SEO meta titles and descriptions?
Is each page on your website optimized for your target keywords?
Is your URL structure optimized for search engines?
Is each page and blog post formatted correctly?
Do all your images have keywords in their ALT tags?
Does your page have internal and external links?
Are any of your pages showing an abnormally high bounce rate?
Are your website pages mobile-friendly?
Does your website pass the Core Web Vitals score?
Make sure to do a quick review of your site performance on Google Search Console and check your "Coverage" to see any errors Google faced when crawling your site.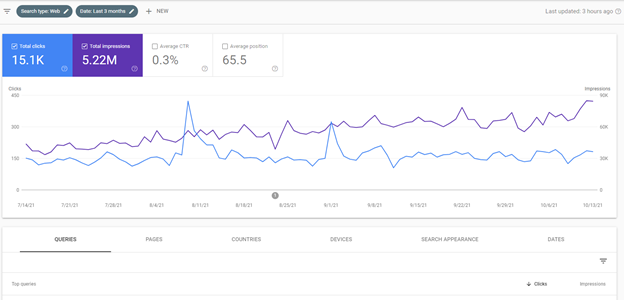 SEO Example 2: Targeting The Right Keywords
Picking the right keywords and phrases is one of the most important steps in successful SEO.

Though seeing large amounts of traffic to your site can be a huge ego boost, you want to prioritize attracting the right audiences.
Step 1: Keyword Research using BiQ Keyword Intelligence
Choosing the most effective keywords to connect with your target market can take time and research. Still, fortunately, this process is made a whole much easier using our BiQ's Keyword Intelligence. Let us show you how.

To give you an idea, let's say we are looking to create content on "social media marketing."

As you can see, the tool displays the total number of keywords and search volume regarding the topic and the percentage distribution of each keyword search intent.

Most of the keywords show informational intent, which makes the topic suitable for content marketing.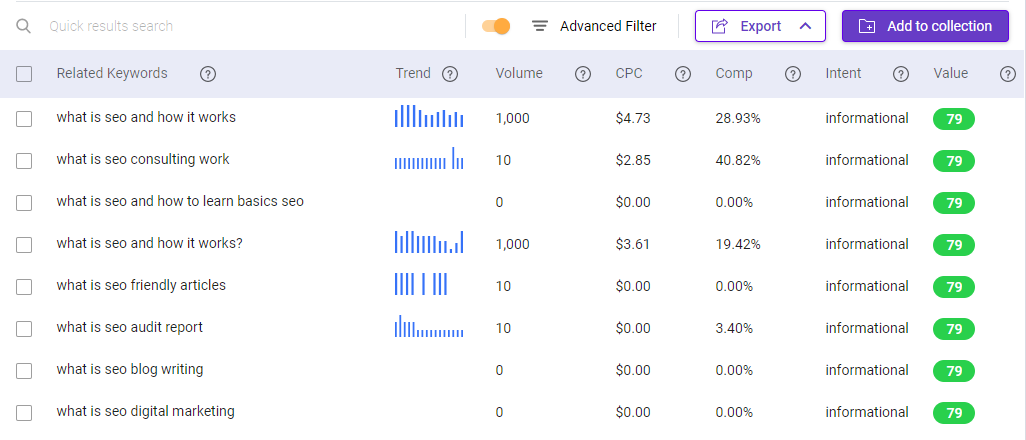 Going into the details of each keyword, the BiQ Keyword Intelligence tool also shows the related terms and their search volume, monthly trend, estimate competition, intent, etc.

These are all relevant keywords that you should try including in your content to build relevance and increase the chances of multiple keyword rankings.

While researching key phrases, you might also notice some long-tail keywords with decent search volume. You'd want to aim for those long-tail keywords first, especially if you are new to content marketing or have yet to cover anything on the topic.

To find these long-tail keywords, you can also use the advanced filter to search for long-tail search phrases specifically.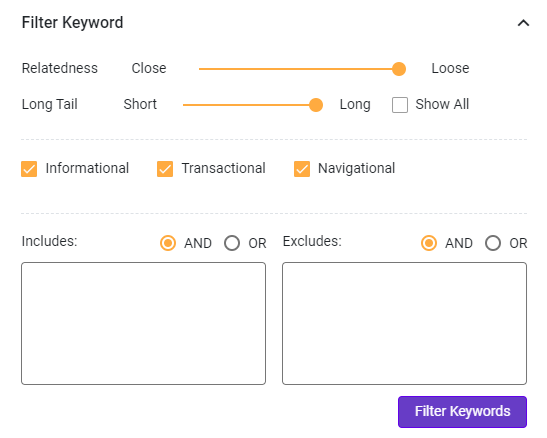 Additionally, you can search through the Content Ideas, Popular Questions, and Trending Searches tab to get more semantically related keyword ideas.

On the other hand, you can also further inform your keyword research by discovering what keywords your competitor's site is ranking for using our BiQ Rank Intelligence, as you will see how below.
Step 2: Competitor Keyword Research using BiQ Rank Intelligence
You can't complete your keyword research without analyzing your competitor's keyword strategy. An easy way to approach this is by simply using our BiQ's Rank Intelligence.

All you need to do is insert your competitor's website URL, and the tool will help you analyze and find all your competitor's ranking keywords.

However, you don't need all of your competitor's ranking keywords. Instead, choose to reveal important position rankings from #1 to #20.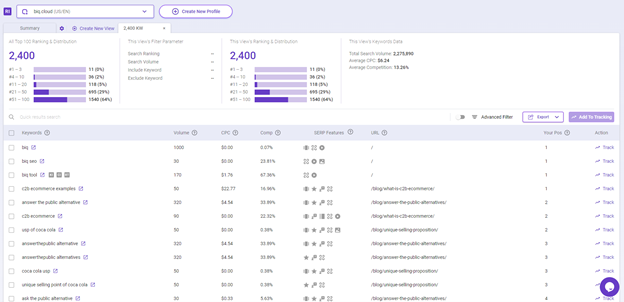 You'd want to steal these important keywords that are driving traffic to your competitors' site and see if there are any search phrases that you could potentially rank as well.
Step 3: Create a Content Silo and Cornerstone Content Strategy
Once you have your list of keywords, it's time to plan, organize, and group related terns together to form your content silo.

Having a content silo will help improve your website information architecture and provide an overall better user experience. Through this, you can also strategize your content creation and internal link structure to let search engines know which are your cornerstone content.

Cornerstone content is usually the core content of your website, providing immense value to your readers by covering a specific topic in great length. Unlike regular blog posts, you need to create cornerstone content if you plan to rank for high-volume short-tail keywords.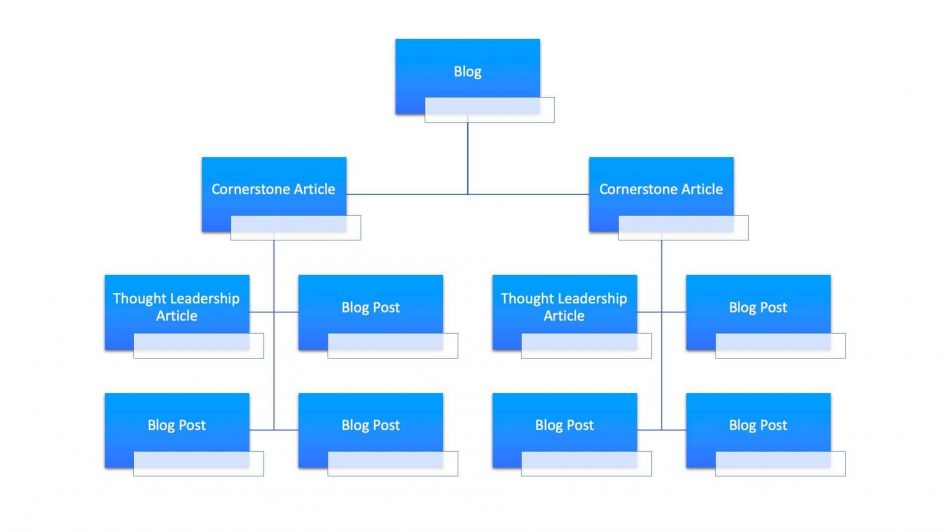 But regardless of regular posts or cornerstone content, you need to make sure your content is highly optimized around your target keyword. In this aspect, our BiQ Content Intelligence tool can come in handy!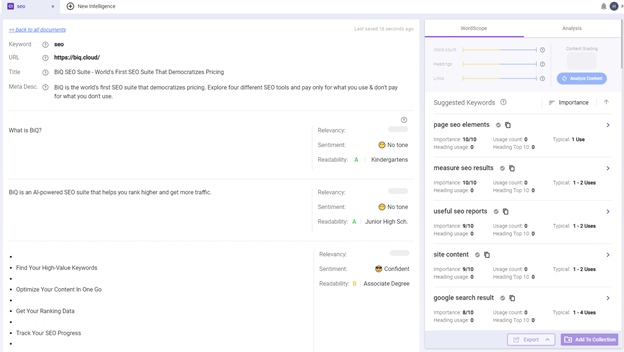 Our tool supports real-time analysis, and you can start writing, or better yet, copy and paste your content. It will analyze your content and provide you suggestions on how you can further improve your content SEO.
SEO Example 3: Optimizing and Updating Your Content for Higher Rankings
How many posts have you published on your website? If you already have many pre-existing articles or blog posts, then this next strategy is definitely for you.

Another real SEO example: Updating and reoptimizing your blog post can be one of the most low-cost and effective ways to getting higher rankings.

Existing content already has authority and an established readership. So rather than writing from scratch, it'd be much simpler to boost an existing post's performance in the search results by refreshing it with updated information and extra content.

The question is, how do you choose which content to update?

The best candidates for a content update are those with high traffic potential, either placing close to the much-coveted #1 spot or placing high on the 2nd page. The answer can be revealed to you through BiQ Rank Intelligence.
Step 1: Find Low Hanging Fruits Using BiQ Rank Intelligence
Just like when you are looking for your competitor's keywords and rankings, this time, you can analyze your site URL to find your ranking keywords.

Note that you are only focusing on your low-hanging fruits, so make sure to reveal keywords placed between positions #2 to #15 with a minimum search volume of 100.
And if you end up with a very long list of potential content to update, you might want to filter through the SERP Features to look for keywords with featured snippet opportunities.

Ideally, these are the posts you want to prioritize updating first, alongside your articles that used to be ranking well but now have dropped in rankings and traffic throughout the years.
Step 2: Use BiQ Content Intelligence to Optimize Your Post
Run through your blog posts and update any irrelevant content or old statistics. Then, put it through BiQ Content Intelligence and start optimizing.

According to the keyword input, the tool compares your content against the Top 10 ranking results to help you identify any missing content gaps and provide suggestions on how to improve your content.

Just tweak your content according to these suggestions and, most importantly, include the related keywords to build contextual relevance plus avoid overstuffing your keywords.

At the same time, look at the SERP results that Google is serving for your target keywords. Sometimes, it's not your ranking that has affected your traffic, but rather the makeup of the search result pages.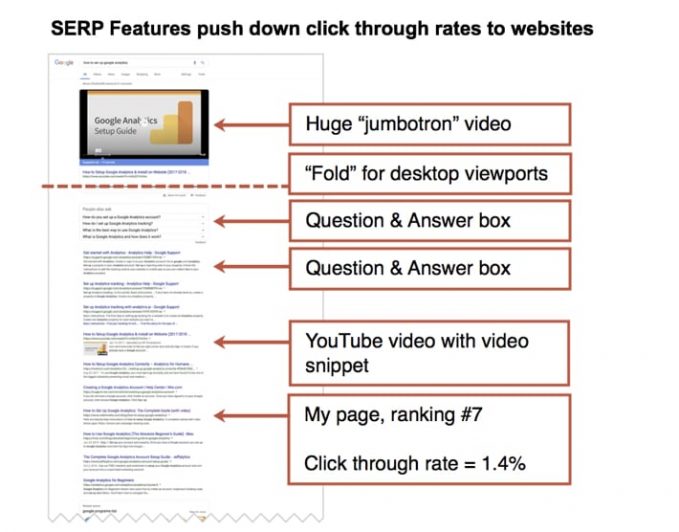 Google is constantly adding new SERP features like videos and featured snippets, which reduces the click-through rates and rankings of websites. However, what you want to do here is to cater to those results if possible.

Let's say Google prioritizes video results, and you have a blog post.

Take the data from your content and repurpose it into a 5-minute video. Upload it on YouTube and insert it in your blog post to increase your visitor's time on the page as well.

Step 3: Use BiQ Rank Tracking to Track Your Results
Though updating your content can be an effective way to higher rankings and quick traffic.

The truth is, your optimization results don't happen overnight, and it's not guaranteed which direction your content could go. For this, you need to make sure you are tracking your updated content on desktop and mobile using our BiQ Rank Tracking.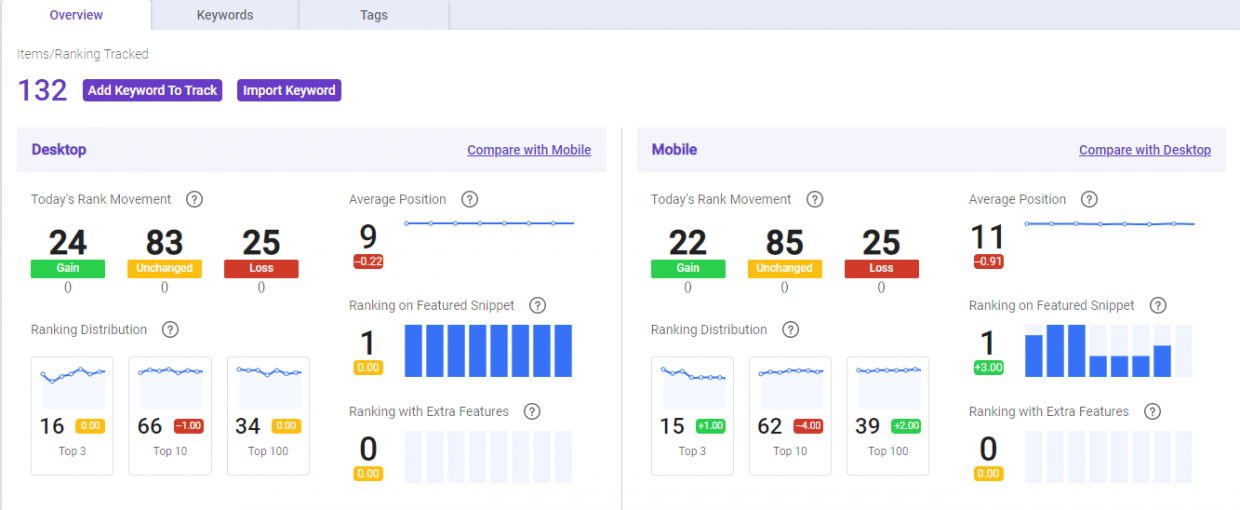 All you need to do is add your keywords and content URL, and the tool will keep track of its daily rankings and inform you of the changes in rankings since you have updated.
SEO Example 4: Create SEO Optimized Landing Pages
The scenarios above mostly apply to blog articles.

However, we understand, sometimes your goal isn't to attract visitors for information-intent phrases but rather commercial-intent keyphrases to attract paying customers.
In that case, you need to create a landing page. Landing pages are very effective since they are created to primarily qualify and chauffeur your audience to do a single action.

Similar to creating blog posts and articles, the creation process is largely the same, but your landing pages should be optimized with commercial intent keywords.

Make sure your title and description are keyphrase-focused and naturally use them throughout your content. Ensure your landing page is well-designed and persuasive enough to improve your lead generation and sales.

But most importantly, address your user's search intent. Great landing pages by the Conversion Rate Experts at Moz have successfully made US$1 million just by using a keyword-optimized landing page and a few emails.

SEO Example 5: Create Roundup Posts
You might be surprised, but creating roundup posts can get you a lot of website traffic.

A roundup post is essentially just aggregated content or opinions gathered when you interview industry experts about a topic. Just think "How to Promote Your Blog Content: 40+ Experts Share Marketing Tips" or "Content Marketing Strategies: The Complete List."
Roundup posts a great way to present different viewpoints about an evergreen subject if you think about it. This can also help you connect with other industry experts while growing your traffic and rankings.

Often, the experts you are interviewing will also share this with their audience and followers, and this will allow you to get your website in front of a lot of new audiences.

Besides, this list is also proven beneficial because you're curating items from many different sources, which can add immense value for your users! Instead of reading one post with 5 tips and another post with 10 tips, your content becomes the single page your users need.

Just take this example by Backlinko titled Link Building Strategies: The Complete List. It published over 170+ link-building strategies and becomes the memorable one-stop users will always go back to when they think about link-building.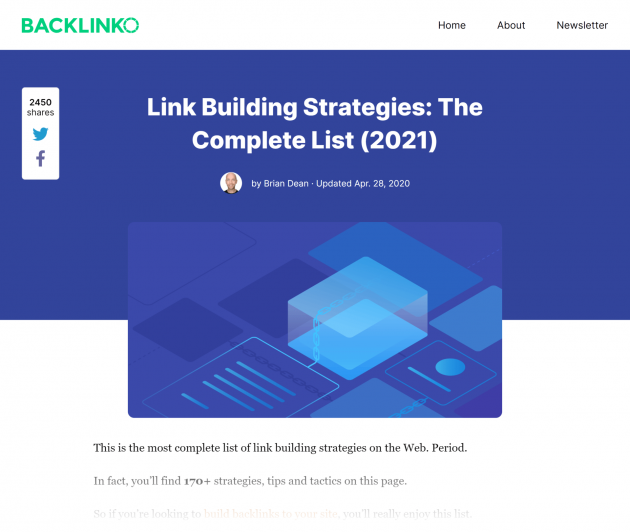 Because his content provides so much value, this specific post sees 935 different websites linking back to it. In terms of traffic, the post also brings in over 4,500 targeted visitors every month.

When it comes to writing a roundup post, you've got to pick a topic and a good question. Again, you can use BiQ Keyword Intelligence to find queries and questions with high search volume.

Next, you want to make a list of experts in the topic you want to write about as you can. For this list, make sure you list out more experts than how many you want to feature.

Then, reach out with a nice email or pm them on social media to ask their opinion. Remember to include that you will be linking back to their website as a thank you for contributing.

Once you get all the responses from your outreach emails, all that is left is to write your intro and conclusion. Again, make sure to link back to everyone featured.

After publication, send a follow-up message to let them know that the post is live and ask them to share it with their audience!

Alternatively, you can also grow your traffic with infographics. Similar to roundup posts, they compile complex information into easily digestible visuals that allow people to consume information at a glance.
Conclusion
Ultimately, SEO is not about understanding the difference between on-page and off-page SEO or memorizing Google algorithm and ranking factors.

Search engine optimization meaning is best noted through actions and examples. Hopefully, these SEO examples show you how to work with SEO and will help you significantly increase your traffic and brand awareness.