Consider using Reddit for your marketing or to boost your SEO? Reddit is an online discussion website that amasses social news, so it can be very tricky to use it for sales or promotion, read on to find out the proper etiquettes and strategies you should use when using Reddit.
Consider using Reddit for your marketing or to boost your SEO? Reddit is an online discussion website that amasses social news and online content.
Often referred to as the first page on the internet, it has close to 600 million visitors every month. According to a 2020 report by Alexa, Reddit is the 16th most visited website worldwide and place 7th in the United States.
In the Reddit platform, registered members can submit any content in the form of texts, images, or links which will then get voted up or down by other users.
It also has segments known as the subreddits. These sub-communities cover topics like sports, politics, cooking, movies, jokes, and any other topic that members find relevant.
When content receives a lot of upvotes, it progresses up in the subreddit and appears on the front-page rankings. Do note that the number of votes does not only depict popularity but often superior quality as well.
Despite having a reputation of ruthless members, Reddit is a remarkable platform for traffic generation.
Reddit SEO success thrives through the incredibly high numbers of users and communities. However, this still depends on the member's capability to submit quality and purposeful content.
Additionally, it is also an ideal platform to get premium backlinks. These are the links from other social media sites that drive traffic to your website. For instance, if you post an article on Ezine, Reddit allows a source or website link at the bottom of the content.
With that said, we will share with you 6 successful ways that you can use Reddit marketing to boost your business presence.
Successful Marketing with Reddit
Before we start, know that there is a history of racism clashes between the Reddit community members for years.
Despite an attempt to end the disparity by the founders, there are still a large number of people who would not feel at ease to share their content on the platform. For that reason, it remains one of the prevalent but underutilized social media sites.
Still, with follower numbers surpassing popular platforms like LinkedIn and Twitter, Reddit presents a viable opportunity for establishing your business and brand presence.
Thus, to engage and promote on Reddit, you need to armor yourself with confidence and focus on the positive side of enhancing your visibility and not on the potential downsides.
Before submitting your first content, you need to register as a member. Note that, you will only manage to win trust from your fellow members by creating quality content.
So, the easiest way to a Reddit breakthrough is by becoming an authentic participant first. Give yourself time to learn the ropes and immerse yourself with the community to see how things work.
Concentrate on giving more than you receive.
This should be in the amount of contributing around 80% of your time and then Reddit marketing at 20%. The ratio may go up or down depending on your target community and choice of content.
But most importantly, maintain originality and ensure that you feed the Redditors with fresh content. Do not assume that you can post your jokes on other social media platforms and still dump them in Reddit.
Here, the audience finds a valuable and innovative contributing member more deserving of upvotes. So, avoid creating fake accounts or unidentified paid sponsors as it may damage your Reddit credibility.
While these norms may sound universal, you need to understand Reddit communities follow a particular way of operation. For instance, a pet's subreddit may request members to submit photos in a particular angle.
So, as a new member, take a back seat as you pick up the mannerisms and traditions. With time, you may recognize the content that raises attention and learn how to arrange your work for positive outcomes.
But first, is Reddit ideal for your business?
As you can see, Reddit is an incredible platform to promote your brand, and it is actually suitable for almost all industries given you have to do it right to maximize it.
Keep in mind that most Redditors use the site for entertainment purposes and keep off from sales content. So if you are looking to build sales instead of a community, Reddit marketing is not for you.
Instead, if you are looking for Reddit as a long-term strategy to build your brand presence and SEO, investing your time on Reddit can prove extremely beneficial down the road.
Pair it with savvy marketing techniques, and you just might capture the attention of millions of followers in a month. Because one good thing for Reddit is that the members focus more on specialized segments of the market compared to other platforms.
In any case, Redditors operate more like a community. So, if you can create an authentic community for your brand, you can get a loyal community that will build your brand together with you.
Conversely, if they notice a brand trying to promote a product, they may gang up against it with downvotes.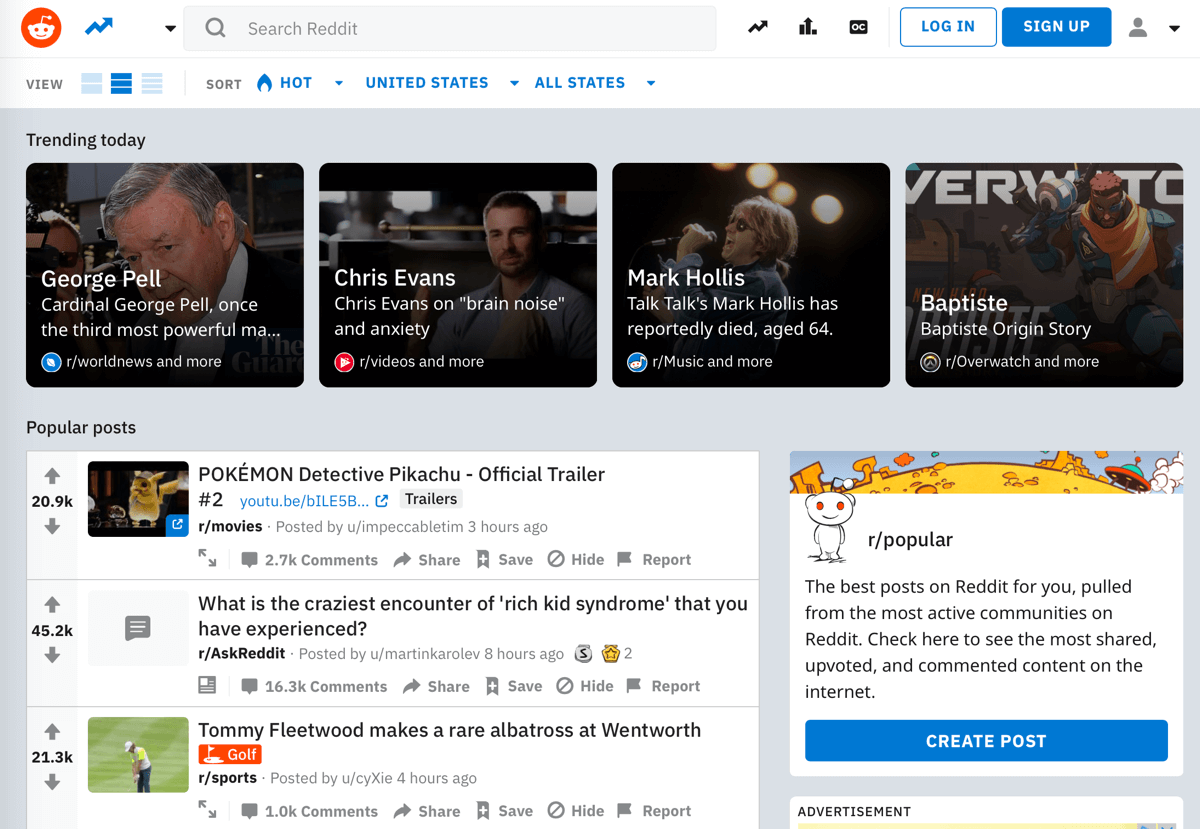 The key to this is to understand your niche within the site.
Then, maintain a cordial relationship with others by being a leader and not authoritarian. Keep away from hate speech and toxicity in your content creation and remarks.
Most importantly, you should have confidence in the voting system even when members give you downvotes. Instead, you should focus on creating quality content that guarantees upvotes and progression to the Hot page.
Such a move will lead to increased followers, more traffic, and conversions. Note that Reddit updates submissions at an alarming rate. This gives you countless opportunities to promote your brand.
Now, there are two ways of posting content on Reddit. You can either post through text posts on Reddit or by user's links to an external site.
If you want to boost your traffic and Reddit SEO, use the link posts. For those interested in getting more links, text posts are a better choice.
A focused presence on Reddit ensures that you make relevant text posts to the subreddit you wish to share.
Remember that a Reddit account thrives from talking out and engaging with others. Hence, you should observe the Redditors who mention your brand and focus on positively responding to them.
How to use Reddit to boost your SEO
Most marketers don't consider Reddit when it comes to marketing, but they would be missing out on the amazing links and a large market audience which may lead to a higher SEO ranking.
One example is from CognitiveSEO which published a post predicting how Google might read and rank images. At first, it wasn't raking in much traffic until it got picked up by the Futurology subreddit which as you see resulted in the traffic spike below.
This also led to a huge spike in the website's position for the short tail keyword "Google Images", which boosted the website SEO ranking, from ranking on page 7 to ranking no. 8.
Now, let's get these results for ourselves as we will share with you the effective ways of improving your SEO rating on Reddit.
1. Follow Relevant Subreddits
As mentioned earlier in the post, community members create content under numerous subreddits.
In the process, users get a chance to share links, post, comment, or vote on posts in a specific subreddit. From a prospective list of relevant subreddits, you can confirm the most suitable one for your brand.
An easier way of doing that is by reading through the subreddit's descriptions, most dynamic posts, and community stats.
In the most appropriate subreddits, you can share important content and engage with your niche market. For this reason, it helps brands to boost targeted traffic to their sites and develop premium backlinks too.
2. Use the Right Keywords in Your Content
While selecting the best keywords plays a great role in traffic generation, similar rules apply for Reddit SEO.
Before choosing Reddit keywords you need to identify with the platform's etiquette and language. Follow the audience discussions and comments to get accustomed to it.
The best way to get hold of a particular language and tone is by reading threads on related subreddits. For your keyword research, BiQ Keyword Intelligence offers a unique and cost-effective way of getting the right keywords.

This is an exceptional SEO Suite that helps businesses to discover common searched queries on search engines. With different online needs, your audience may use various word combinations to enquire about one thing.
BiQ Keyword Intelligence understands very well the importance of using targeted precise keywords and phrases. The module filters through numerous keywords on the search engines to get the very best for your brand based on the searcher's intent.
At the same time, the platform gives the users critical information about the targeted keywords which enables them to gauge their competitor's performance and the finest keywords to surpass their presence.
3. Research and Plan Content Ideas
It is not always easy creating entertaining yet educational content. Reddit makes it less complicated by allowing you to access a plethora of content ideas through the subreddits. This becomes possible by looking for the best performing sub-communities within a niche and then comparing with popularity and duration of running.
Note that most Reddit audiences follow controversial, new, and hot topics. If you create your content in any of these niches, there is a higher chance of enhancing your SEO ranking. Another powerful approach is to give solutions through your content.
Through Reddit search options, you can also identify the topics that have great potential to engage your audience. Despite that, it is not always easy to come up with fresh ideas anytime you write your content.
Using BiQ's Keyword Intelligence, you can refer to the content ideas tab to simplify the process of finding captivating topics for users to create amazing blog posts.
As a result, the strategy keeps the audience yearning for more, which may lead to more traffic and leads.
In a simple process, you only need to type in your preferred phrases and keywords in our BiQ content idea search. Then, the site gives a list of suggestions that a user can use to entice the audience.
4. Engage with Other People's Content and Build up Karma
Reddit's karma portrays how a member has made an impact in the community. This is reflected by the total number of votes obtained after submissions. Reddit's posts raise post karmas and comment karmas.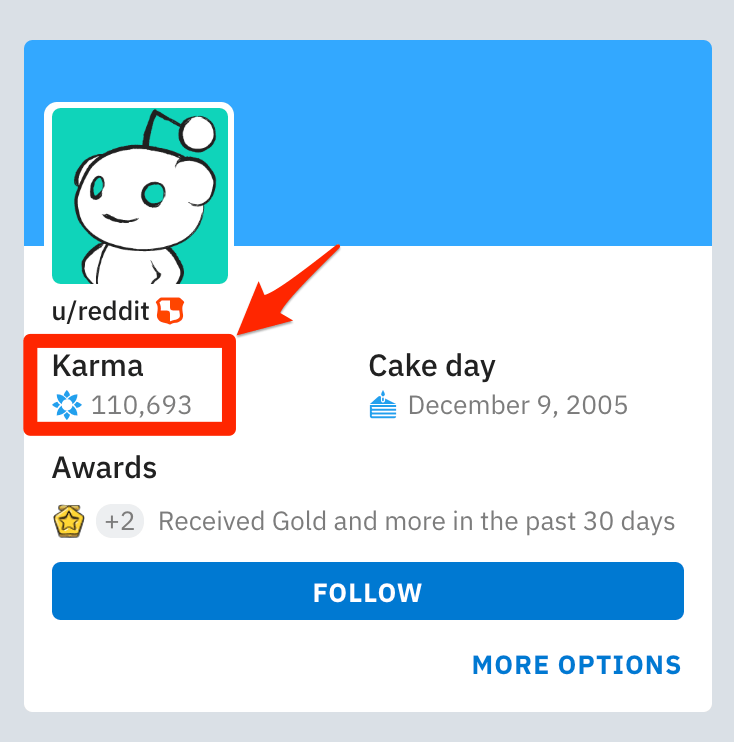 When a comment or post receives upvotes, the user attains some karma which gets displayed on the profile page.
Getting more karma points requires members to submit interesting and insightful comments and posts. Always give relevant content within your niche and avoid making rude and hurtful remarks.
Note that you do not get karma points from your default comments and submission upvotes. You only gain them from the audience's votes. Therefore, concentrate on building a legacy by following the rules on the platform.
It does not hurt being nice to other people by voting for them and giving encouraging and positive comments. The cordial relationship created may result in increased karma on your side too.
5. Participate in the Conversation
There are specific subreddits where the audience asks questions and a brand expert gets a chance to respond. You should maximize your presence through these subreddits by representing your brand and adding backlinks to your site.
It is wise to engage in these sessions first before making your submission. That way, the audience may not feel like you are only there for the backlinks. The process can take a long time before you notice any breakthrough, but it is an obliging way to get more traffic.
With experience, you can also create your threads of questions. Do not post regular content with backlinks on the platform. At least wait for a month to avoid getting your posts rejected.
For successful participation, observe how veterans engage with the audience on their posts. Consequently, you may gather useful information that may positively impact your Reddit SEO.
6. Share your content but don't promote excessively
There are several ways that you can share your content on Reddit. Apart from submitting it on your relevant subreddits, you can create your thread. Additionally, you can share it with an expert Redditor for an enhanced opportunity to get backlinks to your site.
On the other hand, do not focus on posting several contents at a go. This may make your brand appear disreputable and sham. A focused organization should concentrate on building status by giving solutions to the audience with their content writing and expertise.
Paid Marketing: Reddit Advertising
Besides posting valuable content that you feel will benefit your community for free, Reddit also offers a unique and affordable form of advertising.
You can alternatively spend money on a paid sponsored post, which will guarantee your post to be pinned on the top of the subreddit. The main advantage here is that it posts a great potential for viewership and building your brand through the massive targeted audience.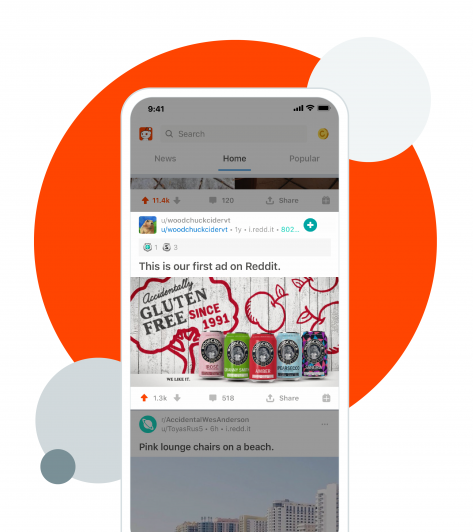 Before you publish your ad, you will however still need to run through several Reddit rules and Reddiquettes to make sure your ad is permissible on the platform.
Multiple brands like Adobe and Pepsi have found success through their advertising with Reddit, which the platform has highlighted and shared through case studies posted on their websites:
WoodChuck Hard Cider saw 20 million impressions through 14 ads and scored its highest sales month record over the past 7 years
Pepsi saw a 6.6x higher purchase intent compared to the Kantar CPG category benchmark during the NFL kickoff season
Adobe saw a 26% lift in top-of-mind awareness and a 66% increase in site visits to the Adobe Creative Cloud site
In many ways, Reddit can be powerful as a marketing tool. However, most brands see better results when their posts see high user engagement, no matter if it is organically posted or sponsored.
Alex Berman, for example, found one of his free, unpromoted videos getting 25,000 views when it hit the top of a subreddit, but got zero leads when he paid $250 behind his Reddit posts.
At the end of the day, what you post is much more important. And here"s some brands we can learn from.
Popular Reddit Success Stories
1. IKEA
Remember that thrilling experience when you walk into an IKEA furniture shop, IKEA continues to enjoy success by adopting this customer-centric approach on Reddit.
By understanding their audience's needs and wants, the Swedish company successfully caters to their audience's likes while positioning their products at the heart of their content.
Besides, the company is also skillful at using humor. Who could forget their print ad offering a free crib to any babies born exactly 9 months after Valentine's Day?
This ad has over 1,000 comments and almost 2 million views on Reddit which proves that the key to Reddit success is actually to create entertaining content that caters to your audience.
2. Beardbrand
An online company that sells beard care products, Beardbrand is able to find Reddit marketing success by following two of our rules for Reddit Marketing and that is:
to know the community and audience
to contribute value and not promote
Upon deciding to use Reddit as their marketing platform, Beardbrand just started interacting with comments and tackling questions on the r/beards subreddit, with no backlinks to their website.
If you take a look at Eric Bandhoiz, Beardbrand's CEO profile, you can see how much value he has provided to the Reddit community with his karma value at over 68,000.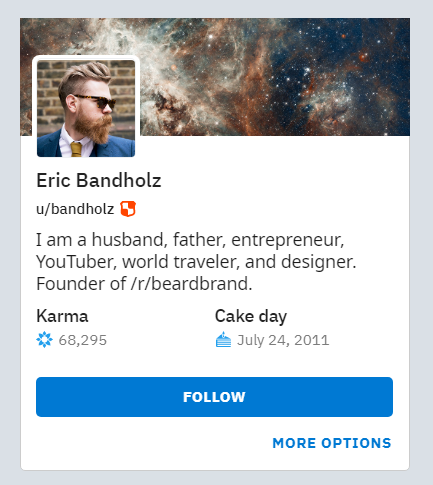 Of course, though companies can plan for months to create the perfect Reddit campaign, it's clear that the online community holds the ultimate power. And this next example understands this fully.
3. Nissan
Nissan hosted a thread on Reddit in 2014 which asked users, "If you could have one thing from Amazon, what would it be?"
According to Digiday, the company then proceeded to actually buy some of the items that users listed, from ladybugs to Reddit gold subscription, the company's premium membership. All of this gift-buying was actually done to promote Nissan's new car, the Versa Note.
Things later escalated quickly, as a Redditor posted a picture of Amazon delivering a large package who then created the thread "What's the largest item you can have shipped from Amazon? Because I think my neighbor just got it."
Yes, Amazon had just delivered an actual Nissan to someone's front door. This image became super popular on the site and was even covered in other subreddits.
The most important part is, all of this content was created by Reddit users, not by advertisers from either company.
The Bottom Line
Despite facing out ugly racial criticism amongst the members, Reddit remains one of the world's educational and marketing sites. With diverse subreddits from languages, games, coding, food, humor to many others, it gives businesses equal opportunities to promote their brand.
A Reddit breakthrough requires patience and the right approach. The process starts with cultivating a cordial relationship with your associates. Remember that you need their upvotes to progress on the Reddit SEO rankings.
So, strive to create helpful content for your audience with the proper use of language. Even if other Redditors may use harsh words on your brand or comment, in a mature way find a solution around it.
Start your Reddit marketing today to boost your SEO, and do you have any interesting stories to share, comment them down below.