What are internal links and how do they benefit SEO? Here's a complete guide on how this simple strategy of hyperlinking between two pages on the same domain can boost content rankings.
If you know how SEO works, you would know that content needs links before it can rank.
Internal links, therefore, play a critical role for your website, as you can easily add and edit them to help visitors and search engines discover your content. However, the role can go much deeper than that.
Having the right internal linking strategy can make or break your SEO. It is an integral part of your search engine optimization process and if your content is not supported by internal links, it can cause a lot of problems to your site SEO and even affect your rankings.
In this guide, we will cover how internal links are important and provide some useful tips on how you can use them to support your website architecture and drive traffic to important pages.
First, let's clear up what we mean when we say internal links.
What is Internal Linking?
Internal linking is an advanced SEO technique and it is the practice of linking from one page of a domain to other pages inside the same domain. It can be a link from your main categories to sub-categories or within articles to other related content.
Note that both pages linked are under the same website domain which is what makes it different from external links.
Both users and search engines rely on these internal links to discover the content on your website. So depending on how you place your links, it can affect if your new post will be index by Google and if users will further navigate through your site to learn more.
Google crawlers find your posts and pages best when they are linked from somewhere on the web. Without any links to a page, your content can end up becoming an orphan page and fail to be index in search engine listings.
We will explain more about this in a later section, but before that here are two types of internal links you need to know.
Types of Internal Linking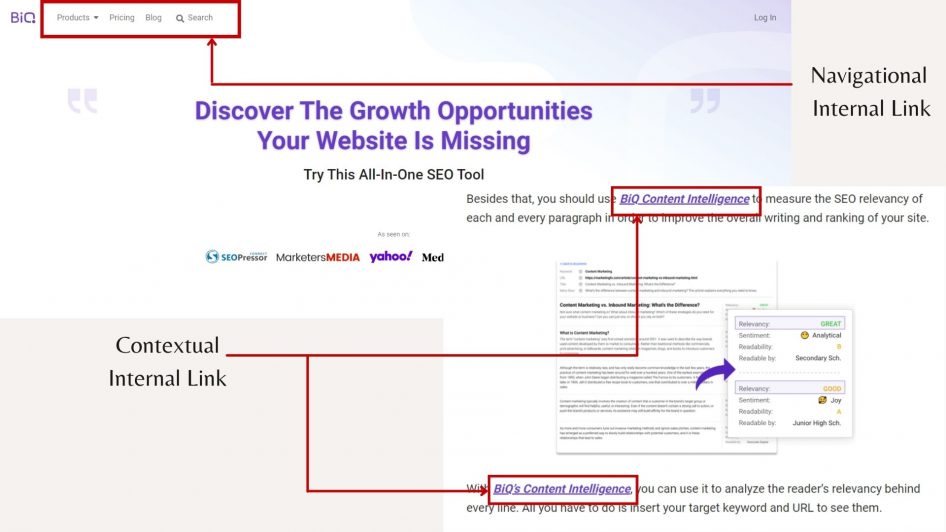 Navigational – are links included in your header, footer, and navigational bar to help users explore your website. Navigational links mostly consist of links to your homepage, menu, about us, subscription plans, etc and it serves the function of allowing your users to learn more about your company and brand.
Contextual – are links that point your users from one article to another on your website. Contextual links mostly consist of anchor links in the body of your content, related posts section, and any other relevantly linked URLs.
Why are Internal Links Important?
Every website has internal links but most people don't use them strategically. Often, many just link their post to the homepage but that can be nothing less than futility.
You need to utilize good internal linking strategies if you are looking to boost your website performance. Just take these results from Ninja Outreach as an example, the website saw a boost in organic traffic by 40% when they worked on their internal linking.
It is proven: internal linking can help to drive traffic and here's why.
When your content is properly linked to each other, Google will follow the links to discover new content on your website and rank the content in the search results.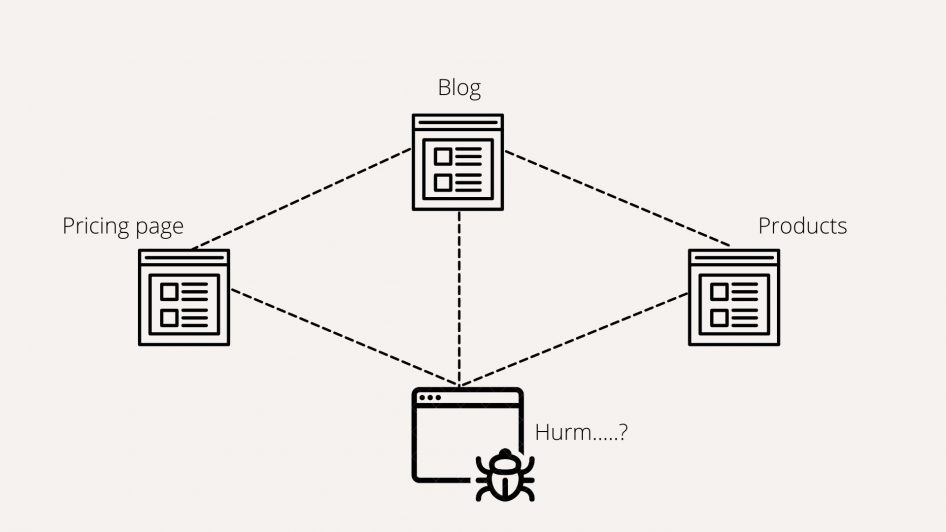 Google's crawler will arrive at Page A of your website, start to render the page, and follows the link to easily find and index pages B and E. On the other hand, pages C and D might be left out since Google couldn't get access to them.
Without establishing internal links, no matter how good your keyword targeting is, or how great your content is, it won't make any difference at all since crawlers can't reach and index those pages in the first place.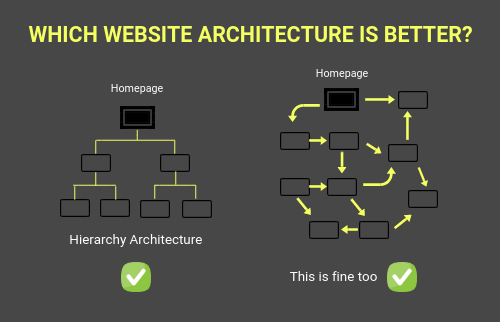 But beyond just discovering your content, internal linking your pages also help build the architecture of your website. Google sees all your content in an organized way that would tell the relationship between the various pages, the hierarchy of importance, which will further improve the SEO value of those internal pages and their ranking.
Essentially, this is why topical content silos work so well in rankings.
If a post gets lots of internal links, this is a positive signal to Google that this is an important or high-value article and this will be reflected in search engine rankings.
How to Use Internal Links to Build Organic Traffic?
Now that you understand how powerful internal page links are, here are several ways to include your internal hyperlinks with SEO benefits in mind.
1. Use Internal Linking to Boost Google Rankings
Google divides link value between all links on a web page. By including internal page links, it can pass more page authority and SEO value to the linked pages.
The trick here is to leverage your existing link value.
Usually, your homepage should have the greatest link value since it has the most backlinks. So you can, for example, feature your new blog post on your homepage and link back to it, your new post will likely benefit from the link value and be index much quicker.
However, make sure you are only doing this to the most important business or content pages to make it more authoritative, instead of simply interlinking everything.
Especially if you have a post that is currently ranking on Page 2 or 3 of Google search results, you can help it move up to Page 1 by passing on quality link juice to those pages.
How to find your Pages that are almost Ranking High?
We call these low-hanging fruits. Your content and pages that are ranking high on Page 2 and can gain massive benefits from a bit of authority and link juice.
To find these opportunities, you can simply use our BiQ Rank Intelligence. Insert your website URL then set the ranking range from #11 to #15.
You want to look for ranking key phrases and pages that are right there in the tipping point of Page 2. Add an internal link to them from your homepage or more authoritative, related post and you just might stand a chance to boost them to Page 1.
2. Use Internal Linking to Show Relevancy
Linking up all the relevant content into clusters is another useful way you can use internal linking to boost your SEO. You can add these links by anchoring them in your content body or add recommendations to related content at the end of your post.
This will show Google that these content are topically related, which in turn will help build your website's authority in the niche.
To make full use of this internal linking strategy, we recommend that you create a central page or cornerstone content for each topic and establish hierarchical importance by linking all other related pages to it.
By building a strong internal linking SEO framework, your page can help rank better individually as well as your overall site for keywords under the topic.
Additionally, when you add fresh content, remember to send a link back to related, older content to give those pages more power and tell Google that they are still relevant.
3. Prompt Readers to Take Action
Does your page have a high bounce rate? The most performing way to reduce bounce rate is to link to other articles on the same blog.
And among the forms of internal linking, adding an anchor link in the body of your content is the most effective way to get your readers to engage and click through to another post. For some blog posts, they would always have a last line that prompts visitors to act.
So for every blog post, look at the bottom of any of your marketing pages. What is the last line of text? Does it suggest the visitor to take action or lead them to another article? Or does the page just abruptly end?
More importantly, take care of the user experience. Do not force another content or product in just to add an anchor link into it. Make sure it is actually useful for your readers.
Google can pick up if a link is rarely clicked or quickly bounced and this might be a bad signal in the search engine's eyes when it comes to ranking. That's why the best solution for this is that every time you produce a link on your pages, make sure that it is both relevant and useful for your visitors.
Besides, the end goal of your content marketing is not only to attract visitors and views but also to nurture them into paying customers.
4. Use Internal Linking to Drive Revenue
Some pages attract a lot of organic traffic. Usually, this is because they are already ranking in the top positions or they get shared around a lot.
Other pages might inspire a lot of visitors to take action. This can be opting into your email list in exchange for a free ebook or making a purchase. These pages just do an excellent job of converting audiences into leads and leads into paying customers.
By linking your high organic traffic page to your lead-generating page, this can create a huge impact on your marketing.
Then again, this might not work for all your content. A rule of thumb is to always consider where your audiences are in their buyer's journey and to only bridge these two content if they are relevant.
Besides, the two page doesn't necessarily need to be interlinked directly. Your visitors can be gradually lead to the desired page but make sure they reach your landing page within three clicks or less.
Any more than three clicks will put your visitors into a long pathway and they might stray off before reaching the final destination.
5. Help Your Visitors Get to Know You as a Brand
Aside from using internal links to help users explore and navigate your website, the navigational links are also extremely helpful in building your brand,
For the best results, you can also consider anchor text your brand name in content as well as descriptions about your brand to help search engines understand what you represent. For example, our BiQ tool here is an amazing SEO suite.
However, make sure your anchor text is accurate and that there's mention about your company brand because this will help users understand where the link leads to and help with their decision if they want to click it.
Internal Linking Best Practices
When it comes to creating your internal links, here are 6 best practices you should follow.
1. Anchor Link the Right Keywords
Besides deciding which links should be on a page, it's also essential that you use the right key phrase as the anchor text.
The anchor text is the clickable text that your visitors would see, so you want to make sure it is as accurate as it is compelling.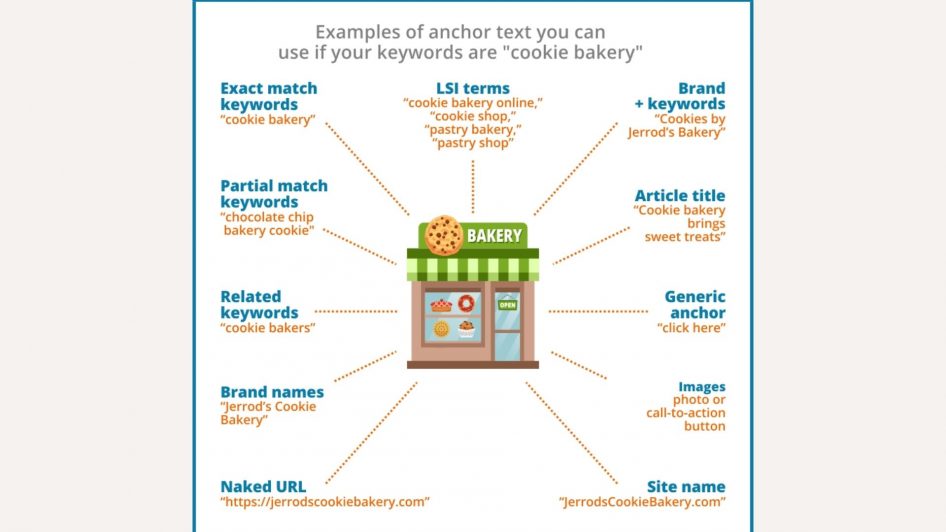 Avoid using meaningless anchor text like "click here" or "for more information". Instead, use your target keyword or related terms to describe the content.
Search engines like Google also take into account the anchor text to figure out what the pages are about and how each of your content is related to each other.
Still, avoid using the same keywords for all your anchor text to the same page.
Nowadays, Google understands that the anchor texts should say more about the relevancy of a keyword than the anchor text itself. So make sure that the anchor text fits in the content properly and sounds natural in your copy.
If you are having a hard time thinking of different anchor texts, BiQ Keyword intelligence makes it much easier to find variance with your target keywords by providing related keywords.
All you need to do is just type in your primary keywords, and it will show you related keywords and their keyword details.
If you are just starting on your content marketing or writing about a brand new topic, you can even use these keyword ideas to form the basis of your content silo and plan your contextual links ahead.
2. Consider Adding a Related Post Section
One easy way to automatically interlink your blog post is to add a related post section.
There are many plugins that can help you generate related posts sections to your blog post and if you ever use one, make sure that your related posts are indeed related.
You can consider setting them to display if they are related in terms of taxonomies.
Related posts section aside, you can also opt to add internal links by creating sections featuring the most popular or newest posts on your website.
Preferably you want to create these sections towards the end of your articles and blog posts to get your visitors to continue exploring your website more.
3. Link to Your Important Pages More
This counts for both internal and external links, but if a page is getting a lot of links, this can be a telling signal to Google that the page is important.
It should be the core content on your website, one that is comprehensive and provide the best content that answers user's search intent and represent your brand.
Because you want to let Google know that this is your most essential content, make sure you add many links to it.
For example, you may have a post that is "The Ultimate Guide to Keyword Research" and you want this post to rank for all related search queries about keyword research in Google search results.
If you have other relevant articles like "What are Long Tail Keywords" or "Explaining LSI Keywords", make sure to have these posts point back to your ultimate keyword research guide.
In doing so, Google will understand that the ultimate guide contains the most information about keyword research and will end up ranking the ultimate guide above the other.
4. Make Sure All Your Pages are Crawlable
It happens to the best of us, wherein as we focus all our efforts on creating the best content, we often forget to include internal links.
However, by now you should understand the severity caused by the lack of internal links on a page and how it can hinder search engines from searching and ranking your page.
So check your website now in Google Search Console and make sure you go out of your way to fix your orphan pages.
If you haven't, set up a sitemap of your website to include posts that have been newly published, while it may lack link juice at first but this will ensure that it has been crawled and indexed by Google.
5. Fix Broken Links with Internal Links
If you manage your company's website, you are bound to come across broken links at one point or maybe you have a regular routine proactively keeping your links intact.
This process is important because having a bad user experience can be costly, especially when visitors land on a page showing 404.
So instead of fixing broken links on your website to other external links that you cannot guarantee its status, try changing them to relevant internal links instead.
6. Expand Your Content and Make Sure You Don't Overdo it
Internal linking can be difficult for short content, so sometimes you just need to update and expand your article.
This can be a challenge, however expanding your content and adding internal links can be helpful to certain metrics like your visitor's time-on-page and bounce rate, which would bring your overall content SEO up.
Engagement by readers, like when they click on another page on your site, shows search engines that your site is valuable to visitors. These positive signals, like higher page views and lower bounce rates, can help your page ranking in the long run.
Still, the context of your content is important and you can always check with BiQ's Content Intelligence to make sure your content remains relevant to your target keyword.
The context of each link is also important and you should never overdo it. The total number of links on your page, inclusive of both internal, external and navigational links on your header and footer should never exceed 75.
Anything beyond this is too much and may dilute the authority that is passed through each link. In any case, getting your visitors to click the link should be your topmost priority.
Conclusion
Internal links might only seem like a small part of the overall SEO campaign, but they can be a powerful tool that affects your website domain and page rankings.
Make sure to follow the guidelines in this post and conduct your internal link optimization to bring more value to your visitors and further boost your rankings.
It's impossible to rank without linking your content. With a solid internal linking strategy, you can show both users and search engines which content is deserving of higher rankings and reap the benefits in both traffic and conversion.