Discover how to start a podcast from scratch. Everything you need to know to get started in podcasting is right here.
You will learn how to start a podcast for free from start to finish.
Ever listened to a podcast then thought, "I could do that?"
Perhaps you've heard of podcasters making up to six figures monthly from podcasting.
The good news: the barrier entry for starting your own podcast is low. You don't even need technical skills to get started. Almost anyone with enough passion and dedication can start a podcast. But it's not easy starting a successful podcast.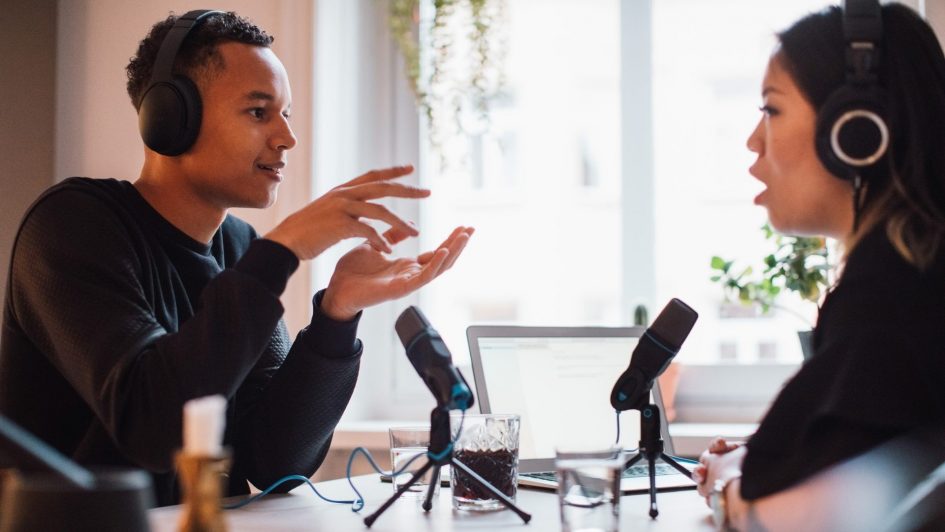 Currently, you probably don't know what you need to get started. That's exactly what we aim to achieve in this guide. This guide will give you the blueprint to launch a winning podcast.
How Podcasting Works
How do podcasts work? It's a common question you find circulating the internet space.
Podcasting basically combines the freedom of creating blogs with digital audio technology. When done properly, it can create an almost endless content supply. Some say that podcasting is democratizing the once corporately-run radio world.
Essentially, podcasting is a free online service that allows users to pull audio files from the podcasting website to listen to them on their personal computers or digital audio players.
However, unlike internet audio, you don't have to tune in to a specific broadcast. Instead, you can download the podcast on-demand, which automatically downloads the podcast to your computer.
Why You Should Start a Podcast Today
If you have a brand you plan on building; you must look at different strategies to communicate to your audience. Fortunately, technology now makes it possible to add new communication methods with potential clients.
Podcasts are the new outlet that provides businesses with an excellent strategy to connect with their audiences. Podcasting is quite similar to SEO. You just need to find the right message to share with your target audience, and you'll be good to go.
When implemented well, you can turn even the most mundane topics into great learning experiences that people will want to know more about.
A few reasons why you should consider starting a podcast today:
Create a personalized experience
Captures your audience's attention
Open up new financial possibilities.
Help you build and maintain networking connections.
Allow you to establish yourself as a leader in your niche.
You may also have your own reasons to start a podcast. Whatever it is, we will help you learn how to make a podcast in a few simple steps.
How to Start a Podcast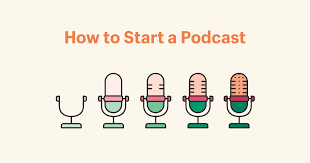 In this section, there are several key stages we will break down into more steps for your understanding.
Planning your podcast
Planning your podcast episodes
Choose your podcast format
Decide on your branding
Choose your equipment
Record your podcast
Edit your podcast
Publish your podcast
Promote your podcast
1. Planning Your Podcast
What's the podcast for? Firstly, why do you need to start a podcast? By this stage, you should have already identified podcasting as a strategy to build authority and provide your audiences with valuable, entertaining content.
This might mean creating a show about something you are passionate about during your free time.
In either case, you must first identify why you are "here." It's an important step to keep in mind so you can stay motivated, no matter how difficult it might be to get a show out.
Next, who're you making the podcast for?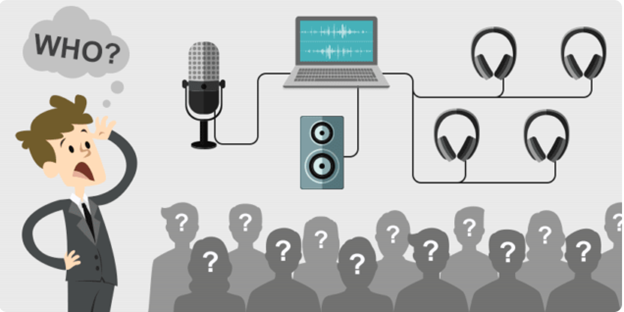 Unless you know who you're making the show for and why you are doing it, you'll have a relatively hard time growing your audience.
It's always a great idea to sketch out exactly who you would want to listen to your content. Anyone who wants to know how to start podcasting must know their purpose for creating the podcast and the audience they want to listen to their content.
Create a persona for your ideal listener. Who do you envision listening to your podcast? If you try to appeal to everyone, you will likely appeal to no one. So it is best to be as specific as possible.
If you have a website, you may use BiQ's Rank Intelligence to discover what your audience love to hear more from you.
First, enter your website URL into Rank Intelligence. Then, select the country where the audience is based.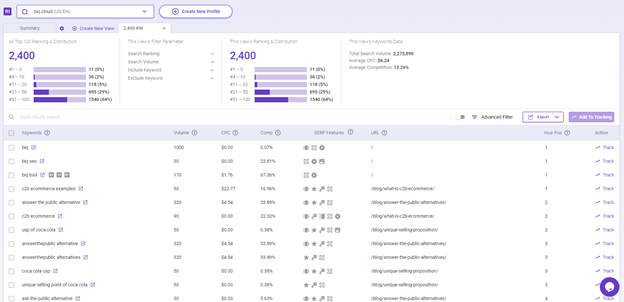 You will get to see all the keywords your website is ranking for together with the important insights such as search volume, cost-per-click, and competition, and so on.

These insights let you know the search terms that searchers are searching for to reach your website.

Better still, you can also use the tool to check what interesting topic from your competitors' website. Replicate the step above to see their performing content.

You can also use the Advanced Filter to see keywords with high search volume and ranking on the first page. Then, click on their ranking content to learn more about the topic.
2. Planning Your Podcast Episodes
Anyone who wants to start a podcast must start thinking about the episodes themselves.
Some of the issues to worry about:
You may start with picking a niche topic that people care about and isn't talked about.

Depending on your capabilities, you're likely going to want to follow an outline of some kind. Most podcasters seem to work from a detailed bullet point link. Some pre-write and then read. But that may sound unnatural or not conversational. So make sure to find which approach works best for you.

If you lack podcast ideas, you may use BiQ's Keyword Intelligence to find trending topics. This is the perfect tool to help you find what to talk about in your podcast.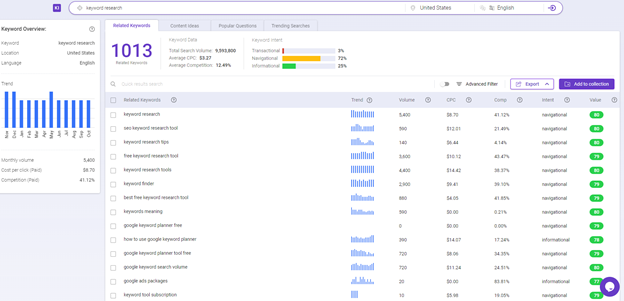 Trending searches show the latest keywords or topics around your selected keyword. It helps you discover what trending searches people are searching for online.
Check out the Popular Questions feature in BiQ's Keyword Intelligence. You will see a list of questions with answers.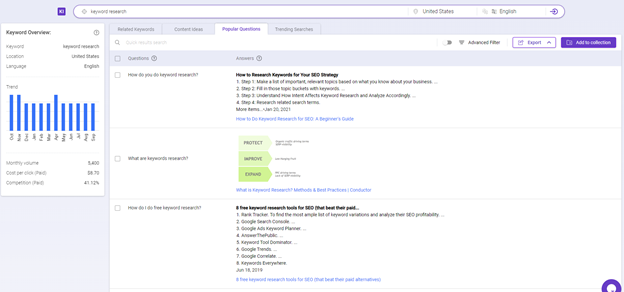 The feature shows questions that searchers frequently ask in the search engine.

What you need to do next is to compile a list of questions that are related to your topic and include them in your podcast outlines.

How Long Should Your Podcast Episode Be?
Your podcast length depends on your content. As such, you cannot cut down great content simply because it's too long or pads your succinct work.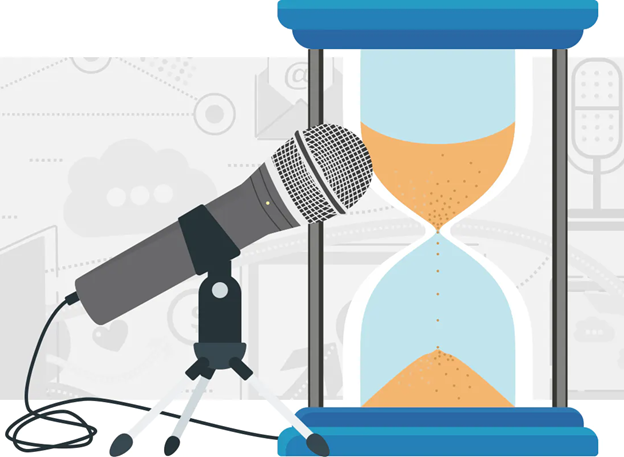 Most successful podcasters would probably tell you to try and make your content short and precise, probably something under 15 minutes.
Ultimately, the length of your episode depends solely on your content and your audience.
Therefore, if you have content that's well over 50 minutes of valuable and relevant content, there's no reason to chop it down to 20 minutes. The same is also true for a 10 minutes podcast episode. There's no reason to pad it out to 30 minutes.
However, in more extreme cases, like when you have extremely fantastic content, it runs for 2 hours. In such instances, you can chop it in half to make two episodes.
With time, your listeners will know your average episode length.
How Often to Release New Episodes
The best schedule is often the most frequent one. However, you must use a release schedule that you can stick to. Therefore, if you can only manage to create and publish one podcast a month, that's fine. Managing an episode every two weeks is even better. Doing weekly podcasts is even more perfect.
You will still have a big impact when publishing your podcast fortnightly or even monthly. Tapping into a routine can be powerful.
Similarly, sticking to a deadline or schedule for the sake of it is also pointless. You will make a much bigger impact when publishing an excellent episode monthly instead of several average weekly posts.
3. Choose Your Podcast Format
Next, you'll want to decide on the best format for your podcast. This is a really personal step and depends more on who's involved when starting your podcast.
While it's great to have an average podcast format, it's even better to have one that your listeners really want to listen to. You might be comfortable with one format or prefer using a mixed approach. It's entirely up to you to decide which format you use.
Here are some common podcast formats you should know:
Commonly referred to as a monologue. You don't need anyone to record an episode or host a solo show. The podcast is yours. So, all calls, sponsorships, or monetization proposals are all on you.
You can present this show alongside a colleague or friend. It's an excellent option to fight mic fright quickly. You also have someone to bounce off, mock or even debate during the episode.
It involves borrowing the entertainment value or expertise of others for your show.

The best thing about interview podcasting is that you get to talk to some of your heroes or people you adore.
There are several other formats you can use that aren't too common for podcasts. However, you never really know what suits you until you try. These include:
Roundtable
Documentary
Docu-Drama
The secret lies in finding the best podcast format that you can easily work with and enjoy creating content your audience will love.
4. Decide on Your Branding
You won't find any "how to start a podcast" guide that doesn't cover this point.

You'll need a simple, strong, but descriptive brand to start a podcast your audience can easily find.
Fortunately, there are three main camps you should consider when naming your podcast show.
A clever name – A name that people can easily find whenever they're searching for your podcast online. A clever, catchy name with a great description of its title will definitely get your podcast in front of the right audience.
A descriptive name – the searchable choice is to call your show something you know your audience will search for. It's an excellent idea. However, it might reduce how memorable your podcast is.
Using your own name – usually, this is a no-no. Not unless you've already got an audience who tune in to your show. Otherwise, people would just think, "who's this person?" And not click on your podcast.
Of course, you'll also want to create a captivating logo that your audience can easily remember.
5. Choose Your Equipment
The sound quality of your podcast is perhaps the most critical factor to consider in the entire process. When people hear too much background noise, they might lose interest in your podcast and navigate away to another website.
Ensure you make it easy for your audience to listen to your content. While you can technically record a podcast using your computer's built-in microphone, you will get much better sound quality when using a high-quality microphone. A headphone set will also be handy.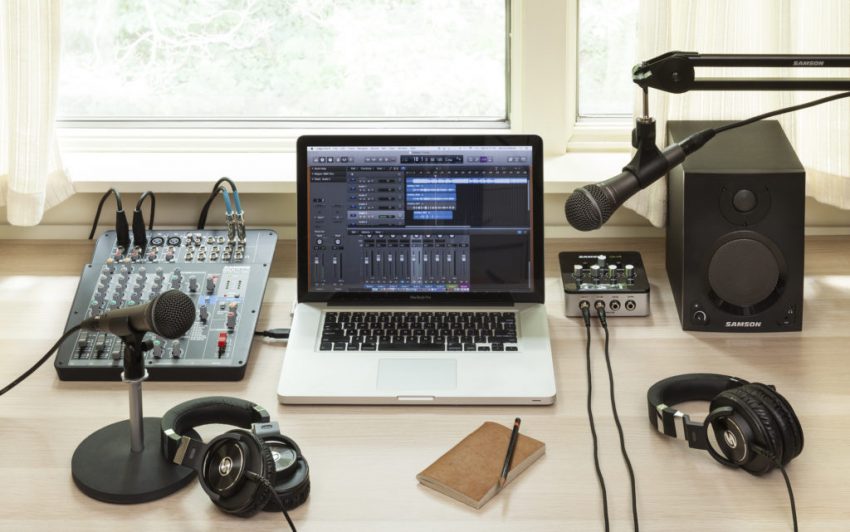 You may need additional podcast equipment, including the pop filter, boom stand/microphone stand, digital recorders, etc.
Picking the best podcasting setup may be confusing, with so many options to choose from. It can be even more stressful if you don't have the background or expertise in audio recording.
But generally, the bare minimum you'll need to record a podcast is a good computer and USB microphone. Access to the internet is also essential. However, you must keep note that the more limited or lower cost your podcast equipment and setup is, the more limited your sound quality will be.
6. Record Your Podcast
Congratulations on reaching this point. Now, you can finally start a podcast and share content with your audience.
You will need specialized software to start recording. Audacity is one of the best options and is used by many podcasters to record their content. It comes packed with several great features. Think of it as a full-fledged recording studio. It also comes with a free version that lets you record live audio. Cut and splice, edit files, and output the finished podcast into a digital file.
Adobe Audition is another great digital audition workstation you can use. It can speed up, stretch out, correct pitch problems, and align recorded tracks in multiple environments.
These are just a few of the commonly used recording tools used by podcasters. Generally, hundreds of great audio recording tools you can use depend on your needs and preferences.
7. Edit Your Podcast
Here's where the fun begins. Editing your podcast allows you to stabilize the volume, add your intro and outro, and remove mistakes you might have made and gaps of dead air within your recording.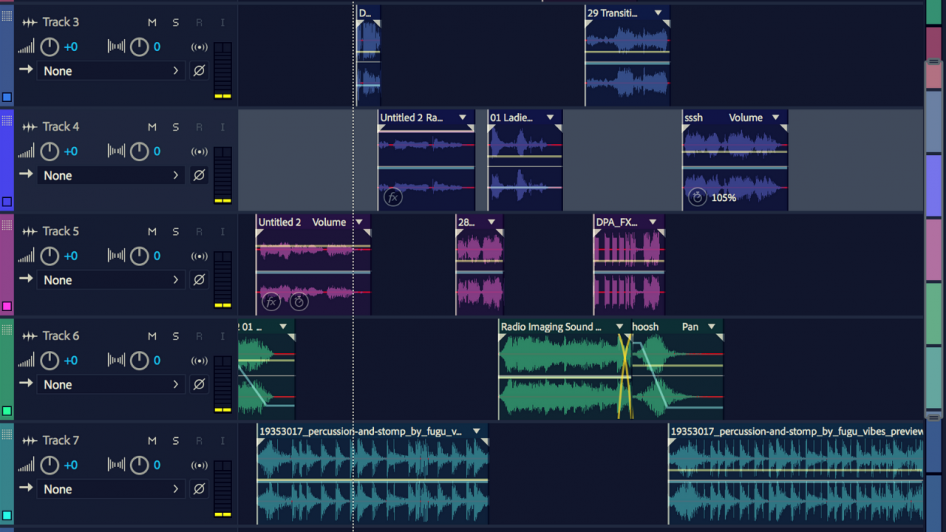 Safe to say. This is a crucial part of your podcasting strategy. Again, Audacity and Adobe Audition should do the trick. These audio recording tools will help polish your podcast and prepare it for the final step.
We recommend hiring a professional to do the editing for you if you're not proficient in using these tools yourself. It's even better to stick to one editor once you've found the one you can rely on for your editing style and preferences.
8. Publish Your Podcast
By this point, you've managed to cover all your bases successfully and have a complete podcast or episode/s in hand.
The elements of launching podcasts are quite similar to those of launching films or newly published books. You'll need to decide on an official date and time leading up to the launch to generate buzz.
Here are some strategies you can try when planning your launching day:
Create a teaser episode
Tactically submit your show on several podcasting platforms
Release at least three episodes on launch day
Network with other podcasters
Self-promote
Be active in online communities like Quora
These strategies will help generate favorable buzz around your podcast to grab enough attention.
9. Promote Your Podcast
By this stage, you've successfully learned all the processes mentioned above and gotten your podcast online. But this is perhaps the next challenging part. Anyone who wants to know how to create a podcast must be great at promoting it or have a good team for the job.
Remember, even just one download means there's one real person who is listening to your podcast.
You probably don't have a community waiting to download your content at the first launch. Tell them about your podcast. You want it to get enough traction, so even more people know about it.
Fortunately, there are several platforms you can use to promote your podcast online. These include Apple Podcasts, Google Podcasts, Spotify, etc.
Conclusion
Now, when anyone asks you, "how to start a podcast?" You should have a clear and concise answer for them. This is what it takes to start a podcast. And like with all other things to do with marketing, there are always new words to learn and technologies to test. But the benefits of this medium are endless.
Keep on testing what works best for you in your future podcasting endeavors. Eventually, you will break through the market and start making some good money from something you really enjoy doing.