Read about 9 marketing trends that will make your business successful
We're bombarded with ads everywhere.
"Digital marketing experts estimate that most Americans are exposed to around 4,000 to 10,000 ads each day." – Forbes
We choose to ignore most of them and only click on what stands out and catches our attention. But as a business owner you must start using new trends to make your business different.
You need to pay attention to the latest trends to help you stand out and prepare for a successful 2022. 
Here are 6 marketing trends for 2022. Read on and start implementing them today to get a head-start over your competitors.
Insights-Driven Marketing
You've probably heard about data-driven marketing, right?
Most people use these 2 interchangeably, however, you should know the difference.
Data-driven marketing is using single data points to match your content to your audience such as tailoring promotional email based on the location of the customers.
Insights-driven marketing is using more data together to match your content to your audience. It'll help you create a complete customer persona and have super-personalized content.
There's nothing wrong with data-driven marketing. However, insight-driven is better, the next step – the future.
"Intensive users of customer analytics are 23X more likely to outperform their competitors in customer acquisition, and 9X more likely to surpass them in customer loyalty." – Smart Insights
Let's look at how you can start using insights-driven marketing.
Having The Right Data
Insight-driven marketing is based on your customers' data.
They must be relevant, up-to-date and you must actually put them into work. It sounds straightforward, yet a lot of companies are messing this up and doing it wrong…
There's no single model of the data you should use. In fact, they vary from business to business and industry to industry.
However, the data listed below should be monitored no matter the industry and business.
Basic information (gender, age, location)
Purchase history
Interests
Past engagement with the company (emails, calls, etc.)
The second part of this is having real-time, up-to-date data.
Staying Up-To-Date
That's what most companies overlook.
When your data hasn't been updated for a few months, it means they aren't up-to-date.
However, unlike data-driven marketing, insight-driven marketing needs to analyse a bigger number of data at the same time. That's the main reason why they can go out of data much quicker, likely within a few days.
This can create some problems along the way if your data is not updated therefore inaccurate…
You could end up targeting the wrong audience, which can potentially lead to losing your existing customers.
You must prioritize making your data up-to-date and relevant.
The easiest way to do that is by sending re-engagement emails and cleaning up your database frequently.
Delivering Just In The Right Time
Insights-driven marketing will help you get into your customers' mind. It'll help you send personalized content to the right audience creating a memorable client experience – which is absolutely important in customer retention.
However, showing the right message is only a part of the problem.
You must also show it at the right time, otherwise, you'll end up like most businesses – dismissed.
"The average person sees 1,300+ headlines each day and dismisses 99.7% of them." – Orbit Media
A part of the reason is that those messages aren't personalized, however, the bigger issue is that they were shown at the wrong time.
You can't sell anything to someone who's at the beginning of the customer lifecycle – when they are simply looking for more information and not ready to purchase yet.
Knowing where your customers are in the life cycle is crucial for creating a successful and effective marketing strategy.
An insight-driven approach will allow you to do just that.
Through such an approach, you will get to understand the customers' behavior and classify them according to the stages of the life cycle.
You can then show them the right message at the right time.
This will maximize your chances of purchase.
Voice-Search Ready
Voice-search started with smartphones.
"I just say what I want and get the answer immediately."
It's that easy, you don't need to do anything other than saying "Hey Google".
The rise continued with smart speakers, which we currently can't get enough of.
"The smart speaker business is booming, with around a quarter of US households now owning a Google Home, Amazon Echo, or another smart speaker." – Marketing Insider
"Predictions were that 50% of searches will be driven by voice in 2020 (we're currently sitting at about 20% according to Google), but this statistic is probably not that far in the future." – Marketing Insider
You must adapt to voice search.
We'll look at the strategy you can start using to make your content voice-search ready.
Write As You Talk
You must match your keywords according to voice search.
You can easily understand it in the following example, which will help you see the difference between desktop search and voice search.
When you're typing out a search query, it's "vegetable soup recipes", or "make vegetable soup."
However, when you're saying it out loud, it goes…
"Hey Google, how to make vegetable soup for lunch?"
There are 2 main differences between a text query and a voice query.
Including questions
Adjust your content to be more conversational.
Use lots of questions throughout your content and in the headings. This will make it easier for Google to find the answer to the question the searcher asks.
When writing conversationally, it also gives you an extra push to get ranked in the featured snippet. The trick is that you need to be very concise.
When you do a voice search, the answer is usually taken from a featured snippet.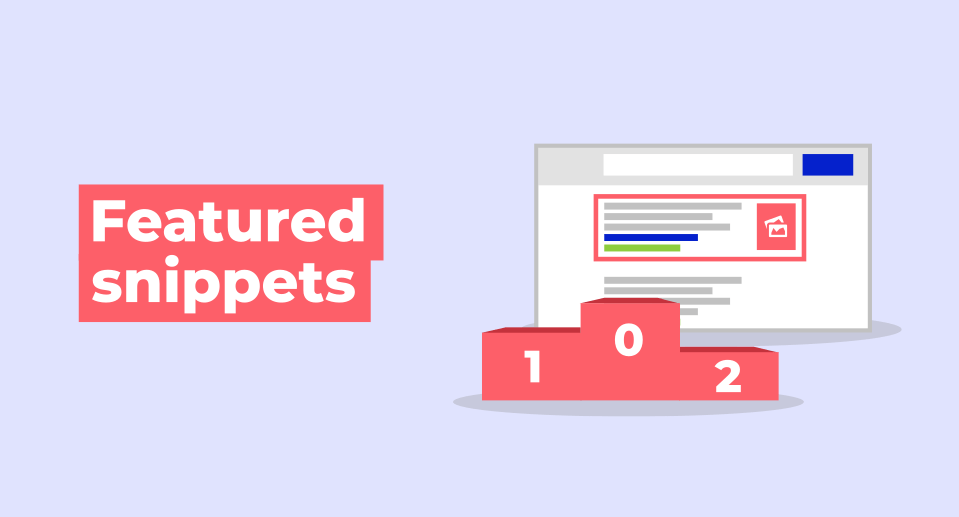 As you can see there's not much space in it, so make sure your writing is straightforward and concise.
The length of the keyword
When you're saying something out loud, you usually finish the whole sentence. What I'm trying to point out is – you should aim for longer keyword phrases for voice search.
Shift your focus to long-tail keywords that sound more natural when spoken out loud.
You can easily research them through BiQ Cloud Keyword intelligence.
Type in the main keyword and hit enter.
You'll get a list of results, however, you must optimize them for voice search too. It's simple, just click Advanced filter to filter the results.

Drag the long-tail slider to the right and add in words that these keywords should include.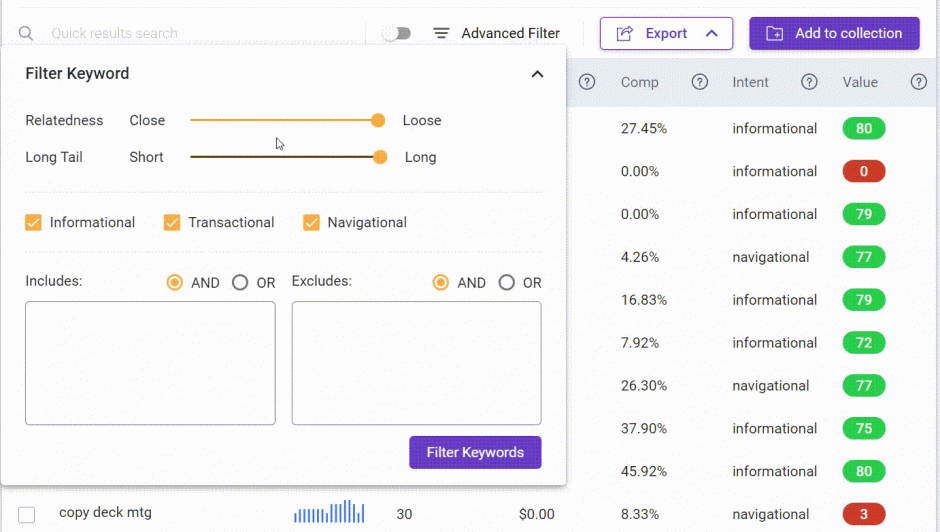 These should be the ones you usually use when you talk, such as I, of the, for, to, etc.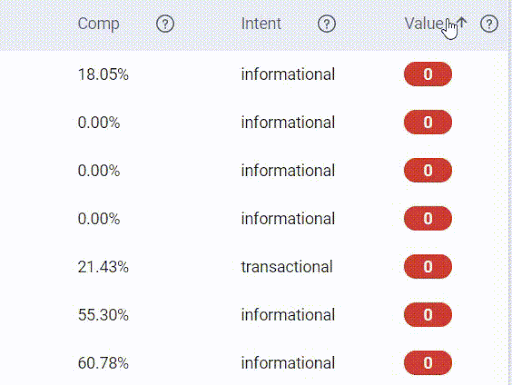 Voila, now you have a list of keywords you should use in your content to optimize it for the voice search.
Influencer Marketing
Influencer marketing is a strategy for promoting your products through influencers. Influencers don't have to be popular celebrities, they're usually just well-known social media users that have a big following of a few thousands to more.
You can see an example of influencer marketing below, it's Acne Studios teaming up with sneakerhead YouTuber Brad Hall.
When you like someone, you are more likely to trust them. That's the main reason behind influencer marketing.
"63% of consumers trust influencers' opinions of products much more than what brands say about themselves." – Open Influence
Influencer marketing is constantly growing, so be prepared for it.
It'll help you drive more purchases and make your business stand out.
"58% of people have bought a new product in the past six months because of an influencer's recommendation." – Open Influence
How to Find Influencers
You can easily reach out to influencers through emails, influencers open to such opportunities usually have their work contact email listed on their social media profile.
However, there's a much better option that will help you find the right candidates that are keen to work with businesses.
One of such options is the online influencer marketing platform Octoly.
There's a 4-step easy process for connecting with influencers.
You create an account, find an influencer and start growing.
There are many case studies on the website of how influencers have helped brands.
"Suncoo saw a 60% increase in traffic over 5 months." – Octoly
They can do the same for you.
Don't wait for your competitors to take you on this one. Start making your business more successful today.
Personalized Marketing
You've learnt that personalization is important.
However, how can you make your content personalized yet avoiding the cheesy "hey [customer name]…"?
You do that by tapping directly into what your customers want and need.
Personalization will provide your customers with relevant content that they like so they can get more of what they desire – meaning more conversions and sales for your business.
That's the best way to help you get more customers.
"80% say they are more likely to do business with a company if it offers personalized experiences." – Epsilon
How To Personalize Your Content
The most important thing is to know your customers' desires.
Consider the following 2 examples, which one would persuade you more if you hated your 9-to-5 job?
"Learn how to turn your nightmare 9-to-5 into a pleasurable dream job."
Or
"How to make your job better"
Which one do you find more appealing?
If we're on the same page, then it's obviously the first one. It gets to you on an emotional level, spells out your heart's desires and makes you interested.
To reach that level of personalization you have to pay close attention to your audience.
Listen to their feedback, answer their questions and provide them with a seamless experience.
Getting Featured In The Featured Snippet
Featured snippet ranks above all search results – which is why it's also called the zero position.
They're more attention grabbing and can help you get more traffic.
"23% of all search result pages include a featured snippet. They are up over 165% since 2016." – Moz
Featured snippet's placement in the SERP is constantly growing and if you're looking for competitive advantage, you must find ways to rank there.
How to Rank In The Featured Snippet
The easiest way to rank there is by answering your customers' questions.
We've talked about it a little in the voice-search ready section. However, if you're looking specifically for questions, there's a better way to find them.
Go to BiQ Cloud Keyword Intelligence and type in the main keyword.
Click on the Popular Questions tab and find the most common questions people ask.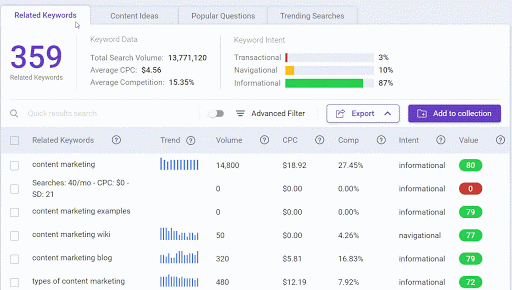 Include them in your content and answer them promptly.
It's that easy!
This is all you need to do to increase your chances of ranking in the featured snippet.
Local Marketing
Q: "What do you do when you're looking for a restaurant nearby?"
"Hey Google, what are some restaurants near me?"
You'll immediately get the top-rated restaurants close to you. That question can be fitted for any business. Perhaps a grocer, gas station, or even a law firm.
We carry our smartphones with us everywhere now it's the norm.
"Near me" or "close by" type searches grew by more than 900% over two years." – Chat Meter
Such searches will only grow even further in the future. This introduces a big opportunity for conversions if you're a local business.
"80% of local searches convert into sales." – WebFX
Number #1 Local Marketing Strategy
The most important thing is to put yourself out there to the local listings and rank high.
There are 2 steps you need to do.
Get to the listings
No matter how great your local marketing strategy is, if people can't find you online when they need you, you won't get far.
The way to fix it is by putting your business on these local listings.
Google My Business
Yelp
Instagram
Facebook
There are many other listings, however, you should prioritize quality over quantity. So choose a few that is the most likely to have the audience that fits your potential client profile.
The most crucial thing is to have the same, consistent, and updated information on every listing you own.
"80% of consumers lose trust in local businesses if they find incorrect or inconsistent contact details when they look up the company online." – Bright Local
Get more reviews
Reviews help to build credibility and push sales.
"63% of consumers will visit reviews before they visit the business." – Review Trackers
They can make or break your business and influence your local rankings.
"94% of consumers said a review convinced them to avoid a business." – Review Trackers
The easiest way to get reviews is by asking your customers to do so. Reach out to your customers after they made the purchase.
If they are satisfied, they won't have any problems with providing a review for your business.
Local SEO is the future and you should start implementing it today.
"By 2022, mobile devices will influence more than $1.4 trillion in local sales." – Forrester 
Conversational Marketing
People love chatting because it's fast, reliable and more personal.
"90% of consumers want to use messaging as the main channel for communication." – Skipio
We don't want to talk to strangers on the phone or fill in online forms. We don't have time for that.
The stats below shouldn't surprise you.
"Only 43% of people answer cold calls. The average email open rate has fallen to 20% and the average landing page conversion rate is only 2.35%." – Drift
Your customers want to feel like they're talking to a real person as opposed to a business and they want it now.
"When consumers have a question, 82% want an "immediate" response." – Single Grain
Start Using Chatbots
The easiest way to provide 24/7 support is through chatbots.
They're reliable, cheap and effective.
"Around 67% of customers use chatbots." – Small Biz Genius
Even though they are great, there's nothing better than human interaction.
"46% of users would prefer to communicate with a live person instead of a chatbot." – Small Biz Genius
If you can afford real 24/7 live customer support, it would be a much better option.
Presence In Social Media
If you aren't on social media, you're missing out.
"3.6 billion people worldwide use social networking platforms, with Americans spending about 2 hours per day on social media." – WS
It's the best marketing channel to communicate with your customers and attract new ones.
It's great for driving sales too.
"About 37% of U.S. internet users between the ages of 18 and 34 have made a purchase using social media." – WS
The trend is likely to rise in the future.
You must build an online presence on social media. It'll help you build a better rapport with your customers, chat and communicate easily and increase conversions.
"73% of marketers believe that social media marketing has been "somewhat effective" or "very effective" for their business." – Oberlo
Prepare For Global Audience
Over a billion new middle-class consumers from Asia will be added to the global pool of consumers.
If you're looking to scale globally, you must be prepared for it.
Different countries have different cultures, languages, traditions, etc. If you're looking to attract this audience, you must adapt.
The easiest way to do that is by having a local marketing team in these countries that will help you understand their culture better.
This will set you for success and make you stand out from competitors.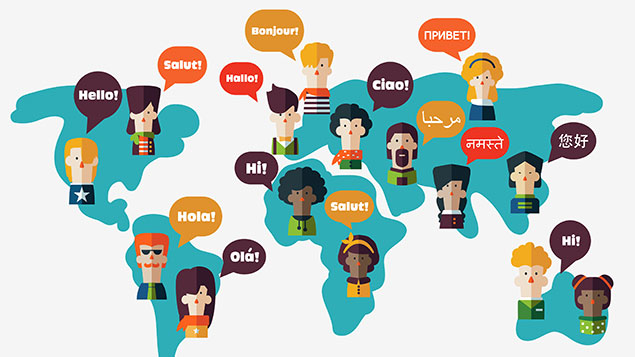 The Conclusion
There's no one-fit solution for all.
For example, you can't adapt to local SEO, if you are only an online retailer. However, there's something for everyone.
Analyse your customers, scan your industry and think about which tactics might work for you.
Pick the strategies that you like and start implementing them today.
It'll set you for a successful 2022 and help you gain a competitive edge.