301 redirect is the permanent relocation of a web page from one URL to another. 301 redirects are related to PageRank, which is one of the many ranking factors in Google. 301 redirects work in 2 ways
As a marketer, you might probably already know this!
Content creation is massive!
It doesn't always work all of the time for everyone.
But we think one of the best things about creating content is being able to turn failures into big wins.
You can actually turn a loss into something that benefits you and your brand.
This is what a 301 redirect does.
When used properly, you can actually leverage 301 redirects to boost your website traffic.
Sure, it may sound wild now.
But that will be debatable after you've read this post.
What Is A 301 Redirect?
301 redirects are the permanent relocation of a web page from one URL to another.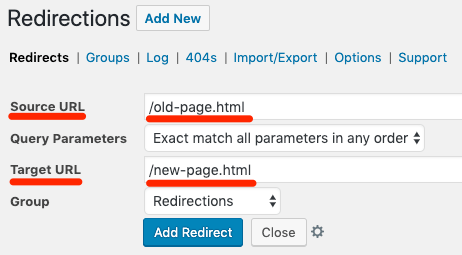 How do 301 redirects work?
Let's use an example in this case.
Say you had a website that's been up for several years and attracted tons of organic traffic.
But then, you started another website but didn't want to lose all the traffic and domain authority you've worked so hard to get.
Here's where a 301 redirect comes in handy.
You can use a 301 redirect to tell the browser that your page has moved permanently to your new website.
The browser will see this as the new location for your content.
If applied properly, the browser will send your visitors to the new website whenever they search the old one.
I'm sure you're wondering if this has happened to you before.
Probably almost all the time you click on the browser to search for some stuff.
However, the best part about 301 redirects is that their transitions are so seamless you'd hardly realize what's just happened.
Not unless you're keen on it.
For example, you search: "www.blog.website.com"
But the client rebranded the website to "website.com/blog"
If the client applied the 301 redirects properly, then when you search for blog.website.com, your browser should redirect you to the website.com/blog website.
That's why if you visit blog.website.com, it won't happen.
You will end up with website.com/blog.
Do 301 Redirects Help With SEO?
It does!
Otherwise, why would you go through all the trouble to relocate all your old website content to your new one?
Most SEO experts focus on the relationship 301 redirects have with PageRank.
Of course, PageRank isn't the only ranking factor used by Google and other major search engines.
But most SEO professionals generally believe that higher PageRank equates to higher website rankings in the SERPs.
Google even confirmed this, stating that PageRank was still a ranking factor.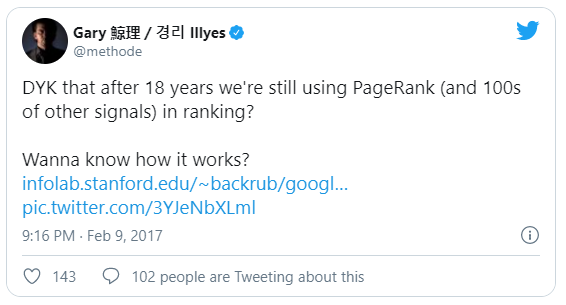 However before 2016, content managers who used 301 redirects to relocate their URLs would suffer some PageRank loss.
The general assumption was that your website would take a 15% PageRank loss.
However, Google changed its stance on this in 2016.
So, if you redirect your domain from website A to website B today, your redirected webpage should have just as much "juice" as your original webpage.
That's a big deal considering just how many companies and websites are online today and rebranding their sites even now.
It's part of the reason why a 301 redirect can be useful for boosting your website's organic traffic.
301 redirects allow search engines to have an up-to-date index. That's all you'll want to know if it helps you keep your organic traffic flow and maintain PageRank.
301 Redirects vs. 302 Redirects
Most brands have invariably substituted 301 redirects for 302 redirects, which can cause several issues for your website. 302 redirect is another URL relocation strategy (but we'll get to that in a bit).
The user's search experience will remain the same as both redirects land the user on their requested page. But they aren't similar as most webmasters think.
When To Use 301 And 302 Redirects
Search engines handle both URL redirects differently, which is why you must be careful about which redirect you intend to use.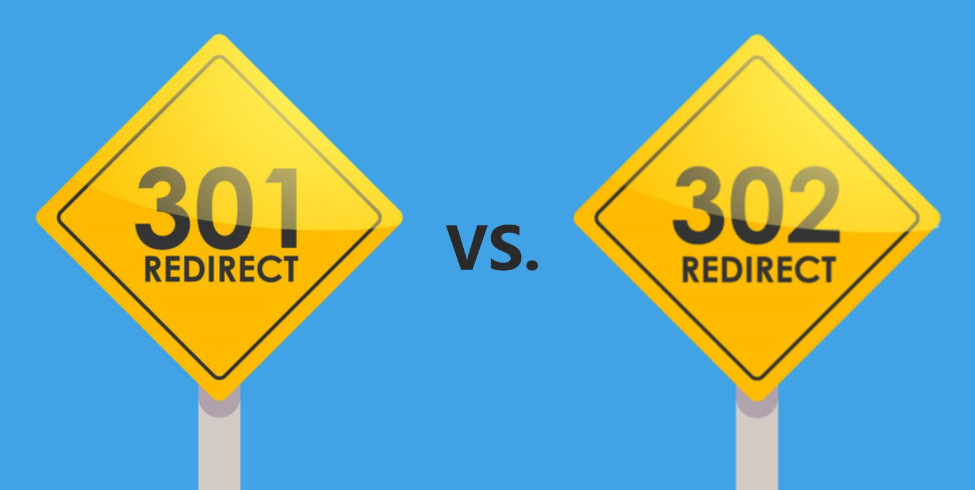 302 redirects mean you intend to move your website URL to another URL temporarily. On the other hand, 301 redirects are a permanent solution.
Using the wrong redirect may cause traffic loss to a specific web page or several pages within your website.
Therefore, it's crucial that you know the difference between the two redirects and follow best practices when optimizing either for SEO performance.
301 Redirects
Below are some specific cases where you'll prefer using the 301 redirect on your website.
Changing Your URL
Perhaps your first/original website was poorly optimized, or maybe you're simply re-organizing your website's folder structure.
Such reasons may prompt you to start a new website URL. However, you'll want to move your old content to your new URL as well.
Fortunately, moving a piece of content in most webmasters isn't difficult. In most instances, you'll just need to change the URL on your content's edit page, and the webmaster will automatically redirect users to your new URL.
Republishing Your Content
In other instances, you may be looking for a complete rebuild of your old content on your new website. Maybe you want to try out a new webpage template, or the old one wasn't optimized enough.
In any case, you'll need to implement a simple 301 redirect from the old website URL to the new one. Once it's in place, ensure you un-publish and archive your old page.
Otherwise, the SERPs might flag your content as duplicate, creating a host of other problems that will damage your rankings.
Moving Your Domain
If you are relocating your website to another domain, it's advisable that you use page-to-page redirects from the old content to the new one.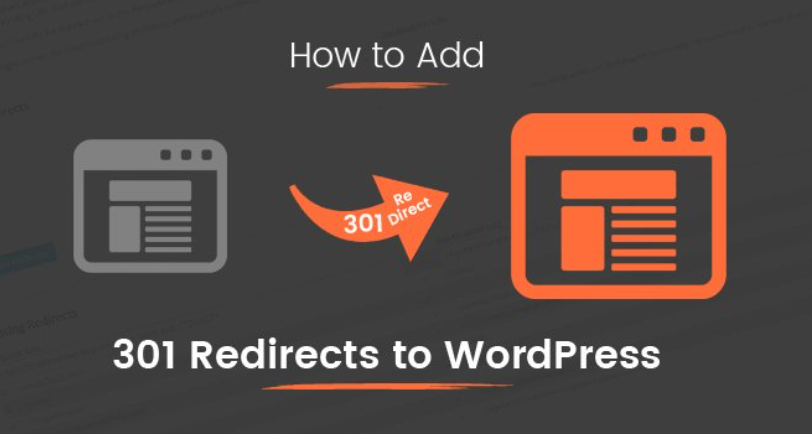 If the site is moving a domain but maintaining its structure and layout, this will be relatively easy.
However, if the content is being restructured, you must be careful to make sensible redirections that honor your visitors' original intent. It's the only way your new content will pass the visibility of your old pages.
You must also remember to sever each page-to-page 301 redirect from the original website URL. Or else, your visitors will be redirected to content that's irrelevant to their search intent.
302 Redirects
302 redirects are temporary redirects that direct search engines and users to the desired web pages for a limited time until it is removed. Note the word "temporary".
They can be done using JavaScript or meta tags instead of accessing server files spending time and energy needed for 301 redirects.
Fortunately, some webmasters also use 302 redirects, which some brands prefer to the Google aging delay linked with 301 redirects.
A few instances that may prompt you to use 302 redirects include:
Updating a webpage while providing visitors with a consistent user experience
A/B testing of a website for design or functionality
Fixing a broken webpage while maintaining a good user experience
Getting client feedback on a new webpage without impacting ranking
302 redirects are temporary redirects, which is the major difference between it and the 301 redirects. Therefore, you cannot use them as a permanent solution for your website content.
How Do 301 Redirects Work?
Up to this point, you should have a good idea of what 301 redirects are and how to use them. Now, here are two methods that explain how 301 redirects work and how to capitalize on them!
1. Cocktail Technique
This technique stands out as the best 301 redirect method since it consolidates two not-so-good-performing posts and turns them into one better-performing post.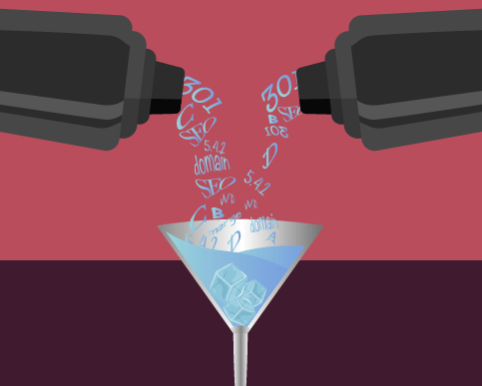 However, you must be careful using this technique. The articles you're looking to mix must be suitable. By that, we mean it should fulfill a couple of requirements to produce the results you're looking for.
Cocktail is effective for two reasons:
Consolidating authority: by redirecting one post to the other, you're basically transferring authority from the merger. Of course, this won't work if the posts aren't related, as Google will treat your redirect as a 404. But your redirect will work seamlessly if the two pages you're merging are similar.
Better content: merging two articles of decent quality into one will help create a substantially better content piece that will deserve more traffic.
Here's how you can replicate the cocktail technique.
i) Look For Pages With Keyword Cannibalization
Keyword cannibalization is the process whereby two or more webpages target and rank for similar keywords. Such issues provide excellent opportunities to merge your content.
BiQ Rank Intelligence is the best tool to help you discover keyword cannibalization issues and fix them. With this tool, you'll know where your keywords rank and use it to determine your keywords' effectiveness.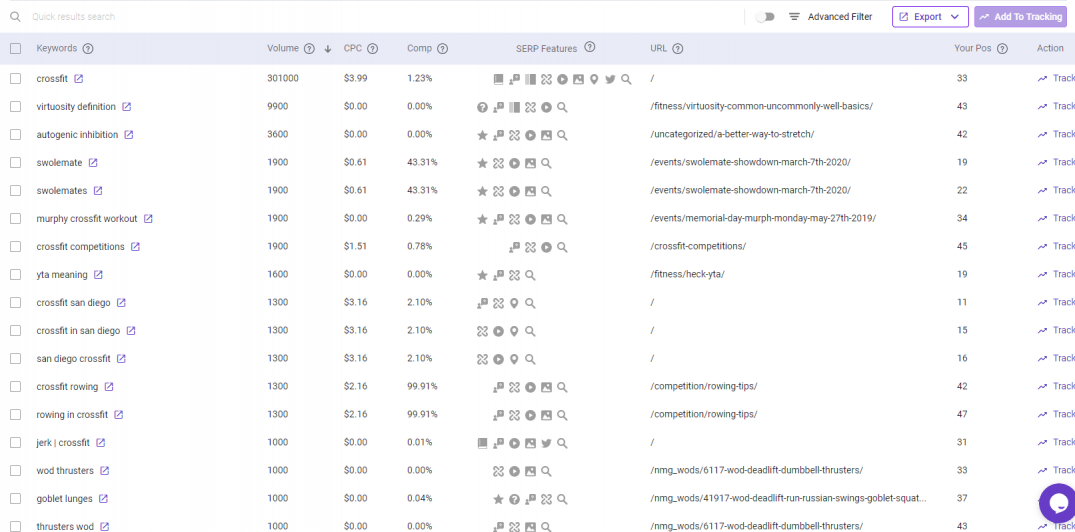 You can toggle the BiQ Rank Intelligence tool based on alphabetical order and perform a quick scan to determine if there are multiple URLs on your website ranking for the same keywords.
You can also use the advanced filter search and search for the seed keyword. This would allow you to view your search results in an easier way.
This important metric provides critical data that allows you to update your webpages as appropriate.
You can either merge your URLs that rank for similar keywords or update your content to make it more diversified.
ii) Merge And Rewrite The Pages
Here, you'll basically be taking the best things about each webpage and combine them into one.
To keep your new web page's relevance as high as possible while mitigating the risks of Google treating your 301s as soft 404s, you can check the Anchors report in the Site Explorer of each webpage.
BiQ's Content Intelligence helps you identify gaps in your content by writing drafts that are SEO-friendly. With BiQ's Content Intelligence feature, you'll have the best content-driven strategies that are SEO friendly and aimed at boosting your overall content grade and rankings in the SERPs.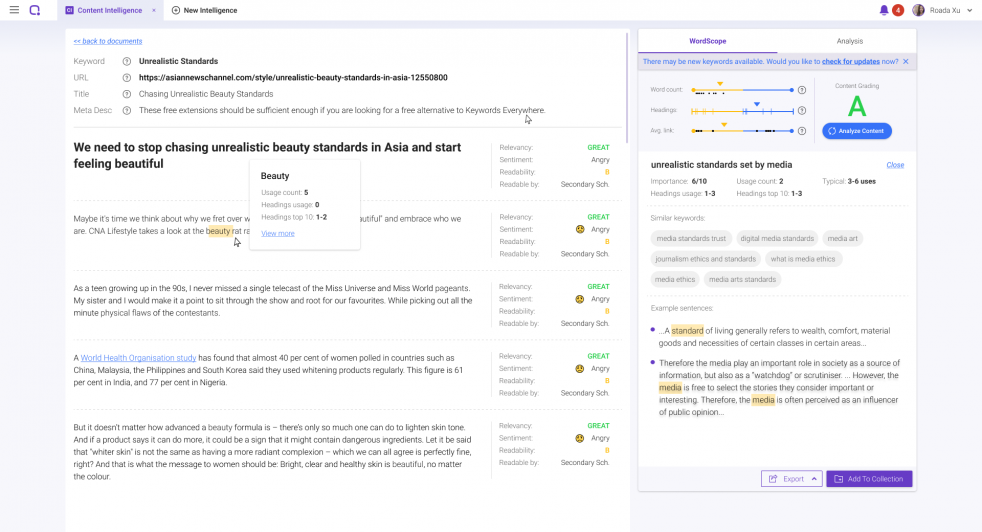 You can use the Content Intelligence real-time text editor to determine the effectiveness of the merger and the relevance of the content. If your content isn't graded A yet, you can opt and follow the suggestions that's provided by WordVector.
iii) Republish The Page
After merging your articles successfully, it's now time you publish the revamped post/webpage.
You may also decide to republish on an old URL if you believe either is still a good match for the new post. Afterward, ensure you delete the other post and add a 301 redirect to your new post. Most content marketers do this as it's time-saving and doesn't require many resources.
However, if neither of the old website URLs is a good match for the new post, then you can redirect both webpages to a new URL instead.
2. Merging
The next 301 redirect technique is merging posts.
Here's the process in a nutshell:
You buy another website or business in your industry
Merge your website with theirs using 301 redirects
Many content experts have done this in the past. Most times, it works out smoothly when done properly. Backlinko's Brian Dean did this with another SEO blog (Point Blank SEO), which he bought and redirected to Backlinko.
However, before you start going about buying every website out there, understand this:
It's not easy having success with this method. It's not just a matter of buying an established website and using 301 redirects to your homepage. This is the lazy approach, and won't work out so well for you. You'll also have to implement page-on-page 301 redirects to achieve the best results.
But when done right, using this 301 redirect method can bring a stream of traffic to your website in the shortest time possible. You just need to find the right website with an owner willing to sell. But remember, the website must already have content that's similar to yours. Or else, it won't work out so well.
Conclusion
Now, you know how vitally important 301 redirects are for maintaining a healthy website.
301s serve a critical function in signaling to both the search engines and users when your site content moves or changes. So, even as your web presence grows, your user journey will still remain clear and logical.
Above all else, you want to fix redirects you might not have implemented properly. By familiarizing yourself with the methods and strategies mentioned above, you should be better placed to generate huge organic traffic to your site.
On the surface, a 301 redirect may look like nothing special. But when used in conjunction with other SEO tactics, you'll achieve some excellent results.