Learn the step by step guide on how to do a content audit for SEO. You'll get to see tips, strategies, and free content audit tools inside.
A content audit is something that all of us should be doing, yet not many are doing so. As you may have noticed, a content audit is not one of those easy and enjoyable processes.

However, it is an important part of a successful content marketing strategy.

By now, you probably have more than 50 content published on your website. But can you recall the last time you audited each one of them?
If you can't – which explains why you are here – this may be the best time to audit your content!
What Is A Content Audit?
A content audit is a process of assessing your current content to determine whether they are performing up to your expectations.

In other words: a content audit is the process that you need to follow in order to get more organic traffic to your website.

In today's post, I will walk you through how you can easily do your content audit using all the features that are available in BiQ.

Before going further, have you ever wondered why a content audit is useful?
Why is Doing Content Audit Useful?
If you have been in the business for quite some time, you will know how important it is to audit your business. It is commonly done to identify any errors and frauds.

But most importantly, a proper audit helps you to come up with ways to improve your business systems, efficiency, and more.

The same goes for auditing your content, you will get the same opportunity to improve your content efficiency and performance.

Through the content audit, it is no more a guessing game to identify which content brings the most value. You can find out exactly how the content you have already created performs.

The content audit process will show you which content has the highest page views, which engages with your audience longer, and which content is not related to your business anymore.

From there, you can determine what are the strong and weak elements of your content. And the only thing left would be to improve them. Your business will then benefit from there.

With that being said, here are the steps you'll need for a good content audit in 2020.
How To Conduct A Content Audit
One of the things I struggled with the most before conducting a content audit was knowing where to start. It sounds like a simple enough task, but trust me, if you start with the wrong step, the rest of your content audit strategy may be at stakes too.

You certainly do not want that to happen.

So, let's start with the first step!
Step 1: Set your content audit goals
The very first thing that you can do to start your content audit is to set your content audit goals. Setting a goal is the most fundamental element before you start your content audit.

Without a goal, it will be difficult to implement and measure the success of your content audit.

A lot of people want to rank #1 on the search results page but it doesn't work that way. You have to be specific about what you really want to accomplish through this content audit.

Let's look into this example.

Your website has more than 300 articles published. We know you may have already put so many resources and time into making them that far.
But the problem is: you do not see these huge amounts of hard work reflected on the number of traffic to your website. This is where a content audit comes into the picture.

So you might want to do a content audit to see how each of the articles perform and what you can do to increase the traffic.

Instead of going through all the articles, you may decide to audit only the articles that have already owned a place on the SERP.

A clear reason why you want to conduct the content audit will lead you to a better action and informed decision.

Other examples of goals that you can set for your content audit:
To generate ideas for new content pieces
To increase conversion rate on your sales funnel
To re-optimize old content in your website
To improve organic your website search performance
To improve audience engagement
To remove non-performing or non-related content
To identify and promote performing content
There could be hundreds of reasons why you want to do the content audit right now. But make sure to choose the one that is closest to realizing your business goal first.
Step 2: Identify all content assets
Now that you know what are the goals you want to achieve, it's time to determine your content assets.

Check a website content's asset by heading over to the BiQ's Rank Intelligence and enter your domain.

Once you've created your profile, you will see all the keywords and pages that you have already ranked for on the search results page.

In the top section, you will see a summary of your website's performance. 

You will get to see how many pages you have already ranked for and what are the ranking distributions. This gives a quick insight into how your website has been performing all along.

Next, what we are going to do is to filter and sort your pages based on three categories:

Ranking Position 2 to 5
Ranking Position 6 to 10
Ranking Position 11 to 20
Click the 'Advanced Filter', and enter the keyword volume and the SERP position. Then, click 'Filter Results'.
I would preferably choose keywords with a minimum of 1,000 volumes. This is because we want to focus on optimizing content that has a demand.

Now, you have a list of keywords that are ranking between 2 to 5. Select all the keywords and click the 'Export' button at the bottom. Then, select 'Export to CSV'.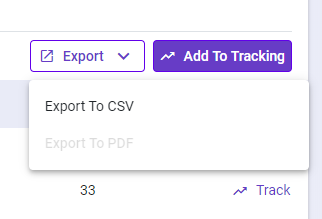 Save the CSV into a spreadsheet and assign a priority level to each one of them. The priority can be divided into three categories; high, medium, and low.
The priority level can be assigned – as simple as – based on the ranking position. But, of course, this will be depending on what is your main goal. If your main goal is to improve the bounce rate, then you might want to factor that in when assigning the priority scoring.
Step 3: Collect and analyze data
At this point, you should already know which content you should start to audit first.
To make it easy for you to understand, I will run through a simple SEO content audit for one of our blog posts – Building An SEO Proof Anchor Text Strategy
I have been observing this post that is ranking on the second page for quite some time. It has been there in the same position over the last few weeks. So, what we are going to do next is to analyze this page.
To get started, all you need to do is head to BiQ's Content Intelligence. 

Simply start by entering the page URL and target keyword that you want to rank on the search engines.


You will then see the overall performance of the content. It will give you an insight into how your content has been performing.
You can see the overview of your content readability, sentiment analysis, semantic density score, keyword density score, and more.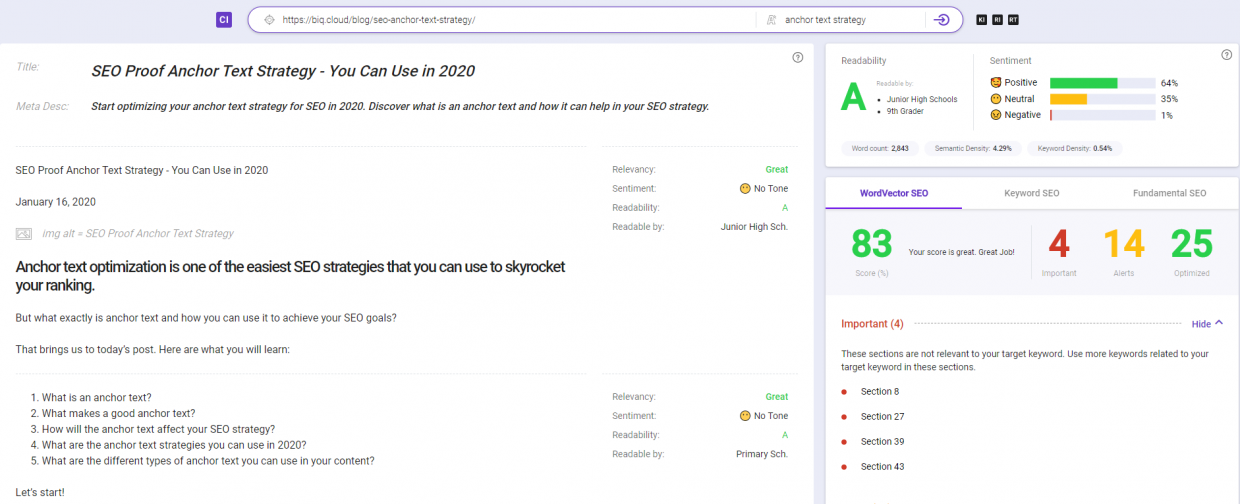 Let's go through each of the suggestions for improvement.

The first box at the right is the section where you can find the summary of your content readability, sentiment analysis, word count, semantic density, and keyword density.


It is important to make sure readers can read your content easily. Readers will usually scan through the texts, subheadings, and the first few sentences of paragraphs. Like how we usually do, we will quickly go through them to get an idea of the main conclusion of any article.

If readers find your content helpful from that first few seconds, they will stay and read the rest of the article. Otherwise, they will quickly exit the browser and look for other articles that can satisfy their intent. When it happens, it will be reflected in your bounce rate percentage on the analytics.

The overall readability of the content above is good but I would suggest that you go through each of the paragraph analysis too. It will show you if there is any paragraph that needs to be improved in terms of its readability.

Now, how to keep your content easy to read?

Keep your sentences short rather than lengthy. Because generally, it is harder to read and understand sentences that are too lengthy.

Check out how you can further improve your content readability in this on-page SEO checklist.

Sentiment analysis allows you to identify whether the content has a negative or positive sentiment. It helps you to understand the overall experience of your readers with your content writing.

Depending on the message that you are trying to convey to your readers, make sure you are delivering them in the right tone. If your content is all about introducing your new product, you may want to make sure that your content is highlighting all the positive things.

There is no such thing as 'perfect' word count in SEO because we have seen content ranked high, even with just 300 words.

But I have figured out a method that can be your guide to finding the ideal word count for your SEO content.

Here is how it works. Go to the search engine and type in the same target keyword.

Use the Content Intelligence to check their respective word counts. Enter their URL and the same target keyword for a minimum of three websites.

From the finding, you can see the average word count for the content that ranks for that keyword is 3,324 words.

(1,478 words + 3,257 words + 5,238 words) / 3 = 3,324 words

Again, this is not a definite number of words that you must write but it will be a good reference in deciding your word count.
Also, don't limit yourself to comparing just the top 3 positions. Take the average word count of the top 10 websites on the first page of the SERP.

Semantic density
The semantic density will show you how relevant your content is with your targeted keyword. In this case, you want to make sure your content is relevant as possible to your target keyword.

The keyword density tells you how many times your targeted keyword is repeated in the content.

Next, you will see the different SEO scores; Word Vector SEO, Keyword SEO, Fundamental SEO.


You can find the details of each one of the SEO scores in this blog post – BiQ Content Intelligence: Secret To Content Marketing Success

Word Vector SEO
As you may have already known, the word vector tells you the relationship between words. It helps you to analyze and improve your content relevance against the top 10 rankings on SERP.

Focus on clearing all the 'Sections' under the 'Important' tab because that requires your immediate attention. Then, move on to focus on the 'Alert' tab.

Keyword SEO
Keyword SEO will be a great help in telling you how to optimize your keyword optimization. The suggestions are pretty straightforward compared to the Word Vector SEO.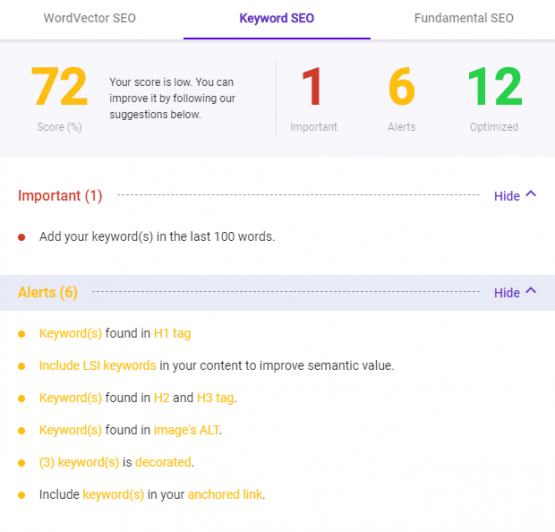 Fundamental SEO
Fundamental SEO will be focusing more on on-page optimization. Similar to the Keyword SEO, the suggestions are straightforward too.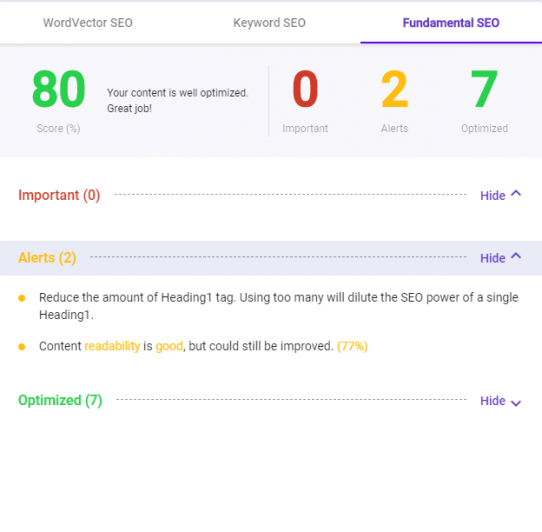 Step 4: Create an action plan
After you are done with auditing the content, you can now start listing out the actions to improve the overall content performances.
Here are some of the actions that I have listed out to improve the content above:
Improve the readability of the content by breaking it down into shorter sentences.
Analyze the top 10 results and check the common sentiment being used.
Keep the content word count around the average word count for the top 10 results.
Review the content to make sure it is highly relevant to the target keyword.
Since the keyword density is pretty low, I will need to use more related keywords in the content.
Revise the three paragraphs that have low relevance to the target keywords.
Optimize all the suggested keywords optimization in both the 'Important' and 'Alerts' sections.
Optimize all the suggested on-page optimization in both the 'Important' and 'Alerts' sections.
Continue with analyzing and preparing the action plans for the rest of your content. Prioritize those that need your immediate attention.

Seeing all these, you may easily be paralyzed by the amount of work needed to be done. So, I would suggest you create a calendar and list out the deadline for each of the items. A simple spreadsheet would do the job.

Tip: You may want to conduct an SEO competitor analysis to discover your competitor's content secrets and learn how to beat them.
Important! A well-executed content audit done on a regular basis can give you a great insight into your content marketing strategy.
Step 5: Track and monitor the content
After you have done making the changes, it is time to track your progress.

I have said this over and over, and I will say this again: without proper tracking of your hard work, your effort and time will go into a waste.

Thankfully, you can use BiQ's Rank Tracking to track your progress.

Start by creating a Rank Intelligence Profile. Simply enter your domain name, preferred language, and location. Then, click the 'Create New Rank Intelligence Profile' button.

At first, you will see nothing is displayed on the dashboard. Start adding keywords that you want to track by clicking the 'Add Keyword To Track' button.

Alternatively, you can also track the keywords that you have already revealed in the Rank Intelligence by clicking 'Track' at the 'Action' column.

Yes, tracking your keywords is really that easy.

You'll now see your Rank Tracking dashboard equipped with data and insights to the progress of your performance.

As seen above, you will get to see if there are any changes in the average position, ranking distribution, and overall ranking movement.

This information will help you in determining if your efforts are moving in the right direction or needing changes.
Conclusion
Just like a financial audit, content audit needs to be done regularly too.

It may seem overwhelming when you just started doing a content audit. But once you get to see the positive results kicking in, you will be glad that you did it.

If the results you are getting are not as what you expected, roll up your sleeves and look into how you can further improve them. A strategic content audit helps you assess your current content as well as shaping your future content strategy.

"A successful strategy is a living strategy, it must be executed in a way that allows for a change in tactics. Your competition is fierce and smart, and they won't willingly let you defeat them. Expect surprises and adjust accordingly."

Ninja Innovation by Gary Shapiro
Use this content audit guide to help you to optimize your website performance and get the traffic and conversion stream in.

I hope this content audit article helped you realize how important it is in your SEO strategy!