Looking to rank for competitive short-tail keywords more easily? Barnacle SEO is a strategy that allows business or website to attach itself to a larger website and rank predominantly for a desired keyword.
Every business dreams of ranking on top of the search engines or the first SERPs page for high volume, short-tail keywords.
While you can certainly rank for these keywords using paid marketing strategy, if you are looking to build your brand and earn sustainable traffic all-year-round, organic search is your best bet.
In fact, 49% of marketers report that organic search has the best ROI compared to the other marketing channels.
But the thing is, ranking in search engines is no simple feat. Search engines like Google have over 200 ranking factors, making it challenging to master all of them outrightly – especially for small and medium-sized businesses.
To help small businesses promote their sites and gain more traffic, Will Scott of Search Influence came up with the term barnacle SEO – a way of leveraging a popular site's ranking for your marketing efforts.
Before you get into using this advanced SEO technique, let's first understand what barnacle SEO is and how it differs from classic SEO.
What is Barnacle SEO?
Barnacle SEO is a technique that allows your business to attach itself to a larger website, such as a third-party local listing that ranks higher for the desired keywords.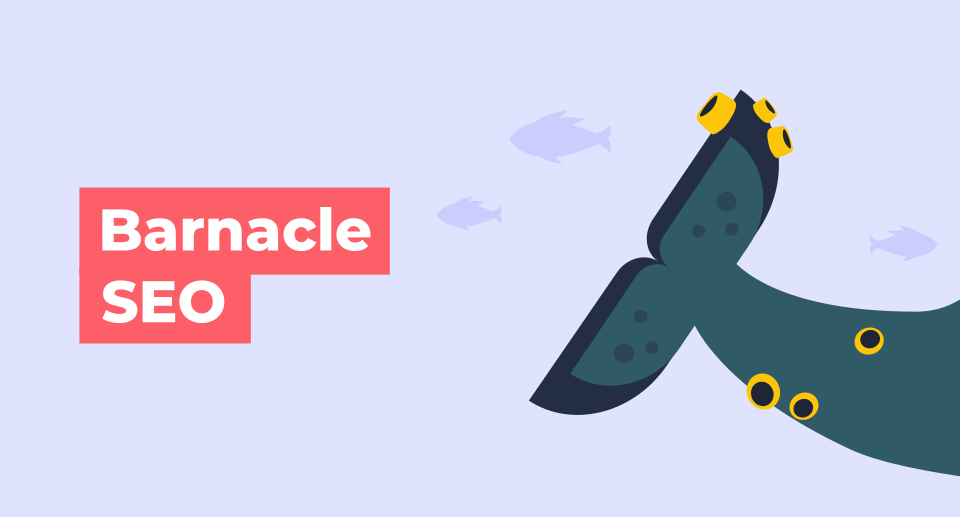 By associating yourself with a reputable site, the business can earn traffic and potentially increase organic ranking.
In other words, barnacle SEO is a way of using popular and reputable websites to promote your site to gain more traffic, generating more leads, and boosting sales.
If you are ranking for highly competitive keywords, barnacle SEO gives you the option to promote your products, services, and content and even boost brand awareness easily and effectively.
Barnacle SEO vs. Classic SEO
To further understand what barnacle SEO is, let's see how different it is from ordinary SEO tactics.
First, barnacle SEO focuses on activities such as guest blogging, review marketing, and brand mentions, which generally means you are creating content for other sites and helping them rank even better.
On the other hand, classic SEO requires that you focus your keyword research on those terms that will help improve your site ranking.
Both methods would involve a thorough competitor analysis, but with barnacle SEO, the focus is more on adding value to the readers of the site you plan to target.
Lastly, it's worth noting barnacle SEO isn't the silver bullet to boosting your site's traffic. Instead, it serves to supplement your other SEO marketing strategies, especially when looking to rank for incredibly competitive keywords.
And while you are leveraging another site's authority to boost your brand, your barnacle marketing efforts should still be authentic, original, and purposeful.
Your intentions shouldn't be to ride on the host site's success, but instead join hands and get a share of the bigger pie.
How to Do Barnacle SEO – The Opportunity Research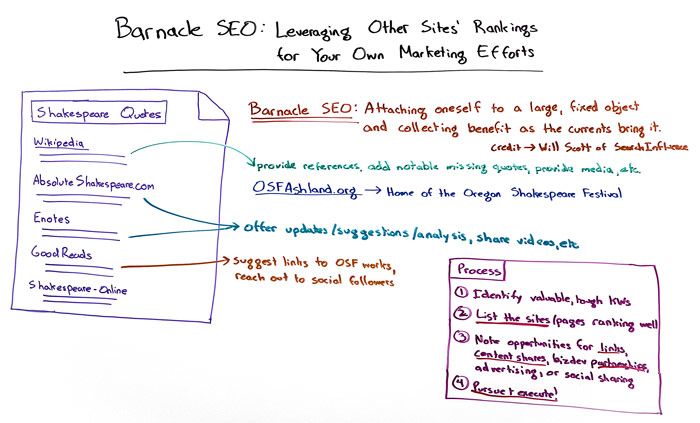 Before running a barnacle marketing campaign, you need to first find relevant opportunities (reputable sites) where you can feature your business website.
Your goal is to find industry giants ranking on top of the search engines for a set of highly-competitive keywords with barnacle keyword research.
Normally, you don't stand a chance to compete with these sites, but as the saying goes: since you can't beat them, you need to join them.
Barnacle keyword research
So you may ask, "Why should I do keyword research if my site isn't going to benefit from it directly?"
Well, when people search the internet for a highly competitive keyword, for example, "the best hotel in New York," chances are, your restaurant located somewhere within the city won't show up on the search.
What will show up instead are a couple of paid ads and probably some reputed review sites. In our example, this is what you will get:
After several ads, you'll find high-authority sites like TripAdvisor, Cntraveler, Travelandlesiure, etc.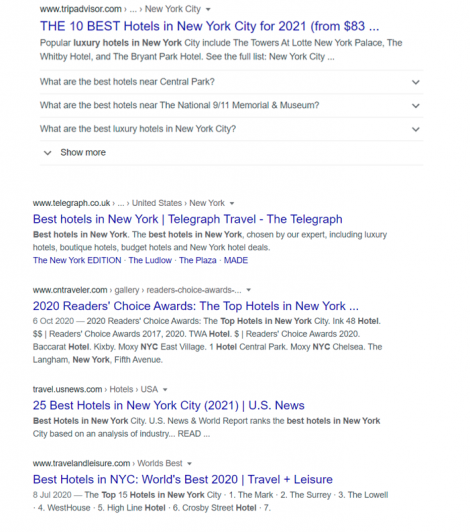 Now, if you manage to get your business website mentioned or listed on any of these sites, you'll have achieved one of your barnacle SEO goals.
To answer the question, why keyword research is important – consider this summarized breakdown of how barnacle SEO works for the hotel business.
Choose high-competition keywords that you have no chance of ranking for.
Next is to find reputable sites ranking for those keywords.
Find a way to have your site mentioned or featured on these sites and wait for people to interact with your content.
These people visit your website, fall in love with the menu and the ambiance of the place. They then decide to visit your hotel the next time they are in town, and they leave a 5-star rating on TripAdvisor, Yelp, etc.
The keywords you are targeting in your barnacle marketing are the high-competition keywords that your prospects will use when looking for the product or service you offer.
But how will you target the right, high-competition keywords that will help you find the right authority sites in your niche?
Tip: Use BiQ Keyword Intelligence
For any SEO efforts, you need to always start with keyword research.
You can easily use our BiQ's Keyword Intelligence to find popular keyword opportunities. First, enter your target keyword, choose your preferred location and languages.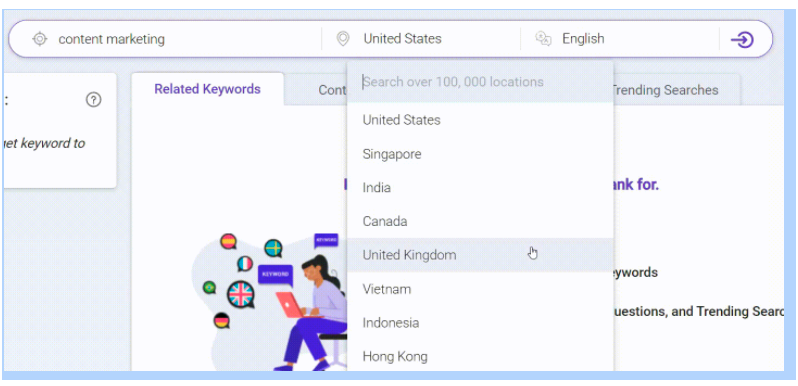 This tool will show you a list of relevant keywords that the local people use across the search engines.
Here you should focus on high-volume keywords with high-profit potential.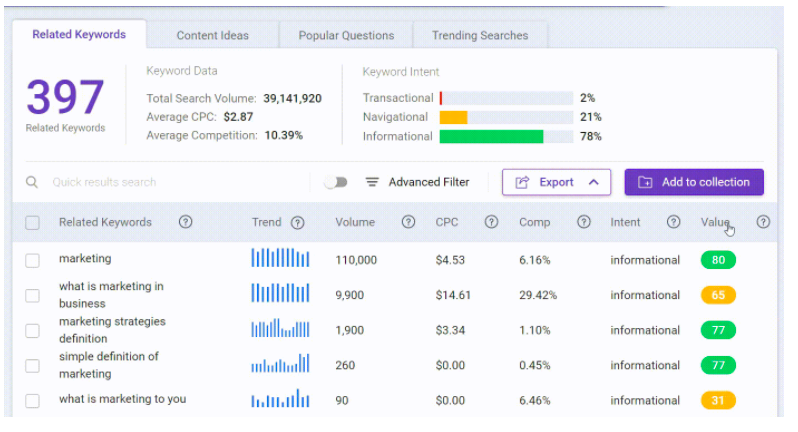 What kind of sites should you attach your business to?
The kind of websites you should hook your site to will also depend on the type of business you are in.
Whether it's a local business such as a hotel or an online service business that is not restricted to a location such as an SEO consultancy firm, you need to find a website that most likely has your potential customers.
Social media sites and major directories are highly recommended when looking to implement a barnacle SEO strategy.
Popular directories include Yelp, Yellow pages, Bing, Facebook, Google My Business, etc. There are also some local directories for niche businesses such as Zomato for food delivery and takeout or TripAdvisor for hotel bookings and travel experiences.
If you aren't sure whether an authority site matches your barnacle SEO goals, you can do some background checks using our BiQ's Rank Intelligence tool.
Tip: Use Our BiQ's Rank Intelligence to find the Keywords Authority Site Ranks for
The first step is to enter the site's URL, then select the country where the audience you want to target is based.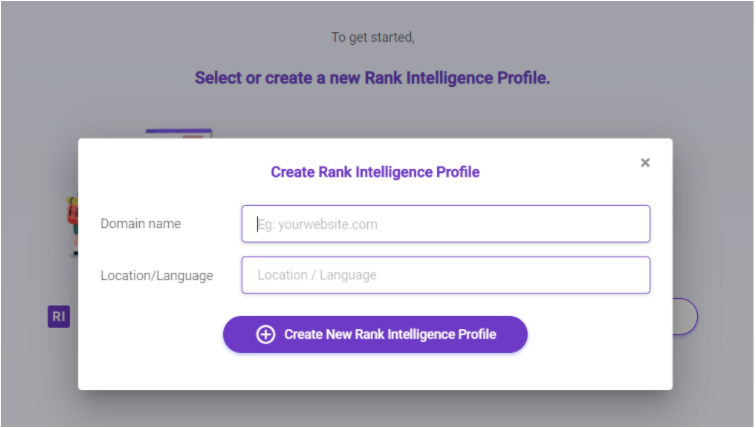 Once you click on create new profile tab, you will see all the keywords that a website ranks for, including the search volume, competition, cost-per-click, etc.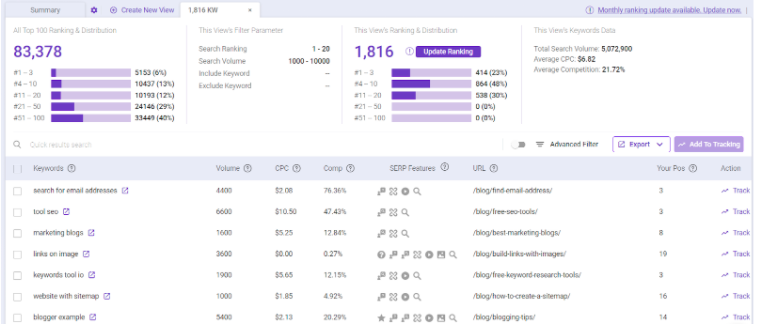 With these insights, you can tell the keywords that the site already ranks for and whether it fits well with your barnacle marketing goals.
Once you have a list of authority sites you want to hook your site to, you can proceed to identify content opportunities that will put your business right in front of your potential customers.
For instance, you can search for local community events relevant to your niche and even opportunities to sponsor some of these events. This way, you will take part in crucial and popular community happenings that your customers already know and are interested in.
That said, the events shouldn't be limited to your locality. You can browse national opportunities and even global ones, such as sporting activities or awareness campaigns advertised on major news sites, and stand a chance to create a huge impact with your barnacle SEO efforts.
Creating Your Barnacle SEO Strategy
Similar to the other SEO strategies, barnacle SEO relies on high-quality content that adds value to the target site's end-users, or in other words, your potential customers.
Needless to say, the kind of content you will create varies depending on the site you are targeting. For instance, the content for Quora will vary from Facebook content.
With that said, here are some barnacle SEO tips you should consider.
1. Leverage Publishing Platforms
Platforms such as Medium, Hubpages, or LiveJournal allow you to get your content across to millions of readers. This is one of the easiest ways to execute your barnacle SEO strategy and stand a chance to grow your brand and promote your business.
For example, Medium has a domain-rating of 94 (Ahrefs) with over 60 million unique monthly users as of 2017. The site also ranks for several featured snippets across several industries.
2. Optimize Your Google My Business profile
If your business doesn't have a Google My Business profile, go ahead and create one. Ensure you've added all the essential information such as the address, business photos, opening hours, closing hours, etc.
You should also encourage your visitors to leave positive reviews about your business. All these efforts will boost your local SEO.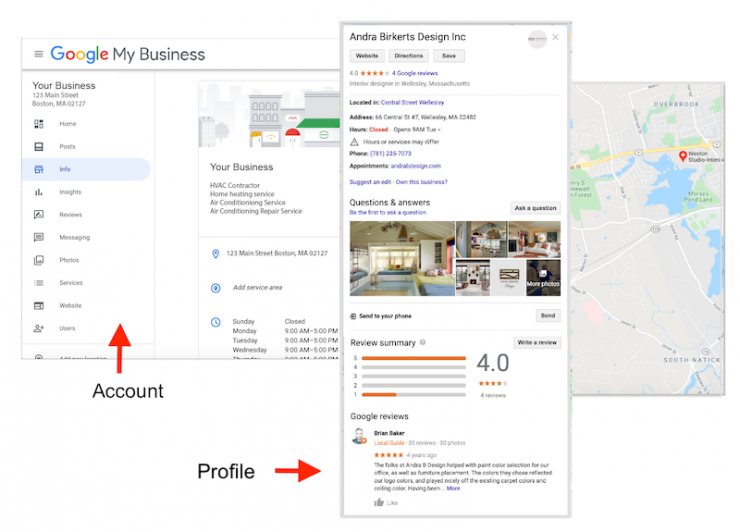 3. Work on Your Review marketing
Review marketing is a barnacle SEO technique where you make sure your business has a credible online presence in the various review sites such as TripAdvisor, Capterra, Trustpilot, Foursquare, Google My Business, Yelp, and Angie's List, etc.
Setting up your profile in most of these sites will help your business build a reputation as people visit these sites to check reviews before buying a product or considering business alternatives.
But since you can't be present in all of them, choose those that are popular in your niche because that's where a majority of your prospects do their research before making a purchase decision.
4. Consider Guest blogging
While guest blogging is a link-building strategy, it's also one of the barnacle SEO techniques that can give your business the exposure it deserves.
Here, you don't necessarily need a do-follow link, and you can take any guest blogging opportunity that exposes your brand or business to a vast and relevant audience.
An example of popular sites with the no-follow tag includes Medium, Wikipedia, YouTube, Quora, and Reddit.
To target high authority sites, you may need to hire professional guest bloggers who have built relationships with site admins and local publishers in your niche.
5. Participate in Affiliate marketing
Affiliate marketing also gives your business a chance to appear on several niche websites. Getting all the backlinks also means your site will have a boosted domain rating.
But that's not all, you will also have more prospects interacting with your products and services, and some will head to your website.
Additionally, affiliate marketers often optimize their content when promoting your products, hence selling your business even better.
4. Target top list
Regardless of your niche, there is always a "top ten list" type of content ranking businesses with exceptional services and products.
If you could take your time and target these top list authors, it means you could have your site listed. This is particularly true for local stores and businesses that rely mostly on foot traffic to generate sales.
Here is an example of top list sites that ranks barbershops in Chicago. This result shows up for the keyword "best barbershops in Chicago" and appears right after the ads which are proven to be a very valuable estate space.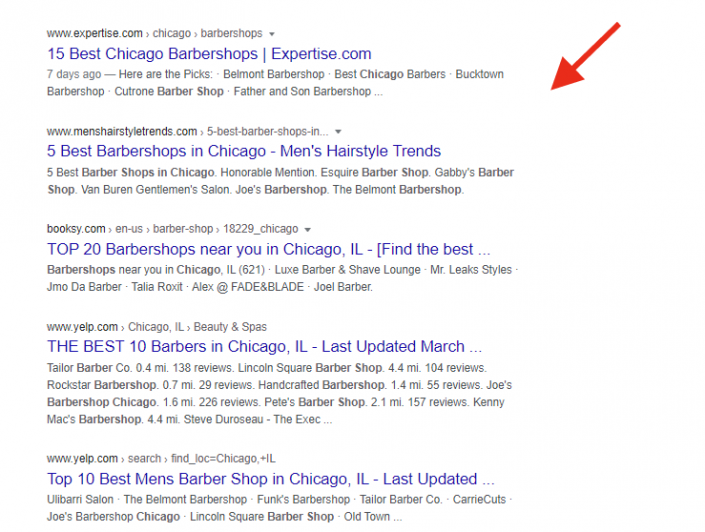 5. Leverage Social media
Social media sites such as YouTube, Facebook, Pinterest, etc., offer the easiest opportunity to execute your barnacle SEO strategy. In fact, every brand or business is already a barnacle to these social media sites.
If you already have a social media account, you are good to go. All you need is to optimize these sites for higher engagement. For instance, you can respond to engaging posts, like recent posts, start discussions, etc.
All these efforts will boost brand awareness, giving your business a worthy online presence.
6. Make Creatives – e.g., an infographic for Pinterest.
The idea is to create a valuable piece of creative content relevant to your industry/niche. What follows is to share it with the website admin of the site(s) you want to target with your barnacle SEO campaign.
This will ensure more people access your creative content and find it valuable. By adding value to your potential prospects, you are building a name for yourself and your business.
7. Build links
While barnacle SEO's primary goal is to attach your business to authority sites in your niche, you can still use this opportunity to build quality backlinks and boost your SEO ranking.
By building backlinks, you are also allowing your prospects to access your business and become loyal customers.
8. Monitor your rankings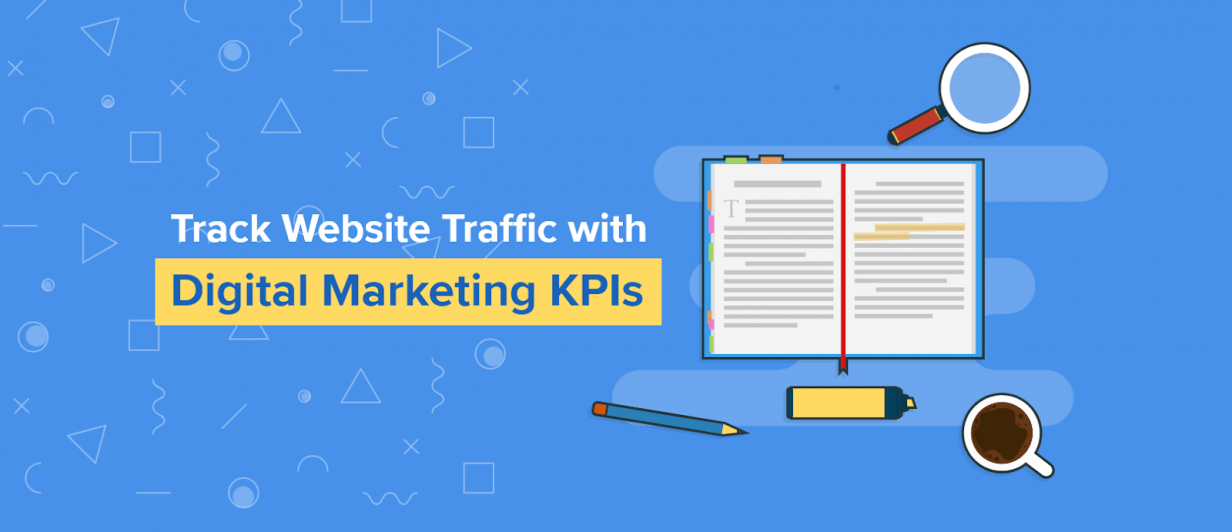 After working on all the barnacle SEO strategies above, you need to track and monitor your rankings to know what needs to improve, what works, and what doesn't work.
For instance, you may find that guest blogging doesn't work very well for your niche, but social media and review marketing are promising. Here, you need to double down on what works best to maximize the results from your efforts.
Key Takeaway
Barnacle SEO is all about finding the perfect opportunities to promote your business without optimizing your website. This means you need to provide value to your prospects via a different platform.
Whether it's engaging your audience on social media, sharing infographics with a target site, or sponsoring local or international charity events, all you need to do is stick with a strategy that works well with your business while continually improving on it.