Are you looking for ways to build and improve your B2B marketing funnel? Understand the fundamentals and learn about the strategies you can use to track your business partners and create a successful buyer journey.
Did you know: that on average, it takes about 5 to 8 marketing attempts before you can convert a potential customer to buy.
It is estimated that marketers only manage to win around 2% of the consumers on the first contact.
That's why it may take a huge chunk of time, commitment, and effective strategies before you can truly convince the remaining part of your target audiences.
To simplify the process, most companies adopt a market funnel strategy.
This is an approach that uses various tactics to target different people at different stages of the buyer's journey. Here, the main purpose is to push your audience further down the conversion path and reach the end goal of making a purchase.
The same can be done for companies that are operating at a B2B business model. By using a B2B digital marketing funnel, businesses can too connect with other potential businesses.
Now let us guide you through the setup.
Marketing Funnel in B2B Startups: From Leads to Closing Sales
One of the main challenges in B2B marketing is the stiff competition between businesses.
This marketing funnel from Skyword highlights it neatly. Because unlike B2C marketing funnels, potential leads on B2B funnels are actively looking for other brands offering the same services or products.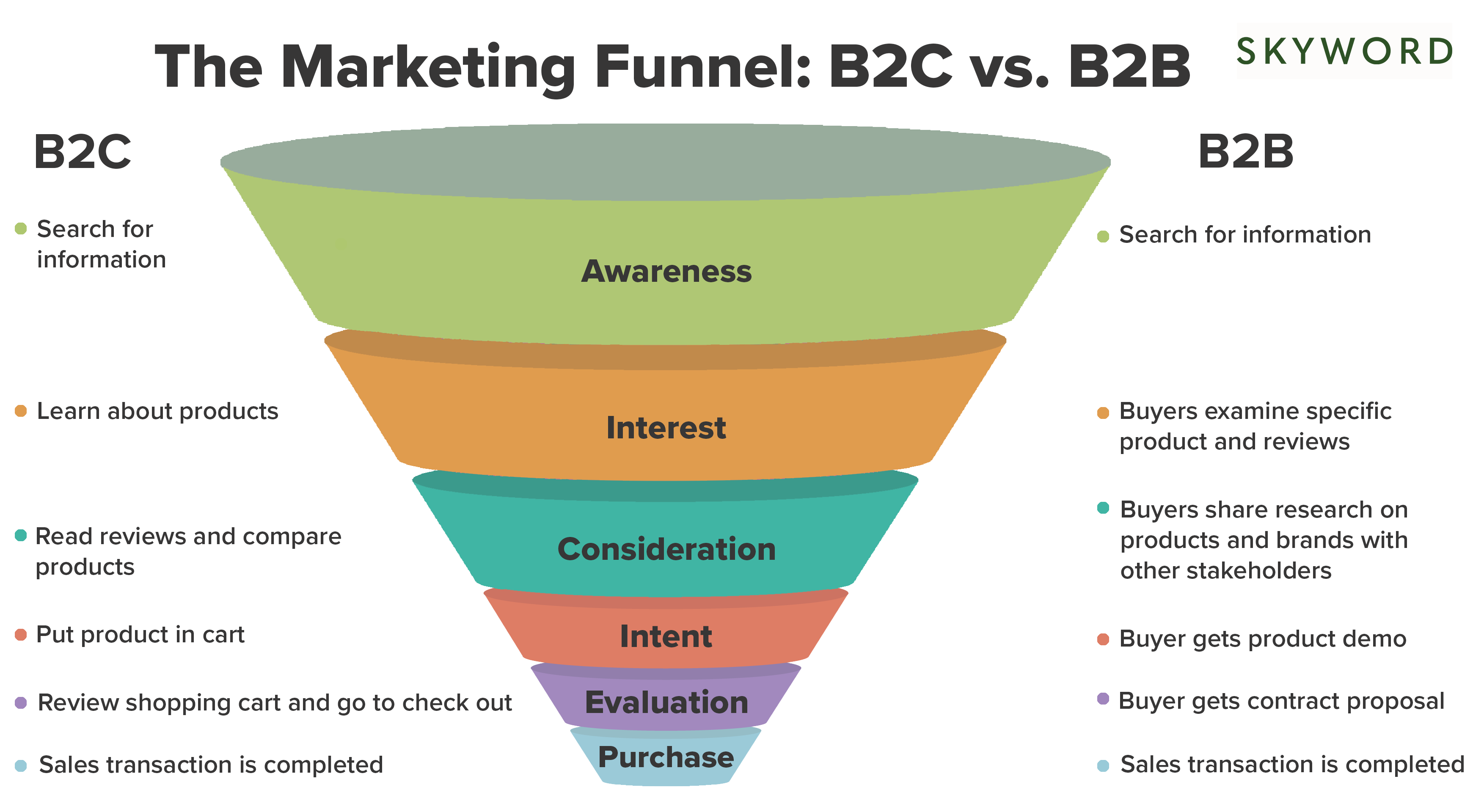 Not to mention, you might also be competing with different businesses that are also looking for the same clients. Given there can be so many solutions to the same problems.
For example, let's say a business is looking to improve its website traffic can choose to find a solution through hiring marketing agencies, using SaaS services, or even choose to invest in ads instead.
For easier conversion, you must always start by identifying your quality leads. Poor leads put pressure on a team as they may waste quality time and resources pursuing unfulfilling sales.
That's why a successful B2B startup should always empower the team on how to effectively move the audience down the funnel.
One effective way is to ensure that staffs have a deeper understanding of the brand and purchasing process. When marketers become more involved in the key decision, this makes it easier for them to convince the customers to buy.
Focus on motivating and empowering your team for desirable results. Most importantly, use the internet to get valuable tips about your products and strategies to make your brand stand out.
Also, note that there is a slight difference between a B2B marketing and sales funnel.
While a marketing funnel concentrates on building interest, sales funnels depend on the marketing activities done within an organization to thrive. That means that the last stage in a marketing funnel translates to the first in the sales counterpart. Now let's get into the breakdown.
The 4 Stages of a B2B Marketing Funnel
The buying journey differs from one person to another when it comes to B2C marketing
However, in the B2B marketing process, you are focusing on the people of an entire organization. For that reason, the process may get extensive and exhaustive as you try to convince everyone involved (and especially the company's decision-makers) compared to B2C.
According to a recent study, consumers complete at least 70% of the buyer journey before they even reach out to the salesperson. This alone tells how important it is to craft your marketing strategies to persuade them to reach out to your business.
When it comes to the B2B marketing funnel, it still follows the basic digital marketing funnel guide but here we will include B2B strategies that you should follow for an easier conversion process. Starting with awareness.
1. Awareness
Here, businesses should focus on reaching potential audiences looking for your solution and associating it with your business and brand.
For the most productive outcome, organizations should adopt all relevant avenues strategies to reach prospective clients. Depending on your target market, you can opt for:
Search engine optimization (SEO)
Pay-per-click (PPC) and ads marketing
Social media marketing
Bulk emailing
Content creation
And that's just digital. The focus of this stage is to create awareness, so if applicable you can even consider giving talks at events or other outbound marketing strategies.
The most effective approach is to incorporate different strategies for better synergy and results. For instance, you can pay for social media ads and also create helpful SEO content.
That way, you can attract traffic to your site while enhancing your brand credibility on the search engines.
One pre-requisite again is to make sure you are clear about your target audiences. Ask yourself, what businesses are your potential clients and what is the persona of the decision-maker?
Another useful tactic is to approach relevant websites to market your brand. This simplifies the marketing process since the sites already have your target audiences. With the right kind of content, the audience may swiftly move to the next level in the B2B digital marketing funnel.
2. Consideration
This is the second stage of the buying process, consideration.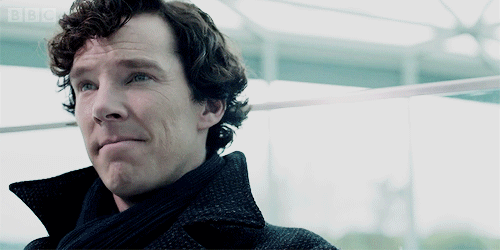 At this level, your target audience is already aware and familiar with your brand. Most prospects in this stage have a particular need at hand. When you create awareness in the initial stage, they get a chance to evaluate their problem and how your product can solve it.
Depending on the urgency of the matter, the process may take a longer or a shorter time to move to the next level.
Your main purpose here is to state how your products or services can add value to their lives and give them a viable solution.
You want to make sure you are not focusing on the product features, but rather tell them a compelling story just like Airtable here, because what drives sales ultimately need and emotion.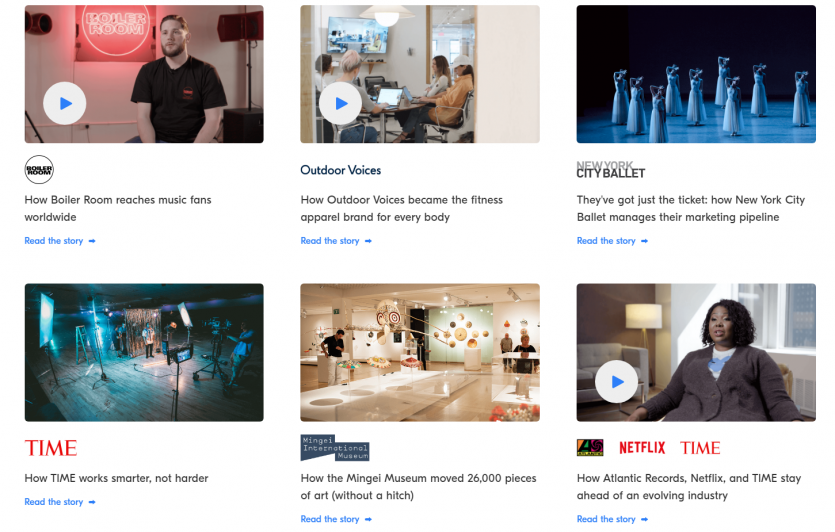 Additionally, you need to mention how your brand surpasses other competitors in the market.
Use white paper documents as well for clarity. Since the document advocates for a particular product position, it may quicken the decision-making process both for prospective and current clients.
Most importantly, your sales and customer service team is your brand. So make sure that your sales team is well equipped to answer the many questions from the prospects.
There are various ways you can use to communicate to the market about your product. Content writing remains one of the crucial elements of social media marketing. Through it, you can create effective case studies like Airtable's or develop catalogs and specification sheets.
Do not forget to throw in some free samples too.
Almost everyone loves a freebie here and there. So if you manage to give your product's sample to the audience, they get to experience the real value of buying it in the long run.
Of course, this strategy is not for physical products only. For digital B2B marketing strategies, you can give limited-time trials, trial run service, reports, and others.
3. Purchase
In this last stage of the funnel, it's time to push your potential clients to make a decision. No more thinking, it's time to act.
Your role as a marketer is to guide them on making a beneficial decision for both of you. Note that the audience already has developed some loyalty to your brand. So, take less time in educating them about your product but concentrate more on promotion.
Take time to understand the number of people involved in the final decision. Do the prospects anticipate a trial first? What kind of arrangements does a company make before concluding on a sale? Are they looking for a first-timer discount?
The answers to these and other questions depend on the performance of the previous stages.
To speed up the buying process, you can give free demos, trials, expert opinions, quotations, discounts, or coupons.
4. Retention
Making a purchase is not the end, what a successful B2B funnel should strive for is to create loyalty and advocacy.
A positive experience in the previous funnel stages may give birth to repeat referrals to your organization. Clients like to buy in a place where they feel appreciated and their problems get solved. The trick to a breakthrough is to own your client's problems and walk in their shoes.
Strive to meet them at the point of their need with practical solutions. Watch your written and verbal language when communicating with them.
Additionally, give them after-sale service and or consultation even though they are already existing customers.
By using this kind of approach, it becomes easier to create repeated customers and also to get them to help you to drop a positive review.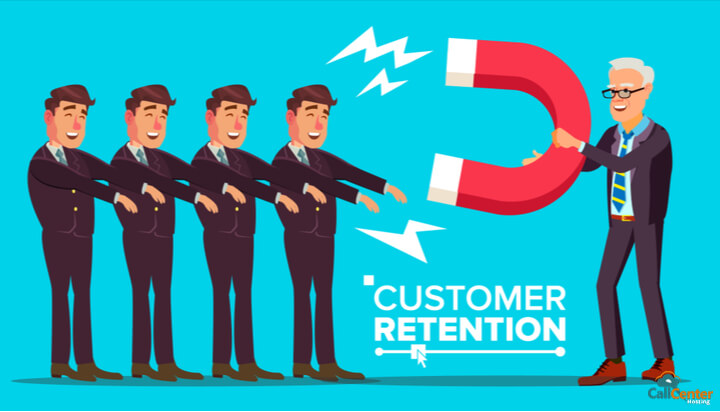 B2B Marketing Strategies to Attract Only Buyers
1. Identify with Your Buyer Persona
In the digital market, the buyer persona strategy is essential to effectively reach your audiences. What this means is to create a fictional character that represents the best traits of potential clients.
The same applies even to B2B business models. The greatest benefit of a buyer persona in B2B marketing is that it helps marketers to come up with solutions tailored to satisfy the targeted audience.
So if your business does not have one yet, pause and refer to this template and your existing customers to craft your buyer persona.
Remember that buyers build trust with businesses that display a deep understanding of their needs. So always strive to fully understand and address your prospect's needs. That
For maximum benefits, marketers should make different buyer personas and audit them on a regular basis.
This puts them at the center of their consumer's needs which is a plus for any business. Also, they should take time to familiarize themselves with the duties of the presumed persona.
2. Conduct a Detailed Keyword Research
Almost everybody does a search on Google when they are looking for information, and this is simply why SEO and keyword research are an absolute necessity for any business marketing strategy.
Bear in mind that your online presence depends on your choice of keywords and you would want to appear for terms that your leads are searching.
Using BiQ Keyword Intelligence, you can filter your keywords based on search intent to identify buyer keywords or informational keywords you can create content for.
This works both ways as through keyword research, you can understand your target audience's thought process better and write content that satisfies their needs.
One of the greatest challenges facing content marketers in any vertical is coming up with new content ideas consistently.
It's easy to think of things to write about when you're just starting out, but if you've been at the content marketing game for a while, you've probably hit a wall at some point.
One of the best ways to identify new topics in your niche is to see what people are searching for, or you can simply go to BiQ's Content Ideas and Popular keywords tab to find out what's trending and get inspired.
3. Market and Competitor research
Running a business without understanding the strengths and weaknesses of your competitors can put your business in a tight corner.
The main advantage of competitor analysis is to enlighten a company on the opportunities available for them in the market share.
Additionally, this strategy enables companies to recognize threats along the way. With B2B marketing strategies revolving at a rapid speed, you need to empower yourself before your competitors beat you on the game.
So start by comprehending the content difference between your site and the competitor.
With BiQ's Rank Intelligence, you can easily uncover your competitor's ranking keywords and discover keyword ideas to steal or improve when comparing to your own. From the data compiled, you may learn about the strategies and the keywords that work for them.
Additionally, BiQ's Content Intelligence also guides marketers on how to improve their SEO ranking by providing optimization analysis and suggestions.
Extra Tips on Creating Content for your B2B Audience
1. Experiment with different content types
Content does not necessarily mean writing. When you have a target keyword, the content you create can always be a hit or a miss.
First, identify if the keyword actually fits your business as a wrong keyword choice may not enable your site to rank better or allow the audience to find more about you.
Ensure that you get successful and marketable keywords from a reliable platform like BiQ. Combine them with well-written content to complement the valuable keywords.
More importantly, create various types of content for the same keyword as it can help you communicate to your prospective audience across different channels and appeal to more audiences.
Don't just limit your content to online guides or blog posts, create podcasts, video content, and others. Analyze the best content for your business and come up with a catchy topic to magnetize your audience.
If need be, you can check on the topics that your competitors write about. That way, you can manage to improve on the areas where your audience falls short.
2. Become a Pro in your Niche
There is no way you may manage to convince a customer to buy your product without fully understanding your own niche.
Become your brand ambassador as you educate your leads down the B2B digital marketing funnel. You can do this through emails or by offering expert consultations.
You can also create content that addresses the issue at hand by giving viable solutions targeted to a particular group of people.
The idea is to build your personal branding and become the go-to person or platform in your industry or niche.
3. Boost Company Online Reputation
Most organizations gauge their success with an online presence. Thus, you need to develop an online presence that describes you as a professional.
Always keep a tab on the SERP for your brand keywords and build it through managing your business reviews, content writing, or sending press releases.
Focus on improving your SEO ranking by targeting important product and brand-related keywords within your niche. Send regular press releases to let your business partners know you are constantly updated and improving.
4. Consolidate your CRM and Use Email Campaigns
Customer Relationship Management (CRM) is one of the most effective B2B marketing strategies.
Not only does it focus on enhancing transaction volume but also on customer satisfaction and increasing profitability.
Consolidating CRM strategies in an organization may help marketers to put everyone on the same pedestal. As a result, it becomes easier to share information, attain economies of scale, and accomplish departmental procedures.
Additionally, email marketing remains a vibrant option to communicate with current and prospective customers.
Despite other forms of communication coming up, around 34% of the online audience still embraces emailing. That translates to a huge chunk of the market that any organization should not overlook.
Key Takeaway
A B2B digital marketing funnel illustrates a consumer's journey from brand awareness to closing the deal. Through the process, there is a lot expected from a brand to convince the prospects to the next level of the funnel.
In reality, the actual funnel can be quite complicated with many twists and turns.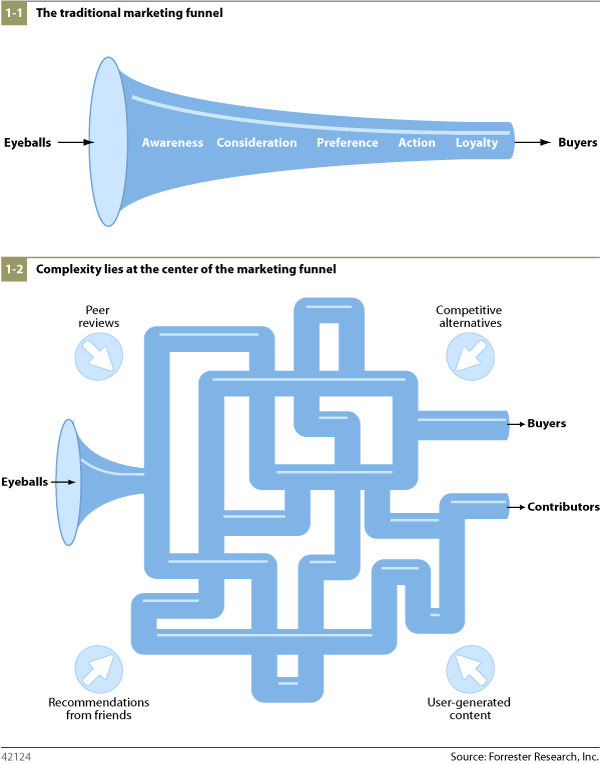 From email marketing, niche content writing, keyword research, and many others, they all focus on influencing the audience to make the best decision. If one manages to perfectly work on a sales funnel B2B, it can lead to brand loyalty, improve SEO ranking, and build solid brand awareness.
So make sure you build, monitor, and improve your B2B marketing funnel consistently. Also, share your experience of building funnels. Do you have any helpful tips you would like to share? Comment them down below!