BiQ's keyword intelligence is a powerful module that helps you when doing keyword research. This blog explains how BiQ is different from the SEO conventional tools.
Pretty sure one of the reasons you're here is because you are seeking an answer to this question: "Why Can't My Site Be Found On Google?"
I hope this post can help you be clearer in this aspect.
SEO comprises many methods but the underlying principle is that you're helping the search engine to better understand your website.
One of the foundational SEO methods is keyword research. In fact, not doing your due diligence when it comes to keyword research can be the difference between ranking on the first page of Google and disappearing to page 10 and beyond!
Basics of Keyword Research
I know our minds have been ingrained with keywords from the start but have you ever stopped and give this a thought: "what is a keyword?"
According to the dictionary, the definition of a keyword in marketing is a word or phrase used in an information retrieval system to indicate the content of a document.
Search engines (Google) is the information retrieval system
The document is your website/content
In real life, it means entering your targeted "keywords" in Google that is used to retrieve information from the website listed in Google's database.
Now, "what is keyword research?" Keyword research is used to identify and target SEO keywords that you should be focusing on when writing your content. It's knowing what you should explicitly tell your prospects – knowing the actual words and language that turn strangers into leads and leads into customers.
Creating relevant pages and optimizing them for the ways people search (keywords), can lead to improved rankings in the search results for those keywords, increasing search visibility and web visitors.
It may seem hard for starters but luckily there are plenty of ways to step up your game. By using the right strategy (which I'm about to show you later), you can drive traffic and sales by entering the mindset of your customers. 
Understanding Important Keyword Attributes
Before we dive deep into today's topic, you must first understand the important metrics associated with keyword research. 
1. Keyword Type
There are 2 main types of keywords: short-tail and long-tail keywords. Each type of keyword serves a different purpose within your strategy.
Short-tail

– 1-3 words
– Top to the middle of the sales funnel
– Low to Mid-level conversion rate
– Medium to high volume
– Moderate to high difficulty
Long-tail

– 4+ words
– Bottom of the sales funnel
– High conversion rate
– Low volume
– Low difficulty
2. User Intent
This aspect is becoming increasingly important for organic search. Understanding the user's intent means knowing the "why" behind a person's search query and what their intended goal is for that search.
User intent helps in page optimization or creation – and you need to ensure your page matches the intent if you hope to rank in an organic search.
Here's how they are commonly categorized:
Informational

Queries that find specific information or answers that users are curious about.

Example: What is keyword research?
Navigational

Queries that involve brand, product, or service names used to find a particular website.

Example: keyword tool for keyword research
Transactional

Queries that are closely related to purchasing.

Example: keyword tool pricing
Read more about user intent here: Why Excelling In User Intent Is Critical To A Successful SEO?
3. Search Volume
Search volume is the number of searches that people made on the search engine within a certain period.
It is often used as a baseline when deciding which keywords to target. This is because the higher is the search volume of a keyword, the higher is the potential traffic it brings to your website.
But there are also certain circumstances where you may want to ignore the search volume, find them out here.
4. Competition or Keyword Difficulty
Understanding a keyword's competition is vital because it measures how difficult it is to rank for a keyword.
Knowing whether to aim for high or low competition keywords largely depends on your situations and goals. If you're running a brand new website, you may want to begin by targeting high volume, low-competition keywords as a starting point to establish some authority.
Why Doing Keyword Research Is Important In SEO + The Tool You Need
Essentially, doing keyword research will help you build pages that best serve the needs of your audience by providing the information they're searching for and solving their problems. 
Without a doubt, keyword research will dictate SEO strategy and content creation. Ranking for the right keywords can make or break your website and therefore it is one of the most important and valuable activities you must not miss. That is why every new page or content present on your website should be influenced by insights from keyword research. 
Some primary advantages of doing keyword research are:
Increase in website traffic
Rank higher on search engines
Appear first when people are searching for your product or service
Find out more about your target market
Explore niche areas your competitors have yet to discover
Achieve authority over other websites
Now we know a little about why doing keyword research is important in SEO, it's time for the million-dollar question: which tool can help you achieve keyword research in its highest form?
Now you know the importance of keyword research in your SEO strategy. Next, I will share with you the best keyword tool that you will need to achieve your SEO goal.
Introducing Keyword Intelligence by BiQ.
BiQ's Keyword Intelligence drills the importance of targeting the right keywords or phrases based on the searcher's intent for your SEO strategy. After entering your word or phrase in the search bar, it gives you vital information about the keywords you want to target, allowing you to make informed decisions.
Keyword research allows you to gauge what your competitors are doing, what your customers are searching for, and which keywords are going to get you seen. Having Keyword Intelligence is the best place to start your keyword research and excel in it. 
What's Inside BiQ's Keyword Intelligence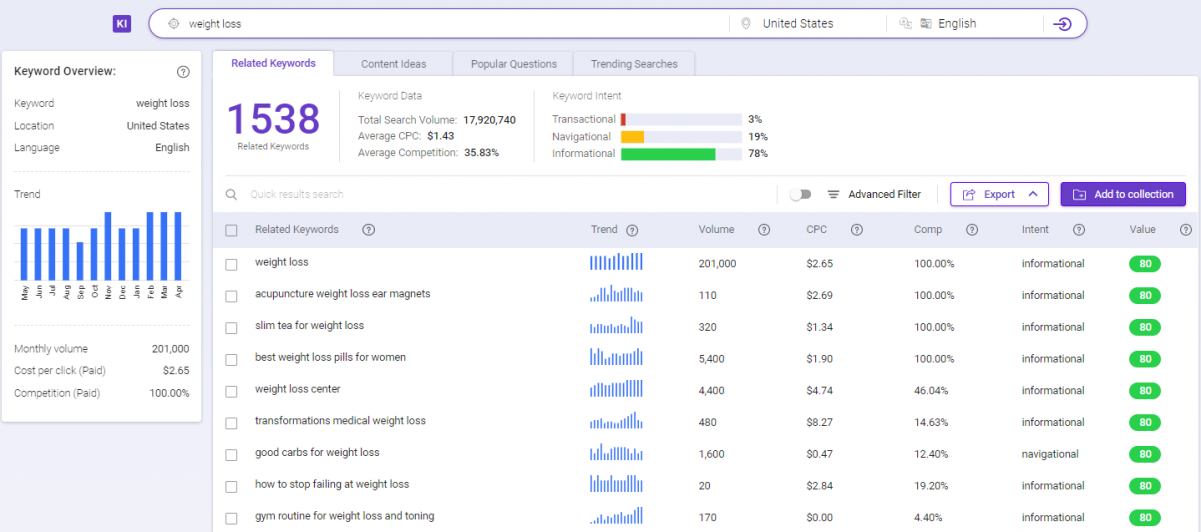 BiQ's Keyword Intelligence starts you off by having you insert the target keyword you want to rank for. You'll likely have a few keywords in mind that you would like to rank for. 
These will be things like your products, services, or other topics related to your website and they are great seed keywords for your research, so start there!
Once you enter your seed keywords (along with the location and language of your choice), you will begin to discover other related keywords, content ideas, popular questions, and trending searches for your content that you might have otherwise missed.
1. Related Keywords
Related keywords help you find related keywords within your main keywords. Accurately finding them is a critical part of the keyword research process.

Use related keywords in your content to help search engines better understand your content in the right context. In return, it can help your page rank faster.
2. Content Ideas
One of the most difficult parts of content marketing is coming up with fresh ideas that can result in quality traffic, leads, and conversions.

Use Content Ideas to easily find ideas that will make great blog posts, which will keep your readers coming back for more. 
3. Popular Questions
Popular Questions show questions that are frequently asked by searchers in the search engine. It will return with valuable insights on what types of questions people ask in relation to your topic.

This can be a great place for you to start creating how-to content and frequently asked questions! Use the question phrases as a roadmap to your content marketing success.
4. Trending Searches
Trending searches show the latest keywords or topics around your selected keyword. It helps you discover what trending searches people are searching for online.

Paying attention to online search trends can make a big difference in your content marketing success. This feature can help especially if you need some fresh, up-to-date content for your blog.
Conducting Keyword Research with BiQ
1. Enter your target keyword in the search box, choose your preferred location and language.

* There are more than 100,000 locations and 35 languages to choose from!
2. BiQ will analyze your target keyword and return with results. The image below shows keywords in the related keywords tab.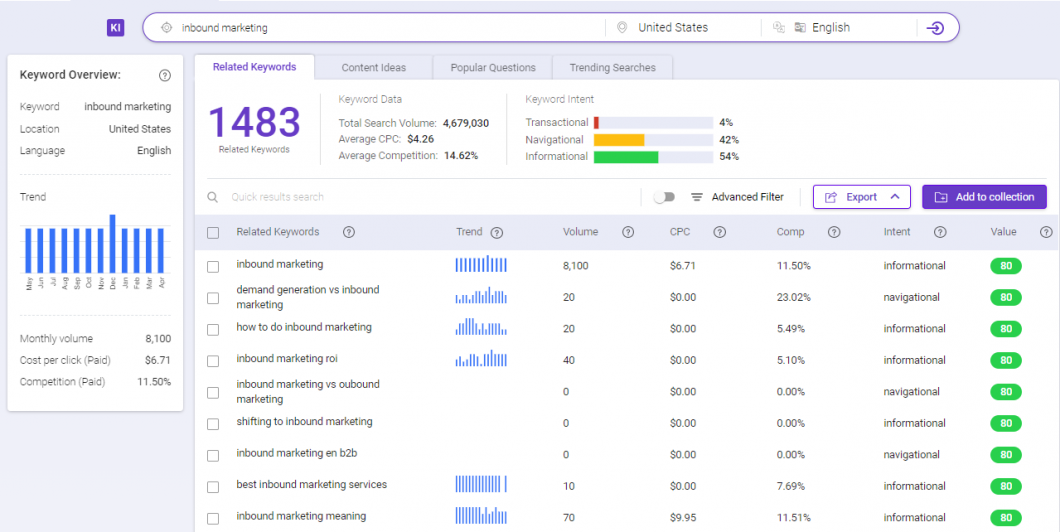 3. On your left, you'll be able to see the trend, monthly volume, number of search results, cost per click (CPC), and competition of your keyword.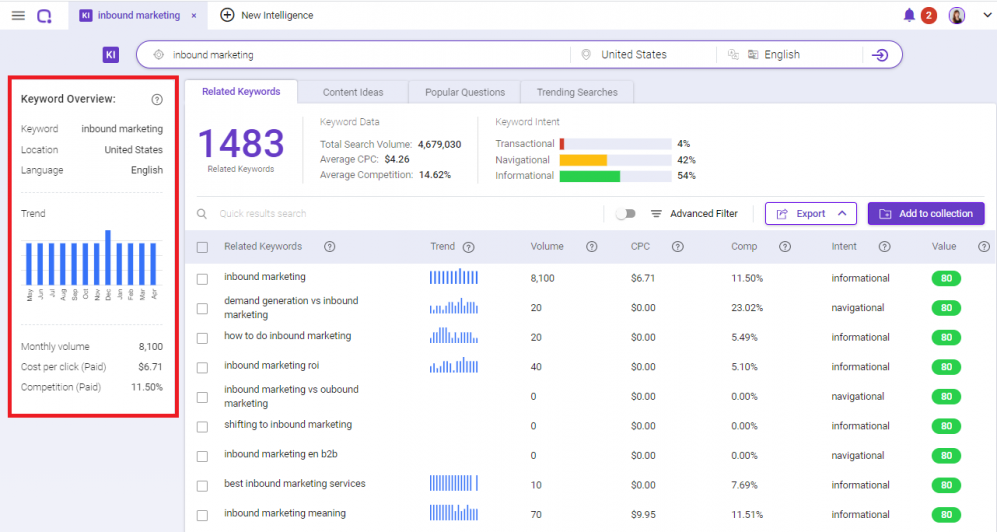 4. If you'd like to only focus on certain keywords, you can find options to filter your keyword suggestions based on relatedness, long tail, intent, and the advanced include and/or exclude filter.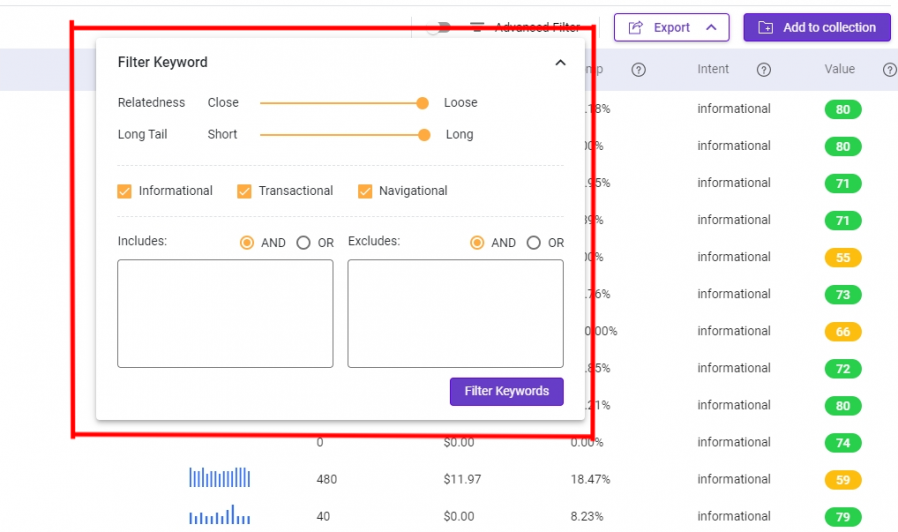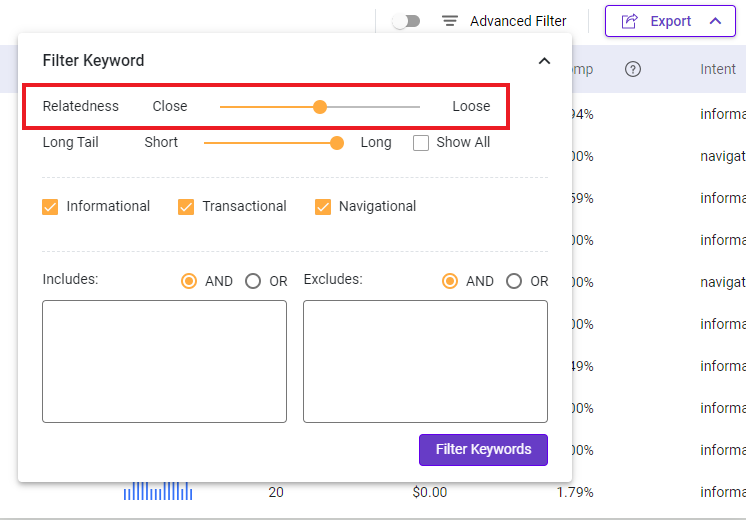 Filter by Relatedness allows you to filter the keyword suggestions based on the relatedness level – from closely to loosely related. Simply select the desired relatedness level, and click Filter Keywords.
Quickly check the keywords on the suggestions to see if they are related to your topic. If they seem unrelated, adjust the level until you are satisfied with the semantic relatedness.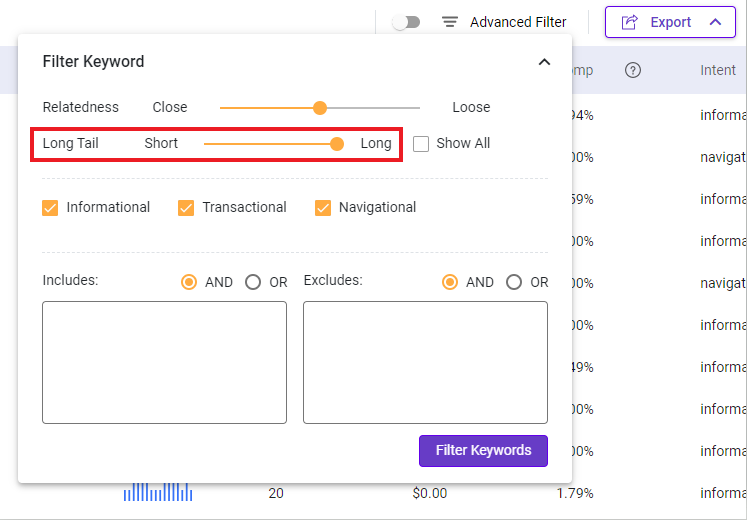 Filter by Long Tail allows you to select long-tail keyword suggestions. Other than that, you can also use this filter to discover only the short-tails. Use them to get the type of keywords that you want; long tail or short tail.
Filter by Intent allows you to filter keyword suggestions by the user intent. The three intents listed are Informational, Transactional, and Navigational.

Informational: Searching for information (E.g. Review, compare, recommendations)
Transactional: Searching for items to purchase (E.g. Buy, deal, discount)
Navigational: Searching for a specific brand, website, or location. (E.g.YouTube, Google, Facebook)
Use this filter to specifically identify the user intent for different keywords.
Advanced Include and/ or Exclude Filters
Advanced filters allow you to either include or exclude particular terms from the keyword suggestions provided. Just type it in and select the option "AND" or "OR" to get the desired results.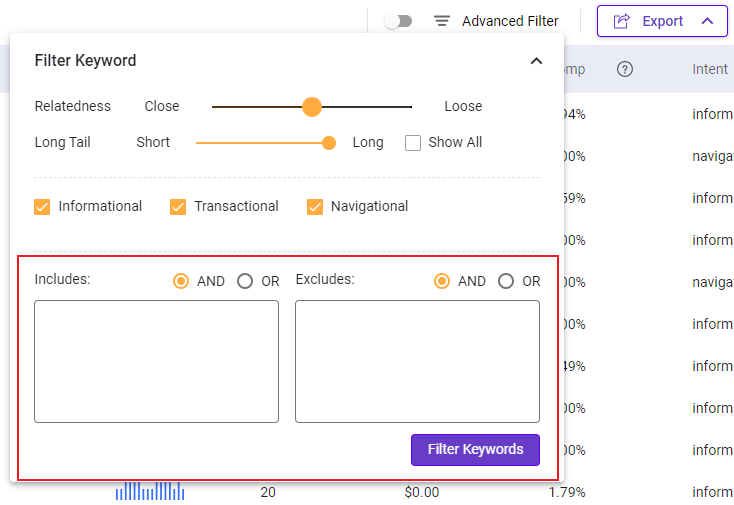 Include: Keywords in the table should contain the text entered in the filter
Exclude: Keywords in the table should not contain the text entered in the filter
Use this filter to perform laser-focused searches. You can also choose to include or exclude branded terms that are not relevant to your searches.     
5. Next, we'll be looking at the content ideas tab. These are keywords extracted from the top 10 rankings in the SERP. The filtering options are similar to the related keywords tab.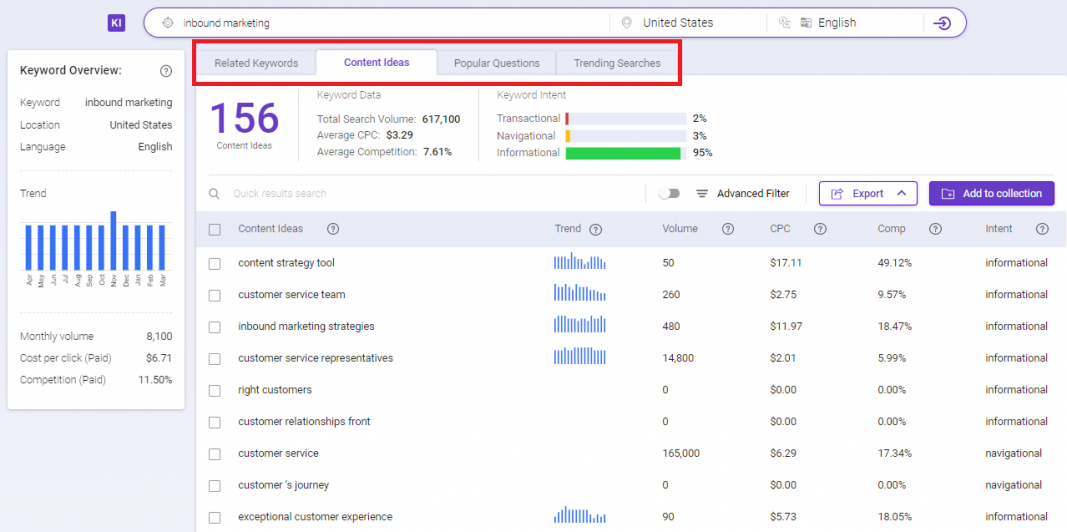 6. On to the next tab; Popular Questions show questions that are frequently asked by searchers in the search engine. It will return with valuable insights on what types of questions people ask in relation to your topic.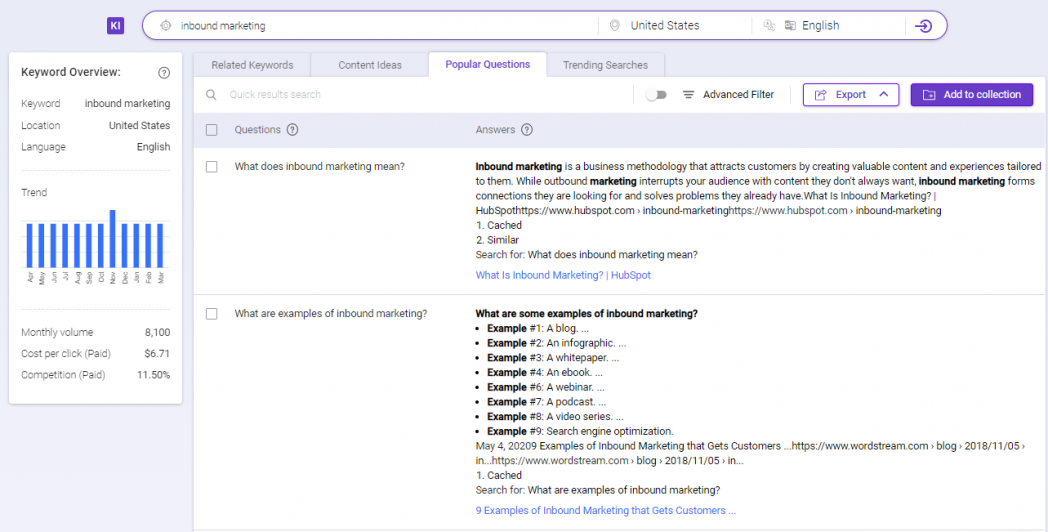 7. The 4th tab is on trending searches. It shows you the latest keywords or topics around your selected keyword. It helps you discover what trending searches people are searching for online.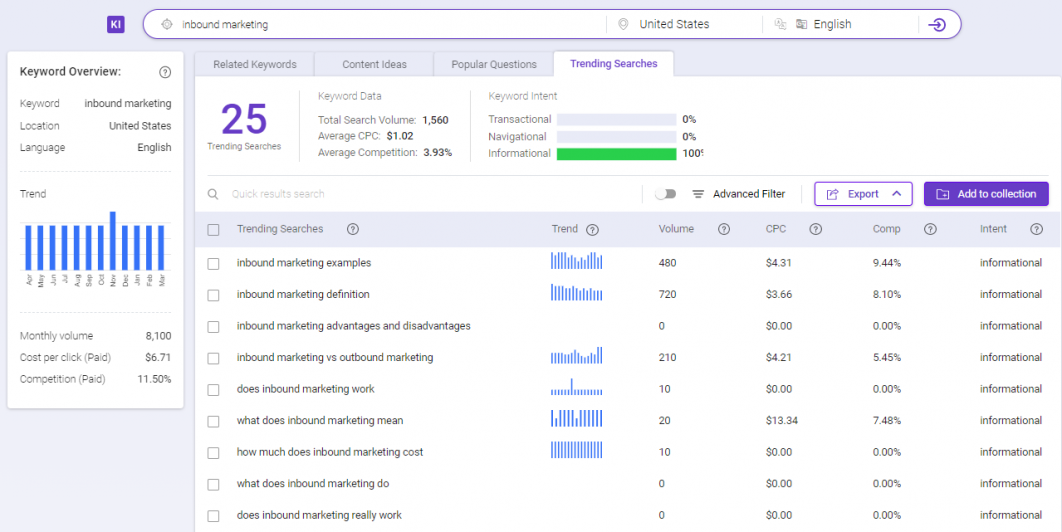 8. Lastly, export the keywords that you wish to track instantly with these two steps. You'll have the choice to save it as CSV (spreadsheet) or PDF according to your preferred manner.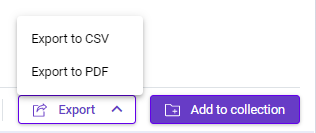 9. Not only will you have the ability to export your data in PDF and CSV, but you can also add them to a collection. The "My Collection" feature gives you a clear overview of your saved items. 
Joining BiQ SEO Suite
BiQ is currently open to the public where anyone and everyone gets to sign up and try out the tool. Those of you who successfully join in will surely help shape BiQ to be better.
So sign up today and get invited to try the new and unreleased features. You won't want to miss out on this!

If there's further clarification that you'll be needing from us, reach us on our email hello@biq.cloud or just leave a comment down below. We'll be happy to answer you.
See you inside.